A Realist's Guide to Downsizing Retirement Plans
Our articles, research studies, tools, and reviews maintain strict
editorial integrity;
however, we may be compensated when you click on or are approved for offers from our partners.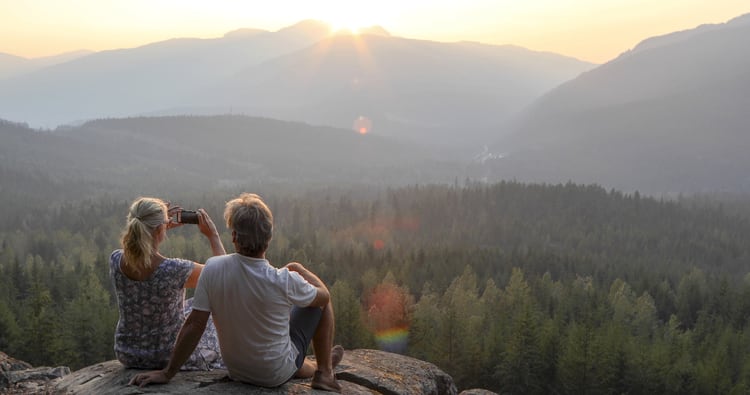 Your retirement dreams are big. But what if your retirement savings aren't?
Big retirement plans often require significant savings, and if you're like many Americans, you haven't saved enough to fund these post-work dreams. What to do? It's time get realistic and develop a plan to downsize those retirement fantasies.
Thankfully, financial professionals say that this downsizing doesn't have to be that painful — provided you approach it sensibly.
Reimagining retirement
"Retirement is actually a great time to start simplifying your life," says Clare Levison, a Blacksburg, Virginia-based certified public accountant, author and member of the American Institute of Certified Public Accountants' National CPA Financial Literacy Commission. "If you find that you haven't reached the money goals that you wanted to hit, perhaps some of your wants are a little bit bigger than they need to be anyway."
Too many people as they approach retirement want to ramp up their lifestyles, Levison says. They desire more expensive luxury cars and costly international vacations. But for many, a more sound financial approach would be to go the opposite route: It might be time to sell that large house and move to a smaller, less expensive residence. It might also make sense to downsize the number of cars they need to insure.
"Instead of thinking bigger, think smaller in terms of downsizing your life and expenditures," Levison says.
Too little, too late
If you don't think that you have enough to fund your retirement dreams, you're far from alone. A Gallup poll from April found that 59 percent of respondents worried that they haven't saved enough for retirement.
Saving more money is always preferable to having to downsize your retirement plans, says Joe Franklin, a certified public accountant and owner of Hixson, Tennessee-based Franklin Wealth Management. But many don't think enough about boosting their savings until they are just two or three years away from retirement.
At that point, increasing savings to meet lofty retirement goals becomes an almost impossible task.
"If their dreams are more than their savings are, we will tell them," Franklin says. "You either have to change what you want to do in retirement, work longer or be more aggressive with your investments going forward. Many of our clients have chosen to work longer and delay their retirements. A lot of time that is one route for getting closer to your retirement goals."
Robert Wyrick Jr., managing partner with MFA Capital Advisors in Houston, says that too many couples wait until they are 55 without having saved much of anything for retirement to first begin meeting with financial planners.
"These folks are often trying to make up for a lifetime of not planning, and they have less than 10 years to make it happen," Wyrick says. "Typically, part of the conversation centers around a bit of regret, and it almost always involves a discussion of making lifestyle changes in retirement."
The best approach is for those nearing retirement to work with financial professionals to make a list of their expected expenses and revenue streams during retirement. It's important to be honest here. Once a retirement budget is in place, retiring couples can determine just how many of their retirement dreams are realistic.
"All retirees should have a formal lifetime income plan," says David Schucavage, president of Carolina Estate Planners in Wilmington, North Carolina. "This plan shows where their money will come from over the next 30 or so years."
Some income streams are predictable, such as Social Security payments, pensions and some annuities. Others are less certain, such as stocks and bonds. But they all count, and they should all be considered when couples are making their realistic retirement plans.
Making peace with less
For those who haven't saved enough, there is hope. Melody Judge, founder and managing director of Life Income Management in Southfield, Michigan, says that some retirees can reach more of their dreams by taking on a part-time job — one that they enjoy — to supplement their Social Security income. Others can invest in annuities that also provide an additional income stream.
Then there are the smaller steps that retirees can take.
"I have a client who loves the theater, so to save on the cost of theater tickets, she volunteers each month as an usher and gets to see the performances for free," Judge says.
There will be some who will never be able to afford their most extravagant retirement plans. For these retirees, it's time to think about their post-work years differently, says Levison.
"Making the adjustments can at first be disappointing to people," Levison says. "But retirement really can be a time when you downsize and stop putting the focus on your possessions. Once people get over that initial hump, they start to see the value of that. They have extra time to devote to volunteering. They might pick up a part-time job that they really enjoy. The things that they weren't able to accomplish financially will hopefully pale in comparison."
More from MoneyRates.com: