7 HabIt's of Money-Wise Couples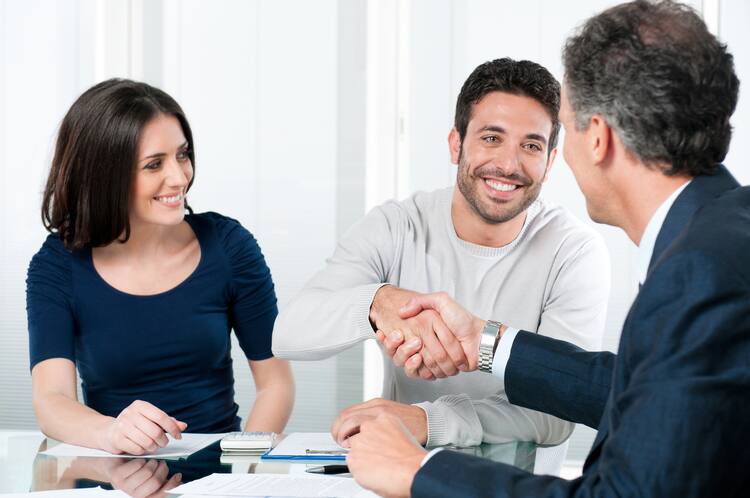 Given its magical atmosphere and twinkling lights, it's perhaps no surprise that December is a peak time for marriage proposals. Wedding site TheKnot.com reports that 16 percent of proposals occurred during the final 31 days of 2013, making it the most popular month for engagements.
However, after the holidays comes divorce season. According to the website FindLaw.com, divorces jump dramatically in January before peaking in March.
How do happy couples who pledge their devotion one December become weary partners who call it quits during some future spring? There are numerous answers to this question, but New York City-based divorce attorney Bruce Provda says that money often plays a major role in whether a marriage survives.
Provda says research indicates that couples fight twice as much about money as they do about sex, and that some surveys find that more than half of divorced couples say finances were a significant factor in their decision to split. "Money, whether we want to admit it, is a key to a stable relationship," he says.
To help keep their relationship healthy, newly engaged couples may want to take a cue from those who are already married and in-sync on their finances. Experts say these seven habits are typical of money-wise couples.
1. Entering into a marriage with eyes wide open
Healthy marriages start long before the bride and groom say "I do." Money-wise couples make a point to discuss finances and get on the same page prior to their wedding day.
"If one is in the habit of spending as much or more than they make, a real conversation has to be had explaining your concerns," says Provda. "Love alone will not solve the problem."
2. Scheduling regular financial meetings
Steven Elwell, a certified financial planner and vice president at Schroeder, Braxton & Vogt in Amherst, New York, says regular money meetings should be a priority for every couple.
"That can be in the form of a one-hour recap each month or a more in-depth view twice a year," he says. "At this meeting, they can discuss what's going on with their finances and what they want to accomplish."
Even if there is nothing new to discuss, Elwell says couples often benefit simply by ensuring they are both on the same page as far as finances are concerned.
3. Keeping emotions out of financial discussions
"Marriages involve complex emotions, and one of the strongest is being safe and secure," says Provda. He says that money is key to creating that security.
Unfortunately, since money plays such an important role in marriages, it also has the potential to become an emotional topic. Smart couples understand keeping their emotions in check when discussing financial matters minimizes the risk of walking away from a disagreement with hurt feelings.
Elwell suggests having frequent discussions to help keep emotions from boiling over. "Without communication, financial issues or differences can build to a breaking point, so the topic should be addressed early and often."
4. Making budgeting and record-keeping a joint effort
Both Elwell and Provda recommend couples keep good financial records.
"Get in the habit of keeping records of what you make, spend and need," says Provda.
For couples who aren't sure where to start, Elwell says websites like Mint.com offer a way to easily track spending and plan a budget. Couples may also want to read money-management books or take courses on personal finance together.
"Once people learn what is happening and how that is bad, they become more inclined to correct it," says Elwell.
5. Splurging from time to time
When making their budget, money-wise couples are smart enough to carve out a line-item for small splurges.
"Plan and keep to a budget, (but) put away something to splurge every so often," says Provda, "like a nice romantic evening so it's something you both can share in."
Couples with tight budgets might not be able to afford much, but making a point to go out and enjoy each other's company on a regular basis can strengthen marriage bonds.
6. Creating manageable goals and realistic expectations
Another smart money habit for couples is to break down large goals into smaller, more attainable ones.
"For instance, retiring at age 60 with $1 million dollars sounds really hard to a 35-year-old couple," says Elwell. "But saving $100 a month to a Roth IRA with the goal of having a $1,200 balance at the end of the year is much easier to swallow."
Setting realistic goals can avoid resentments that might occur when goals are missed and one half of a couple blames the other.
7. Getting help when it's needed
Finally, money-wise couples aren't afraid to ask for help when they need it. That may mean going to a finance professional for advice or, for deeper problems, heading to a counselor's office.
Sometimes money problems aren't money problems. Instead, they are trust problems or communication problems. Provda says couples shouldn't shy away from seeking help to address these underlying issues.
"Speaking to a therapist or a marriage guidance counselor is a must," he says. "You need to be able to open up and get an unbiased, emotionally cool person who will understand and help push you to a clear goal."
Ultimately, money-wise couples are proactive about their financial situation. They work together to address money problems head-on and create manageable goals for their future. By adopting these same habits, you too may avoid becoming a victim of the springtime divorce season.
More from MoneyRates.com: