Find Your Best Banking App
Our articles, research studies, tools, and reviews maintain strict
editorial integrity;
however, we may be compensated when you click on or are approved for offers from our partners.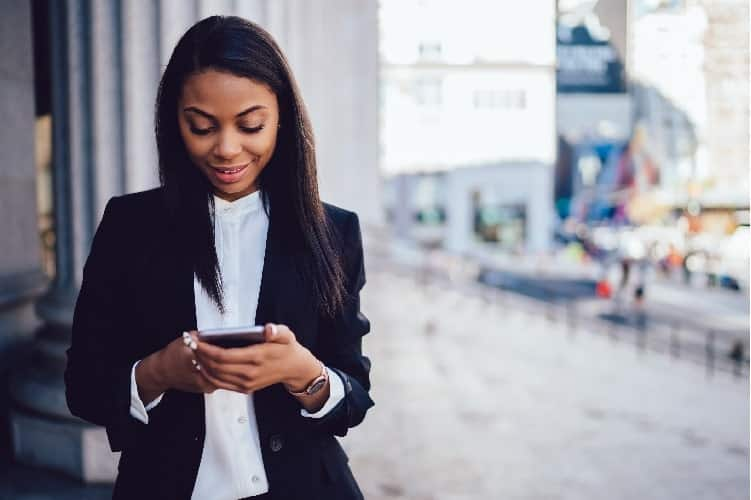 The days of visiting a bank to manage your money are long gone for many people. First, it was ATMs and phone banking options that made a trip to the teller obsolete, but now, people are more likely to use an app on their phone to check their balance or move money.
Not all banking apps are the same though. Some cater to customers who want a simplified experience while others are best for investors or self-employed workers. There are even banking apps designed for parents to help their teens manage money.
Approximately one-third of people say mobile banking is their primary method of accessing their account, according to those surveyed for the How America Banks report from the FDIC. That's double the amount of those who relied on mobile banking in 2017.
If you don't already use a mobile banking app, keep reading to learn why you may want to start and which app is right for you.
What Are Online Banking Apps?
Mobile banking is an extension of online banking, which allows people to view and manage their bank accounts via the internet. While banking websites can be accessed with a smartphone or tablet, many institutions have launched mobile banking apps that have a simplified interface and streamlined experience.
Although the features can vary by bank, these apps often allow customers to do the following:
View account balances.
Pay bills.
Transfer money between accounts.
Deposit checks with a photograph.
Mobile banking apps aren't only for your primary checking and savings accounts either. Some apps let you track investments or apply for loans as well. For this reason, people may have multiple accounts and online banking apps.
If aren't already using a mobile app or find your current one doesn't have the functionality you need, check out banking app review information to find the right one for you.
We think the following are some of the best online banking and mobile apps available today.
Best if You're a Teen or Managing a Teen's Expenses
Teens have unique financial needs, and Copper is a unique banking app designed specifically for those just learning how to manage their money. Copper doesn't charge late fees, and it isn't going to demand a credit check before someone can open an account.
Copper makes it easy for teens to request money from their parents, and those with jobs can set up direct deposit for their paychecks. Teens will also love having their own debit card, banking app and ability to pay with Google Pay and Apple Pay.
Meanwhile, parents will probably appreciate these features of Copper:
Convenient monitoring of teen spending.
"Cheat Codes" that provide teens with money management tips.
Zero liability protection.
FDIC insurance on deposits.
Fraud monitoring.
Copper eliminates the need for parents to hand over cash or their own credit or debit card to teens. Plus, it gives teens the freedom to spend and manage their own bank account. That makes Copper a win-win and a top choice as a banking app for families.
Best if You're an Investor
While you could use separate apps to manage your bank and investment accounts, Wealthfront makes it simple to do both in one place. Its app brings together banking, investing and borrowing functions.
Wealthfront got its start as a robo-advisor offering automated investment services. Since then, it has expanded to provide convenient checking and savings options which make it simple to set goals and reach them.
Here are just a few examples of what we think makes the Wealthfront app exceptional:
Software automatically splits and transfers money to various accounts based on your financial goals.
The Wealthfront Cash Account can be used for everyday spending while savings can be invested anytime you'd like.
Investing is automated, and 96% of clients are able to cover the cost of their fees using a recommended tax-loss harvesting strategy.
Portfolio Lines of Credit make it easy to access cash when needed.
What's more, there are no account or overdraft fees for checking, and cash earns interest. The combination of low fees and flexible account options make the Wealthfront app hard to beat for investors.
Best if You're Interested in a Loan or Refinance
Mortgages interest rates have been at rock bottom recently so you may be thinking about refinancing. Or perhaps you need a loan for another reason – such as college, a new car or home improvements. In that case, you may want a mobile app from the same company that is giving you a loan.
SoFi Money is a cash management app from an organization that has been helping people manage their money for the past decade. Created by Stanford business school students as Social Finance Inc. in 2011, SoFi has grown to more than 2 million members who use its apps and products to stay ahead financially.
Among SoFi's many offerings are the following loan and refinance options:
Home loans
Personal loans
Private student loans
Student loan refinancing
Auto loan refinancing
The SoFi app makes it easy to manage all your money – including loans – in one place. The app also comes with a variety of value-added perks such as complimentary career coaching and financial planning services.
Best if You Want a Familiar Way of Managing Your Money, But Online
Maybe you don't want to reinvent the wheel. You enjoy tried and true banking methods but want the convenience of online banking as well. In that case, we suggest Axos Bank.
Axos Bank has its roots in the digital world and was an early pioneer in online banking when it launched as Bank of Internet USA more than two decades ago in 2000. Today, it is lauded by many as one of the best online banks and a top provider of high-interest checking accounts.
Without a traditional branch system, Axos Bank customers do all their banking online or via the mobile app. In addition to convenience, they get the following:
Rewards checking that offers some of the highest interest rates available today.
Unlimited domestic ATM fee reimbursements.
Access to flexible loans with low interest rates.
Diverse savings and investment options.
Although it doesn't have the flashiest banking app available, Axos Bank doesn't need a gimmick to be great. Instead, it gets noticed for having valuable banking products and a versatile app to back them up.
Best if You're a Freelance or Contract Worker
In the current gig economy, it's never been easier to be self-employed. And while working for yourself comes with perks such as the freedom to do what you want when it want, it can also complicate your finances. There may be invoices to send, tax payments to make and business expenses to track.
That's why we like Lili. It's designed with freelancers in mind and makes it easy to do a variety of business tasks right from the mobile banking app. For instance, you can do the following:
Categorize expenses into personal and business buckets.
Generate tax reports and save for tax payments.
Access business tools to send invoices and receive payments.
Earn cash-back rewards when shopping at participating merchants.
What's more, Lili has no minimum balance requirement and no hidden fees. To access cash, customers can use more than 38,000 ATMs across the U.S. and Puerto Rico without paying a withdrawal fee.
Best if You Need a Second Chance Checking Account
We all make mistakes, but it can be hard to shake off the damage from a financial mistake. If you need a new account to give you a fresh start, consider using Chime.
Chime has a mobile banking app that is built by a tech company so you know it's designed to be modern and intuitive. However, more importantly, it comes with features that can help you gain control of your money. It gives you access to all the following tools and resources:
Daily bank account balance notifications so you always know what's in your account.
Mobile check deposits that let you make deposits using your phone's camera.
Fee-free payments to family and friends.
More than 60,000 fee-free ATMs nationwide.
If you need to build credit, you can also get a secured credit card from Chime. The Credit Builder Visa doesn't require a credit check and charges no annual fee or interest. Together, these products make Chime an ideal option for anyone in need of a second chance checking account.