Salem Five Direct Bank Review: Savings, Money Markets and CD
Our articles, research studies, tools, and reviews maintain strict
editorial integrity;
however, we may be compensated when you click on or are approved for offers from our partners.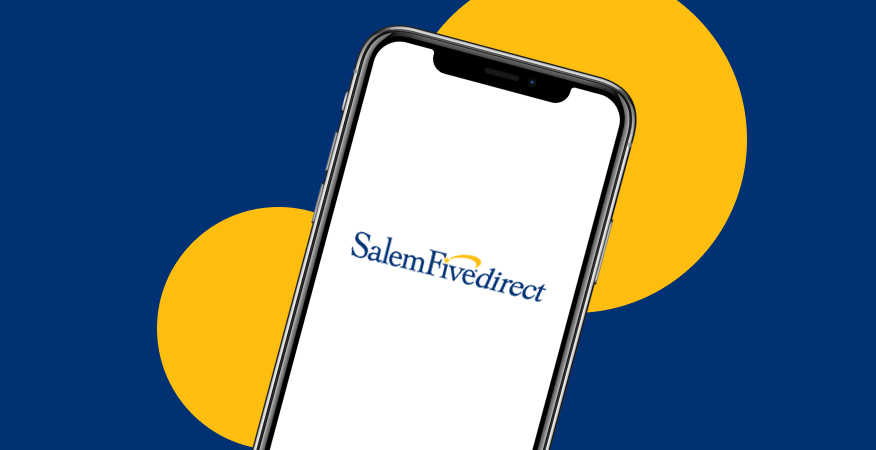 Financial institutions aren't all alike, and where you decide to keep your savings matters.
When shopping around for banks or credit unions, it's important to compare the products and services they offer, as well as the fees they charge.
If you're interested in saving with an online bank, Salem Five Direct is one option you may consider. Here's more on Salem Five and how it works.
What is Salem Five Direct?
Salem Five Direct is the online banking division of Salem Five Bank, which is based in Salem, Massachusetts. Salem Five was first established in 1855 and its customers benefit from more than 160 years of banking experience.
Salem Five Direct offers numerous personal banking products, including checking accounts, savings accounts and certificates of deposit. As with other banks offering savings accounts, the FDIC insures deposit accounts held at Salem Five Direct. The standard coverage limit of up to $250,000 per depositor, per account ownership type applies.
In terms of its physical footprint, Salem Five Direct doesn't have branches. But there are more than three dozen Salem Five branch locations throughout Massachusetts.
Jump To:
Popular Salem Five Direct Accounts
Salem Five Direct offers several different banking options from which to choose. Here's a quick look at the accounts you can open if you decide to bank with Salem Five online.
How Salem Five Direct Works
When sizing up different financial institutions, there are certain common points you can use to compare them. It starts by looking at products and services, but there are other features and benefits to consider as well. Here's more on what you can expect when banking with Salem Five Direct.
Maintenance fees
Opting for an online bank could save you money if you're hoping to avoid a monthly fee. Compared to traditional banks or credit unions, online banks may charge fewer fees, owing to their lower overhead costs.
At Salem Five Direct, you pay no monthly fee for an eOne Savings Account or an eOne Checking Account. That's a plus, compared to regular savings accounts or checking accounts from a brick-and-mortar bank that might come with a $5 to $10 monthly fee.
Account minimums
When opening an account at a new bank, it's important to consider minimum deposit requirements and minimum balance requirements.
The minimum deposit is the baseline amount of money you'll need to open an account.
The minimum balance requirement represents the amount you'll need to keep in your account to avoid a fee.
Salem Five Direct sets the minimum deposit requirement at $100 for both its eOne Savings Account and its eOne Checking Account. There are no minimum balance requirements for either account.
If you want to open a certificate of deposit account to cash in on Salem Five Direct's CD rates, however, you need to bring more money to the table. The minimum deposit for CD accounts is $10,000 and the maximum CD deposit allowed is $500,000.
Can you open multiple accounts?
Yes, Salem Five Direct allows you to have more than one account. In fact, they offer a savings/checking combo that includes both an eOne Savings Account and an eOne Checking account.
You can also open multiple CDs with Salem Five if you're interested to build a CD ladder or want to set aside money for different short- and long-term financial goals.
When opening multiple accounts at any bank, be sure to keep the FDIC coverage rules in mind. If your total deposits exceed the FDIC coverage limits for your account and ownership type, some of your money may not be protected against losses in the event that your bank fails.
Account access and customer support
Salem Five Direct gives you multiple ways to access your money 24/7.
With Salemfivedirect.com, for instance, you can log in to your account online. You can also manage your accounts through the Salem Five mobile app.
If you need to get in-person help, you can visit a Salem Five branch – assuming you live in Massachusetts – or, you can call Salem Five Direct customer support at 1-800-850-5000.
Mobile and online banking experience
Managing your accounts online or via mobile banking is a time-saving convenience. With Salem Five Direct, you can use both to stay on top of your accounts.
For example, you can go online or mobile to:
View account balances
Find a Salem Five branch or ATM location
Transfer funds
Make payments
The mobile app also allows you to add money to your account using the mobile check deposit feature.
Salem Five Direct High Yield Savings Account
Opening a high yield savings account could make sense if you want to earn a great interest rate on money you're setting aside for the short or long term.
Salem Five Direct offers a competitive interest rate to savers who have at least $100 to spare for opening an account. In fact, the eOne Savings Account ranked in the top 10 for the America's Best Rates Survey. The account's interest rate beats those offered by other top online banks, such as My Savings Direct and Dollar Savings Direct.
Salem Five Direct Money Market Account
Money market accounts can combine the features of savings accounts with checking accounts. They're not to be confused with a money market mutual fund, which is an investment vehicle.
Salem Five Direct doesn't offer a money market account option. You can, however, open a money market account at Salem Five Bank.
Salem Five Direct CD Rates
Certificates of deposit are designed to help you earn interest on money you may not need right away. At Salem Five Direct, you can open a 12-month, 18-month or 36-month CD account. There's a $10,000 minimum deposit to open any of these CDs.
In terms of CD rates, Salem Five Direct holds its own compared to other online banks or credit unions. It doesn't rank in the top 10 of the America's Best Rates Survey for CD rates, but the 36-month CD still offers an impressive APY. Penalties apply if you withdraw money ahead of your CD maturity date.
Salem Five Direct Checking Accounts
In addition to savings accounts and CDs, Salem Five Direct offers an online checking account. The eOne Checking Account requires a $100 minimum deposit to open, but it offers:
Online checking without a monthly fee
Cash back on all non-pin-based purchases made with your debit card
No minimum balance requirements
Free ATMs
Free online bill payment
Free mobile check deposit
Free first order of checks
Opening a checking account and a savings account with Salem First Direct could make it easier to manage your money all in one place.
Salem Five Direct Personal Loans
Personal loans can put money in your hands when you need it, and it's an option you might find at some online banks. Salem Five Direct, however, doesn't offer personal loans at this time. Salem Five Bank offers loans, but those are limited to mortgages, home equity loans, auto loans and student loans.
Salem Five Direct Pros & Cons
Compared to other banks offering savings accounts or CDs, Salem Five Direct can yield some competitive interest rates. But before you commit to opening an account here, take one last look at the pros and cons.
Locations – Branches & ATMs
Salem Five Direct is an online-only bank, so it has no branches. But you can bank in-person at a Salem Five branch or ATM. Salem Five customers can also access their accounts at ATMs in the Allpoint network.