Banks vs. Credit Unions: How to Decide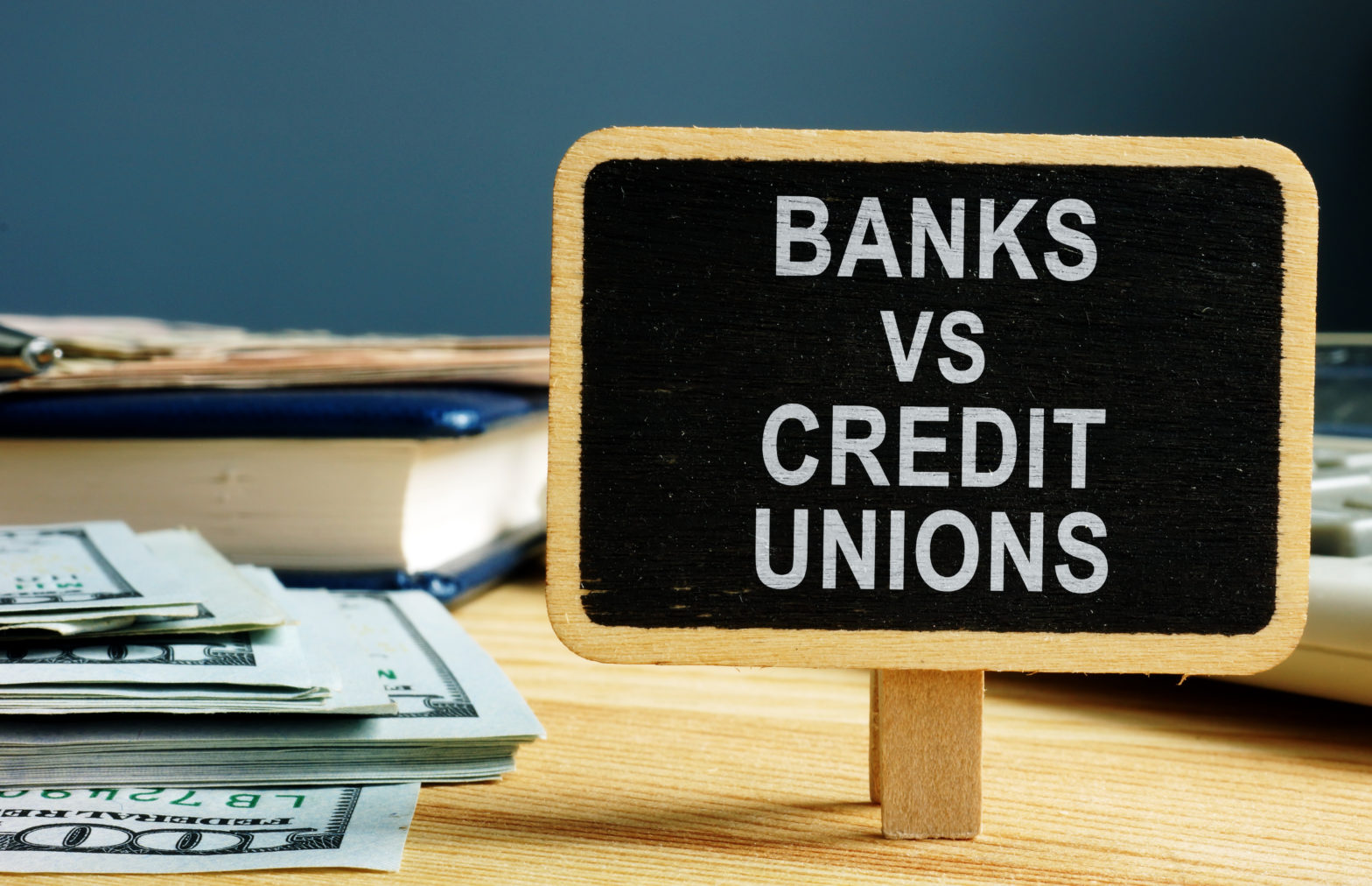 Money is tight, so anything that increases your chances of getting a better deal can help.
Considering where you bank is one decision that could help improve your bottom line. When it comes to loans and deposit products, for example, credit unions give you an option in addition to banks that may save you money or help you earn more.
The key to reevaluating your banking situation is to recognize your financial priorities and what's important to you in a bank. Getting clarity on what you want in a bank depends on understanding the differences between banks and credit unions, and then comparing specific products from each type of financial institution.
What should you value in a bank?
There are a lot of ways to answer that question, but low fees and competitive interest rates is a good place to start. This article compares banks versus credit unions in terms of:
the products they offer
the fees they assess
how competitive their interest rates are
other benefits and advantages
Read on for more in-depth information, but here's a quick comparison of a few important features:
What Is the Difference Between a Bank and a Credit Union?
Banks and credit unions are structured and regulated in different ways. Here are three crucial differences:
Financial Structure
Banks are operated for a profit while credit unions are not-for-profit organizations.
This means that, in general, credit unions can offer their customers better terms than banks. However, since financial terms depend on the specific product and institution, there may be a lot of overlap between the deals offered by banks and those offered by credit unions.
Membership Requirements
Traditionally, credit union membership has been restricted to people who have a common connection such as:
employer
family
location
membership in a group such as a school, union or place of worship
However, these requirements have been broadened enough in some cases that some credit unions can be thought of as national organizations.
Banks have no such membership requirements. The branch networks of most banks are limited to specific geographic locations, and many banks are only registered to operate in certain states.
However, online banking has made several national options available to consumers. This can be very important to people that travel or move frequently.
Deposit Insurance
Credit unions and banks are backed by insurance from different federal institutions, but it amounts to the same thing.
Banks are backed by insurance from the Federal Deposit Insurance Corporation (FDIC). Credit unions are backed by insurance from the National Credit Union Administration (NCUA).
Both offer the same amount of federal deposit insurance.
How to Find the Best Checking Account Rates
Finding a bank with the best checking account to meet your needs is as simple as using our search tool. Try it now and find an interest-bearing checking account.
Product Offerings of Banks vs. Credit Unions
From a consumer's perspective, there are often more similarities than differences between credit unions and banks. However, there is enough overlap between terms offered on various products that both banks and credit unions are worth considering when searching for a loan or a deposit account.
Consumer product offerings of banks and credit unions can be broken down into two categories: deposit accounts and lending options.
Deposit accounts:
Lending options:
Mortgages
Home equity loans
Car loans
The specific range of deposit and loan products offered by banks and credit unions varies with each specific financial institution.
Benefits of Credit Unions
Like banks, credit unions offer federally insured deposits and a variety of other financial products.
One difference is that, because banks are for-profit organizations while credit unions are member-owned, you may get better financial terms from a credit union.
Another difference is that a credit union's ties to the community of its members may make it more willing to make loans to those members.
Perhaps the most certain benefit credit unions offer is that they expand the choice of financial products. For consumers, choice is power, so being able to consider credit unions alongside banks gives you more power to find a better deal.
Is a Credit Union Better Than a Bank?
Since there are so many similarities between banks and credit unions, is there an advantage to choosing a credit union rather than a bank?
Here are some examples of how credit unions may offer an advantage (based on national averages as of late 2020):
Money market rates are generally higher at credit unions than at banks
CD rates are generally higher at credit unions – and the longer the CD, the greater the advantage
Credit card rates are generally cheaper at credit unions
Mortgage rates are generally cheaper at credit unions
Personal and car loan rates are also generally cheaper at credit unions
However, when it comes down to making a choice for your money, you aren't choosing the average – you're choosing a specific product from a single financial institution.
That makes it worth comparing products from both banks and credit unions. The two types of institutions are similar enough that there is overlap between the range of products and quality of terms they offer.
Looking at terms from both banks and credit unions improves your chances of getting the best deal for your needs.
The Online Advantage at a Bank or Credit Union
Since banks and credit unions are very similar in a lot of ways, one thing to focus on in each case is the difference between online and branch-based accounts.
Online banking has cost advantages that financial institutions often pass along to their customers in the form of better deposit rates or lower fees.
For example, the latest MoneyRates.com America's Best Rates Survey found the average online savings account from a bank offered an interest rate 12 times the average for a traditional, branch-based account.
The latest MoneyRates Checking Account Fee Survey found online accounts better than twice as likely to offer free checking as traditional, branch-based accounts.
Both banks and credit unions offer online accounts. This is an option you should consider for either type of institution.
Credit Union vs. Bank: How to Decide
The choice between a bank and a credit union should be made on a case-by-case basis. Here's how you can work through the process of deciding:
Focus on the product that meets your needsDecide very specifically what you are looking for so you can compare apples to apples. This includes not only the product type, but also your situation – what account or loan size you are considering, how long a time period you need it for and whether your credit score or financial status will affect the terms offered.
Decide whether you want to do business online or via a branchThis can greatly affect the type of terms you get, so be clear on whether you want an online or a branch-based account. That allows you to include only the relevant types of accounts in your comparisons.
Consider the importance of locationIf you want a branch-based account, check out which institutions have branches that are convenient to you. Even if you bank online, ATM locations may be relevant for a checking account – so be sure to inquire about the ATM network of any institution you are considering.
See if you meet credit union membership requirementsThe membership requirements for some credit unions are narrower than for others. You should see whether you meet a specific institution's requirements before you get too far into researching product details. This is not an issue with banks.
Compare both rates and fees before choosingWith both deposit and lending products, advertising tends to focus on interest rates – but these products may also charge significant fees. Be sure to consider the impact of both fees and rates before you choose.
Because product terms vary from situation to situation, you may find over time that you have to use both bank products and those from credit unions.
Neither one is always the right choice; but by considering both types of institutions, you improve your chances of finding the best choice for each situation.
Bank vs. Credit Union Comparison Table