The Best Home Improvement Loans for October 2023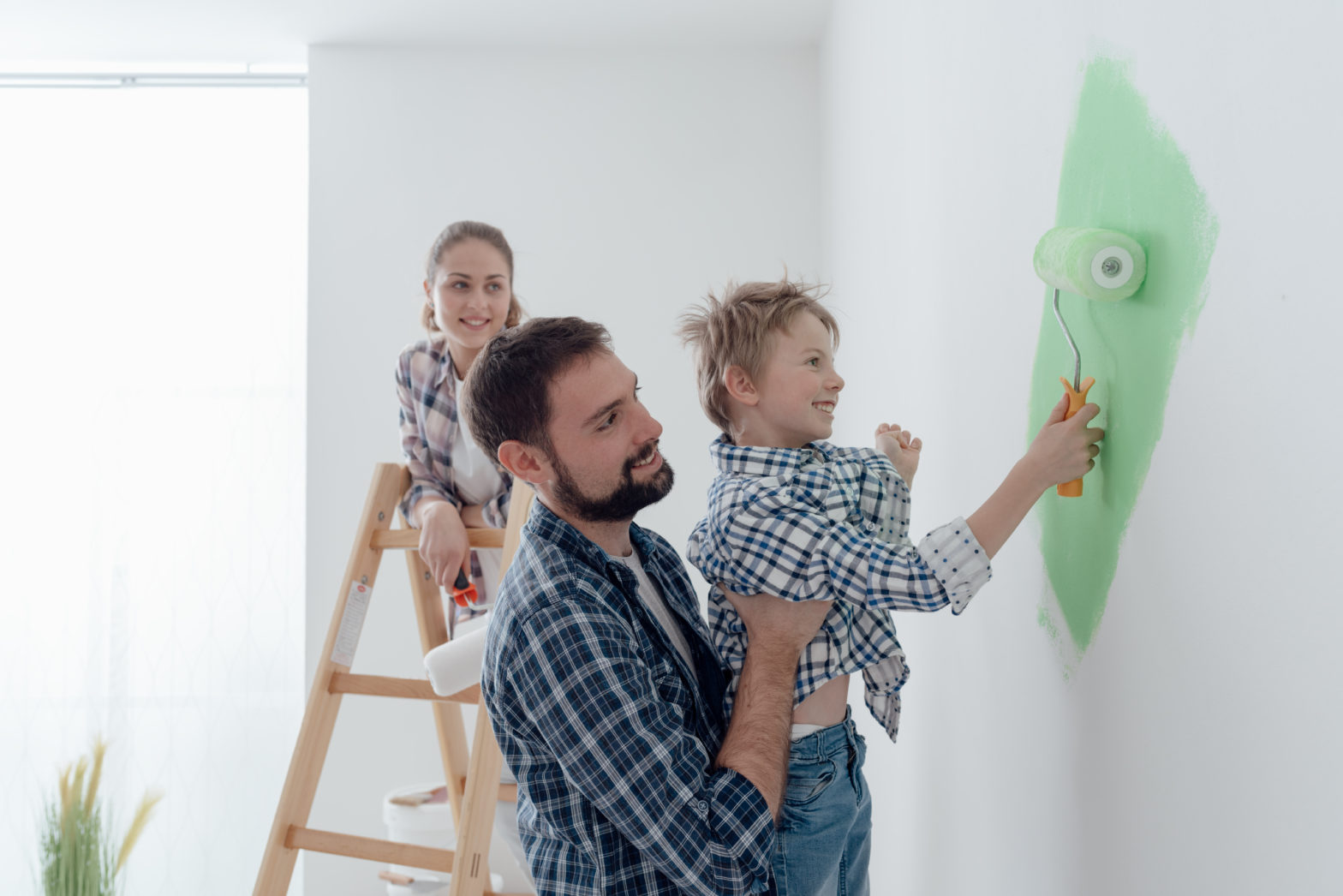 You have plenty of choices when deciding on your best options for home improvement loans. Personal loans, home equity loans, and credit cards can all fit the bill. But which works out to be the least expensive for you will depend on your budget and circumstances.
What Is a Home Improvement Loan?
Home improvement loans are loans you can get to fix up your house. You may use home improvement loans for repairs or improvements. There are two types of home improvement loans.
Home Equity Loans
When you get a home equity loan, you are using your house as collateral. Your house must be worth more than you owe on it to borrow against it. If you were to default on a home equity loan, the lender could foreclose on your home, even if you were current on your first mortgage.
Home Improvement Loans
You can get an unsecured personal loan for home improvements. Home improvement loans with no equity in your home are available because there is no requirement for your home to be worth more than you owe on it for them.
Unlike a credit card, you will have a fixed interest rate and payment for the life of the loan, which is typically between one and 15 years. Home improvement loan rates tend to be higher than home equity loans, but may be lower than charging home improvement expenses on a credit card.
Home improvement loans usually require a borrower to have good credit, though home improvement loans with bad credit are available from some lenders who specialize in loans for people with credit issues.
What Type of Loan Is Best for Home Improvements?
Four factors are especially important when you're deciding how to finance a home renovation:
Your Budget
You can base your budget on the amount of the loan you qualify for or the payment you can afford.
How Much You Can Borrow
If you finance using a home equity loan or credit card, you may be limited by the amount of equity you have in your home or your credit card credit limits.
What You'll Pay in Fees
Some can be expensive and include closing fees and points.
Interest Rates
Over time, home improvement loan interest rates could cost you dearly.
Compare Home Improvement Loan Rates and Apply Online:
Credit Cards for Home Renovations
It's one thing to use a credit card to finance small, cosmetic improvements. But it's quite another to use them for anything that deserves to be called "a project."
That's because credit card rates are usually high. And you'll almost certainly be able to save serious sums with cheaper options.
When Credit Cards Are the Best Choice
But there's an exception. If you're borrowing in the low hundreds, your credit cards may be your best bet. And, providing you zero your balance within a few months, even their high rates are unlikely to cause real pain.
Just watch out for one danger. Whenever your balance exceeds 30% of your card's credit limit, you're damaging your credit score. So, if necessary, make sure you spread the costs over multiple cards so that you never do that.
One more thought. There's nothing wrong with charging tens of thousands to your cards — as long as you zero your balance each month.
People often borrow using personal loans or home equity loans and use the proceeds to pay off their project's card debt each month. That way they don't miss out on their cards' miles, points or cash back.
Home Renovation Personal Loans
Nowadays, you can borrow huge amounts using personal loans. But they're usually best for those with budgets in the high hundreds or lowish thousands — maybe $25,000 or so. If you're spending much more, you should probably check out home equity loans, which tend to have lower interest rates.
That's not to say personal loans have high rates. They're typically a fraction of those charged on credit cards. And, if your credit score and financial circumstances make you a "top-tier" borrower, they might be only a little higher than you'd pay for a home equity loan.
But let's assume you're a more average Joe or Jo. You'll probably appreciate some of these benefits of personal loans:
Cheap or free setup costs
You get the money really quickly — It's often in your account within 24 hours of your applying and rarely takes a week
Because they're installment loans, credit scoring systems see them differently from credit cards — So your score's safe, as long as you make prompt payments
Easy budgeting — You know from the start how much you need to pay each month and when you'll be free of the debt
Affordable — Within reason, you get to choose whether you have fewer, higher payments or more, lower ones. If you want to keep your payments low, spread them over several years.
If your borrowing needs are in that medium range, a personal loan is highly likely to be your best bet.
Home Equity Loans
Home equity loans are the most popular option for financing home improvements. Home equity loans are secured by your property, which lowers the lender's risk and allows it to offer a lower interest rate. Home equity loans take two forms:
Fixed home equity loans (also called second mortgages)
Home equity lines of credit (also called HELOCs)
How Home Equity Loans Work
Home equity loans deliver a lump sum at closing.
You repay it over a predetermined term in equal monthly installments.
This makes them good for budgeting.
Home equity loans work best for those who need a larger sum upfront and who know how much their home renovation will cost. If you need to pay a builder for a home addition, for instance, a home equity loan could be your best choice.
How HELOCs Work
HELOCs are revolving loans that function like credit cards.
You can draw on your line of credit up to its limit, pay down your balance, and reuse it.
HELOCs almost always have variable interest rates. Their advantage is that they are flexible and you only pay interest on the amount of credit you actually use.
HELOCs can be the ideal way to finance home improvement projects that you complete in stages over an extended period, when you don't know how much you'll be spending, and when you don't need a large lump sum.
When to Choose Home Equity Financing
Using your home equity to borrow can be the smart choice when you're raising large sums. But it's rarely a good idea when you want thousands rather than tens of thousands. That's because the setup costs for home equity loans and HELOCs are typically high — often not too far off the closing costs for a home purchase or refinance.
So, if you're borrowing a relatively small amount, you're likely to wipe out any gains you make from home equity's typically lower interest rates. And then some.
What Are the Factors to Consider When Choosing Home Equity Loans?
But there are a couple of other factors to bear in mind. First, home equity borrowing is secured. And, if you default, you could face foreclosure. The immediate penalties for other sorts of borrowing are less severe.
And, secondly, the amount you can borrow will be limited by the value of the equity you have in your home. Most lenders will require you to keep an equity "cushion." So don't expect your first and second mortgages to add up to 100% of your home's market value.
Still, if you're confident you can keep up payments, you have enough equity for your needs and you can justify the high closing costs, home equity financing's low interest rates make this a good way to borrow.
When to Choose Personal Loans
Personal loans tend to be the best choice when a number of the following apply:
You're not a homeowner or your home's market value doesn't exceed your mortgage balance by much
You're looking to borrow somewhere between $500 and $25,000, though those are just rough figures and some use personal loans to borrow much more
Your savings won't cover your project's costs–Not borrowing at all is almost always better than any loan
Your credit score's good (670 or better) — Personal loan rates can be higher for those with poor or fair credit, assuming you get approved at all
You can afford the payments — Living in a poverty in a prestigious home is plain depressing
Home Improvement Loans and Limited Home Equity
Many lenders don't like you to have secured borrowing that exceeds 80% of your home's current market value.
In other words, when you add the balances on your first (main) mortgage and any second mortgages (home equity loans and HELOCs) together, those shouldn't add up to more than 80% of that market value.
Let's look at an example. Suppose your home is today worth $300,000 on the open market, and the current balance on your first mortgage is $220,000.
Don't expect to be able to borrow the $80,000 difference between those two figures.
Chances are, your lender will want you to borrow no more than 80% of your home's value, which is $240,000.
So your home equity borrowing would be capped at $20,000. ($300,000 home value x 80% = $240,000. $240,000 – $220,000 existing mortgage balance = $20,000).
Now, it's true that some lenders are less strict than others over that 80% cutoff. But you need to be sure that you don't overextend yourself. And that you're dealing with a reputable, mainstream lender.
You Want a Mid-Range Loan
Personal loans tend to come with low or zero setup fees. But many fixed-rate home equity loans cost serious sums to originate.
Expect to pay home appraisal, origination, title, and escrow fees.
In the end, you could be looking at close to the costs of setting up a whole new mortgage. And even a HELOC can easily break four figures in setup costs.
Of course, the uber-low interest rates you might be offered can make those well worth paying. But only if you're borrowing a lot of money — enough for those interest savings to cover all those costs.
Your Financing Costs Determine Your ROI
When calculating the return on investment (ROI) for a home improvement, you'll consider several factors:
How much does the improvement add to the value of my property when I sell it?
Does it reduce my homeownership costs now (think home security and insurance bills or energy-efficient changes and utility bills)?
Does the improvement make it easier to sell my home (reducing carrying costs and days-on-market)?
How much do financing charges add to the cost of the improvement?
That last question refers to the cost of financing your home renovation.
The cheaper your financing costs, the better your return on investment for your home upgrades.
For larger renovations, especially, it's worth taking some time to determine what kind of financing is most appropriate. Then, shop for the best deal on the loan you choose.
Shopping for a Home Improvement Loan
Whatever loan you choose–credit card, personal loan, home improvement loan, or other–don't borrow without comparing several options.
Many studies have concluded that only by getting quotes from several competing providers can you be confident that you're getting a good deal.
Home improvements can represent a sensible investment.
They can make a home more enjoyable, more cost-effective, or safer.
They can even add to the value of the property. One component of making this investment workable is choosing the best way of paying for it, and under the right circumstances, a personal loan could be the best option for you.