How to Start Investing With $100 or Less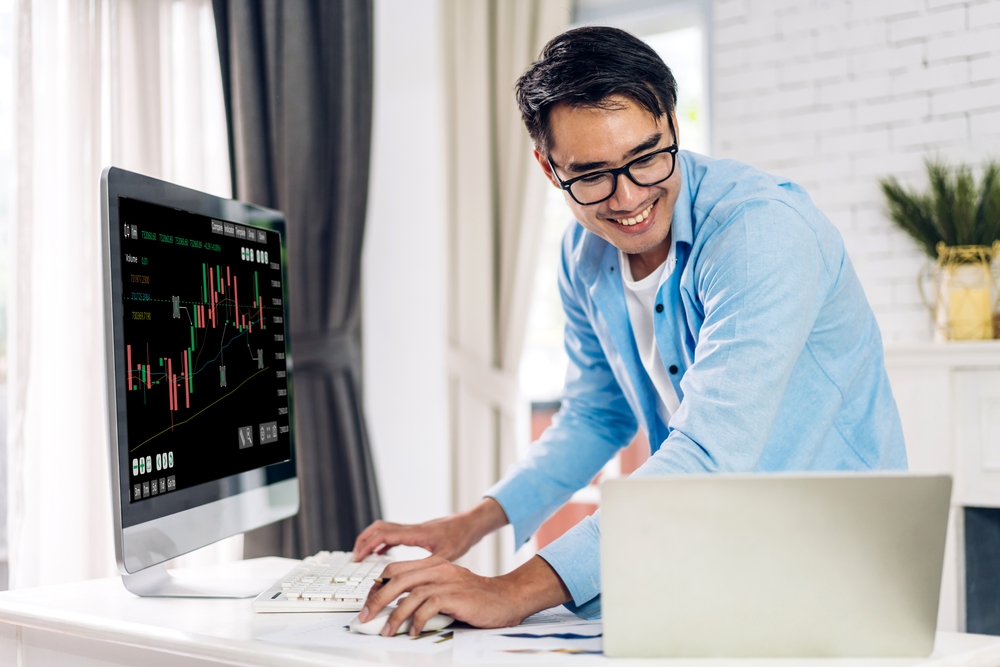 With the exception of a big bump at the start of the coronavirus pandemic, the stock market has been riding high for the past decade. The S&P 500, a stock index, has seen average annual growth of 13.6%, according to investment bank Goldman Sachs. That means money invested in 2010 could be worth nearly four times more today.
Many people think investing is only for the wealthy, but you can invest with $100 or less. Really! There are plenty of options – from your workplace retirement fund to an account at your bank – that will allow you to turn your $100 into something more.
Plus, many of today's investing apps and robo-advisors make the process simple. There's no need to understand complex jargon or complicated investment strategies. Investment services often provide recommendations that take the guesswork out of deciding where to put your money.
Of course, you still want to do your due diligence, read reviews and decide whether an investment platform or fund is right for you. However, here are some options to get you started.
Put the Money in Your 401(k)
If your company offers a 401(k) plan as a benefit, this is the easiest place to start investing. When you sign up, money is taken directly out of your paycheck and deposited into your investment account. Even better, you'll get a tax deduction for money invested in a 401(k). Or if a Roth 401(k) is offered, you can use that to skip the deduction now and instead get tax-free withdrawals in retirement.
Most employers will match a portion of worker contributions so that's like getting an immediate return on your money, regardless of what the stock market is doing. Typical employer matches may be 50 cents on the dollar, up to 6% of your salary, or a dollar-for-dollar match, up to 5% of your salary.
That means your $100 contribution has the potential to immediately turn into $200. Within a 401(k), you may be given many investment options but if you are looking for simplicity, consider target-date funds. These funds are based on when you expect to retire and invest money in a way that's appropriate for your time horizon.
Invest With Your Spare Change
Even if you only have pennies to invest, you can use an investing app to make the most of them.
Acorns was one of the early innovators in this field, and it allows users to round up purchases and then deposit the spare change in an investment account. Users answer a few questions about their financial goals and the app creates a diversified investment portfolio that will automatically rebalance and reinvest dividends. For those who don't want to think about investing, this can be an entirely hands-off way to invest with $100 or less.
However, Acorns isn't the only robo-investing service that will let you invest small amounts of money. Others include SoFi Automated Investing, Betterment and Stash. Before signing up for any app, check the fees. Acorns starts at $1 a month for its Lite version while other advisors may charge a fee based on how much you have invested.
Buy Fractional Shares
If you only have $100 to invest, you aren't going to be able to buy stocks for popular companies such as Apple, Disney or even Target–unless you buy fractional shares.
All those companies have stock that is selling for more than $100 a share, and traditionally, investors have been required to buy full shares of stock. However, a new breed of investing apps and services are allowing investors to buy fractional shares. This allows you to own a percentage of a share if you don't have enough money to buy one whole.
Webull is one company making this possible. You can invest as little as $5, and the investing app doesn't charge any commission or management fees. Other brokerage firms that sell fractional shares include Robinhood, Fidelity, and Charles Schwab.
Invest in an Index Fund or ETF
Owning a piece of your favorite company is a fun reason to invest in the stock market, but for stability, you're better off with an index fund or an ETF.
While an individual stock is dependent on the health of one company, index funds pull together shares from multiple companies to reduce risk. Then, if one company has a bad year, that can be balanced out by the other stocks in the fund. An ETF–or exchange traded fund–works in a similar way.
Not only are index funds and ETFs more stable investments, but they can come with lower fees as well. Fidelity Zero Large Cap Index and Schwab S&P 500 Index Fund are two examples of ones that, as of this writing, can be purchased for less than $100 with no minimum requirement.
Buy Real Estate
You could buy real estate with your $100. Seriously. By putting your money in something called a real estate investment trust (REIT), you can own a piece of the hot housing market.
Think of these as fractional shares for real estate. Instead of buying an entire property, you're buying a portion of a larger investment. Owners of REITs benefit from the stability and growth of the real estate market without the hassle of being a landlord.
Many REIT providers, such as DiversyFund, have minimums of $500 or more. However, you can buy shares in REITs through a brokerage account for less than $100. Options include the Plymouth Industrial REIT and STORE Capital Corporation. There are also non-REIT options, such as American Homeowner Preservation, which is a crowd funding platform that buys distressed mortgages at a discount.
Open an IRA
If your employer doesn't offer a 401(k), you can still get tax benefits and start a retirement fund with your $100. Simply use an IRA instead. Like 401(k) accounts, you can choose a traditional IRA which will provide an immediate tax deduction or use a Roth IRA to get tax-free withdrawals in retirement.
IRAs are offered by investing apps such Acorns, brokerage firms such as Fidelity and TD Ameritrade, and even banks and credit unions. Many do not have minimum requirements for opening an account either. For hands-off IRA investing, consider a provider like Ellevest or Betterment. If you want to be more involved in selecting funds, ETrade or JP Morgan can be good choices.
As with other investments, check the fees before committing to a particular provider. Some IRAs won't charge any fees while others will have a percentage or flat fee. For instance, an Acorns Later account costs $3 per month.
Start an Emergency Account
Putting money in an emergency account may not feel like an investment, but it can actually be the best investment you make. Having money in the bank ensures you are able to weather financial storms without going into debt.
However, don't put your $100 in a regular savings account where it will earn next to nothing in interest. Instead, look for a high-yield savings account. These are most often found at online banks which are able to offer higher rates, in part, because they don't have the expense of maintaining physical branches.
The top high-yield savings accounts offer nearly five times the interest paid by regular savings accounts. For those with only $100 for an initial deposit, Salem Five Direct eOne Savings offers the best interest rate, according to a recent MoneyRates America's Best Rates survey. American Express National Bank, Marcus by Goldman Sachs and Discover Bank are also notable for having no minimum deposit requirements for their high-yield savings products.
FAQs
Is it worth investing $100?
Absolutely. Everyone needs to start somewhere, and $100 will get the ball rolling.
Just don't stop there. A hundred dollars on its own won't get you very far, no matter how well your investment performs. Instead, you need to make a habit of investing money on a regular basis. That's easy if you use the automatic transfer options offered by some banks and investing apps.
How much money will you have if you invest $100 a month?
It will depend on the rate of return for your investment. However, if we assume a 9.2% return–the average for a 10-year period on the stock market according to Goldman Sachs–your $100 a month will turn into $19,972 in 10 years' time.
You can use an investment calculator to model how much you'll earn with various rates of return or different investment amounts.
Can you day trade with $100?
Technically yes, since day trading means buying and selling securities, such as stocks, in the same day.
However, day trading for profit is more complicated than that. The government regulates the practice, and it can be easy to run afoul of the rules if you're not careful. Plus, there can be settlement periods that require you to wait before trading again, and brokerages will flag and potentially lock accounts appear to be day trading but don't meet government requirements.
Rather than day trade your investments, pick solid funds with a proven track record and then sit back and let them grow.