Salem Five Direct eOne Savings Account Review 2023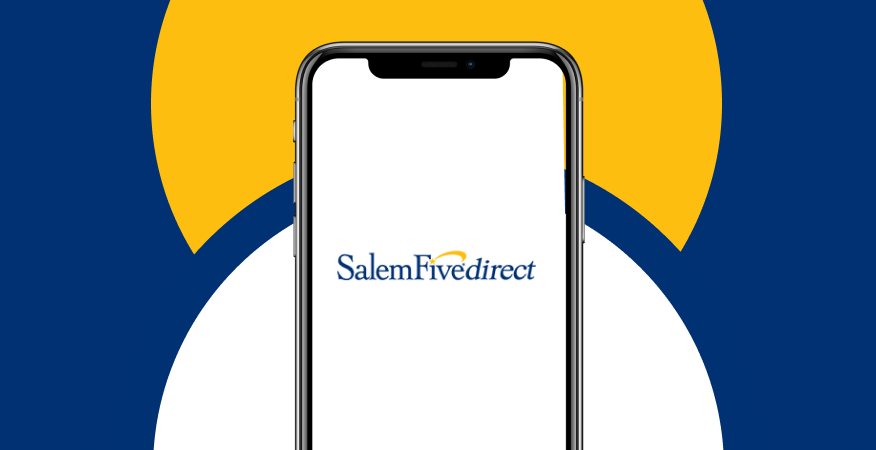 Salem Five Direct is the online division of Salem Five, an innovative community bank based in Salem, MA.
The eOne Savings Account is a high-yield savings account that offers a competitive rate for savers, with no minimum balance and no monthly fees.
This Salem Five Direct eOne Savings Account Review covers the most important things to know if you're interested in opening an account.
Salem Five Direct eOne Savings Account Essentials
The eOne Savings Account from Salem Five Direct offers these features:
Earn a competitive annual percentage yield on balances up to $1 million
Low minimum deposit to open
No monthly fees or minimum balance fees
Free online banking and mobile app account access
Mobile deposit and text alerts
Link to an eOne Checking Account as overdraft protection
FDIC-insured and DIF-insured
Open an account online in minutes
MoneyRates Editor's Analysis: Pros & Cons
The Salem Five Direct eOne Savings Account has a lot to like, although there is a downside or two to keep in mind. Here are the pros and cons so you can compare.
Which Banks Have the Best Savings Account Rates?
Finding the bank with the best savings account to meet your needs is as simple as using our search tool. Try it now and find your high-interest savings account.
Salem Five Direct eOne Savings Account Rates
Online banks are known for offering an interest rate on savings that exceeds what you'd typically find at brick and mortar banks. According to the latest America's Best Rates survey, Salem Five Direct follows that trend, delivering a market-leading rate for savers. When you open a savings account with Salem, you can earn one of the highest APYs in the industry on every dollar you save, up to $1 million.
This a flat rate, not tiered. That means you earn the same rate whether you save $100, $1,000, $10,000 or more. The caveat is that this only applies to the first $1 million you save.
Once your account balance exceeds $1 million, Salem Five Direct reserves the right to transfer balances over that amount to a Statement Savings Account. This is a standard savings account earning an APY closer to the national average.
That is something to note if you're a super saver, though it may not land on your radar if you don't plan to save quite so much.
In terms of how the APY compares with other online banks offering high-yield savings, Salem Five Direct is in a similar league. In some cases, it outstrips the competition.
CIT Bank, for example, offers a competitive APY on its popular Savings Builder Account. Ally Bank also offers a nice rate for its online savings account, but neither is as high as the Salem Five Direct eOne APY. So Salem Five Direct stands out as offering one of the best rates around for savers.
Salem Five Direct eOne Savings Account Fees
A monthly fee is something that's best avoided if you're trying to grow your money in savings. And that's another nice feature of online banks – they often waive or don't charge monthly fees the way many traditional brick-and-mortar banks do.
At Salem Five Direct, there is no monthly fee to maintain your account. There are no conditions of any kind required to avoid a monthly fee with this account. Again, that's a good thing since it allows you to hold on to your interest earnings on savings.
Other Savings Account Fees With Salem Five Direct
Savings account are meant to be used for saving, not spending. With that in mind, Federal Regulation D does allow you to make up to six withdrawals per month from a savings account.
Once you go over that limit, your bank can charge you an excess-withdrawal fee. This is one of the few fees Salem Five Direct assesses with eOne Savings Accounts.
If you go over the six-transaction limit, a $10 excess-debit fee applies. Salem Five Direct doesn't specify whether there's a limit on the number of excess-debit fees you can be charged. For that reason, it may be safer to avoid debit transactions from savings as much as possible.
There is a second fee of which you need to be aware. If you initiate a transaction at an ATM that is not owned by Salem Five, there's a $2 fee for that. There could also be a surcharge from the ATM machine's operator. If you have a Salem Five Bank eOne Checking Account, debit-card access is included, which you could use to withdraw money from savings.
Additional Salem Five Direct eOne Savings Account Features & Benefits
As high-yield savings accounts go, there aren't a lot of extra bells and whistles with this one. You do get free access to online and mobile banking, which includes mobile deposit and text alerts to help you monitor your account. In addition to mobile check deposit, you can also add money to savings by transferring it from an external account at a different bank.
Your savings with Salem Five Direct is covered by FDIC and DIF insurance to protect your entire balance. There is no minimum balance rule you're required to observe at any time, other than the initial deposit you need to open your account.
One other feature you might be interested in is the ability to link your eOne Savings Account to an eOne Checking Account as overdraft protection. This can be a simple way to avoid overdraft fees, since Salem Five Direct transfers or sweeps money from savings to checking for you automatically. There is a cost, however.
If you have a checking or savings account that you're using for overdraft protection, Salem Five Direct charges a $25 annual overdraft protection fee for that benefit. There is also a fee when money is transferred from savings to checking to cover overdraft. This fee is $3 per item transferred.
Are There Other Ways to Save with Salem Five Direct?
You may be wondering what other bank accounts are available to save with Salem Five Direct. While there are no money markets available online, you can open a certificate of deposit account. And if you're interested in money market accounts, those are available, along with retirement CDs, at Salem Five branches.
There are three eCD terms available: 12 months, 18 months and 36 months.
There are no monthly fees and, like the savings account, CDs are both FDIC- and DIF-insured. This means your money is protected.
The minimum to open any of these CD accounts and earn the advertised APY is $10,000. The maximum amount you can add to a Salem Five eCD is $500,000. You can, however, open multiple CDs with varying maturity terms to create a CD ladder.
There is an early-withdrawal penalty for taking money from your CD before reaching its maturity date. Salem Five Direct does not disclose the amount of the penalty online, so that's a question to ask at the branch. Having a CD ladder can help you avoid the penalty if your CDs have staggered maturity dates.
How to Open a Salem Five Direct eOne Savings Account
Getting started with an eOne Savings Account is a fairly simple process. To open an account, you'll need to:
Upload a copy of your state-issued ID online
Give Salem Five Direct your name and social security number
Provide the routing number and bank account number for the account from which you plan to make your initial deposit
Tell Salem Five Direct how much you want to transfer as your opening deposit
The entire process can be completed in just a few minutes online, without having to visit a Salem Five branch.
Is a Salem Five Direct Savings Account Right for You?
This account could be a good choice for someone who wants to earn among the very highest rates with a high-yield savings account. As noted, Salem Five Direct sets the bar for interest rates, outshining several of its top competitors.
With no monthly fees to pay and no minimum balance requirements, this account offers flexibility and the potential to grow your money faster. While you don't have the convenience of branch-banking, it's easy to deposit money via mobile deposit or make withdrawals using ACH transfers.
The $1 million cap on earning the competitive APY is worth taking note of for savers who keep a lot of money in savings. If you fall in that category, you may want to consider another online bank that offers a generous APY without any savings account balance caps.