Wedding Loans: Compare Your Financing Options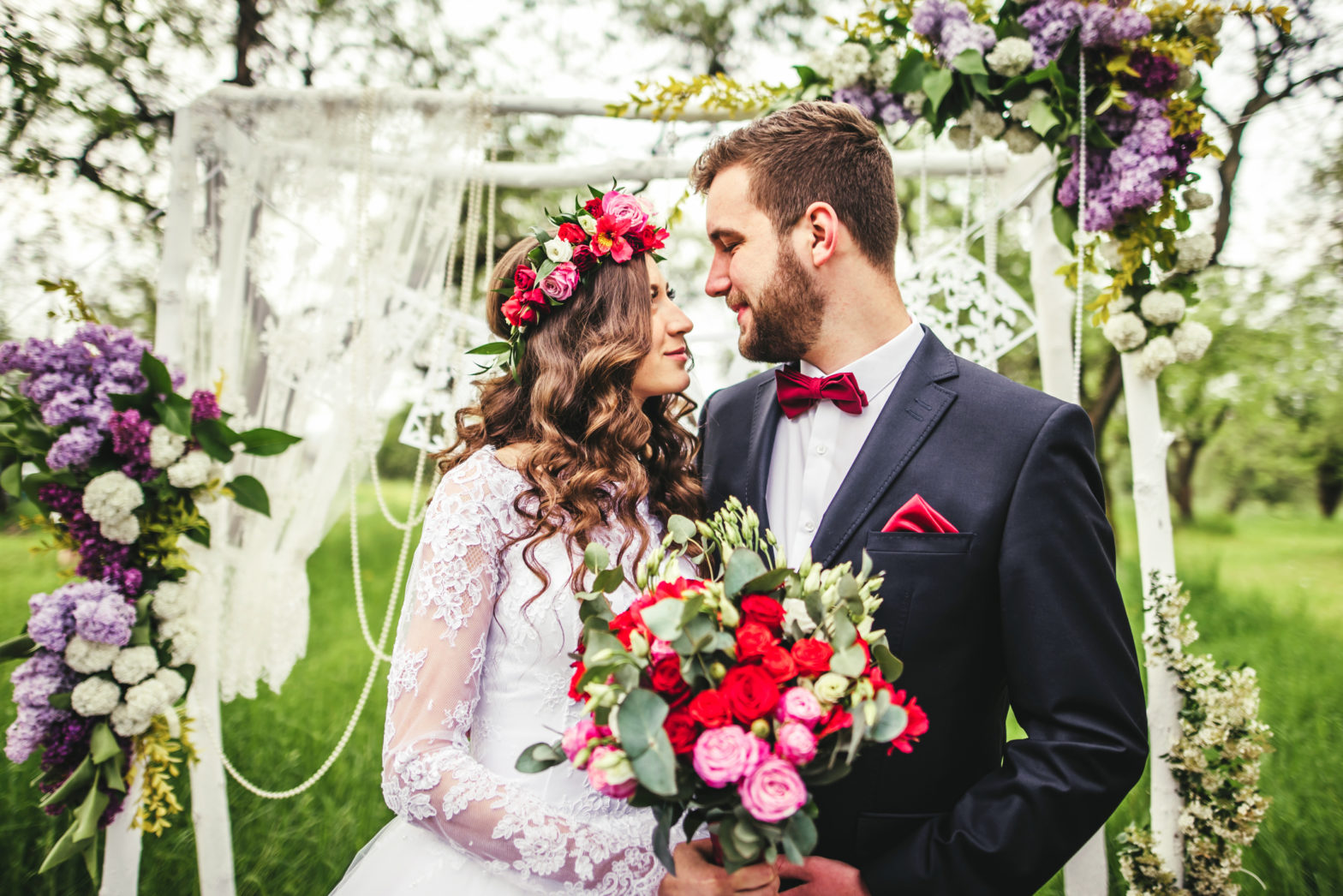 It's not always easy to pay for a wedding. Many betrothed find themselves having to borrow to fund some or all the costs, especially for the wedding reception. But not all loans are the same – you need to pick one that's affordable, predictable and easy to manage.
See personal loan interest rates
Best Ways to Pay for a Wedding
The best way to pay for your wedding depends on your resources and the size of occasion you want. If you have a comfortable savings balance, that's probably your best bet. After all, interest rates on savings are very low these days, while those of loans and credit cards are substantially higher.
But you wouldn't be reading this if you had the necessary amount socked away. So we'll consider other options.
Crowdfunding your day is socially acceptable in some circles, but understand that you will offend at least some of your potential guests. Wedding site The Knot says flatly that asking people to pay for a party to which you're inviting them is still just too tacky to consider. Not knowing how much you'll get also makes budgeting difficult.
Extend your engagement and use the extra time to save. Plus the additional lead time could get you better discounts.
Home equity lines of credit are ideal if you own your home and have at least 20% equity.
401(k) loans may be the cheapest financing, because you pay yourself. But they can also be dangerous.
Rewards credit cards can allow you to rack up travel for your honeymoon. Just have a plan for paying them off quickly because these cards tend to have high interest rates.
Personal loans are installment loans that normally carry much lower interest rates than credit cards.
The loans to avoid include auto title loans and cash advances with very high interest rates. We'll go more deeply into each of the above-listed options and explain how best to use them to minimize your wedding costs.
Wedding Costs Today
You don't want to Google "average cost of a wedding." Because, if you do, you'll likely end up on WeddingWire's 2019 Wedding Report. And that's just plain depressing. It reckons that average cost – from buying the engagement ring to getting home after the honeymoon and everything in between – was $38,700 in 2018.
Think weddings have become more affordable since? Nope.
One more thought. The US Bureau of Labor Statistics calculates that "Median weekly earnings of the nation's 118.4 million full-time wage and salary workers were $919 in the third quarter of 2019." Simple arithmetic reveals that the average American with a job would have to work full time for 42 weeks to pay from the average American wedding.
Short Terms, Smart Terms
Remember what personal finance experts say about short-term financing for events. In general, you want to finance long-term purchases like homes over longer terms. And shorter-term items, like vacations and events, over shorter terms.
Would you rather be paying off your wedding over the next ten years? Or taking beautiful romantic trips, making the down payment on a home or funding your child's college education? Ideally, you'll pay off your wedding loan by your wedding day or shortly thereafter.
The chart below shows what it would take to pay off a one-year loan with varying interest rates and loan amounts. Use this to set your budget and plan a joyful celebration to start off your life together.
Short-Term Personal Loan
Loan Amount(1Yr Personal Loan)
Monthly Payment
Rate
$5000
$10,000
$20,000
6%
$430
$861
$1,721
7%
$433
$865
$1,731
8%
$435
$870
$1,740
9%
$437
$875
$1,749
10%
$440
$897
$1,758
11%
$442
$884
$1,768
12%
$444
$888
$1,777
13%
$447
$893
$1,786
14%
$449
$898
$1,796
15%
$451
$903
$1,805
16%
$454
$907
$1,815
Affording Wedding Costs: What's Your Priority?
All this prompts a question: What's the point of your wedding? In other words, what do you want out of it?
If it's to get hitched to the love of your life, then city hall and pizza-for-two are all it takes. And the pizza's optional.
But, of course, most want more. Perhaps a religious ceremony is important to you. Maybe you want to share your joy and commitment with family and friends. And perhaps you're looking to make an over-the-top statement that will have your friends gushing for years to come. Or at least until someone tops yours.
Some features can push the costs up. But not always by a lot. And you may be able to keep your spending under better control by starting with the essentials and adding the "extras" one at a time – with an eye on the financial implications of each.
Average Wedding Cost Breakdown
That WeddingWire survey included a breakdown of average costs. And, unsurprisingly, the wedding reception was the single most expensive element:
Venue – $9,000
Catering – $6,700
Band – $3,900
Event rentals (presumably props you rent for the day) including photo booths – $1,700
Lighting and décor – $1,400
DJ – $1,200
That's $23,900 of that $38,700! What are the other seriously expensive things? Well, there's $5,000 for engagement rings, $2,400 for photography, $1,900 for wedding rings, $1,850 for a wedding planner, and $1,800 each for videography, flowers and the rehearsal dinner and other incidental meals. By comparison, the price of the wedding dress – which is destined to be worn once and then stored in a closet for decades – comes in at a relatively modest $1,700.
| | |
| --- | --- |
| Venue | $16.107 |
| Photographer | $2,783 |
| Reception band/music | $4,156 |
| Florist | $2,534 |
| Vediographer | $1,995 |
| Wedding Dress | $1,564 |
| Groom's Attire | $280 |
| Wedding Cake | $528 |
| Ceremony site | $2,197 |
| Ceremony musicians | $755 |
| Invitations | $462 |
| Transportation | $859 |
| Favors | $268 |
| Rehearsal dinner | $1,378 |
| Engagement ring | $6,163 |
| Officiant | $278 |
| Catering(price per person) | $71 |
| Wedding day hair care | $119 |
| Wedding day make-up | $100 |
How Much Should YOU Pay for a Wedding?
Of course, there's absolutely nothing wrong with choosing a prestigious, Instagram-ready wedding. We all buy luxury items (homes, cars, technology…) as status symbols rather than for their functionality. So why not when we get hitched?
But match your budget to your financial resources. And that applies regardless of who's is paying. WeddingWire says that 46% of all weddings are paid for by parents. But you love your parents. And the last thing you want to do is make them financially distressed.
Of course, few will judge you negatively (envy aside) if your budget soars into six figures, providing you can afford it. Just remember: you can only blow your savings once. After the money's gone, you may lack the down payment for your dream home or car – or the deposit on the apartment rental you badly want. And, if you borrow too much, you may find the monthly payments severely constraining your lifestyle for years to come.
So don't go hugely into debt for the sake of prestige. A marriage free of financial stress is way more valuable than any big, blingy day. Spend what you can comfortably afford.
Wedding on Credit Cards? Why Not?
There's nothing wrong with charging your wedding costs to your credit cards. In fact, those are the safest and most convenient ways to pay. And they may give you miles, points or cash-back rewards. If your venue, caterer or florist goes bust before the big day, it's typically easier and quicker to get your money back from a credit card company than the bank that issued your debit card. And, of course, cash payments may be gone forever.
So, by all means, pay with your credit cards. Just don't borrow on them. Because their astronomical interest rates may seriously damage your wealth.
Credit cards can wreak havoc with your credit score. That's because of something called your "credit utilization ratio." So what's that?
Well, credit scoring technologies look at your card balance as a proportion of your credit limit. And whenever your balance is higher than 30% of your limit, your score takes a hit. Over time, those hits can add up to serious damage.
But credit utilization rules only apply to "revolving credit." That's mostly store and credit cards, because those revolve: You can borrow, pay back and re-borrow up to your limit.
So those rules don't apply to installment loans like mortgages, auto loans and personal loans. You can owe 100% of the loan amount and your credit score will mostly ignore it.
Zero Interest Credit Cards for Wedding
All this limits your use of credit cards that come with a rate of 0% APR, often for an introductory period of 12, 15 or 18 months. That's not to say these can have no role when people pay for a wedding. But it's hard to see them delivering much help.
After all, you can't apply for too many of those over a short period. A slew in credit inquiries in a short time period often spooks lenders. Because making multiple credit applications often means the applicant is in big financial trouble.
So you may get one or two of these cards. But you can only spend 30% of their available balances before credit utilization rules begin to impact your score. Realistically, how much might those contribute to your wedding costs?
So, by all means, use these as a way to pare borrowing costs. But be realistic about the contribution they're likely to make. And be sure you can zero the balances before the ruinously high standard interest rate kicks in.
Home Equity Financing for Wedding
If one or both of you are homeowners, your cheapest form of borrowing may be to us some of the equity you've built up in your home. A second mortgage certainly delivers an uber-low interest rate.
Home equity financing comes in two guides – a fixed installment loan or a line of credit (called a HELOC). For most weddings, the fixed loan is just overkill. The setup costs, including an appraisal and title charges, are just too high unless you are borrowing tens of thousands.
HELOCs cost much less to establish ($0 to about $500), and they offer more flexibility. Fixed loans deliver a lump sum at closing and you pay interest on that entire balance from Day One. But a line of credit lets you borrow as needed up to your credit limit. You take money only as needed (and can even charge to your credit cards first and then pay the balances with your HELOC).
Most home equity lenders let you borrow up to 80% of your home's value. A few allow 90% if you are a very strong candidate. So if your home is worth $250,000 and you owe$180,000, you'd probably be able to borrow $20,000. That's because 80% of $250,000 is $200,000. Subtract $180,000 and you get $20,000.
401(k) Loans for Weddings
If you want easy approval and cheap financing, a 401(k) loan may be your best bet. As long as your job is very secure. If your company allows it, you can borrow against your 401(k) no matter what your credit score is. And the interest goes right into your own account.
But if you change jobs (or even lose your job due to no fault of your own), a 401(k) loan could cost you dearly. The money must be paid back almost immediately or you incur a 10% penalty (if you're not yet of retirement age) and it also becomes taxable income. If your tax bracket is 25%, that's a 35% hit. It could cost $3,500 in taxes and penalties to borrow $10,000.
Be careful out there.
Personal Loans to Cover Wedding Costs
Many find personal loans the Goldilocks solution to borrowing for a wedding. The interest rates are not too hot. The terms and costs are not too cold. They're just right: affordable and manageable. Here are some of their key characteristics:
Competitive interest rates – Personal loan interest rates tend to be higher than those for home equity loans but much lower than credit cards.
Affordable – You can choose your term (the period the loan lasts). So you can pick a longer (but not too long) time and spread low payments thinly. Or, if you're prosperous opt for higher payments over a shorter period.
Manageable – Pick a fixed-rate loan, and you know from the beginning exactly how much you have to pay each month and the date on which the debt should be cleared. For some years, adjustable-rate loans have only been going down in cost. So budgeting's easy.
Quick and easy – Apply on one working day and the money could be in your account on the next. And it rarely takes longer than a week. You can find a great deal online and then apply, also online. Pajamas optional.
Usable intelligently – Get the money in your account. And then pay for everything using your cards. You get their rewards and superior consumer protections. And you zero your balances every month using the proceeds of your personal loan.
You can use personal loans to score big discounts from vendors by paying well in advance. In addition, the most sought-after venue often require substantial payments to reserve them up to a year in advance. So take care of your planning and paying in advance and then start paying down the balance ASAP. You can knock down the balance even more with any cash gifts you receive from friends and family.
However you choose to pay for a wedding, everyone here at Money-Rates.com wishes you the happiest of days.