Cit Bank No Penalty CD Review 2021
Our articles, research studies, tools, and reviews maintain strict
editorial integrity;
however, we may be compensated when you click on or are approved for offers from our partners.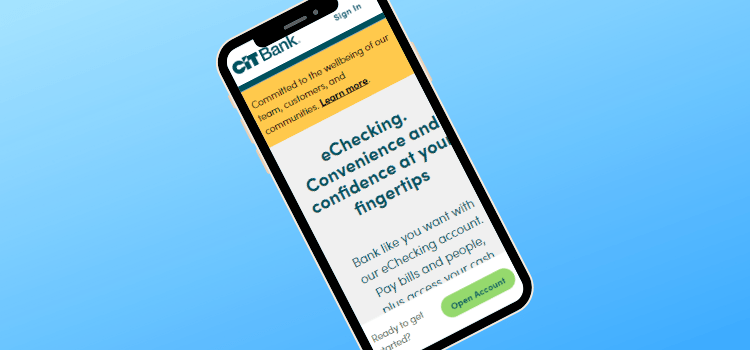 CIT Bank is a national online bank offering loans and deposit accounts to customers nationwide.
The CIT Bank No-Penalty CD offers a competitive interest rate for savers who want to grow their money while still being able to access it without a fee when needed.
These CD accounts are FDIC-insured. Learn how the CIT Bank 11-month, No-Penalty CD works to help decide whether to open an account.
---
CIT Bank 11-Month, No-Penalty CD Essentials
This CD account features an 11-month term and earns a competitive APY. Interest compounds daily and there are no account-opening or account-maintenance fees, as well as no penalty fees for withdrawing money from your CD before it reaches its maturity date.
The 11-month, no-penalty CD could be a useful place to keep your emergency savings if you're interested to earn a higher rate on deposits while having the money handy if you have an unexpected expense.
The minimum deposit required to open one of these accounts is $1,000, which is a little more than what some banks charge but less than what you might pay at a brick-and-mortar bank.
---
MoneyRates Editor's Analysis: Pros & Cons
When considering a no-penalty CD, it's important to have all the details about what's good (or bad) about it before moving ahead with opening an account. To help you, we offer our review of the pros and cons of the CIT Bank 11-month, No-Penalty CD:
Pros:
The account offers an APY that is well above the national average rate for CDs of a similar term.
You can lock in a great rate on your CD but access the money on your terms, without paying an early-withdrawal penalty.
It takes just a few minutes to open your account online.
The required $1,000 minimum deposit to open a no-penalty CD is lower compared to what some other no-penalty CDs require.
There are no maintenance or monthly fees to have this CD account.
Cons:
CIT Bank is an online bank, meaning you don't have the option to visit a branch to manage your CD account.
There is only one CD term from which to choose, whereas some banks offer no-penalty CDs with multiple maturities.
There is a six-day waiting period before you can begin making penalty-free withdrawals from your CD.
On the plus side, CIT Bank offers competitive rates on its savings products across the board, including the 11-month No-Penalty CDs. You can start taking advantage of that rate as long as you have at least $1,000 to save. If you have more than that to save, you could build a CD ladder using multiple no-penalty CDs.
Savers should note that the no-penalty-early-withdrawal period doesn't begin until the seventh day after your account is open. Assuming you don't have any major money emergencies during that time, however, that may not be an issue.
---
CIT Bank 11-Month, No-Penalty CD Rates
Since this CD has a single term, it also has a single interest rate. There are no tiered rates. Visit the CIT Bank website for the current APY for this account, which applies to all balances.
This rate is competitive and exceeds the national average for CDs with a comparable term. The APY for no-penalty CDs exceeds the rate CIT Bank pays on its regular-term CDs, as well as its jumbo CDs, so you get the most bang for your savings buck.
A higher rate on savings and CD accounts is important for keeping pace with inflation. When prices rise due to inflation, your dollars don't go as far. Earning a better rate on a CD can help insulate your purchasing power to a degree.
CIT Bank 11-Month, No-Penalty CD Fees
One feature that is common to online banks is charging minimal fees. In that respect, CIT Bank is similar to its competitors.
There are no account-opening fees or maintenance fees with this account, along with no early-withdrawal-penalty fees. In fact, CIT Bank charges very few fees at all, and most of the fees it does charge apply to money market accounts.
---
Additional CIT Bank 11-Month, No-Penalty CD Features & Benefits
Aside from no early-withdrawal fee, this CD offers convenience in a different way. It is easy to open your account and start saving online, and you can manage your account online 24/7.
You can also view your account history through the CIT Bank app. Customer service is also available by phone if you need help with your account or have questions.
Your money is FDIC-insured up to the standard $250,000 limit per customer.
CIT Bank also offers helpful educational resources on saving money, along with calculators to help you estimate your savings growth, prepare for retirement or create a plan for paying off debt.
---
Other Ways to Save With CIT Bank
In addition to the 11-month No-Penalty CD, there are multiple ways to save money with CIT Bank.
Savings Builder Account
First, there's the Savings Builder Account. This account offers an APY that is just a bit higher than the no-penalty CD and requires just $100 to open.
To earn the higher rate, savers need to commit to making a $100 monthly deposit or maintain a $25,000 minimum balance. This account has no fees to open or monthly maintenance fees; and you can add money to your account via electronic transfer, wire transfer, paper check or mobile-check deposit.
Premier High-Yield Savings Account
The Premier High-Yield Savings Account also has a $100 minimum-opening deposit. With this account, you earn a lower (but still competitive) APY but there's one difference – you don't have to maintain a minimum balance or make additional deposits to your account regularly to qualify for that rate.
This account and the Savings Builder Account can be used for short-term goals, such as saving for a vacation or an emergency fund, or long-term goals like buying a home.
Money Market Account
The money market account offers an APY that falls in between the Savings Builder Account and Premier High-Yield Saving Account.
This account requires $100 to open. It offers a little more accessibility, since you can make transfers using PayPal or People Pay. CIT Bank also plans to add a bill pay feature for money market accounts in the future.
Certificates of Deposit
There are term CD accounts as well, with maturity terms ranging from six months to five years. Term CD accounts have a $1,000 to minimum to open.
If you have at least $100,000 to save, you could open a Jumbo CD with CIT Bank. You can choose between a two-, three-, four- or five-year term. There are no maintenance or monthly fees.
---
How to Open a CIT Bank No-Penalty CD
CIT Bank makes it fairly simple to open a no-penalty CD account online. Once you're on the No-Penalty CD's product page, you simply navigate to the 'Open Your Account' button at the top to start your application.
You'll need to give CIT Bank your name, address, phone number, email address and social security number.
From there, you tell CIT Bank how much money you want to fund your account with and from where it's coming. CIT Bank accepts wire transfers, electronic transfers and paper checks to fund new CD accounts.
Once you've shared your account-funding details, CIT Bank continues processing your application. You'll receive a confirmation email once the account is open.
From there, you can manage your account online or through the CIT Bank mobile app. Being able to complete the account-opening process online from start to finish is something you might appreciate if you'd rather not visit a branch. The trade-off is that, if you need help with your account, you're limited to speaking to a customer-service representative over the phone.
---
Final Verdict: Should You Open a CIT Bank No-Penalty CD?
CIT Bank's No-Penalty CD offers an attractive interest rate; and the option to withdraw money without penalty after seven days might appeal to you if you're using a CD as an emergency fund.
When considering a no-penalty CD from CIT Bank, it's helpful to look at what other banks offer for maturity terms and interest rates. Overall, CIT Bank could be suited to someone who is comfortable using an online bank to save and wants to earn a good interest rate on their savings.