Prosper Personal Loans 2023 Review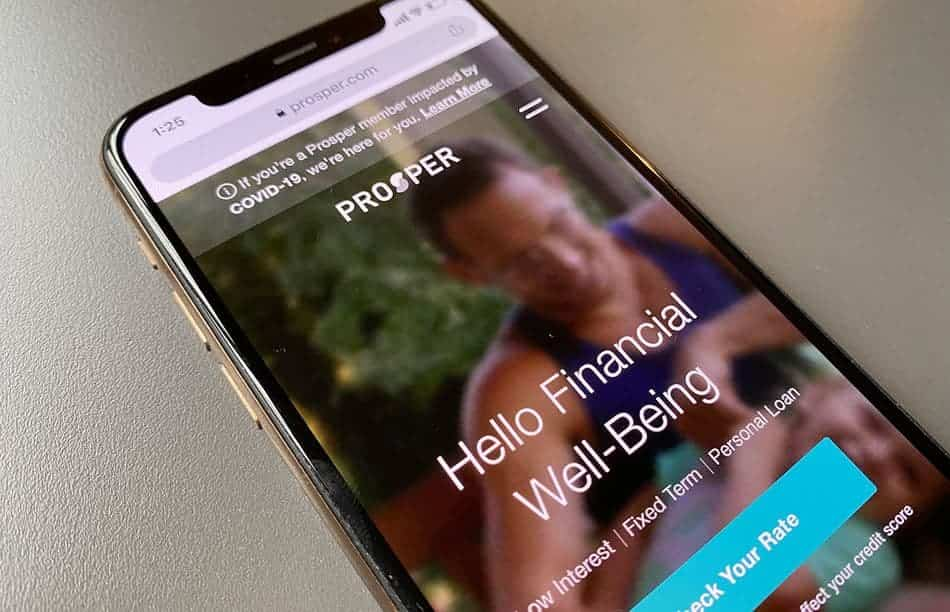 Prosper is a personal loan provider offering loans of up to $40,000 for applicants with fair credit or better. This Prosper review contains the fast facts, pros and cons, and in-depth evaluation so you can confidently choose the best personal loan for your needs.
Why Should I Apply With Prosper?
Prosper has lent $16 billion to more than a million people. So it's a serious player in the personal loans market. But is it right for you? Here's what you need to know:
Annual percentage rates (APRs) as low as 6.95%. Though much higher for less creditworthy borrowers – up to 35.99%
A low credit score threshold of 640
No effect on your credit score when you request a quote
You can make a joint application – So if your own finances are a bit shabby you can piggyback on a co-signer's creditworthiness
Borrow over 36 months or 60 months
You can pay back the loan early without penalty
Solid, mid-range ranking in the J.D. Power 2019 Personal Loan Satisfaction Study
Loans as low as $2,000 – And as high as $40,000. But some states impose higher minimum loan amounts
With more than a million customers, Prosper is clearly doing many things right.
But this is a personal loan review. And there must be quibbles. Well, you're going to have to pay an origination fee, which is deducted from the proceeds of your loan. And the company charges late fees if you don't make payments punctually.
How Does Prosper Work?
Prosper was the first peer-to-peer (P2P) lending marketplace in America. But how does P2P borrowing work?
Well, Prosper's website acts a bit like a dating site. But, instead of introducing romantic partners it introduces lending ones. Lenders are just private individuals who are hoping for a better return on their savings than they can get from a bank. And, if you or your co-signer look like a good bet, you might get offers at different interest rates from a number of them, including some syndicates. You get to pick your best deal.
So Prosper introduces you to lenders, verifies your application, sends you your money and then collects payments and manages your account on behalf of your private lenders. But it doesn't lend you its own money.
What Kind of Loans Does Prosper Offer?
When you're making up your mind whether to add Prosper to your short list, you're going to need these facts:
Loan amounts from $2,000 to $40,000
Minimum APR is 6.95% and the maximum is 35.99%
Choose how long you spread the payments for – 36 months or 60 months
Minimum credit score of 640, though most Prosper customers have higher ones
Maximum DTI* of 50%
No prepayment fees – Meaning you can pay off your loan early without penalty
You can make a joint application with a co-signer
You can make an application without affecting your credit score – That's a form of prequalification
Fixed rates only – Meaning all your monthly payments will be the same, no matter what happens to other interest rates
Lender fees include origination fees (2.41%-5% of the loan amount) and late fees of the higher of $15 or 5% of the overdue amount. Also, a $15 fee if a payment fails to go through
*DTI is your debt-to-income ratio. It's the percentage of your pretax income that you pay out each month to service your debts and obligations.
How To Apply With Prosper
Don't worry about how to apply. As with most personal loan applications, it couldn't be easier – or much quicker. Initially, you'll be asked for information about yourself: name, address, date of birth, monthly housing costs, employment status and income. Prosper will then run a "soft" credit inquiry that won't affect your score.
Later, if you wish to go ahead, you'll be asked to upload documentary evidence of the claims you made in your application. And then the company will run a "hard" credit check that will give your score a small hit. But that's inevitable whenever you borrow. And your score should soon recover as you make timely payments.
How Soon Can I Get My Money With Prosper?
Prosper says, "On average, borrowers receive their funds within five days of accepting their loan offer." Whether you get yours a bit earlier or a bit later than that average will partly depend on how quickly your bank processes incoming transfers.
And other factors will play a part. For example, if you upload your documents and respond to queries quickly, you're likely to see your money sooner. And you might benefit by applying during times that are less busy for lenders generally. So, for example, you might want to apply before the holiday season sets in.
Be ready to answer queries about any financial issues you've had over the last year. Bouncing a check or going delinquent with a loan won't necessarily disqualify you. But you're likely to be asked for an explanation.
Prosper BBB Rating
Prosper has been an accredited business with the Better Business Bureau since 2012. At the time of writing, it had an A+ rating, which is the highest the BBB has.
Consumer Financial Protection Bureau and Prosper
Only 24 Prosper customers made complaints to federal regulator the Consumer Financial Protection Bureau during 2019. That's a higher number than some of its competitors. But it also originates many more loans than most of those, so we reckon it's doing well.
MoneyRates Editorial Prosper Rating
We suspect that Prosper deserves a higher star rating. After all, its Better Business Bureau rating is unbeatable, and it does well in J.D. Power's customer satisfaction survey.
And most of its customer reviews in a compilation of national review sites are positive. But a significant number aren't, which means it needs to invest in some staff training to get top marks.
Don't let that put you off. It's a large lender with a competitive offering, especially for those with less than perfect credit. And most of its customers are more than happy.
What Are the Alternatives to Prosper?
The fact that you can get a rate quote from Prosper without harming your credit score means that you should probably request one. What have you got to lose? But the whole point of comparison shopping is to compare personal loans to find your best rate. So here are some ideas for others you might approach:
LendingClub
LendingClub is similar to Prosper. It is a big, established P2P lender with similar rates and fees and appeals to borrowers with similar credit profiles. It too allows you to request a rate quote without harming your credit score. But it offers to settle directly with your creditors if you're looking to consolidate your debts.
Payoff
Payoff specializes in consolidating credit card debt. And it provides extra services and advice to help you do so successfully. You're going to pay an origination fee, but you won't be charged late fees. On the downside, you can't make a joint application with a co-signer.
Best Egg
Best Egg is not dissimilar to Prosper in rates, fees, and appeal. But it has a reputation for turning around applications superfast. Your score won't take a hit when you ask for an initial quote.
Upgrade
If you like Prosper, you may well like Upgrade. Its minimum credit score is a little lower (620) and it does accept joint applications. You can ask it to pay your creditors directly and it has a hardship program if you later find yourself in financial trouble. Rates and fees are competitive with Prosper's rather than noticeably better. And a quote request won't harm your credit score.
Sofi
Sofi may appeal more to borrowers with good credit. You'll need a score of 680 to stand a chance of your application being approved. However, a higher one will get you a better rate. But, if you qualify, you'll find some valuable benefits: loans up to $100,000, low interest rates and no fees. Joint applications welcome.
Lightstream
Lightstream's more like Sofi than Prosper, with high credit thresholds. But the best borrowers, who also opt for autopay, can get even lower rates, starting at just 3.49% APR, which is exceptional. No fees and co-signers welcome.
How to Find Your Best Personal Loan
You'll have seen in that list of alternatives that different lenders appeal to different borrowers – and vice versa. So it's important you apply to lenders that are comfortable dealing with borrowers like you.
That means, if you have great credit, you could get a worse deal if you apply to a lender that specializes in those who are less creditworthy. And the same applies – maybe even more so – to those with financial issues who apply to picky lenders. You may not get the time of day. So shop with lenders you think like borrowers like you.
And, if you don't need cash urgently, spend the months leading up to your application making yourself a more attractive borrower. Pay down as much debt as you can, especially if you have any high credit card balances or installment loans with balances so low you can afford to pay them off. And work to drive up your credit score. You could save a bundle.
And, finally, try to avoid borrowing for long periods to give yourself short-term pleasures. You probably don't want to be still paying for your dream cruise five years after you unpack.