SoFi Personal Loan – 2023 Review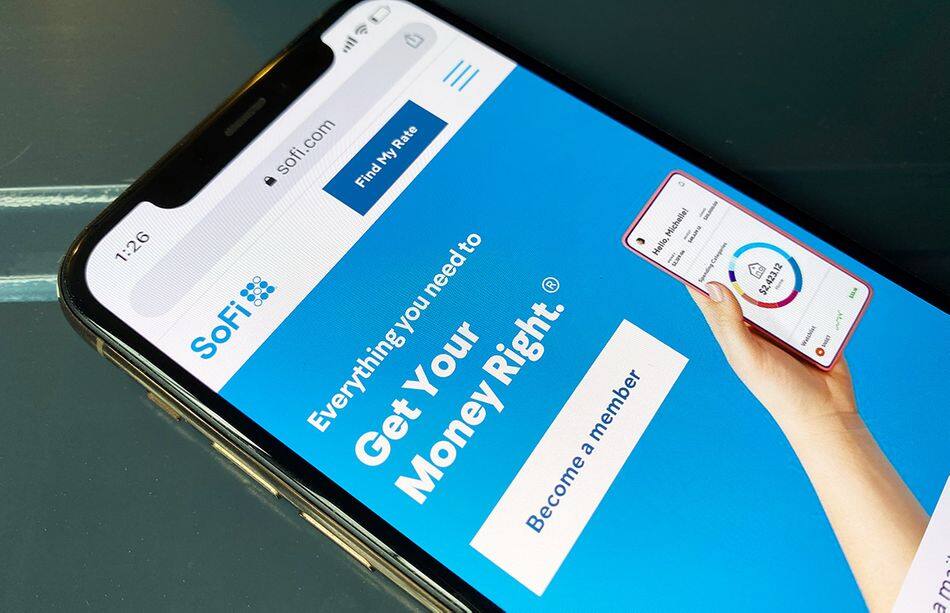 SoFi is a peer-to-peer (P2P) lender offering personal loans of up to $100,000 for applicants with good-to-excellent credit. This SoFi personal loan review contains the fast facts, pros and cons, and in-depth evaluation so you can confidently choose the best personal loan for your needs.
What Kind of Loans Does SoFi Offer?
Interested? Here are the headline facts you need to decide whether to move forward with SoFi:
Loans from $5,000 to $100,000
Minimum APR of 5.99%, rising to 20.89% as your creditworthiness declines. APRs on variable-rate loans are capped at 14.95%
Loan terms of 24, 36, 48, 60, 72 or 84 months
Minimum credit score of 680, though the higher the better
Maximum DTI* – No published maximum. But SoFi is known to focus on this. And for mortgages, it says, "The ideal DTI is 36%." Read what you will into that
No prepayment fee – So you can pay off your loan early without penalty
Joint applications are welcome – This means you can have a co-signer or co-borrower
Online prequalification is available – "In 2 minutes with no commitment," according to its website. This shouldn't affect your credit score
Choose between fixed and variable rates
No lender fees – Not for origination nor for late payments or early prepayment
*DTI stands for debt-to-income ratio. Divide your total housing costs and commitments on existing debts by your monthly gross (before tax) income.
Which Lenders Have the Best Personal Loan Rates?
Finding the lender with the best personal loan to meet your needs is easy and stress free when you use our search tool. Compare personal loans and find the best rates being offered today.
How Does SoFi Work?
Sofi Lending Corp. is a peer-to-peer (P2P) lender. That means it introduces you to personal investors who want to lend to you.
SoFi verifies your application and credit score (and later collects your payments and manages your account) and posts on its website details about you and your loan needs. Individual lenders then offer to fund (usually) parts of your loan. If enough do that, you get your money.
Unusually, SoFi gets all its revenues from lenders – so most borrowers pay no fees.
Why Should I Apply With SoFi?
If you have good or great credit and lots of disposable income at the end of each month, SoFi could deliver an awesome deal for you:
No fees – That's zero, even if you pay off your personal loan early
Exceptionally low interest rates – Annual percentage rates (APRs) as of this writing between 5.99% APR to 18.64% (with AutoPay)
Maximum loan amount of $100,000 – The minimum is $5,000
Borrow for up to 7 years – Use a longer term to lower your payment or a shorter one to reduce the total cost
Choose between fixed and variable rates
Unemployment protection – In a financial downturn, this may prove lifesaving. Read its terms and conditions before you rely on it
Good customer service – Ranked a highly respectable 5th in the J.D. Power 2019 Personal Loan Satisfaction Study
Smartphone app – To help you manage your account on the move
SoFi provides more attractive loans that most of its competitors. And its customer satisfaction is credible.
But don't bother applying unless your credit score is at least 680. And to get the best deals, your FICO must be much higher. However, SoFi also considers the amount of money you have left over each month after you've met all your commitments. If that's a lot, your credit score may matter less.
How Do I Apply With SoFi?
If you have minimal computer skills, don't worry about how to apply. The SoFi application process is wholly online. However, you can call for help seven days a week.
Your initial request for a quote shouldn't affect your credit score. But the company's going to make a "hard" inquiry and pull your credit report once you decide to go ahead. Your score takes a small hit for every personal loan application, so only apply and authorize a report if you're serious. Your credit score should recover quickly once you begin making timely payments on your new personal loan. That situation is pretty much inevitable, no matter which lender you choose.
When you complete and upload your loan application, SoFi asks for photo ID, proof of address, and proof of employment or income. However, underwriters on the fence about an applicant can ask for additional documentation like bank statements and explanations for credit blemishes or gaps in employment.
How Soon Can I Get My Money With SoFi?
You can get an initial rate quote in a couple of minutes. After that, if you decide to proceed, your application enters the verification phase. That's when you upload documents and the lender makes all the checks it considers necessary.
You can speed up the verification phase by uploading promptly and responding quickly to any queries. For example, if you've recently let an account slip into delinquency or have bounced a check, expect to be asked why. For many with straightforward applications, decisions only take hours. After that, the SoFi website says:
Once your application is complete and verified, if you are approved for a loan, you will receive a Loan Agreement for electronic signature. Once you've signed the document electronically, we will give you a call to confirm your address and welcome you to the SoFi Community, and then your funds should generally be available within a few days.
How long does it take to get your money? Not long.
SoFi BBB Rating
SoFi has not registered with the Better Business Bureau as an accredited business. It currently has an A- rating on a scale that runs from A+ (the best) through to F.
Consumer Financial Protection Bureau and SoFi
Only six SoFi (Social Finance, Inc.) customers filed complaints with federal regulator the Consumer Financial Protection Bureau under the "installment loans" category, which includes personal loans, during the 2019 calendar year.
That seems an extraordinarily low number for a sizable lender. And you may decide to infer that it's doing a lot right.
MoneyRates Editorial SoFi Rating
SoFi is a must-have for the short list of anyone with good or great credit. You can borrow larger amounts at attractive rates. And you shouldn't pay fees.
Just don't expect to be offered those ultra-low rates unless your credit and overall finances are in exceptionally good shape. But you might still get a competitive offer if your FOCO score's north of 680.
Nationwide, online reviews are good. None of ten customers gave them high marks for their programs and service.
What Are the Alternatives to SoFi?
If you don't have the healthy credit score and finances SoFi favors, you may need another lender. And residents of Mississippi can't get SoFi personal loans. Here are some decent choices:
LendingClub
With a minimum credit score of just 600, LendingClub appeals to a broader market than SoFi. And its lowest interest rate isn't much higher than SoFi's, though that's likely reserved for those with top scores. Joint applications are welcome. But expect to pay fees for origination and late payments.
Payoff
Although those with great credit can get similar rates to SoFi's, most will pay considerably higher ones – along with an origination fee. Still, Payoff can be a great choice if you're consolidating credit card debt and need at least $5,000. Rates are often competitive when compared with similar lenders.
Best Egg
Best Egg is known for getting your money to you quickly. And its interest rates can be competitive for the right borrower. Expect to need a 640 or higher credit score and to pay origination and late-payment fees.
Upgrade
Available to those with scores as low as 620, Upgrade loans go up to $50,000. However, to get an affordable rate if your credit's fair or poor, you may need a co-signer. Luckily, that's fine with Upgrade. Expect origination and late-payment fees.
Prosper
Not one for those with poor credit. Prosper says you need a minimum score of 640, though most of its customers have significantly higher ones. Still, you may be able to use a co-signer to boost your application's appeal. Origination and late fees apply.
Lightstream
Lightstream's the most like SoFi on this list. It offers high loan amounts, no fees and extra-low rates for the most creditworthy. If your finances are excellent, compare personal loans from both lenders.
How to Find Your Best Personal Loan
The need to shop around is even more pressing when getting a personal loan than it is when sourcing other products. That's because your borrower profile is individual and because personal loan interest rates vary a great deal more than those of secured products like mortgage loans and auto financing. Personal loan providers differ a great deal when it comes to the borrowers they serve and the rates they charge.
Before shopping, try to make yourself as attractive a borrower as you can. If you have time, check your credit and take action to improve your score if necessary. Eliminating errors and paying down balances should get you a better interest rate on your loan.
Try to match the term of your loan (how long it lasts) to the period for which it's going to bring you joy. So you may still be happy to be finally paying off your loan in five years if you've consolidated debt, remodeled your bathroom or bought a classic Harley.
But you'll likely regret your borrowing if you've already largely forgotten the happiness it brought you. So borrow for short-term treats such as celebration parties and luxury vacations over as short a period as you can afford.