Live Oak Bank Review: Savings, Money Markets, and CDs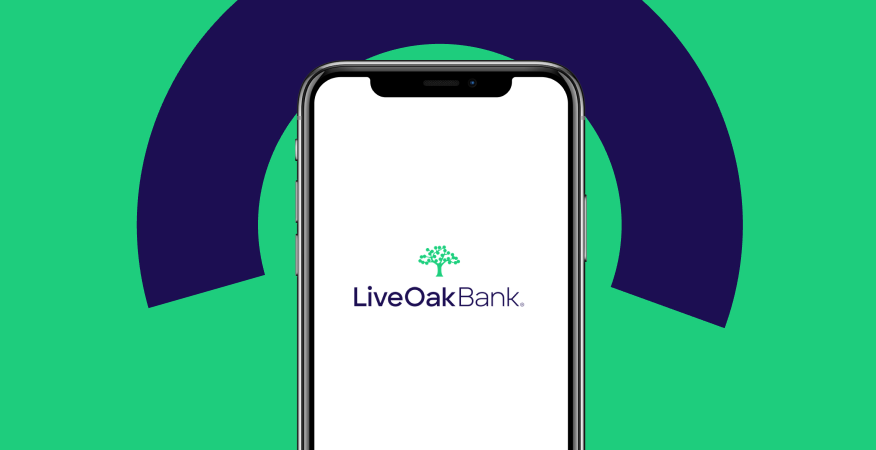 Live Oak Bank is an innovative bank that offers both personal and business banking products and services.
If you're looking for a new financial institution to open an account with, you may be interested in what Live Oak Bank has to offer. Learn more about how the bank works and the various types of accounts you can use to grow your savings.
What Is Live Oak Bank?
Live Oak Bank was originally founded as a lender focused on veterinary practices. The bank has since expanded to serve other small businesses and industries, and it has become a leading originator of small business loans.
On the personal banking side, Live Oak Bank offers both online savings accounts and certificate of deposit accounts, both of which feature competitive rates.
The bank's main headquarters are located in Wilmington, North Carolina. As an online bank, there are no physical branches to visit, and Live Oak doesn't have its own network of ATMs. But you can conveniently manage your money online or via the mobile banking app.
Which Banks Have the Best Savings Account Rates?
Finding the bank with the best savings account to meet your needs is easy and fast when you use the search tool below. Try it now and find your high-interest savings account.
Why Live Oak Bank is Best for You in 2023
Live Oak Bank could be a good fit if you're interested in opening online savings accounts or CD accounts with a financial institution that offers competitive rates. It's also a good online bank option for minimizing account fees, including a monthly fee.
Jump To:
Popular Live Oak Bank Accounts
Live Oak Bank offers two main ways to grow your money: online savings accounts and CD accounts.
Here's a closer look at the types of accounts you can open with Live Oak Bank:
How Live Oak Bank Works
Before you open an account with Live Oak Bank, it's helpful to know a bit more about how it works. Here are a few things to consider to help you decide if it's the right place for your money.
Maintenance fees
Monthly maintenance fees can take a bite out of the interest you earn with a high-yield savings account, regular savings account or CD account. At traditional brick-and-mortar banks, it's not uncommon to have to pay a monthly fee for a savings account.
Live Oak Bank is fee-friendly, with no monthly maintenance fees for its online savings accounts and no monthly fee for CD accounts. You may, however, have to pay a dormant account fee if your savings account has a balance of less than $10.01 and no activity for 24 consecutive months. This fee is the lesser of $10 or the account balance.
Account minimums
Aside from monthly fee requirements, it's also helpful to consider minimum balance requirements before you open an account with a new bank. For example, brick-and-mortar banks or credit unions may require you to have a minimum deposit to open an account. And you may also need to maintain a minimum daily or monthly balance to avoid account fees.
Live Oak Bank keeps things simple when it comes to account minimums. For high-yield savings accounts, there is no minimum deposit or minimum balance requirement. But you'll need to have at least $0.01 in your account to earn interest.
With Live Oak Bank CD accounts, the minimum initial deposit required is $2,500 per CD. The maximum you can deposit is $250,000 per account. Like other banks, the FDIC insures Live Oak Bank accounts up to the maximum deposit limit, per depositor, per account ownership type.
Can you open multiple accounts?
Opening multiple bank accounts at the same financial institution can be convenient and it can help you more easily achieve your financial goals. For instance, you may find it helpful to open an online savings account to hold your emergency fund while using CDs to save for a down payment on a home.
At Live Oak Bank, you can open more than one type of account. For example, if you run a small business, you could open a personal high-yield savings account and one for your business as well. This way, you could earn interest on both personal and business savings.
Just keep in mind that if you want to open multiple CD accounts to build a CD ladder, you'll need to meet the $2,500 minimum deposit requirements for each one.
Account access and customer support
Managing your Live Oak Bank accounts is easy and convenient with online and mobile banking. And while you can't visit a branch or ATM, you can get help with your accounts over the phone.
Customer support is available by phone at 1-866-518-0826 Monday through Friday, from 8:00 a.m. to 8:00 p.m. ET. There's also an online support site you can access to get answers to common banking questions.
Mobile and online banking experience
Like other online banks, Live Oak Bank offers both mobile and online banking access to its customers. You can use online and mobile banking to manage your accounts, including:
Reviewing statements
Schedule an ACH transfer between linked external bank accounts
Setting up banking alerts
Depositing checks using remote deposit capture
There's no fee to use online or mobile banking. You can also easily open an account online through online banking.
Live Oak Bank Savings Accounts
Live Oak Bank offers a high-yield savings account with competitive interest rates. According to the website, Live Oak Bank savings account rates are 12 times higher than the national average.
There are no minimum balance requirements and no monthly maintenance fees. Interest is compounded daily. Accounts are FDIC-insured and you can open one online in minutes.
Compare current savings account rates
Live Oak Bank Money Market Accounts
Money market accounts can be useful for saving money while earning interest. Many brick-and-mortar banks and credit unions (and some online banks) offer money market accounts. These allow you to save and earn interest while enjoying benefits like check-writing or debit card access. At this time, Live Oak Bank does not offer money market accounts.
Compare current money market account rates
Live Oak Bank CD Rates
Certificates of deposit can help you grow your savings over time while earning competitive rates. Live Oak Bank offers CDs with terms ranging from six months to five years, with a $2,500 minimum deposit requirement.
Live Oak Bank CD rates are competitive and interest rates are tiered according to your CD term. The longer you save in a CD, the higher the rate you can earn on your savings. There are no monthly maintenance fees for Live Oak Bank CDs.
Live Oak Bank Checking Accounts
Checking accounts are helpful if you need a way to pay bills or you want to make purchases with a debit card. At this time, Live Oak Bank does not offer checking accounts either on the personal or business banking side.
Compare current checking account offers
Live Oak Bank Personal Loans
Personal loans can put money in your hands when you need it to consolidate debt, fund home repairs or improvements or cover a financial emergency. While Live Oak Bank does offer loans to small businesses, it does not extend personal loans at this time.
Compare current personal loan rates
Live Oak Bank Pros & Cons
When considering a move to a new financial institution, it's important to weigh the pros and cons. Reading Live Oak Bank reviews like this one can help. Here's a recap of what's good about Live Oak Bank and why you may want to consider another bank.
Pros
Open high-yield savings accounts with $0 minimum deposit
Pay no monthly maintenances fees for savings accounts and CD accounts
Earn competitive rates on savings accounts and CDs
Conveniently open and manage accounts online
Easy-to-use mobile banking app
Savings and CD accounts are FDIC-insured
Cons
No branches or ATMs may be a downside if you prefer in-person banking
No checking accounts or money market accounts
Locations – Branches & ATMs
Live Oak Bank is headquartered in Wilmington, North Carolina. As an online bank, there are no branches and it does not have its own ATM network.