Best Personal Finance Podcasts for 2023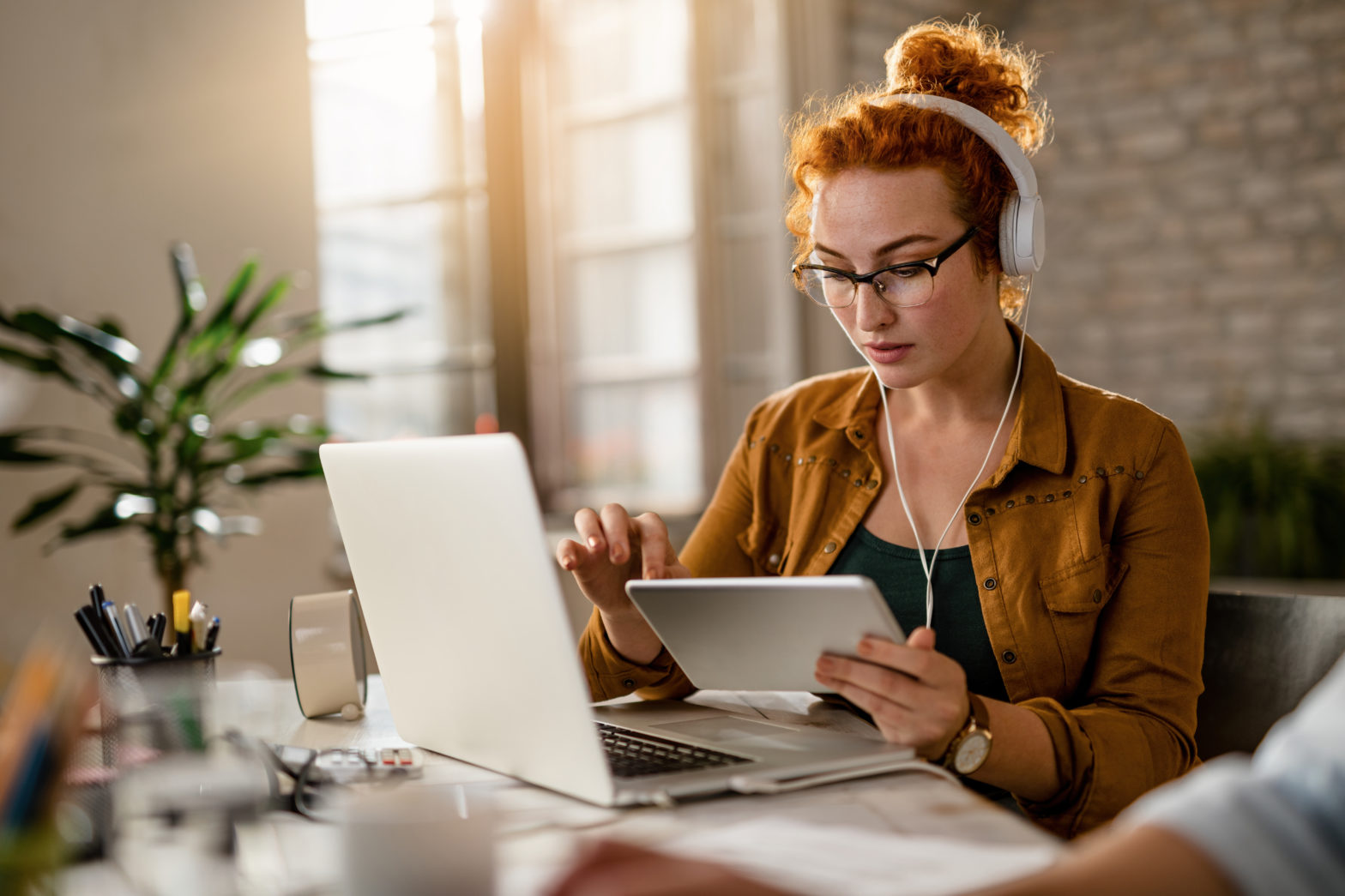 Learning more about money management is important for achieving your financial goals, both in the short- and long-term. You may want to build emergency savings, for example, or you may be focused on creating a money strategy that allows you to retire early. Tuning into financial podcasts can be a great way to learn the ins and outs of saving, debt repayment, investing, and more so you can realize your dreams.
Podcasts offer a convenient format for absorbing financial knowledge when you don't have time to read books about money or visit financial websites. You can listen to a full podcast in 30 minutes or sometimes less. Thanks to services like Apple Podcast, Google Podcast, Spotify, and Amazon Music, you can easily listen to your favorite finance podcasts on the go.
But what are the best financial podcasts to listen to and which ones are worth your time? If you're looking for the best podcasts to listen to now, here are 10 options to consider.
1. How to Money
Tune in for: Money management tips and advice for beginners
The "How to Money" podcast, hosted by Joel Larsgaard and Matthew Altmix, is designed to be a primer on all things money for millennials. The show covers a wide variety of money questions relating to budgeting, debt repayment, credit scores, and how to earn more money.
New episodes are posted weekly, typically lasting 30 minutes though some may run longer. The podcast format includes deep dives into single finance topics, special guest interviews and round-ups of the latest financial news. This is a great financial podcast to check out if you're a millennial who's entering into your peak earning years or just need to brush up on the basics of financial management.
Find the Best Savings Account Rates & Jumpstart Your Savings
Finding the bank with the best savings account to meet your needs is as simple as using our search tool. Try it now and find your high-interest savings account.
2. Stacking Benjamins
Tune in for: Comprehensive money advice that goes beyond budgeting
"Stacking Benjamins" is a magazine-style podcast hosted by Joe Saul-Sehy and Josh Bannerman, also known as OG (short for "The Other Guy"). It's one of the best investing podcasts to try if you're interested in learning how to create real wealth and enjoy a comfortable retirement.
The podcast launches new episodes every Monday, Wednesday, and Friday, with each one lasting just over an hour. Individual episodes are broken up into 10-15 minute blocks dedicated to a specific money management topic, such as how to save $1 million for retirement and how to avoid time bombs in your portfolio.
3. The Dave Ramsey Show
Tune in for: No-nonsense money advice on creating financial freedom
Dave Ramsey is a best-selling author and creator of the "Baby Steps" strategy, which emphasizes using the debt snowball method to pay off credit card debts. The debt snowball advocates paying down debts from lowest balance to highest so you can remain motivated to keep going. He offers up practical money management advice in "The Dave Ramsey Show," which covers everything from managing family disputes over money to how to retire early.
The show follows a call-in format, with listeners phoning in to ask financial questions. Dave dispenses his advice in a straightforward, no-fluff style. He also routinely celebrates on-air with listeners who have used his Baby Steps approach to achieve financial freedom.
4. Listen Money Matters
Tune in for: Financial advice that fits your everyday life
The "Listen Money Matters" podcast is a joint project between Andrew Fiebert and Matt Giovanisci, who also runs the Money Lab. If you're looking for good podcasts to listen to so you can reach your financial goals, this one belongs on your shortlist.
Podcast topics span everything from tackling student loan debt to creating passive income with a side hustle to investing. While it's not a perfect substitute for hiring a financial planner, Listen Money Matters dishes up solid financial advice that's actionable and easy to put to work, regardless of where you are financially.
5. Women & Money
Tune in for: Money management tips for women who want to improve their finances
"Women & Money" is a Suze Orman podcast that produces new episodes several times each week for women who are curious about all things money-related. Much of Orman's advice is drawn from her early experiences managing money and debt as a young woman and the show is designed to help women feel in control of their finances.
Some of the episodes follow a question and answer format, in which Orman answers listener questions. Other episodes share inspiring stories from women (and men) who have used her advice to turn around their financial situation. This is a great money podcast to try if you're interested in making over your attitude toward and relationship with money.
6. Smart Passive Income
Tune in for: Actionable advice on creating passive income
If you've ever considered starting a side hustle to generate passive income, then "Smart Passive Income" is one of the best financial podcasts to have in your playlist. Hosted by Pat Flynn, this podcast offers an inside look at how to create income on autopilot so you can enjoy financial freedom.
Flynn is himself an expert on making passive income and he's built a mini-empire through blogging. On the Smart Passive Income podcast, he interviews other entrepreneurs, side hustlers and passive income pros to help listeners find their own paths to financial freedom with side hustle ideas.
7. Money for the Rest of Us
Tune in for: Advice on how to manage money with less stress
If money is a real headache, then this financial podcast could be right for you. "Money for the Rest of Us" is hosted by David Stein and it offers comprehensive tips and advice on how to manage money, how to invest it and how to stop worrying about it. Recent podcast topics include the financial impact of the COVID-19 pandemic, the pros and cons of overwork and the "meme stocks" investing phenomenon, which gives you a sense of how varied the content is.
In addition to being a podcast host, David Stein is also an author and he was previously Chief Investment Strategist and Chief Portfolio Strategist at FEG Investment Advisors. With those kinds of credentials backing him up, it's safe to say that his advice is grounded in expert knowledge and you can take it with more than a grain of salt.
8. Afford Anything
Tune in for: Practical tips on achieving financial independence
"Afford Anything" is one of the most popular financial podcasts for people who are interested in becoming financially free and building their dream lifestyle. Hosted by Paula Pant, the podcast focuses heavily on how to create passive income and financial freedom through real estate investing, something Pant is well-versed in herself. She's made a small fortune through rental real estate properties and now teaches others how to do the same.
Episodes include interviews from other gurus who have achieved financial independence as well as reader questions. If you're at all interested in joining the FIRE movement, short for Financial Independence, Retire Early, then this is one of the best financial podcasts to make room for on your calendar.
9. So Money With Farnoosh Torabi
Tune in for: Advice on how to live a richer life
"So Money with Farnoosh Torabi" is a must-listen financial podcast if you're ready for candid conversations about money matters. Episodes include interviews with top entrepreneurs, finance experts and influencers as well as listener-submitted questions, which Torabi answers in a straightforward way.
The show covers a lot of ground, financially speaking, with past episodes showcasing topics including the best ways to get ahead at work, how recessions can affect your earning potential and what it really takes to buy a home. It's been rated a top female-hosted podcast by Entrepreneur Magazine, a top financial podcast by Plutus and one of the best financial podcasts to grow your business by Inc. Magazine.
10. Planet Money
Tune in for: In-depth insight into economic trends
"Planet Money" is one of the best economics podcasts to add to try if you're interested in learning about economic and financial trends that may impact you personally. This NPR podcast puts a spotlight on everything from changing tax laws to celebrity net worth estimates to financial "fads", such as NFTs (non-fungible tokens).
There's no single host; instead, podcast episodes are hosted by different people so you can get a variety of financial perspectives. If you're interested in staying on top of the latest financial and economic news, this is one of the top podcasts to listen to for the most up-to-date information.
Bottom Line
Listening to financial podcasts can help you get answers to your most burning money questions without paying fees to a financial planner. They can be a great companion to reading the best personal finance books or magazines or visiting some of the top personal finance blogs. Whether you're interested in how to start a side hustle, how to retire early or how to make a budget and stick to it, the finance podcasts included here can help you take the next steps in the right direction.