SFGI Direct Savings Account Review 2022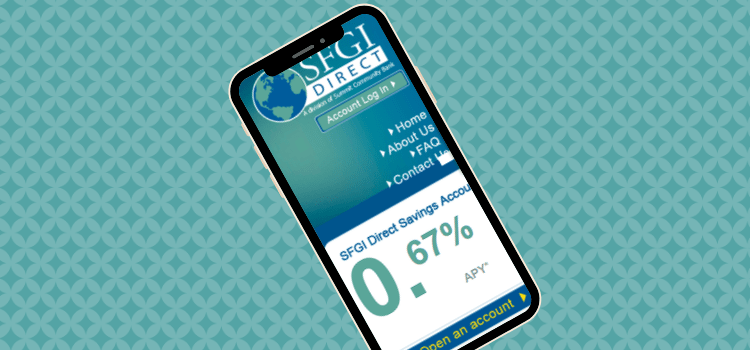 SFGI Direct is the online division of Summit Community Bank, which has locations in West Virginia and Virginia.
In this SFGI Direct Accounts Review, we explore the benefits and features to help you decide if it's the right bank account for your savings.
SFGI Direct Savings Account Essentials
There are several noteworthy features associated with the SFGI Direct Savings Account. Those include:
A competitive APY on all savings balances
No monthly service charge
$1 minimum balance required to earn interest
FDIC-insured savings
Open an account online in minutes and manage your account online
Easily transfer money between accounts at another bank
Joint and individual accounts are available
Which Banks Have the Best Savings Account Rates?
Finding the bank with the best savings account to meet your needs is as simple as using our search tool. Try it now and find your high-interest savings account.
MoneyRates Editor's Analysis: Pros & Cons
When comparing any online savings account, it's important to consider both the good and the bad. Here are the main pros and cons to be aware of with SFGI Direct's Online Savings Account.
SFGI Direct Online Saving Account Rates
Some banks tier the rates savers earn based on the balance. The more you save in your bank account, the higher the rate you can usually earn. Other banks apply one single APY to all savings balances.
SFGI Direct offers just one rate to savers, which is typically among the highest rates for savings accounts. This APY applies to all balances with no upper limit.
There is no minimum-amount required to earn that rate, though you do need to have at least $1 in your savings account to earn interest.
There is also no maximum balance you can maintain to earn that rate. At some online banks, there's a cap savers have to observe: Once your savings account balance reaches a certain limit, anything over that limit earns a lower APY.
Compared to other online banks, SFGI Direct stands out as having one of the highest rates available.
SFGI Direct Savings Account Fees
The SFGI Direct Savings Account has no monthly fee and no minimum-balance fee. That's a good thing if you're looking for online banking with minimal fees.
Since there is no monthly fee, there's nothing special you need to do to avoid it. There are, however, a few other fees to be aware of if you're considering SFGI Direct as a home for your savings.
Other Savings Account Fees
In terms of other fees to know about with this account, there are four:
Account-inactivity fee – $5 per month
Research fee – $25/hour, minimum charge of 1 hour
Paper-statement fee – $5 per statement
Excess-withdrawal fee – $10 per transaction
The inactivity fee doesn't kick in until your account has been dormant for at least seven years. So as long as you're scheduling deposits regularly, you should be able to avoid this fee. A simple way to keep your account current is by arranging an automatic transfer from an external checking or savings account once per month.
You can also avoid the paper statement fee by enrolling in electronic statements and viewing them online. The research fee may only be something to worry about if you have to generate financial records from your statements or you need help tracking down a particular transaction.
Since this is a savings account, Regulation D rules apply. This means you are limited to making six withdrawal transactions from your savings account each month. After reaching this limit, banks can charge an excess-withdrawal fee for each transaction over the limit.
SFGI Direct charges $10 for each excess-withdrawal transaction over the monthly allowed limit. That's typical of what other online and brick-and-mortar banks charge for excess-withdrawal fees.
Additional SFGI Direct Savings Account Features & Benefits
The SFGI Direct Savings Account's best feature is arguably the competitive rate savers earn on balances. Beyond that, the main features and benefits include:
No monthly fees
Being able to open a joint or individual account
Online banking access
There is no bonus when you open an account, for example, nor any free gift. That may or may not make a difference to you, depending on your goal for opening a savings account.
Are There Other Ways to Save with SFGI Direct?
At this time, the only way to save money with SFGI Direct is the savings account. If you're looking for money market accounts, traditional savings accounts, or specialty savings accounts such as minor savings or savings-club accounts, you can find those, along with checking accounts, at Summit Community Bank.
To get the best rates, however, stick with the SFGI Direct Savings Account. The rates offered at Summit Community Bank are more aligned with what other traditional banks pay to savers and they're a fraction of what you could earn with the online savings account.
How to Open a Savings Account
There are a few steps involved in opening a savings account with SFGI Direct. First, decide whether you want to open an individual or joint account. Note, you need to be at least 18 years and a U.S. citizen or resident alien to open a savings account online.
Next, gather the information you'll need to open your account. That includes:
Your name
Date of birth
Valid ID number, such as a state-issued driver's license or passport
Social security number
Current and former home addresses
Phone number
Email address
Employment status
Bank account number and routing number for the bank from which you plan to transfer your initial deposit
If you're opening a joint account, you'll need all of that same information for the joint account holder.
Remember, you need at least $500 to open your savings account with SFGI Direct. The maximum amount you can open an account with is $25,000.
Note that these are personal savings accounts only. You can't open a business savings account with SFGI Direct.
Once your account is open, there are a few things to know about managing it. With online account access, you can manage your account 24 hours a day, 7 days a week. There is no mobile banking app, however, which could be a drawback if you're used to doing most of your banking from your phone.
The only way to add money to your account once it's open is through an electronic transfer from another bank. You can't add money to your account at a Summit Community Bank branch.

Wire transfers are not accepted either and, since there's no mobile banking app, mobile-check deposit isn't an option. And of course, you don't have check-writing abilities with this savings account.
One upside is that SFGI Direct doesn't place any daily, weekly or monthly limits on how much money you can deposit to your savings account. That's different compared to other banks, which restrict you to a certain number of transfers or dollar amounts per day when moving money in and out of your account.
Final Verdict: Should You Open an SFGI Direct Savings Account?
The SFGI Direct Savings Account could be attractive for someone who is comfortable with online banking and wants to earn one of the highest rates available on their savings.
Other marks in the bank's favor include no monthly fees, no minimum balance fees, no limits on deposits and a quick and easy online-account setup.
One thing to consider is the $500 minimum deposit that is required to open an account. If you don't have quite that much to start saving yet, then this account won't work for you – or you'll need to wait until you've saved at least $500 to open your account.
Something else to keep in mind is the lack of other savings- or checking-account options available. Other online banks, such as Ally or Salem Five Direct, can offer a more comprehensive range of checking and savings products. If you're looking for more than just savings, you may want to consider all the options aside from SFGI Direct.
Finally, there's the lack of mobile-banking access and the limited ways you can add money to your account. While you can log in to your account from your mobile device through a browser, it's tougher to overlook not being able to use mobile-check deposit to grow your savings.