How to Use an Investment App
Our articles, research studies, tools, and reviews maintain strict
editorial integrity;
however, we may be compensated when you click on or are approved for offers from our partners.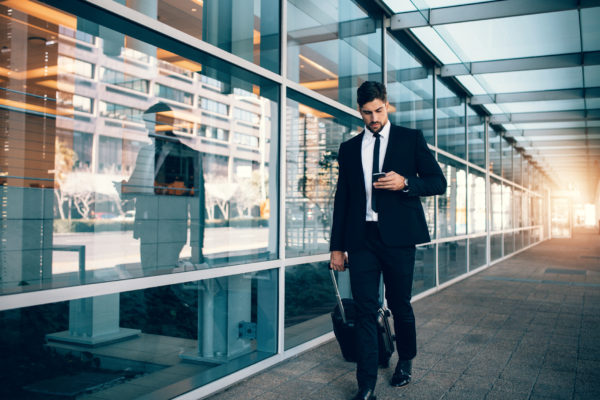 Investing can feel like a daunting task, especially if you're a beginner. The good news, though, is that there are investment apps designed to help you overcome most traditional barriers.
But what are investing apps? How do they help you grow your wealth through investing? Let's take a look at some of the best investment apps and how they work.
What Are Investment Apps?
In the past, investing often felt like a cumbersome process. You might have needed a significant amount of money to get started, and you usually had to work with an investment broker in person or over the phone.
Today, the best investment apps use technology to help you access tools designed to help you build wealth using the best investments for you. In some cases, it's possible to begin investing with your pocket change — and you don't have to talk to anyone if you don't want to.
Investment apps help you access brokers through an easy-to-navigate interface. You simply connect a payment source, like a bank account, and then decide what you want to invest in. Depending on the app you choose, you can have the online broker do the heavy lifting, choosing investments for you, or you can easily buy partial shares of stocks on your own.
When opening an investment account with any app, there are a few pieces of information you should have readily available, including:
Legal name
Social Security number
Address
Phone number
Email address
Birthdate
Some type of state-issued ID, usually a driver's license or passport
Employment status
Many investment apps might also ask you for information on your annual income and your goals for the account. You're also likely to answer a brief questionnaire that can help the app figure out what might be appropriate for you. This is especially true when you use a robo-advisor.
Best Investment Apps for Beginners
If you're not sure where to start with investing, there are some investment apps that can be especially helpful, depending on where you're at in your journey.
Betterment
With Betterment, you don't have to worry about picking individual stocks or trying to research what's next. Instead, Betterment uses exchange-traded funds (ETFs) to help you reach your goals. After taking you through a short quiz, Betterment puts together a portfolio for you and then tweaks it as needed to keep you on track. There's no minimum balance and you pay an annual fee of 0.25% for balances under $100,000. The fee increases to 0.40% annually once you reach the $100,000 milestone. One of the easiest ways to use Betterment is to set up an automatic investment each month and watch your account balance grow.
Acorns
Similar to Betterment, Acorns is a robo-advisor that chooses your investments for you, using ETFs. Acorns has a personal plan for $3 per month and a family plan (that includes custodial accounts for your children) for $5 per month. One of the main features of Acorns is that you can use roundups to invest pocket change. So, if you spend $1.50 on something, Acorns will round it up to $2.00 and drop the extra $0.50 in your investment account. You can also earn extra investments by using the shopping extension on your browser. Finally, you can set up recurring investments on top of using the roundup feature.
Robinhood
If you like the idea of trading individual stocks, Robinhood makes it easy. There's no minimum to get started, you can invest with as little as $1, and there are no trading fees or commissions. You can upgrade your account by paying $5 per month, but most beginners don't need those features.
Robinhood makes use of fractional shares, which are portions of stocks. So, if you can't afford to buy a full share of something expensive like Google, you can still get a partial share and benefit from performance. Robinhood also offers exposure to certain cryptocurrencies and options, on top of stocks.
Public
Another commission-free trading platform, Public allows you to invest with as little as $1 and buy fractional shares. One of the interesting features of Public is that you can follow other investors and see what they're buying and selling. It's a good way to learn from others while you begin your own investing journey.
Pros and Cons of Investment Apps
Pros
Low minimum deposits
Simple to use
Low fees and commissions
Cons
Lack of personalized financial advice
Sometimes the "baked in" fees can add up
Account types and investments might be limited
5 tips for using investment apps
1. Consider starting with robo-advisors
Robo-advisors that manage your portfolio for you can be a good place to start. It can feel paralyzing to try and choose your own investments. If you have a couple of hundred dollars a month you can set aside to invest, a robo-advisor can take away the analysis paralysis and help you get started building wealth. You can move on to other investment apps and strategies after you've had time to learn.
2. Know what your goals are
Before you start investing, understand your goals. If you want to save for retirement, you need to make sure the investment app you choose offers a tax-advantaged retirement account. For those that are saving up for a different goal, a taxable account or an app that also includes a savings product might be a good choice. Choose an investment app that helps you meet your goals.
3. Set up automatic investments
Rather than making investing an afterthought, prioritize it by setting up automatic investments. Many of the best investment apps allow you to set up automatic investing, such as putting in $25 per week. The money is automatically moved from your bank account, helping you grow your portfolio without thinking about it.
4. Boost roundups
If you use an investment app that features roundups, like Acorns or Stash, increase the amount you take. For example, you can turn on the 2x or 3x for roundups with Acorns. So, if you spend $1.50, and you have the 2x turned on, you'll get $1.00 for investing instead of $0.50. This can be a way to incrementally boost your investments.
5. Change things up as needed
As you learn more about investing, you can switch to different investment apps. Take the chance to use robo-advisors to get started and develop the habit. Then, change things up. If you need additional features, accounts, or other opportunities, don't be afraid to open a new account with a different app and transfer your funds.