Vio Bank Online Savings Account Review 2023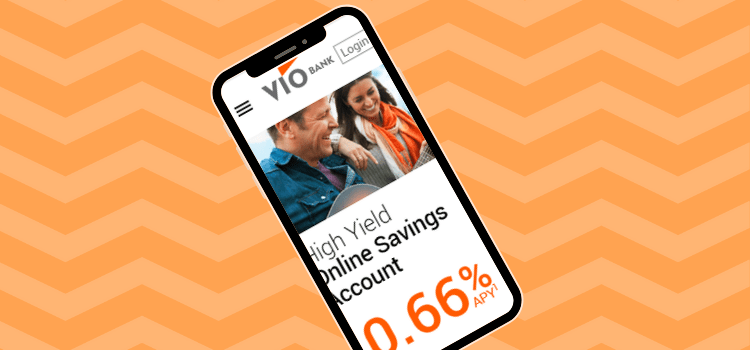 Vio Bank is the online banking division of MidFirst Bank, one of the largest privately owned banks in the U.S.
This bank offers two products and services for savers: certificate-of-deposit accounts and a high-yield savings account.
This Vio Bank online savings account review covers the most important things to know if you're considering opening an account.
Vio Bank Online Savings Account Essentials
The Vio Bank high-yield savings account offers a number of features, including:
Competitive rates and APY
Interest compounded daily
$100 minimum to open
No monthly fee
FDIC-insured savings, up to $250,000
Available to savers age 18 and older
How to Find the Best Savings Account Rates
Finding the bank with the best savings account to meet your needs is as simple as using our search tool. Try it now and find your high-interest savings account.
MoneyRates Editor's Analysis: Pros & Cons
When comparing any online savings account, it's a good idea to consider both the good and the bad. Here are the main pros and cons to be aware of with the Vio Bank Savings Account.
Pros:
The APY is highly competitive with other online banks.
There is no monthly service charge or minimum-balance fee.
Vio Bank also offers several savings calculators on its website.
Cons:
Vio Bank only offers savings products, so you cannot open and link to a checking account at Vio Bank.
Vio Bank Online Savings Account Interest Rates
The Vio Bank online savings account features one APY for all account balances. That's different from other online banks which may tier rates based on the amount of money you save.
At Vio Bank, savers earn a competitive APY, which puts the rate well above the national average of 0.09%, according to the latest update from the FDIC.
The rate you can earn on savings accounts at Vio Bank is typical of what you can expect with online banks. Online banks – and in some cases, credit unions – are often able to offer better rates compared to traditional financial institutions.
Online banks tend to have lower overhead expenses, which allows them to pay a higher APY to their customers. That's to the advantage of savers who are hoping to get the best rate possible on a savings account.
Monthly Vio Bank Online Savings Account Fees
When you're saving money with the intent of earning interest, it's important to pay attention to fees.
Each fee you pay for savings can detract from any interest you earn and affect the rate at which your money is able to grow.
At Vio Bank, there is no monthly service fee or maintenance fee associated with their high-yield savings account.
There is also no minimum monthly balance requirement to meet. Although you do need at least $100 to open your account.
Other Vio Bank Online Savings Account Fees
While you pay no monthly fee to save with Vio Bank, there are some other fees to keep in mind.
Here's a quick list of the various fees associated with these online savings accounts:
Electronic statements – $0
Paper statements – $5
Returned deposit item – $7
Stop-payment fee – $30
Incoming wire-transfer fee (domestic and international) – $0
Outgoing domestic wire-transfer fee – $18
Additional statement – $2 each
Document copies – $1
Bank research fees – $40/hour
Bank verification fee – $15
Online banking and mobile banking are free to use.
There's one more important fee to be aware of: excessive-transaction fees.
Federal Regulation D limits certain savings-account-withdrawal transactions to six per month. Transactions made by mail, in person or at a bank ATM are excluded from the limit.
If you go over the number of allowed withdrawals per monthly statement cycle, Vio Bank can impose a $10 excessive-transaction fee.
This fee applies to each transaction above the six that are allowed. Keep in mind that Vio Bank can also close your savings account for excessive transactions.
Additional Vio Bank Online Savings Account Features and Benefits
Arguably, the best feature of the Vio Bank savings account is a great APY. Beyond that, features are limited to the standard things you would find at most online banks.
That includes FDIC protection, up to $250,000.
Savers also have access to both mobile and online banking to manage their accounts.
With mobile and online banking, you can:
View your current account balance
Transfer funds between linked accounts
Search transaction history
View and print eStatements, eNotices and eTax forms
Send secure emails to Vio Bank
Receive email and/or text message alerts about your account
Download account information into Quicken
You need to enroll in both online and mobile banking to begin using those features. Both online and mobile banking are available 24 hours a day, seven days a week.
Vio Bank uses secure technology, including data encryption, to protect your information.
If you need to deposit money into your account, you can do that via mobile check deposit using the Vio Bank app. There is typically a five-day hold on deposits before you can access those funds.
You can also mail checks to be deposited or add money via an incoming wire transfer.
There is a limit on how much you can transfer in and out of your Vio Bank account. When banking online or through the app, the daily transfer limit is $25,000 and the monthly limit is $100,000.
Aside from these features, Vio Bank also offers several savings calculators on its website. You can use these calculators to plan and track your progress toward your financial goals.
Are There Other Ways to Save with Vio Bank?
The high-yield savings account isn't the only way to save money with Vio Bank. You can also open a certificate of deposit (CD) account.
A CD is a time account. When you open one, you commit to saving money for a set period of time. Once the CD matures, you can get the money you initially deposited back, along with any interest earned.
The advantage of saving in a CD is that your rate of return is guaranteed for the length of the maturity term. That makes it a predictable way to grow your savings over time.
Vio Bank offers CDs with terms ranging from six to 120 months. The APY varies by CD term. The APY for CDs may be lower than what you would get with the savings account.
The minimum to open any CD is $500. CDs are FDIC insured, up to $250,000.
It's almost a given that the longer the term, the more the APY increases. This is similar to CD options you'll see at other online banks.
Just remember that withdrawing money from a CD ahead of the maturity date could trigger a penalty. You may forfeit some of the interest earned in that case.
You can create a CD ladder using CDs from Vio Bank. This involves staggering CD accounts with different maturity terms. The same $500 minimum for each CD applies.
Note: Vio Bank does not offer checking accounts or credit cards at this time.
Check-writing capabilities and debit cards are not available for online savings accounts or CD accounts. You also cannot access your savings account at an ATM. You're limited to managing your account by phone, online or through mobile.
How to Open a Vio Bank Online Savings Account
To open a savings account with Vio Bank, you need to complete the short online application. If you already have a Vio Bank account, you can log in to speed up the process.
You have to tell Vio Bank whether you want to open an individual or joint account. Then, enter your personal information, including:
Your name
Date of birth
Social security number
Phone number
Email address
Driver's license or state ID number
Employment status
Once you add in those details, you can accept Vio Bank's account disclosures and fund your account. Interest begins accruing on your balance right away.
Remember, you only need $100 to open your account. You can fund that money from another checking or savings account at a different bank if you're a first-time Vio Bank customer.
If you need help with your account, you can reach out to Vio Bank's customer service.
Assistance is available by phone by calling 888-999-9170. Customer service representatives are available during these days and hours:
Monday – Friday, 7:00 a.m. – 9:00 p.m. (CT)
Saturday, 8:00 a.m. – 6:00 p.m. (CT)
Sunday, 12:00 p.m. – 4:00 p.m. (CT)
Currently, Vio Bank does not offer live chat assistance.
Is a Vio Bank Online Savings Account Right for You?
Opening a Vio Bank savings could be a good choice if you want to earn a competitive rate on savings and you have at least $100 to get started.
This account is good for people who want to earn the same rate on all balances, with no monthly fees. It may also appeal to anyone who prefers an online savings account and doesn't mind not having branch or ATM access.
On the other hand, this account may not be as great an option if you're looking to keep your savings and checking accounts all in one place since Vio Bank only offers savings products.
When comparing Vio Bank to other online savings accounts, remember to look at the monthly fee, APY and minimum amount to open an account side by side. This can help you decide which account is the best place for you to save money.
"