What Is Mobile Check Deposit & How Does It Work?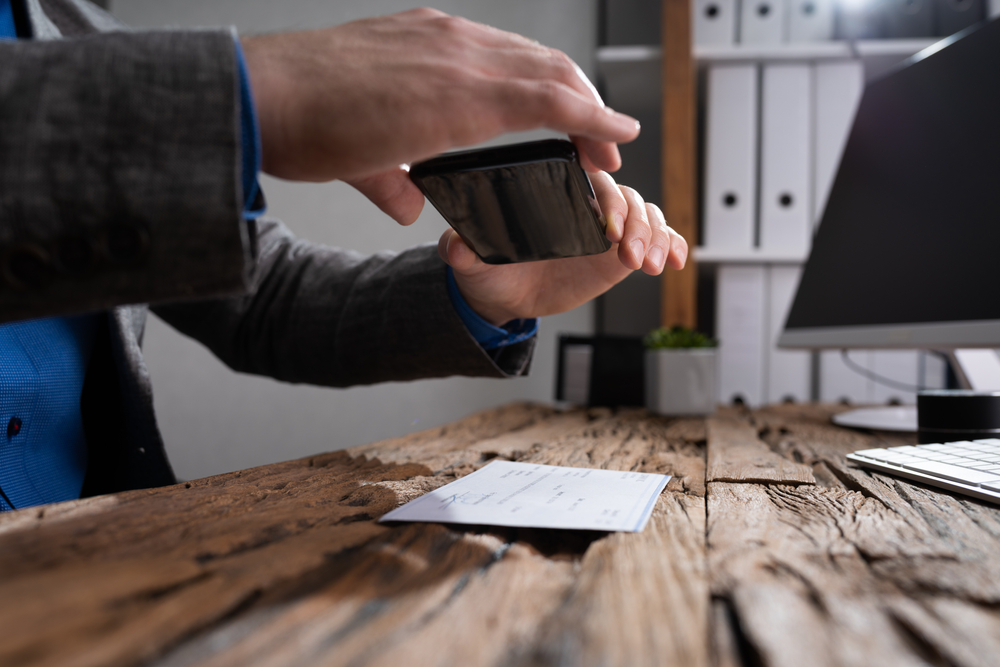 You may have never used it, but most likely your bank offers a mobile check deposit feature.
Mobile check deposit provides the ability to directly deposit paper check funds into your account using your mobile phone, and it's the fastest and easiest way to deposit checks while offering the security of an ATM check deposit.
According to the American Payroll Association's 2022 "Getting Paid in America" survey, approximately 93% of survey respondents use direct deposit to receive their paychecks. While it's becoming rare to receive paper checks, it still happens.
Learn more about mobile check deposits, learn how to get started, and find out if it's secure to deposit checks with your phone.
How Mobile Check Deposits Work
The mobile check deposit feature allows users to deposit checks into their savings and checking accounts using their mobile device, typically using their bank's mobile device app or website to complete the process.
This feature essentially allows your phone to function as an ATM in which you would deposit checks.
The mobile check deposit feature allows you to deposit checks from any location at any time, eliminating the need for you to visit an ATM or branch of your bank.
Most banks within the U.S. allow their customers to use their mobile check deposit feature to deposit personal checks, employment checks, business checks, cashier's checks, and checks issued by the government into savings or checking accounts.
Explore Savings Accounts
Finding the bank with the best savings account to meet your needs is as simple as using our search tool. Try it now and find your high-interest, no- or low-fee savings account.
How to Get Started
The process for depositing checks is generally the same, with a few variations, among different financial institutions.
Step 1: Get the App
You'll start by downloading your bank's mobile app and signing up for mobile banking if you haven't done so already.
Step 2: Find the Mobile Check Deposit Feature
After logging into the mobile app, find the mobile check deposit feature, which will likely be in the app's menu or there will be a search feature to locate it.
Step 3: Sign the Back of Your Check
Endorse the back side of the check, like you typically would if depositing the check in a conventional location.
Step 4: Follow the App Prompts
Answer the questions that are prompted by the app, usually including which account you would like to deposit the check into and the check's amount.
Step 5: Take Photos of the Front and Back of the Check
Next, you will snap two quick photos, one of the front and backside, of the physical check. The App will probably have a command that will bring up your phone in the app. You may have to enable the app the use the photo feature on your phone, but the app should prompt you to do so.
Step 6: Submit Your Deposit
Finally, double check that all the information entered is correct, and tap submit.
Step 7: Keep a Record
After you've completed your mobile deposit, keep the paper check in a safe space until the funds become available in your account.
Even if you have received a confirmation or receipt of the deposit from your bank, it is best to keep the paper check safe if the check bounces or if something goes wrong with the deposit.
Is Mobile Check Deposit Secure?
The main concern that some consumers have when first learning about mobile check deposits is security.
Is depositing a check via mobile deposit secure?
Yes, your bank's mobile check deposit feature is as safe as depositing your check at an ATM or a branch of your bank.
It is as secure as performing any other online and mobile banking tasks, as financial institutions use sophisticated online security measures, such as encryption, to secure your private financial information.
Tips for Mobile Check Depositing
While mobile check depositing is easy to get the hang of, here are a few tips to make it easier.
Choose a Bank That Offers Mobile Deposit
To find out if your financial institution offers mobile check deposits, look online, or contact a branch of your bank. Most national banks in the U.S. offer this feature. Local banks and credit unions vary on whether they offer mobile check deposits.
Properly Endorse the Check
To avoid your deposit being rejected, sign the endorsement line on the back of the check with your full name, as if you were planning to deposit the check into a physical ATM or branch.
Know the Mobile Check Deposit Limits of Your Bank
Deposit limits vary from customer to customer and from account to account. Find out what the mobile check deposit limits are on your account(s).
Your bank sets your deposit limit for mobile deposits by considering your account type and deposit history. There will likely be a limit on the dollar amount that is allowed per deposit and per check.
There will also likely be a limit on the number of checks that can be deposited per day, week, or month.
To find your mobile check deposit limit, look at the deposit menu of the app, within the mobile banking app, or in the FAQ section.
Know the Availability Timeline of Mobile Check Deposited Funds
Like physically depositing a check, there will likely be a time period between when the check is deposited before the funds are made available in your account.
Each bank varies on the timelines of its funds availability policies.
To determine the timeline of fund availability, you can visit the mobile app or website of your financial institution.
Take a Good Photo of Your Check
Take a clear picture in a well-lit area with a dark background.
Taking a few extra seconds to take a good picture of the check can help to eliminate any errors in processing the deposit.
Mobile Check Deposit Pros and Cons
There are a lot of good things about mobile check deposits, but you should also be aware of certain issues that could arise. Here are the pros and cons of depositing your check using your phone.
Mobile Check Deposit Pros
It's fast
In the event that you do not have time to stop by a branch or ATM that belongs to your financial institution, you can still complete the deposit in a matter of minutes.
It's easy
If you are not near a branch or ATM that belongs to your bank and need to deposit a check, you can do so from anywhere in the world, so long as you have internet access.
It's secure
Performing and online or banking tasks is as secure as mobile check deposits. Further, it is as safe as depositing your check into an ATM or branch of your bank.
It's available 24 hours a day
If you realize you forgot to deposit your check or checks earlier during normal business hours, mobile check deposit is available to users 24 hours a day, seven days a week, 365 days a year.
Get money sooner
Depending on your bank's crediting policies, your funds may be available sooner than if you were to physically deposit a check at a branch or ATM.
Mobile Check Deposit Cons
Your bank can return the funds despite you receiving confirmation of the deposit
If the check that you've deposited is confirmed, it is possible that your bank will later cancel the transfer of funds to your account, for example, if the check bounces as the account that the check is from has insufficient funds.
It is your responsibility to ensure that no errors are present in the deposit.
Errors in the mobile depositing process typically arise when the customer must fill in information from the check, including the amount that the check is for.
It is a best practice to double-check that all filled-in information is correct.
You should beware of scams
If someone you don't know asks you to deposit a check into your account, say no. Only accept checks from people you know and trust.
You still need to verify security and safety
Only perform mobile check deposits on a secure Wi-Fi network.
Use the safety features that your online banking app provides, always protect your PINs and passwords, and do not perform mobile check deposits in an unsecure location, like at a coffee shop or restaurant.
There are deposit limits
Your bank will likely set limits on both the dollar amount and the number of checks that you may deposit in a window of time, therefore forcing you to go to an ATM or bank branch location.
Frequently Asked Questions (FAQs)
What types of checks can't be mobile deposited?
The types of checks that are eligible for mobile deposit vary from bank to bank.
Generally, the following checks are not currently eligible for mobile deposit at many major financial institutions: U.S. savings bonds, international checks, money orders, traveler's checks, Image Replacement Documents (IRDs), third-party checks, and checks not payable in U.S. dollars.
If you still have questions about what checks are eligible for mobile deposit at your financial institution, contact your local branch or look on their website.
Are there any fees that accompany mobile check deposits?
There are no additional fees at most financial institutions for using their mobile check deposit feature, but you should check with your bank to ensure there are no additional charges or fees.
What if my check amount surpasses my limit for mobile check deposits?
If the check you wish to deposit surpasses the dollar limit that your bank has set for mobile check deposit, or if you have surpassed the number of checks that you are allowed to deposit within a certain amount of time, you'll need to deposit the check via ATM or a physical branch of the bank.