401(k) Contribution Limits for 2021
Our articles, research studies, tools, and reviews maintain strict
editorial integrity;
however, we may be compensated when you click on or are approved for offers from our partners.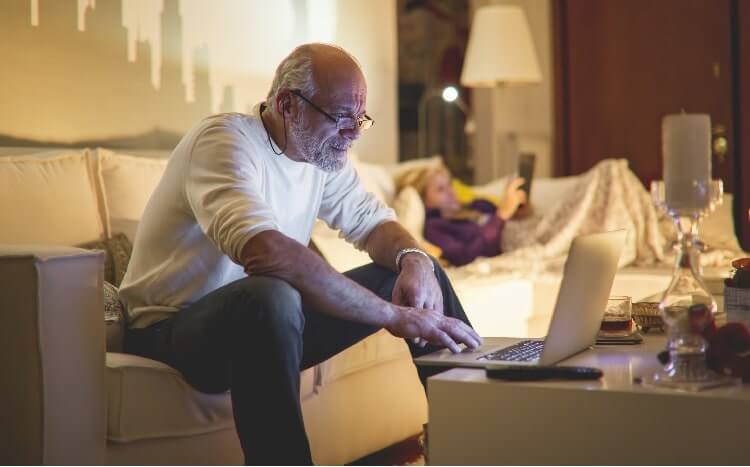 Looking for a tax break in 2021?
The maximum 401(k) contributions have inched up slightly over past years and will be $19,500 for 2021. Contribution limits on other popular retirement plans will be unchanged in 2021 as well.
However, since 88% of 401(k) participants contribute less than the legal maximum to their plans, chances are you still have room to get a bigger tax break in 2021 even though the max 401(k) contribution hasn't changed.
But how to do that?
The takeaways from this article can help you learn how to lighten your tax bill while building for a more comfortable retirement. Among other things, you'll learn about:
401(k) contribution limits for 2021
401(k) catch-up contributions
The benefits of contributing to your 401(k)
How to plan and reach your retirement-saving targets
401(k) Contribution Limits 2021
As noted above, there is no change to the 401(k) contribution limit for 2021. The standard 401(k) contribution limit remains at $19,500.
While the 401(k) contribution limit generally increases over time, it is a mistake to assume that it will go up every year. Don't blame the IRS for no raise in the limit for 2021. By law, year-to-year adjustments in 401(k) contribution limits are based on inflation.
Over the first nine months of 2020, the Consumer Price Index was up less than 0.68%. That's not enough to move the needle in terms of a cost-of-living adjustment to retirement plan contribution limits.
Thus, standard contribution limits (which apply to people under the age of 50) are unchanged for 2021. As shown in the table below, this applies to 401(k) plans and similar plans such as 403(b) plans and 457 plans.
Contribution Limits
Retirement Plan
Age
2021
2020
401(k) Plan
<50
$19,500
$19,500
403(b) and 457 Plans
<50
$19,500
$19,500
401(k) Catch-up Contributions in 2021
As people get closer to retirement age, they often realize they have some catching up to do when it comes to saving for retirement. Catch-up contributions give you a chance to do that.
People aged 50 and over are eligible to make catch-up contributions. These extra contributions are applied over and above the standard contribution limits for 401(k) plans, as well as for 403(b) and 457 plans.
The catch-up contribution limit for 2021 is unchanged at $6,500.
Catch-up Contribution Limits
Retirement Plan
Age
2021
2020
401(k) Plan
50+
$6,500
$6,500
403(b) and 457 Plans
50+
$6,500
$6,500
Since these catch-up contribution limits are applied on top of the standard limits, this means the total contribution limit differs by age, as shown in the table below.
Total 2021 Contribution Limits by Age
Retirement Plan
<50
50
401(k) Plan
$19,500
$26,000
403(b) and 457 Plans
$19,500
$26,000
How to Reach Retirement-Savings Targets
In theory, having no increases to 401(k) contribution limits for 2021 means no additional help in easing your tax burden and saving for retirement.
In practice, though, most people have plenty of room below the max 401(k) contribution limits to raise their 2021 retirement plan deferrals. According to Vanguard's 2020 How America Saves study, just 12% of 401(k) participants contribute the legal maximum to their plans.
Since contribution limits aren't the issue for most people, how can you contribute more toward reaching your retirement- savings targets?
Here are some tips:
Be sure to maximize your employer match

Most 401(k) plans offer employer-matching contributions. This means your employer will contribute money on your behalf based on some percentage of what you contribute. However, you only get this employer money if you contribute.

Be sure to contribute enough to qualify for the maximum matching contribution your employer offers so you don't leave any money on the table. To learn more about matching contributions, read: What is a 401(k) Employer Match?

Bank your next raise

It can be tough to find money in your household budget for retirement savings. To make it easier, boost your 401(k) deferral every time you get a raise. This way, you can save more without cutting into your current budget.

Overshoot in good years

Unfortunately, 2020 provided all too strong a reminder that some years are worse than others financially. If your income varies, make an effort to contribute more to retirement savings in good years – even if that means kicking in more than your usual target. This will give you a cushion to make up for years when money is harder to come by.
If you're like most people, you're not yet taking full advantage of 401(k) contribution limits. If you make an effort to raise your deferrals this year, you can accelerate your retirement savings while easing your 2021 tax burden.
Explore the options
Planning for retirement is a multi-year task. Some people are successful at it, and others find it bewildering. A financial advisor can help you navigate the process, but it's still important to educate yourself on the particulars.
If you're new to retirement-planning or simply time-constrained, a financial advisor can help you understand the issues and clarify the best route to take for your situation. Some companies advise on 401(k) plans in particular.
Benefits of Making Contributions to Your 401(k) Plan
So why go to all this trouble? Why make room in your budget for 401(k) plan contributions and make the effort to adjust those contributions from year to year?
There are clear benefits to making contributions to your 401(k) plan, both now and in the future:
1. Your 401(k) contributions offer a double tax advantage. By directing pre-tax dollars from your paycheck into your 401(k), you reduce the amount of your income that will be subject to income tax next year.

2. Any investment earnings on your 401(k) contributions will also be exempt from taxes until they are withdrawn from the plan.

3. You will have to pay income taxes on the money you take out of the 401(k) in retirement. However, you may find that you are in a lower income tax bracket once you are no longer working full time.

In addition, to some extent you can manage the timing of 401(k) withdrawals to increase tax efficiency. In fact, if you are in a very low tax bracket now and your employer's 401(k) plan offers a Roth option, you can choose to make your 401(k) contributions taxable now rather than in the future.

4. Beyond tax benefits, the sooner you put money into your 401(k), the more years of potential investment earnings you will have between now and retirement. That could pay off in the future by making your retirement more comfortable financially.
How to Plan 401(k) Contributions to Meet Retirement Goals
You can make 401(k) contributions based on current conditions, such as how much you can afford or on how to maximize employer matching contributions. Another approach is to base contributions on how much money you will need in retirement.
Think of the latter as a results-oriented approach to retirement-saving. You start with the amount of savings you'd like to have in retirement, and then work backward to see how much you are likely to have to contribute from year to year to achieve that result.
A retirement calculator can help you figure this out. However, people often find they have difficulty affording the amount of retirement contributions calculations say they should make.
If you're just starting your career, you may have to make smaller contributions now and then pick up the pace as your wages grow. That's fine, but don't leave too much of your retirement saving for later in your career.
For one thing, as wages grow, spending tends to grow as well. Ten years from now you might have a higher income, but by then saving for retirement might mean competing with other priorities like buying a house, having children or paying off student loans.
So, determining what year-to-year retirement-account contributions to shoot for based on your long-term goals is worthwhile even if you can't always meet those year-to-year targets. It can help you weigh your future needs against near-term spending temptations. It can also give you a clearer idea of what to expect in the future.
Other Retirement Account Limits for 2021
In addition to maintaining the same contribution limits for 401(k), 403(b) and 457 plans, the IRS announced some other notable retirement account limits for 2021:
The contribution limit for SIMPLE plans remains $13,500.
The annual limit for contributions to both traditional and Roth IRAs remains unchanged at $6,000.
The limit on additional IRA catch-up contributions for people aged 50 or older remains $1,000.
While contribution limits remain unchanged, many of the income limits that determine your eligibility to deduct traditional IRA contributions or participate in a Roth IRA have been increased for 2021. These income limits depend on variables such as your marital status and whether you are covered by a retirement plan at work. Tighter contribution limits may be phased in over a range of income limits. You and/or your tax advisor should check updated IRS guidelines to see how the 2021 limits apply to your situation.
In short, while the maximum contribution limits have not been changed for 2021, in some cases, high-income earners may find their ability to participate in IRAs has been increased.
However these IRS limits apply to your situation, every year you should take a fresh look at how much to contribute to your retirement savings. After all, there are no guarantees when it comes to building a retirement nest egg; but the more you put into it, the more you increase your chances of a comfortable retirement.
401(k) Frequently Asked Questions
Q: I'm 50 and will be taking advantage of catch-up contributions in my 401(k). How should I allocate the 401(k) contributions, though?
A: Making catch-up contributions to a 401(k) is an excellent way for certain workers to take advantage of extra tax breaks to save for retirement.
For 2021, 401(k) plan participants who are aged 50 or older are allowed to contribute an extra $6,500 to their 401(k) plans, on top of the normal 401(k) contribution limit of $19,500.
That means you can put a total of $26,000 a year in your 401(k) plan without paying taxes on that money. Your 401(k) funds will eventually be taxed when you start taking distributions from the plan in retirement. In the meantime, though, your contributions have the opportunity to benefit from investment growth without being diminished by taxes. Also, since people are often in a lower tax bracket after retirement, you could have a lower tax burden when you eventually take distributions than you would if you paid tax on the money throughout your career.
So this leads to your question: With all this extra money going into your plan, how should you allocate your contributions among the different investment options available to you?
This actually breaks down into two questions — one is a matter of how aggressive your 401(k) investments should be, and the other is a matter of who should manage the asset allocation of those investments.
Q: How aggressive should my 401(k) investments be?
A: Generally speaking, younger people tend to be more aggressive with their 401(k) investments than older workers. According to the Employee Benefit Research Institute (EBRI), people in their 20s tend to have nearly 80% of their 401(k) assets in stocks. This tapers down with each subsequent age group, reaching a 55.4% average equity allocation for workers in their 60s.
The reasoning is that younger people have more time to wait out the ups and downs of the stock market and can afford to invest more aggressively. Older workers who have already built much of their nest eggs generally want to be more conservative so they do not risk a major downturn in investment values occurring just as they are getting ready to retire.
While your time frame until retirement is an important element, it's not the only factor in deciding how aggressive to be. If you are running behind schedule in saving for retirement, you could benefit from more growth and may want to be more aggressive with your 401(k) investments. Also in that case, making relatively large deferrals into the plan can help mitigate the negative effects of market volatility. Finally, people who are behind in their retirement saving may end up having to work longer, which lengthens the time frame for funds to be invested and suggests you can be more aggressive.
Q: Should I make the asset-allocation decision myself?
Use your 401(k) investment menus to allocate your new contributions and plan balance among a range of investment options ranging from aggressive stock funds to conservative cash equivalents and stable value options. The decision of how to allocate among these alternatives has a huge impact on the investment results you will get.
If you don't feel comfortable making such a critical investment decision, see if your 401(k) plan menu offers target-date or life-cycle funds. These are options that represent a professionally managed mix of stocks, bonds and cash, with the aggressiveness of each mix depending on the plan participant's investment time frame.
The EBRI reports that about two-thirds of 401(k) plans now offer these options, and they are a useful tool for people who do not want to make detailed asset allocation choices themselves.
Making catch-up contributions is a great step toward building your retirement nest egg. That mission should also be helped when you allocate the money according to your needs, time frame and comfort level with making asset-allocation decisions.