Engagement Ring Financing – Should I Get A Personal Loan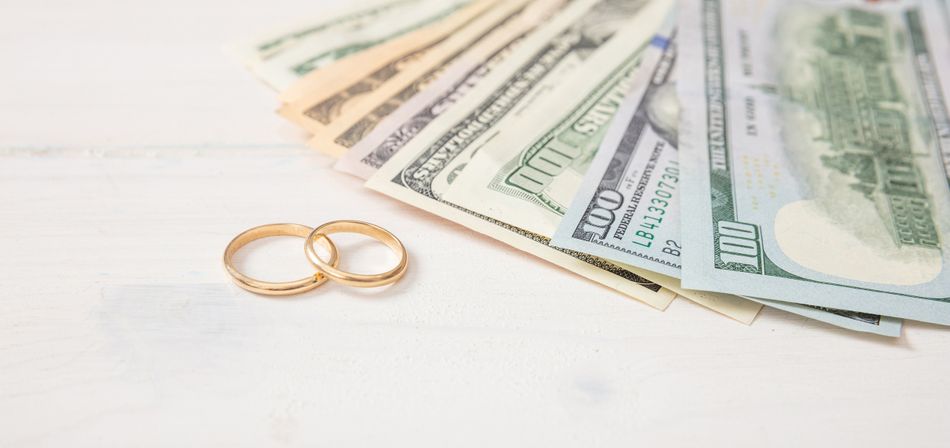 How do you choose an engagement ring? And, perhaps more importantly, how do you pay for an engagement ring? Money problems cause one in three divorces (unromantic fact!). So, if you want your marriage to last, you need to take financial stuff seriously, right from the start. And that begins with your engagement ring.
Shopping for an Engagement Ring
If you can, shopping with the person who's going to own the ring is ideal. It's the only way to be sure that he or she likes it and finds it comfortable. (Your goal is married bliss, not married blisters.) And your beloved is the one who's going to live with it every day.
But suppose you're determined to stage a traditional, romantic, down-on-one-knee, surprise proposal. You can't take your fiance(e) to the jewelry store then. If that's the case, make sure the retailer has a no-quibble returns policy and that you'll get a refund (not a store credit) if your beloved chooses something less costly.
But don't see a strong returns policy as a cop-out. You should still put some effort into your choice. And your fiance(e) is likely to appreciate your thoughtfulness in matching your purchase to his or her tastes and needs. So try to get a feel for what those tastes are upfront.
Some Choices You'll Face
For example, not everyone thinks diamonds are the most attractive stones. Might emeralds, rubies or sapphires go down better?
If you decide to stick to diamonds, don't get carried away with size. Each stone's clarity and color are at least as important (often more so) than its weight in carats.
And what sort of cut is your fiance(e) likely to prefer? Do you even know the difference between the main styles of cut: cushion, emerald, heart, marquise, oval, pear, princess and round? Ten minutes on Google might help you to match the cuts on offer to your loved one's taste and style. Does he or she prefer jewelry that's simple and minimalist, blingy, traditional, fashionable …?
You may prefer to avoid an engagement ring that's too au moment (slavishly fashionable). Don't forget, you want your fiance(e) to still be wearing it with pride at your golden wedding party in 50 years. And the trouble with high fashion is that it goes out as quickly as it comes in.
Best Ways to Finance an Engagement Ring
If you're looking for the best way to pay for an engagement ring, there's one form of financing that has it all. No minimum monthly payments. No risk to your credit score. And zero interest. And yet it's deeply unfashionable. That's because it's … saving up.
Average Cost of Engagement Rings by State
| Sr.No | State | Cost |
| --- | --- | --- |
| 1 | California | $10,241.00 |
| 2 | North Carolina | $9,225.00 |
| 3 | Wisconsin | $8,766.00 |
| 4 | Washington, DC | $8,695.00 |
| 5 | South Carolina | $8,599.00 |
| 6 | Massachusetts | $8,426.00 |
| 7 | Delaware | $8,403.00 |
| 8 | Texas | $8,194.00 |
| 9 | Iowa | $8,150.00 |
| 10 | Illinois | $8,138.00 |
| 11 | New York | $8,092.00 |
| 12 | Florida | $8,022.00 |
| 13 | Michigan | $7,817.00 |
| 14 | Connecticut | $7,810.00 |
| 15 | Indiana | $7,558.00 |
| 16 | Alabama | $7,521.00 |
| 17 | Hawaii | $7,491.00 |
| 18 | Montana | $7,471.00 |
| 19 | Missouri | $7,467.00 |
| 20 | Washington | $7,160.00 |
| 21 | Wyoming | $7,154.00 |
| 22 | Georgia | $7,059.00 |
| 23 | Arkansas | $6,971.00 |
| 24 | New Jersey | $6,969.00 |
| 25 | Maine | $6,813.00 |
| 26 | Idaho | $6,790.00 |
| 27 | Oregon | $6,664.00 |
| 28 | Pennsylvania | $6,627.00 |
| 29 | Oklahoma | $6,584.00 |
| 30 | Ohio | $6,454.00 |
| 31 | Alaska | $6,414.00 |
| 32 | Virginia | $6,329.00 |
| 33 | Kansas | $6,318.00 |
| 34 | Arizona | $6,310.00 |
| 35 | Colorado | $6,310.00 |
| 36 | Louisiana | $6,294.00 |
| 37 | Tennessee | $6,116.00 |
| 38 | Rhode Island | $6,109.00 |
| 39 | Maryland | $5,972.00 |
| 40 | Nebraska | $5,818.00 |
| 41 | Minnesota | $5,630.00 |
| 42 | North Dakota | $5,436.00 |
| 43 | Kentucky | $5,170.00 |
| 44 | New Mexico | $5,089.00 |
| 45 | Nevada | $4,944.00 |
| 46 | South Dakota | $4,832.00 |
| 47 | Mississippi | $4,772.00 |
| 48 | West Virgina | $4,352.00 |
| 49 | New Hampshire | $4,053.00 |
| 50 | Vermont | $3,941.00 |
| 51 | Utah | $3,518.00 |
Trouble is, you've probably already ruled that out. After all, why would you have clicked on a link about ways of paying for an engagement ring if you already had what you need in a savings account?
So let's assume you're going to need to borrow. What are your likely sources? Well, you could stick it on your credit card. You could ask the jewelry store about its financing offers. Or you could get a personal loan.
We'll look at all three in detail. But that last one (the personal loan) is usually the best. So let's start by seeing what's wrong with the others.
Financing an Engagement Ring with a Credit Card
Let's be clear. There's absolutely nothing wrong with paying for an engagement ring using your plastic. You might get miles, points or cashback that will come in handy for your wedding or honeymoon. And your consumer protections are unrivaled. If the jewelry store goes bust while it's resizing your ring, it's typically easier and quicker getting your money back from your card company than anyone else. And that includes your bank if you pay with a debit card.
So, by all means, pay for your ring using your plastic. Just don't borrow on your credit card. Why not? Because those cards typically charge eye-watering interest rates.
In January 2020, one online monitor of credit card rates put the average on new plastic at 17.31% APR. Another, also that month, reckoned it was 19.02% APR. Given the sums you might be borrowing, you could pay several hundred dollars in interest. Better to buy the ring using your cards and then zero the balances using a different loan.
Credit Score at Risk
If you're balking at the prospect of paying hundreds more than you need in interest, hold onto your hat. Because using credit cards might see you down thousands.
That's because credit scoring technologies calculate the percentage of your available credit that you're using. And, if that's greater than 30% (your card balance(s) as a percentage of your credit limit(s)), your credit score is being harmed.
Worse, the longer that situation continues the greater the cumulative effect. So, by the time you apply for a mortgage or auto loan, your damaged score could see you paying thousands more for your borrowing.
Getting a New Card with a 0% Deal
You're almost certain to have seen ads for credit cards that offer a 0% APR for an introductory period, usually between 14 months and 21 months. And you may have received personal invitations to apply.
These can be great. But they have severe limitations:
The 30% "credit utilization" rule still applies so you can only borrow 30% of your credit limit without hurting your score
Those credit limits tend to be too small for 30% to buy you an engagement ring
If you apply for too many cards, lenders will think you're desperate and your score will suffer for a different reason
Some of these cards allow only balance transfers rather than purchases. So you'll have to buy the ring on existing cards and transfer their balances — all within the window transfers are allowable.
You pay a fee (often 3%, though anything between 1% and 5%) on sums you transfer
Once the introductory period expires, you'll be paying sky-high APRs. So be sure you can zero your balance before then
So it's more than fine to use a 0% credit card to fund some of your engagement ring's cost. But you need to recognize that it's unlikely to cover the whole ticket price. And that you'll have to manage an additional application process, make sure you zero your balance within the offer period and generally administer an extra account.
The Store Loan Option
There's a good chance the salesperson in your jewelry store will press you to take the retailer's own in-house credit deal. And you can't blame him or her for going for a hard sell. Chances are, there's a handsome commission at stake. But don't sign up on the spot.
Why not? Well, it's not because all these deals are bad. Some are good. But some also contain "gotcha" clauses, buried in the small print. And those can be very costly.
So have the retailer hold the ring for a few days. That will give you time to read the store's loan agreement and to explore your options, including cards and a personal loan.
Avoid Deferred Financing
When you're reading the store's agreement watch out for the terms "deferred financing" and "deferred interest." That means the ultralow or 0% headline interest rate applies only for as long as everything goes 100% perfectly. And an extortionately high rate will kick in the moment the slightest thing goes wrong. Perhaps your bank's computer has a glitch or you momentarily lose track of your finances amid all the upheaval of wedding planning.
Worse, that high rate is unlikely to begin to apply from the time that slightest thing goes wrong. No, it'll apply to every cent you borrowed from the start date of your agreement. Imagine thinking you've paid off your engagement ring loan, only to be hit with a charge of close to one-third of the purchase price.
That has happened to people who've signed deferred-financing agreements. Consumers have even alleged that lenders have deliberately misled them so that they've paid a bit too little on their final payment — and so have triggered the huge interest charge.
Maybe your deferred-financing lender has great integrity. But, at the very least, check it out (the name will be in the credit agreement) with the Better Business Bureau and search online for consumer reviews and complaints. If you're at all worried, a personal loan should give you greater peace of mind.
We said earlier that a personal loan is usually the best way to finance an engagement ring. Why do we think that?
Well, there are a few reasons:
Interest rates are typically way lower than those on credit cards. Shop around and you may even halve the rate you're charged
Credit scoring technologies see personal loans as different from plastic. And credit utilization rules don't apply. So, as long as you make your payments promptly, your score's under no threat.
You get to decide what's an affordable monthly payment. Spread the payments over a longer loan period (often up to five years) if you want lower payments
A personal loan is predictable. It's easy to budget because payments are fixed and vary only with wider interest rates. You can even opt for a fixed-rate loan
They're quick and easy. You may get the money in your bank account the next working day. It rarely takes as long as a week to arrive. And applying online is simple and takes minutes.
If you think a personal loan might suit you and your engagement ring purchase, it's time to shop for your best rates.