How to Get A Personal Loan to Cover Funeral Costs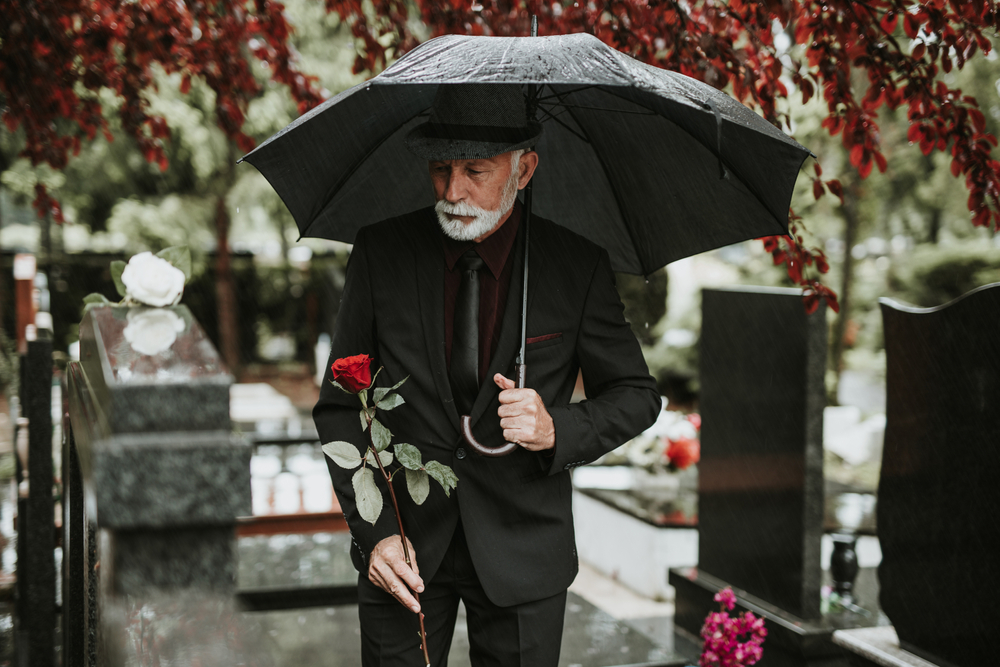 When a loved one dies, the grief and loss felt can be hard to process. Adding to your burden is the fact that funeral costs can be pricey. The final expenses involved can add up quickly.
Fortunately, there are several options you can pursue to cover these bills. One is a personal loan, which can provide money fast for a sudden event like a needed funeral.
But know what you're getting into before pursuing a personal loan for funeral costs. And prepare to shop around.
See today's interest rates for funeral loans
Average Funeral Costs
Londen Insurance Group reports that, typically, a funeral costs between $7,000 and $12,000. If you opt for cremation, the average bill is around $6,000 to $7,000.
Per the Federal Trade Commission, funeral providers follow what's called the "Funeral Rule." This permits funeral providers to charge a basic services fee you have to pay. This basic services fee covers services universal to all funerals, regardless of the specific arrangement. Among the services involved are funeral planning, securing the necessary permits and copies of death certificates, and preparing the notices. It also includes sheltering the remains and coordinating the arrangements with the cemetery, crematory, or other third parties.
There are separate charges for other merchandise and services, too. These include expenses for options like embalming; transporting the remains; a funeral home for the viewing, service, or ceremony; staff and equipment for a graveside service; a limo or hearse; a casket, outer burial container or alternate container; and cremation or interment.
Note that some funeral providers bill you their cost for the items they purchase on your behalf. Others tack on a service fee to the tab. The Funeral Rule mandates that those who charge an extra fee disclose that fact in writing. But it doesn't require them to specify the exact total of their markup. The Funeral Rule also obligates funeral providers to reveal if there are refunds, rebates, or discounts from the supplier on any cash advance item.
Which Lenders Have the Best Personal Loan Rates?
Finding the lender with the best personal loan to meet your needs is as simple as using our search tool. Compare personal loans and find the best rates being offered today.
Your Rights Under the "Funeral Rule"
Most funeral homes like to sell packaged deals with a pre-selected set of services. However, the FTC's Funeral Rule requires providers to let you purchase individual services if you prefer. Here are your rights under the Funeral Rule:
Buy only the funeral arrangements you want
Get pricing information by telephone
Get a written, itemized price list when you visit a funeral home
See a written casket price list before you see the actual caskets
See a written outer burial container price list
Receive a written statement after you decide what you want, and before you pay
Get an explanation in the written statement from the funeral home that describes any legal cemetery or crematory requirement that requires you to buy any funeral goods or services
Use an "alternative container" instead of a casket for cremation
Provide the funeral home with a casket or urn you buy elsewhere
Make funeral arrangements without embalming
The funeral provider must by law provide an itemized statement of the total cost of the funeral goods and services you choose. If it doesn't know the exact cost of the cash advance items, you should still receive a written "good faith estimate." Use this to compare funeral costs and choose the best combination of goods and services for the ceremony you want.
How to Pay for Funeral Expenses
You may be offered financing at the funeral home when you shop for services. This may not be the best way to obtain your financing. One funeral industry blog touts offering "point of sale" loans because it speeds up the process and helps grieving folks find extra money to pay for funeral costs fast.
But what's good for funeral sales might not be great for families. Making an expensive purchase quick and easy, especially when the buyer is grieving and not inclined to shop or negotiate costs, could do long-term financial harm to the buyer. In addition, it's difficult to shop for the best interest rate with the funeral director breathing down your neck.
Instead, determine first what you can afford to pay. Then compare offers from personal loan providers to see what interest rate, terms and loan amount you can afford. Once you have a budget, you can resist pressure from funeral directors to spend out of your comfort zone.
Use the handy checklist below to decide what goods and services are most important to you. And don't forget that you have the right to buy a coffin, urn or other merchandise from other providers than the funeral home — even online if you choose.
Payments for Funeral Expenses
Assuming that you are planning to spend $8,000 for a funeral, what would your monthly payments be? Personal loans for funeral costs are widely available, most commonly with terms of up to five years. The charts below show funeral loan payments for different interest rates and terms.
Payments for $8,000 Funeral
Monthly Payment
| Rate | 1 Yr Loan | 2 Yr Loan | 3 Yr Loan | 4 Yr Loan | 5 Yr Loan |
| --- | --- | --- | --- | --- | --- |
| 6% | $689 | $355 | $243 | $188 | $155 |
| 9% | $700 | $356 | $245 | $199 | $166 |
| 12% | $711 | $377 | $266 | $211 | $178 |
| 15% | $722 | $388 | $277 | $223 | $190 |
| 18% | $733 | $399 | $289 | $235 | $203 |
The FTC's Checklist for Funeral Expenses
This helpful checklist from the FTC can help you compare costs when determining the services and goods you want and where to get them:
"Simple" disposition of the remains:
Immediate burial __________
Immediate cremation __________
If the cremation process is extra, how much is it? __________
Donation of the body to a medical school or hospital __________
"Traditional," full-service burial or cremation:
Basic services fee for the funeral director and staff __________
Pickup of body __________
Embalming __________
Other preparation of body __________
Least expensive casket __________
Description, including model # __________
Outer Burial Container (vault) __________
Description __________
Visitation/viewing — staff and facilities __________
Funeral or memorial service — staff and facilities __________
Graveside service, including staff and equipment __________
Hearse __________
Other vehicles __________
Total __________
Other Services:
Forwarding body to another funeral home __________
Receiving body from another funeral home __________
Cemetery/Mausoleum Costs:
Cost of lot or crypt (if you don't already own one) __________
Perpetual care __________
Opening and closing the grave or crypt __________
Grave liner, if required __________
Marker/monument (including setup) __________
PLEASE INSERT CALLOUT
Related: Personal Loan Interest Rates (How to Pay Less)
How to Keep Funeral Costs Affordable
If you are able to plan for funeral costs in advance, you can avoid being pressured into paying for services you don't need. And you can shop for the lower cost providers. If you have to plan a funeral suddenly, enlist the help of someone less affected by the death to help you avoid financially harmful decisions during a stressful time.
Finally, you can reduce funeral costs by paying for them with the least expensive financing available. A personal loan is likely less costly than a credit card. And has the advantage of a fixed interest rate and term. This makes budgeting for funeral costs easier and you'll probably appreciate it later when you've finished saying goodbye.
Paying for a Funeral: What Are Your Options?
Funeral Consumer Alliance reports that most funeral homes require full payment upfront. Many use cash, credit card, or check to handle these costs. Some funeral providers will negotiate an installment plan with you. But the hard truth? Many families in bereavement lack the needed funds to fully cover these final expenses.
"If you use a credit card, you could face interest rates as high as 25%," says Jim Wang, personal finance expert and founder of WalletHacks.com. "Say your funeral costs total $10,000. If you charged it with a credit card with a 25% interest rate, that could cost you up to $2,500 in interest in the first year."
You could pursue a home equity loan or home equity line of credit (HELOC); but you need to own a home and have accrued equity to qualify. Plus, you'll be required to use your home as collateral, and it can take a while for your application to clear and for you to receive the funds.
Instead, it may be worthwhile to apply for a personal loan.
The Pros and Cons of a Personal Loan
"A personal loan is sometimes called a signature loan," says Realtor/attorney Bruce Ailion. "It's a loan from a financial institution that doesn't require physical collateral to secure repayment. Your signature and promise to repay the loan is the only recourse a lender has for payment."
Put another way, "if you default, you won't lose anything — including your home," says Wang.
Also, if you qualify for a personal loan, you can often get the money quickly — often within days.
But there are some downsides.
"Because there is no physical collateral involved, it's a riskier loan for the lender," Ailion adds. "That means you'll be charged a higher interest rate than you would for a home equity loan, HELOC, mortgage refinance loan, or other loan that requires collateral."
Ailion says personal loan rates can vary from around 8% to 18%. The rate you're eligible for will depend on many factors. You usually need a solid employment history/proof of income. Lenders prefer a lower debt-to-income ratio. And you probably need a FICO credit score of 640 or better to qualify. Higher scores will yield lower interest rates.
There's a way to improve your chances of getting a personal loan for funeral costs. Apply jointly with your spouse/partner, assuming this person fits the same criteria as above.
Where to Find a Personal Loan for Funeral Expenses
The good news is that personal loan providers are abundant. The lenders on this site specialize in personal loans for all purposes. You can find programs designed for people with a wide range of credit ratings, debt loads, loan amounts and terms.
"Search for companies or marketplaces online that offer personal loans," says Wang. Brick-and-mortar businesses also offer personal loans, and some consumers prefer to deal with lenders in an office. "Check first with the bank or credit union you already do business with," Wang suggests. "They often have personal loan products that can help." You can always get online quotes as well to make sure that you're getting the best deal.
Remember, it pays to shop around. When doing so, compare the interest rates, terms, and rules carefully.