The Best Personal Loans for Kitchen Remodeling of 2023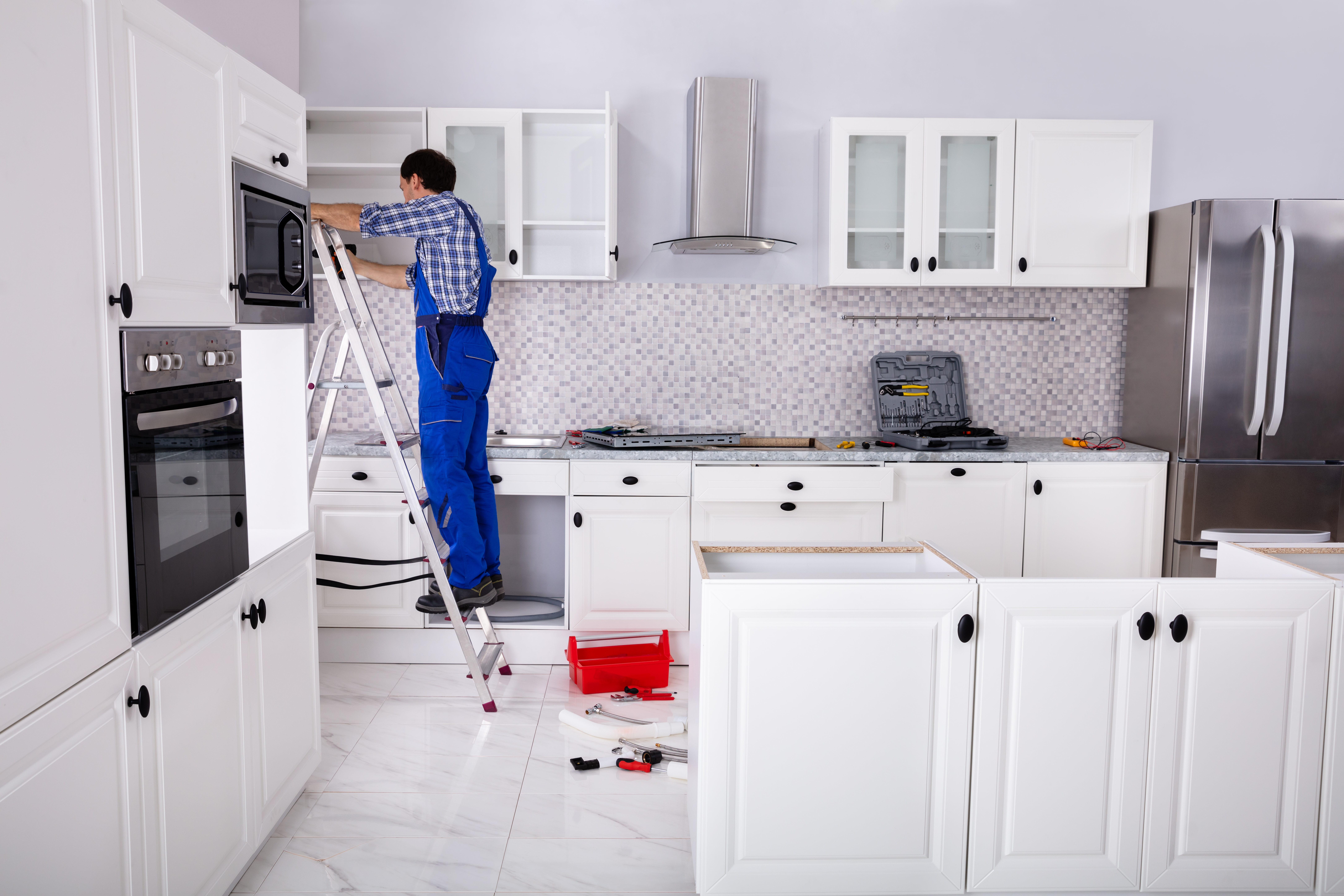 Kitchen countertops, appliances and cabinets add up quickly. And many homeowners don't realize how expensive their project has become until it's far too late. It's smart to arrange your financing before starting your project – whether it's a personal loan or other source of financing. Here are the most common:
Credit cards
Personal loans
Home equity loans
A recent survey found that 75% of homeowners do not have enough ready cash to pay for home improvements outright. If you're one of them, you may be financing at least some of the cost of your kitchen renovation. The best option depends on the size of your dreams and the extent of your resources.
Kitchen Renovations: Budget Realistically
How much might you pay to renovate your kitchen? According to Remodeling Magazine's most recent Cost vs. Value report, a mid-range major kitchen remodel set homeowners back an average of $66,196 this year. A minor kitchen remodel — one in which you don't replace everything — still cost $22,507.
Which Lenders Have the Best Personal Loan Rates?
Finding the lender with the best personal loan to meet your kitchen remodel needs is as simple as using our search tool. Compare personal loans for home renovation and find the best rates being offered today.
Average Cost of Kitchen Upgrades
Before embarking on your project, find out how much you qualify to borrow, and what your interest rate and payments might be. Having a beautiful and functional kitchen is great, but not if the cost gives you heartburn.
Kitchen renovation cost breakdown
Kitchen renovations cost $12,500 to $34,0000, and typically come in at just under $25,000 as of this writing. The rate includes materials, installation, lighting and plumbing fixtures. But not financing costs, so add some extra unless you're paying cash.
According to the HomeAdvisor (figures come from the National Kitchen & Bath Association), the expenses break down as follows:
| Feature | Small Remodel | Mid-Range | Major Reno |
| --- | --- | --- | --- |
| Install an appliance | $100-$200 per appliance | $200-$400 per appliance | $400-$600+ per appliance |
| Install cabinets | $100-$200 per cabinet | $200-$300 per cabinet | $300-$500 per cabinet |
| Install countertops | $200-$500 | $400-$1,000 | $1,000-$2,500 |
| Install a faucet | $125-$200 per faucet | $200-$300 per faucet | $300-$550+ per faucet |
| Install flooring | $600-$1,000 | $1,000-$1,500 | $1,500-$3,000 |
| Install a sink | $100-$250 | $250-$400 | $400-$600 |
| Backsplash installation | $150-$400 | $400-$800 | $800-$1,200 |
| Painting/adding wallpaper | $100-$200 | $200-$400 | $400-$600 |
Many experts believe that you should spend 10% to 15% of your home's value to remodel your kitchen to get the most home equity increase for each dollar spent. Another way to look at a kitchen remodel is by the size of your home. Here is what HomeAdvisor says a kitchen remodel costs according to the square footage of your kitchen:
Cost to Renovate a Kitchen by Size
You could spend as little as $5,000 to upgrade a small kitchen or over $60,000 to blow your friends' mind at your next dinner party. The size of your space and the quality of your materials will mainly drive your renovation costs. Below, see the typical spend for various sizes and the factors involved.
| Size (Square Feet) | Average Cost |
| --- | --- |
| Small (<70) | $5,000-$20,000 |
| Medium (100-150) | $15,000-$40,000 |
| Large (200+) | $30,000-$60,000+ |
Paying for Home Improvement Projects
While home equity products are popular for consumers who want to remodel a kitchen or take on any number of home improvement projects, personal loans clearly have their place.
For smaller projects, credit cards are the most convenient, have no setup costs and if paid off quickly incur little interest expense. However, their interest rates and low minimum payments can keep you paying for years and ultimately be very expensive
For larger projects, home equity financing has the lowest interest rate – an important consideration if your payoff is measured in years and not months. But for smaller projects, the setup costs and extended repayment period of home equity loans can eat up any savings on interest – and then some
Personal loans fall in the middle – their interest rates are often significantly lower than those of credit cards and your repayment schedule is predetermined. If your credit is excellent, your rate can approach that of home equity financing. And you don't have to worry about having enough equity because personal loans are not secured by your property. For mid-range projects, personal loans can hit that sweet spot and cost less than other financing choices
Before shopping for home improvements, then, create your budget and compare various financing options.
Home Equity Loans for Kitchen Remodel
Home equity financing generally offers the lowest interest rates and payments. However, that doesn't always mean the lowest cost. That's because fixed-rate home equity loans come with lender, title and escrow charges. There may be an appraisal, too.
Home Equity Lines of Credit, or HELOCs, feature lower setup costs, but they also have variable interest rates. Over an extended repayment period, your interest rate could get uncomfortably high. Other issues with home equity loans for a kitchen remodel include:
You need significant equity to qualify — most lenders loan up to 80% or 90% of your property value
If fixing up a rental or vacation home, it can be harder to get loan approval
You can lose your home to foreclosure if you don't repay a home equity loan
In general, home equity financing works best if the amount involved is large, you have enough home equity to qualify for financing, and you are confident that you can afford the payments.
Credit Cards for Kitchen Renovation
Another option for funding a kitchen renovation is using a credit card. Credit cards are great for purchasing. But not great for financing. If you can find a card with a 0% introductory rate, or generous rewards, it can be smart to put your remodeling costs on a credit card. Especially if you can clear that balance fast.
But credit card interest rates are high compared to personal loans and home equity financing. They can double the cost of your renovation if you're not careful. Unless you're just financing a few hundred dollars, plastic is not fantastic.
One option is to use a credit card for convenience (or to get rewards or a low introductory rate). Then pay it off with a personal loan. That way, you minimize your interest expense and exchange your revolving account for a fixed rate and payment.
Pay for Kitchen Remodeling With a Personal Loan
There are other ways to borrow money for a kitchen remodel, but a personal loan for home improvements makes sense for several reasons:
Interest rates and payments are usually fixed and budgeting is easier
Terms are short enough to keep interest expense reasonable
Personal loans are unsecured and don't risk your house
Interest rates are about 7% lower on average than credit card rates
Many consumers prefer a personal loan because they offer a predictable and affordable way to borrow money — particularly for those with good credit. They are especially sensible for mid-range kitchen renovation projects.