Personal Loan Denial – What If You're Turned Down for A Personal Loan?
Our articles, research studies, tools, and reviews maintain strict
editorial integrity;
however, we may be compensated when you click on or are approved for offers from our partners.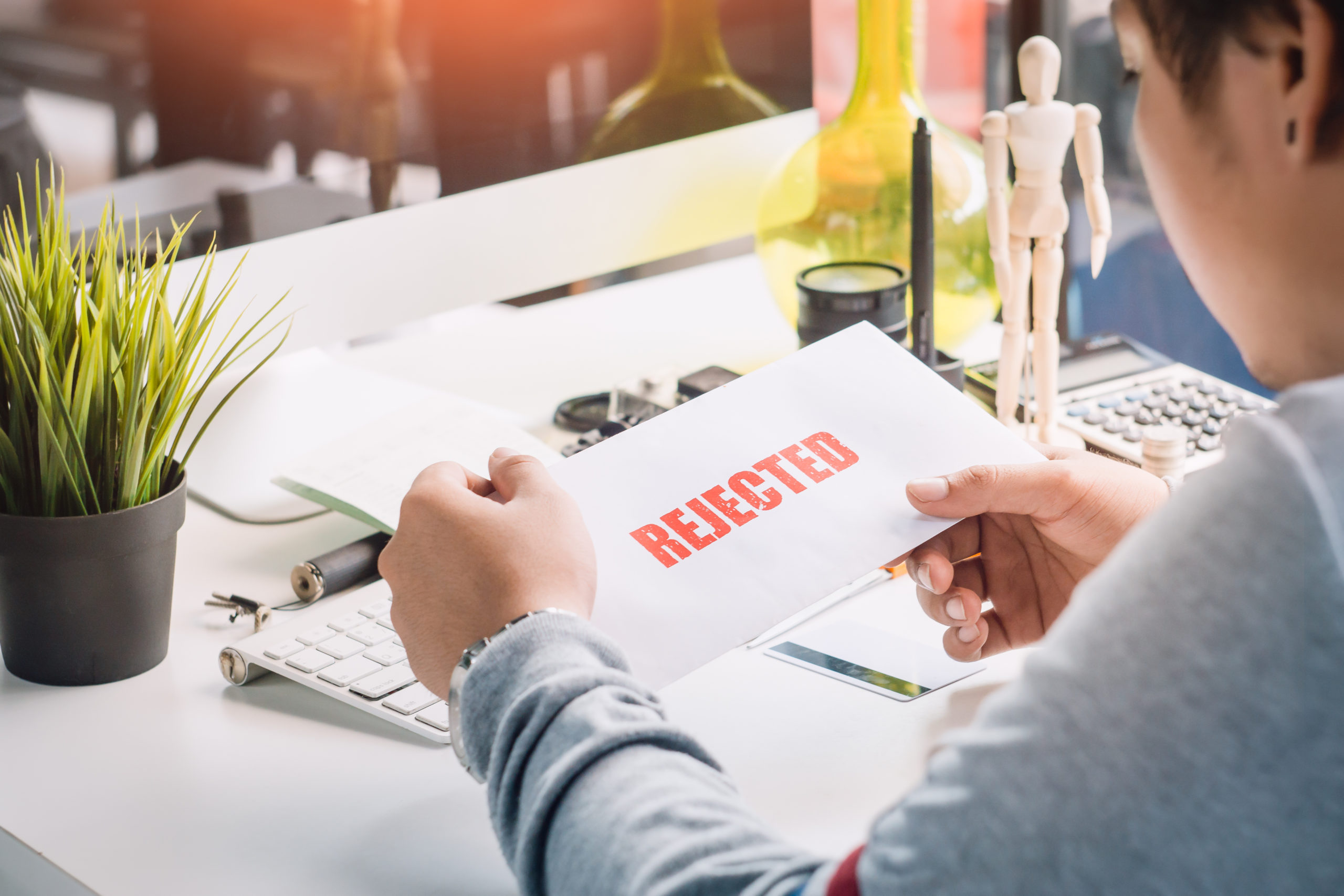 Personal loan denial is hard. It's difficult not to take personal loan rejection, well, personally. But different lenders focus on different types of borrowers. One lender may deny you, while another may welcome you with open arms. You might have to make yourself a more attractive applicant, but there is probably a personal loan out there for you.
See Reason: Check Your Adverse Action Notice
The truth is, just because your application for rejected by one lender doesn't mean the same will happen with a different lender. Investigate the reasons why your personal loan was denied and work to improve those areas. And then try again by applying anew with the same lender or with a different lender.
Been declined for a personal loan? If so, you'll be officially informed. This will come in the form of an adverse action notice delivered to you over the phone, in writing or in person. The Fair Credit Reporting Act and the Equal Credit Opportunity Act require your lender to provide an adverse action notice when your credit application is denied or less-favorable terms, like a lower loan amount, are offered (and you don't accept them).
The adverse action notice provides the reason(s) you were turned down. Often, it's related to your credit history / score or your debt-to-income ratio.
The adverse action may list your current credit score and indicate how you can obtain a free copy of your three credit reports. The name, address, and phone number of the credit bureau that gave the lender your credit report should also be included in your adverse action.
Top Causes for Personal Loan Rejection
These six reasons are the most common causes of denial for personal loans.
Bad credit history.

If your credit report is a sea of missed payments and collection accounts, you probably already know why your loan application was denied.

Too much debt / insufficient income.

These to go together. If you're spending too much of your gross (before tax) monthly income for housing and debts (they don't count living expenses like food or utilities), lenders won't let you take on even more debt.

Your loan purpose.

Personal loans can have any purpose. But some lenders specialize in only certain purposes. And if your loan application is not 100% solid, you may have more trouble getting approval for a travel loan than a home improvement loan. Home improvement increases your assets, while travel does not.

Missing information.

Lenders must verify your income and assets and debts. If something is incorrect or incomplete and they can't satisfy themselves that you're a good risk, you'll be denied.

Unstable employment.

Your income must be stable, continuous and ongoing. If your employment history or income is spotty, lenders might not believe that you'll be able to cover the payments reliably.

Too many loans.

If you already have a loan or extra debt, you might be rejected. Even if your debt-to-income ratio is okay, some lenders have rules about how many personal loans you can have, or how many loans you can have with them, or how much total debt you can have with them.
Application Rejected for Credit Score
Let's say the reason for your personal loan denial is a low credit score. Many lenders require a score of 550 to 580 or higher to be eligible for a personal loan. If your score is lower than that required by the lender, there could be several reasons why.
The most common reasons for a low credit score are, according to Equifax:
Serious delinquency
Public record or collection filed
Time since delinquency is too recent or unknown
Level of delinquency on accounts is too high
Amount owed on accounts is too high
Ratio of balances to credit limits on revolving accounts is too high
Length of time accounts have been established is too short
Too many accounts with balances
If your credit score is low because the information on it is inaccurate, contact the bureaus (Equifax, Experian and TransUnion all have online forms for reporting errors).
Denied for Debt
Got a lot of total debt you still have to pay off? That can also result in a loan rejection, even if you have a high credit score.
Why? Because it creates a high debt-to-income (DTI) ratio – another negative factor that lenders evaluate. You get this number by dividing your monthly debt payments by your gross monthly income.
The lower your DTI ratio, the more lenders like you. The Consumer Financial Protection Bureau recommends a DTI no higher than 43% for financial health. Others suggest aiming for a number lower than 36%. The most conservative financial advisers say you should shoot for a DTI of no more than 20%.
Personal Loan Joint Borrower
Still having trouble getting approved for a personal loan? Consider convincing a financially responsible friend or relative to be a cosigner or joint borrower on the loan. This may improve your chances of the lender saying yes and even lending a larger amount if you need it.
A joint loan involves two borrowers who share equal responsibility in paying back the loan. The lender will evaluate the creditworthiness of each of you. Both of your signatures will appear on the loan documents. Lenders like to see a joint borrower because your combined incomes make you less of a lending risk. Plus, if your other borrower has a higher credit score than you, you'll have a better chance of getting approved.
But if you and the other borrower part ways, figuring out how to pay off the debt could get complicated. If you fail to pay on time, both credit scores will take a hit.
Personal Loan Cosigner
Alternatively, you could get a cosigner for your personal loan. This person would not share the personal loan funds with you or have any joint ownership of anything you purchase with the personal loan funds. But he or she would share in the responsibility for paying back the debt. And if he or she has better credit than you, it could help you get approved.
Understand that not only will the lender come after your co-signer if you fail to repay the loan, any late payments by you could also appear on their credit report and harm their score. Finally, your co-signer could have a harder time borrowing in the future. Lenders may count the payment for your personal loan in your cosigner's debts. This is called "contingent liability." If you borrow with a co-signer, make every payment on time or you could do lasting damage to both of your finances and to your relationship.
Just Missed? Try Another Lender
Getting declined for a personal loan isn't the end of the line. You have options. First, if you want to dispute the reasons given in the adverse action notice delivered by the lender or desire to appeal this decision, you can. Contact the lender and indicate that you want to dispute or appeal the decision, and find out what's required.
You can also apply with other lenders for a personal loan. For best results, it's smart first to review the adverse action notice carefully and make efforts to improve any factors pointed out in the notice, like a low credit score, high DTI, or low income. You should access your three free credit reports and fix any errors you spot, too.
Once you've ironed out these wrinkles, shop around for other lenders and try applying for a personal loan again. This time around, you may have better luck and get approved without delay. Just be prepared to complete the application fully and honestly and respond to the lender punctually if they contact you with questions or requests.