Commerce Bank Savings Account Review 2023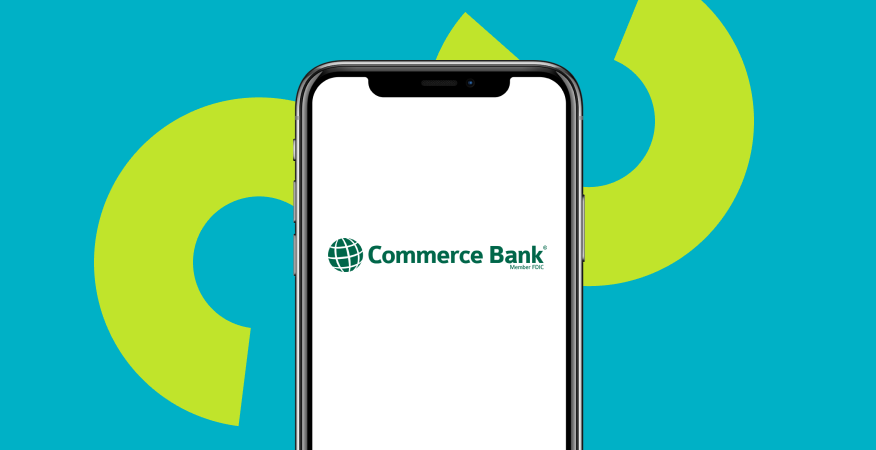 Commerce Bank is a community bank with full-service banking branches located throughout the Midwest.
The myRewards Savings Account's best feature is that you can get a bonus of up to $50 after making 11 monthly deposits in a row.
Additionally, Commerce Bank offers savings accounts and checking accounts to new customers online.
Commerce Bank myRewards Savings Account Essentials
The myRewards Savings Account can be used to save for different financial goals. Here are the main features of this savings account:
Open up to five different savings accounts to reach your goals
$0 minimum opening deposit
Earn interest on balances, with interest compounded daily
Free online banking access
Free paperless statements
Make 11 monthly deposits in a row and get up to a $50 bonus in your 12th month
Fee-free access to your money at Commerce Bank ATMs
Savings accounts are FDIC-insured, up to the federal limits
Explore Banks with the Best Savings Account Rates
Finding the bank with the best savings account to meet your needs is as simple as using our search tool. Try it now and find your high-interest savings account.
MoneyRates Editor's Analysis: Pros & Cons
When comparing savings accounts from a credit union, bank or other financial institution, it's always helpful to weigh the advantages and disadvantages. Here's how the pros and cons of banking with Commerce compare for savers:
Pros
Easily open an account online and enjoy mobile banking, online banking, branch banking and ATM access
Get rewarded with a cash bonus for making 11 qualifying monthly deposits
No minimum balance to open makes it a potentially good option for beginning savers
Cons
The annual percentage yield offered to savers falls well short of what you could find at other financial institutions
Commerce Bank Savings Account Rates
If you're looking for a savings account that's going to offer generous interest rates on savings, you may want to look elsewhere.
While Commerce Bank offers the same annual percentage yield across all balances, that APY isn't great. Currently, the APY paid to savers is 0.01%.
That's below the national average savings rate of 0.09% and it lags far behind what you might find at an online bank. UFB Direct and CIT Bank both, for example, have rates that are dramatically higher for their online savings accounts. The rates for both Discover Bank and Barclays are on the high end for savings as well.
If earning a high rate on savings is your first priority, that might be a reason to think twice before you open an account with Commerce Bank. But you should also consider what other products and services or features might make this bank more attractive compared to other financial institutions.
Commerce Bank Savings Account Monthly Fees
Like other brick-and-mortar banks, Commerce Bank does charge a monthly fee for its savings account. The fee is $3, which isn't too terribly high. But if you're not earning a substantial amount of interest, a fee may be something you'd like to avoid.
Commerce Bank does give you a way to avoid that fee.
You can sidestep the monthly fee by maintaining a minimum daily balance of $300 or more, or scheduling at least one $25 electronic deposit into your account each month. The deposit rule includes online banking transfers from a linked Commerce Bank checking account.
Again, online banks are going to have the edge where fees are concerned. Many of the top online banks that offer savings accounts, such as Ally, charge no monthly maintenance fee at all for savers. No fees means more of your savings you get to hang onto each month.
Other Savings Account Fees
In addition to a monthly maintenance fee, there are some other fees of which to be aware when you open an account with Commerce Bank. These fees apply to savings accounts:
Paper statement fee: $2 per statement
Non-Commerce Bank ATM fee: $2.75
Dormant account fee: $5/month
Telephone transfer fee: $4 for customer service transactions
Wire transfers: $12 to $60
There's also a fee for excess transactions. Since this is a savings account, federal regulations limit you to six withdrawals per month. Commerce Bank takes it a step further and limits you to three withdrawals monthly from your savings account.
Once you go over that limit, a $2 excess withdrawal fee applies to each additional withdrawal. While that's less than what some banks charge, it's still money you may not want to throw away. So it's important to know when this fee can kick in if you're pulling money out of savings.
Additional Commerce Bank Savings Account Features & Benefits
The Commerce Bank is very similar to other savings accounts you can find at traditional banks. There is, however, one feature that sets it apart.
When you make 11 monthly deposits to savings in a row, Commerce will reward you by making your 12 month's deposit for you. The deposit is good for up to $50 and you can receive up to $100 in bonus rewards per household. The amount of your bonus is based on your average monthly deposits for the previous 11 months. You can't have more than four withdrawals from savings per year to qualify for the bonus.
In terms of account management, you can manage your account online or with the Commerce Bank mobile app. You can also manage your account at Commerce Bank branch and ATM locations. Full-service branches are located in 164 cities, with 366 ATMs. The bank's headquarters are located in Kansas City, Missouri.
Are There Other Ways to Save with Commerce Bank?
Besides savings accounts, there are a few other accounts you can open at Commerce Bank. Those include:
Money market accounts
Certificates of deposit
Retirement accounts
There are two money market options available at Commerce Bank: myRewards Money Market and Premium Money Market. The myRewards Money Market account is an interest-bearing account with no minimum deposit to open. But there is a $500 minimum daily balance requirement you need to meet to avoid a $6 monthly fee.
myRewards Money Market savers have check-writing privileges and can make up to six withdrawals per month. The highest APY available for this account is 0.01% and it has no minimum to open an account.
The Premium Money Market account has a $1,000 minimum to open and a $5,000 average daily balance minimum to avoid a $10 monthly service fee. This account also includes check-writing privileges and earns a maximum interest rates of 0.05% with a balance of $50,000 or more.
Additionally, Commerce Bank offers these financial products:
Student banking
Student loan options
Personal loans
Lines of credit
Credit cards, including rewards cards
Insurance
Commerce Relationship Checking offers a debit card and interest earned on balances if you want flexibility with savings. You can spend money conveniently with no penalty fee while still earning interest.
If you want to get credit cards with Commerce Bank, you need to meet minimum credit score requirements.
Small business banking options are also available.
How to Open a Commerce Bank Savings Account
You can open a savings account with Commerce Bank online and it takes just a few minutes to do so.
To get started, you need to provide the following information:
Your first and last name
Email address
Phone number
Mother's maiden name
Date of birth
Social security number
Current address
Citizenship status
Commerce Bank also asks how long you've lived at your current residence.
You also need to share two forms of ID, which can be a state-issued driver's license, a passport or military ID card.
Once you fill out the initial application, you can share information about the bank you plan to transfer money from to fund your new savings account. That includes the bank's routing number, account number, and the amount you want to deposit.
If you're applying for a joint account with someone else, you need to provide all of their relevant personal information as well.
If you'd prefer to open your account a different way, you can call and set it up over the phone or visit a Commerce Bank branch.
Customer service is available Monday through Friday from 8 a.m. to 8 p.m. and Saturdays from 8 a.m. to 4 p.m.
Once your account is open, you can manage it online or over the phone through the 24-hour service hotline.
Is a Commerce Bank Savings Account Right for You?
Whether you should open a Commerce Bank savings account depends on your goals.
When looking at the interest rates, it's clear that banking with Commerce isn't going to necessarily mean significant growth for your money. At least, not compared to the interest rates other traditional and online banks can offer. You may also be wary of paying a monthly service fee if you're just getting started with saving.
Overall, Commerce Bank could be a good fit if you already have a checking account, loan or other accounts with the bank and want to keep your money all in one place. You may prefer branch-banking face to face versus online banking, for example. But if you're seeking out the best rates for your savings with minimal or no monthly fees, it might pay off to do some comparison-shopping to see what other banks can offer.