The Best Savings Accounts in Illinois for 2023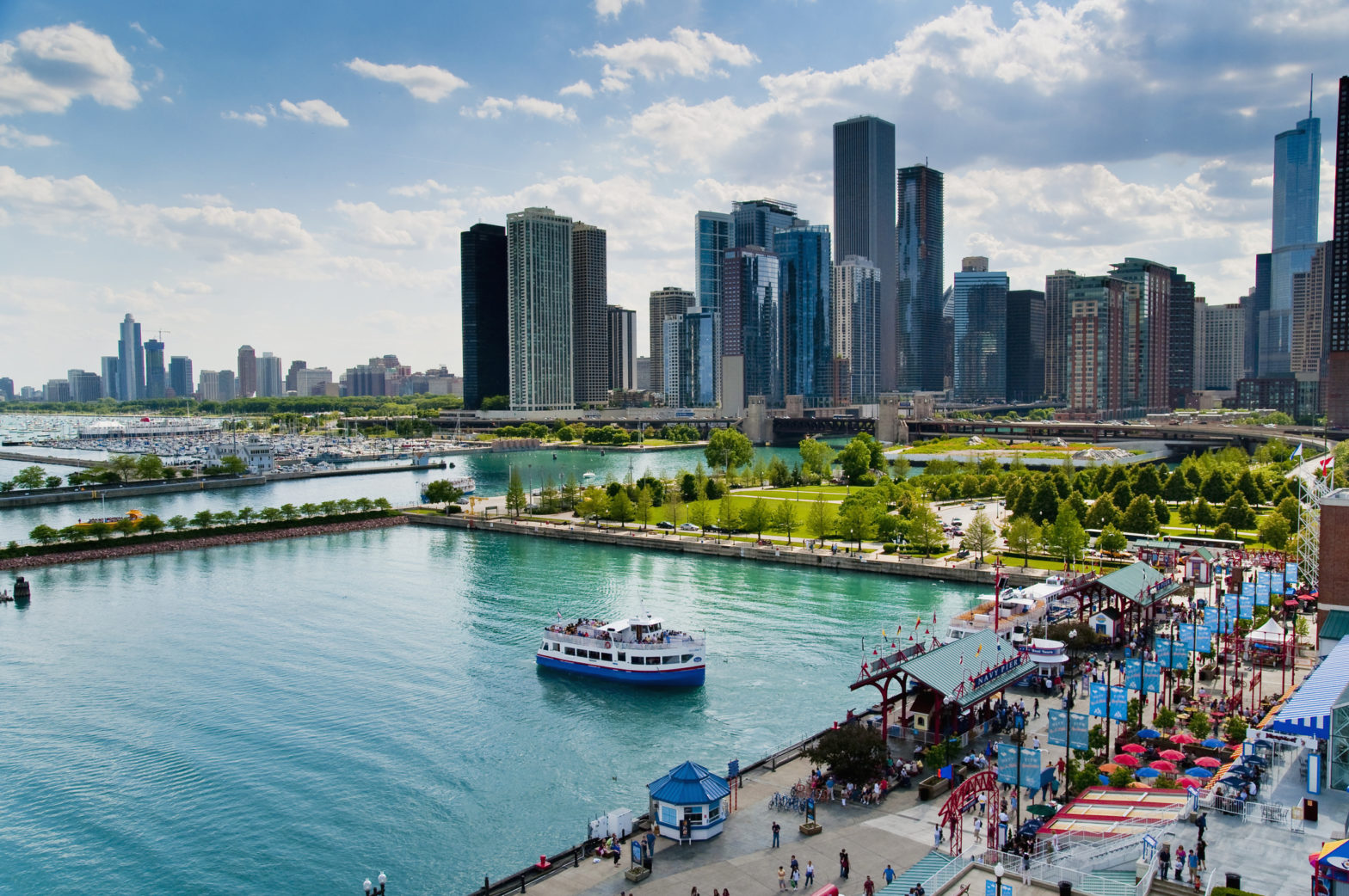 Doesn't it seem like there is a bank on every corner in the state of Illinois? That's because that's almost true. The Chicago Tribune reports that Illinois has more than 800 banks, more than any other state in the nation.
Still, there is a downside in that with so many competing banks and the banking laws of Illinois, there are few very large banks in the state that can compete with higher interest rates.
However, there are still several good savings account options in banks, credit unions, and online. Let's take a look.
The Best Savings Accounts in Illinois
CIT Bank
PeopleFirst Bank
Alliant Credit Union
Hanmi Bank
Compare savings accounts and see what rates are being offered today.
Illinois Online Savings Accounts
The best savings accounts in Illinois are competing for your business, and they're often doing it with impressive interest rates. There are three main options: banks, credit unions, and online banks. You may find the most flexibility and best rates at an online bank. Our top online banks for Illinois definitely fit the bill.
CIT Bank
A division of First Citizens Bank, CIT Bank is an online solution that offers the Savings Builder account. To earn the high-rate interest, account holders must deposit at least $100 every month or carry a $25,000 minimum balance. There are no fees to open the account or keep it open.
There is a limit of six transactions per statement cycle (roughly every month). Interest compounds daily and can be managed and tracked with a robust mobile app and a dedicated website. This is a tiered interest rate account, with the highest possible rates offered to accounts that hold at least $25,000. This online bank is a member of the FDIC.
Regional and Local Colorado Savings Accounts
Alliant Credit Union
Locations: Chicago and Rolling Meadows, Illinois
This credit union is unique in that it offers over 80,000 surcharge-free ATM options, which is more than the network of Chase and Bank of America combined.
Alliant Credit Union offers three interest-bearing savings accounts to choose from high-rate savings, supplemental savings, and savings for kids. These accounts begin with a $5 initial deposit, there is no maximum balance limit, and there is no monthly fee if you opt for electronic statements.
All accounts can be accessed through robust online or mobile apps. The supplemental savings accounts are designed to help you save toward a specific goal, and you can open up more than one. The savings for kids is for those under the age of 12 and offers joint ownership with parents or guardians. Deposits are protected by the NCUA.
PeopleFirst Bank
Locations: Joliet and Shorewood, Illinois
PeopleFirst Bank offers three savings accounts as well as a money market account. The Target savings is the easiest to maintain, with no minimum balance or maintenance fee. It needs $100 to open the account and can be connected to a high-yield checking option.
Statement savings starts at $100 and requires a $500 daily minimum to avoid the maintenance fee. The Max Rate savings requires $2,500 to open and a $10,000 daily minimum balance to waive the maintenance fee. All accounts offer a tiered interest model, where the more you have in the account, the higher your interest rate can be. Minor savings, designed for children, also offers variable interest rates with a minimum $100 balance. Member FDIC.
Hanmi Bank
Locations: Naperville, Glenview, Chicago, Illinois; California, Virginia, Texas, New York, New Jersey
With a variety of financial products, including savings, money market accounts, and CDs, Hanmi Bank offers something for everyone. Even the Simple Savings option provides a competitive interest rate, while the Savings Account option has a bit of a higher rate. The Simple Savings account is an online-only account. Both take only $100 to open, and while the Simple Savings requires no minimum balance, the Savings Account needs to carry a $500 minimum daily balance to avoid a $5 monthly service fee. The bank carries FDIC insurance on deposits and financial instruments. Interest on savings accounts is compounded daily and credited quarterly.
How We Chose: Our Methodology
The best savings accounts in Illinois were selected based on an exhaustive analysis of savings accounts offered by online, national, regional, and local banks serving major cities, including Chicago, Aurora, Naperville, Joliet, Rockford, and Springfield.
We narrowed down our search to savings accounts with low monthly maintenance fees, opportunities to waive these fees, ATM network availability, excess withdrawal fees, ease of online and in-app banking, interest rates, and more.
How to Choose a Savings Account in Illinois
When choosing the right savings account for you, consider the following points. Compare banks to ensure that you're getting the best product for you.
Interest rate
One of the most important considerations for your savings account in Illinois is the interest rate. High-yield savings accounts should have a solid interest rate that accrues daily and deposits at least monthly.
Keep in mind that some banks don't allow the best interest rates for all your funds, however. As an example, some might offer up to 3% APR on the first $1,000 but offer less on anything over that. On the other hand, you might find a tiered system where the highest deposit amounts get the most handsome interest.
Fees
As banks compete for your money, many have dropped their fees altogether. But some might still impose overdraft fees, a monthly fee for a balance that drops below a minimum for at least a month, or costs for using the ATM more than a certain number of times. However, many banks will waive all potential fees if you use direct deposit.
Opening deposit
Expect a bank to require a minimum for opening the account; this might be as little as $100. However, the opening deposit might not be the same as the minimum required monthly balance, so keep in mind that you will have to add more to the account to get to that point. This is often done by simply opening the account with the minimum and letting your first direct deposit bump you up to the amount you need to avoid fees.
Access
Keep in mind that savings accounts often allow only six or so withdrawals per month; anything more than that, and the bank might convert the account to a checking account, which might not get the high-yield interest you want.
Also, be sure to look at the potential ATM network you can use to withdraw money if necessary. Some banks might even offer reimbursement for ATM use, up to a certain transaction amount per month.
Where Can You Open a Savings Account in Illinois?
We've mentioned banks, credit unions, and online banks. But what are the differences in these options, and why would you choose one over the other? Here's a quick primer.
Online banks
Many online banks began as an offshoot of a traditional bank. Many online banks offer a wide range of services, including loans, money market accounts, and more. The online presence is obviously very robust, and the mobile app is usually just as handy.
If online banks are affiliated with a traditional bank, they will likely have FDIC insurance on deposits, but always check to be certain before depositing your hard-earned money.
An upside to online banking is that fee-free ATMs are often plentiful throughout the world; the downside is that talking to a real person can be tough and doesn't allow for much flexibility in financial options.
Banks
Banks tend to be larger than credit unions and are often spread across a wide area; some are nationwide. This means you can easily find fee-free ATMs across the world that will take your bank card.
Most of them will have a strong online presence and a mobile app that makes on-the-go banking easier. They will also offer a wide variety of products other than savings accounts, such as mutual funds, CDs, and loans.
But you might find that personal customer service is lacking or that there is little wiggle room when it comes to getting a loan or mortgage. Banks are insured by the FDIC.
Credit unions
Credit unions are often smaller than banks and are touted as the "hometown" option. Some credit unions are part of co-ops that allow you to use branded ATMs, but others are not. For those, you might have to pay a fee to use an ATM other than the one at the credit union or its branches.
The online presence might not be that strong, and they might not even have an app, but the "community" aspect means they are more flexible in lending, and the customer service is usually great. The National Credit Union Administration insures deposits to credit unions.
Illinois Savings Accounts vs. CDs
Certificates of deposit are much like savings accounts, but there are some key differences. While a savings account gives you access to your money at any time, a CD doesn't – instead, you choose to put your money into a CD for a set amount of time. As long as you leave it in the CD for that period of time, you will earn the stated interest. However, if you need your money sooner and choose to pull it out of the CD, you will pay a penalty that might eat up the interest you've already earned and then some. Here's a breakdown of the differences.
Getting Your Money
If you know you have a large amount of cash you can put "out of sight, out of mind," then choose the CD. You will have a higher interest rate, but you won't be able to access the cash. If you think you might need the cash sooner than the stated term (which is usually anywhere from one to five years), choose the savings account.
Interest Rates
Certificates of deposit often promise higher interest rates than even the best savings accounts. You lock in the rate when you choose the CD term. However, it's a bit of a gamble. If interest rates go down, you're in luck. But if interest rates go up, your money might be earning less in a CD than it would with other investments.
Fees and Penalties
Consider the fees you might have to pay. A certificate of deposit doesn't charge fees unless you withdraw the money before the term is up. A savings account might charge fees for overdrafts or dropping below a minimum balance, among other reasons.
Frequently Asked Questions (FAQs)
Should I care about a bank's rating?
Yes. A bank rating tells you how financially sound the institution is, in the opinion of places like the FDIC and NCUA. These ratings are usually between 1 and 5, with 1 being the most financially sound and 5 being likely to become insolvent within 12-24 months.
Can a bank really promise me high-yield interest rate?
A high-yield checking or savings account is subject to variable rates. However, if you choose to sink your money into a CD, the rate is locked in for a specific period of time; if you leave the money in the account for the agreed-upon period, your interest rate is guaranteed.