The Best Savings Accounts in New Mexico for 2023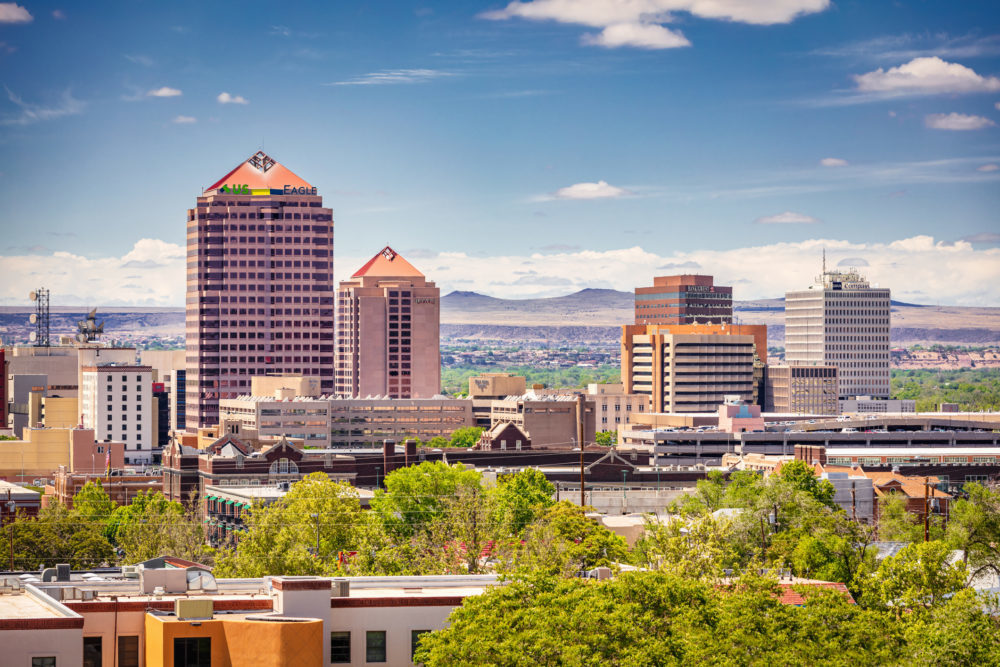 There are hundreds of banks available to New Mexico savers, including state-chartered banks, online banks, and credit unions.
When you're preparing to open a new savings account, finding the right financial institution matters.
Today, we're taking a closer look at where to find the best savings accounts in New Mexico to help you decide where to keep your money.
The Best Savings Accounts in New Mexico
Synchrony Bank
Citi Accelerate Savings
SFGI Direct Savings
UFB Direct Savings
BankFive
Telco Credit Union
Tucumcari Federal Savings and Loan Association
Compare savings accounts and find the best rates currently being offered by top lenders.
Online Savings Accounts Available in New Mexico
Online savings accounts can be an attractive option for savers who want to earn competitive rates while paying minimal fees.
If you're looking for the best online saving account in New Mexico, here are five options to consider.
Synchrony Bank
Synchrony Bank USA offers top-tier rates with low fees and even refunds up to $5 in domestic ATM fees every month.
Based out of Draper, Utah, Synchrony also offers money market accounts and high-yield certificate of deposit (CD) accounts for savers.
Here's why it's a top pick:
Synchrony offers one of the highest APYs for savers, with no minimum deposit requirement
Savers pay no monthly maintenance fees or hidden fees of any kind
The same rate applies across all balances, which is perfect if you're saving a little or a lot
Access your money online or through the Synchrony mobile banking app
All deposits are FDIC-insured, up to the standard coverage limit
Unlike some other banks, synchrony does offer ATM cards for convenient access to your savings money.
Synchrony Bank Pros & Cons
Citi Accelerate Savings
Citi is a traditional bank with a nationwide presence. While big banks aren't typically known for paying high rates to savers, the Accelerate Savings account is an exception.
Here's why it's a top pick:
Citi pays a competitive rate, with no limit on the amount of interest you can earn
It's easy to schedule savings deposits with the Auto Save feature
Savers can easily manage accounts at Citi branches through the Citi website, Citi mobile banking app, and over the phone
There's no minimum balance requirement to earn a great rate on savings
Deposits at Citi are FDIC-insured
Note that you will need a Citi banking package to open an Accelerate Savings account.
Citi Accelerate Savings Pros & Cons
SFGI Direct Savings
SFGI Direct is the online division of Summit Community Bank. Savers can open a high-interest savings account online in minutes.
Here's why it's a top pick:
SFGI Direct offers competitive rates to savers that are on par with other online banks
You only need a $1 minimum balance to earn interest
There are no monthly service charges for this account
Savers can easily manage their accounts online
SFGI Direct is an FDIC-insured bank
SFGI Direct offers online savings only so you won't be able to get a checking account or CD account here.
UFB Direct Savings
UFB Direct offers one of the most impressive rates for savers in New Mexico. You can choose between a high-yield savings account or a high-yield money market account, depending on your goals.
Here's why it's a top pick:
UFB Direct pays a great rate for both savings and money market accounts
You can easily manage your money online, including using mobile check deposit
The money market account includes check-writing privileges
UFB Direct Savings has no monthly maintenance fees
Deposits are FDIC-insured
Be aware that while you get an ATM card, UFB Direct does not refund foreign ATM fees.
BankFive eAccess Savings
BankFive is a regional bank based in the Northeast that also offers online savings accounts. Checking accounts and CDs are available as well.
Here's why it's a top pick:
Savers earn an above-average rate compared to other traditional banks
You can choose from different ways to save (i.e., eAccess savings, CDs)
Unlimited mobile deposits make it easy to add money to your account
You can also access and manage accounts online
BankFive is FDIC-insured
You'll need at least a $10 minimum balance to earn interest with eAccess savings.
A Look at Local New Mexico Banks
Banking locally can have its advantages and there are a number of smaller banks and credit unions throughout New Mexico. Here are two of the best local savings accounts for New Mexico savers.
Telco Credit Union
Telco Credit Union offers share savings accounts to New Mexico residents who want to earn a higher dividend rate. Membership is open to anyone who lives, works, or attends school in Chaves County.
Here's why it's a top pick:
Telco offers a dividend rate for share savings that's well above the APY other local banks offer
You can open an account with a low $25 initial deposit
Telco also offers share certificates if you're looking for a term deposit savings option
Loans are available for eligible borrowers
Deposits are federally insured by the NCUA
If you meet the basic membership requirements, you can start the account opening process online.
Tucumcari Federal Savings and Loan Association
Tucumcari offers a variety of savings options, including savings accounts, money market accounts and CDs. You can also open an IRA CD to save for retirement.
Here's why it's a top pick:
Savings, money market and CD rates are well above what other traditional banks offer
You can manage your accounts online or at a branch
There are no membership requirements to join
FDIC-insured savings
You'll need to call or visit a branch to start the account opening process.
Tucumcari Federal Savings and Loan Pros & Cons
How We Picked: Methodology
The best savings accounts in New Mexico were selected based on a comprehensive analysis of savings accounts offered by online, national, regional, and local banks serving major cities including Albuquerque, Las Cruces, and Santa Fe.
We narrowed down our search to savings accounts with low monthly maintenance fees, opportunities to waive these fees, ATM network availability, excess withdrawal fees, ease of online and in-app banking, interest rates, and more.
The best savings accounts reflect market conditions and bank APYs at the time of our analysis.
Banks can and do change their rates and terms on a regular basis, so you should check with New Mexico banks directly to see what savings accounts they currently offer.
How to Pick a Savings Account in New Mexico
Savings accounts aren't all alike, and it's important to understand exactly what you need a bank to do for you.
Here are some key things to keep in mind when comparing saving accounts in New Mexico.
Interest rate
Different savings accounts can offer different rates. If you're set on getting the best rate possible, you might lean toward an online bank.
When comparing rates, check to see if the rate is tiered or whether it applies across all balances.
Fees
A savings account can charge monthly maintenance fees and excess withdrawal fees.
You may also pay ATM fees if your account comes with an ATM card.
Be sure to check all of the fees you might pay so you know what a particular savings account could cost you.
Opening deposit
If you're just getting started with saving, you might want to find an account with a low minimum opening deposit.
For example, some online banks allow you to open a savings account with just $1.
On the other hand, there are some savings accounts that will reward you with higher rates for making a larger opening deposit.
Other accounts available
Aside from savings accounts, you might be interested in checking accounts, money market accounts, CDs, or loans.
Looking at all the banking products and services available can help you find the best bank in New Mexico to cover all your needs.
Access
When opening a savings account, remember to think about what kind of access you'll have to your money.
With online banks, you might be limited to electronic transfers or mobile check deposits only.
Some banks can offer ATM cards with savings accounts but not all of them do.
Customer service
Good customer service matters if you need help or have a question.
Looking at a bank's customer support options (i.e., phone, live chat, email, etc.) and the hours customer service is available can help you decide where to keep your money.
Account management
Finally, weigh your options for managing your accounts once they're open. Again, that can include online banking, mobile banking, phone banking, or ATM access.
Where Can You Open a Savings Account in New Mexico?
When deciding where to open a savings account in New Mexico, you've got three options: online banks, traditional banks, and credit unions.
Each one has different pros and cons to consider.
Online banks
Online banks operate primarily and usually have few branches or none.
They can offer high-yield savings accounts as well as CD accounts, money market accounts, and in some cases, checking accounts. Deposits at online banks can be FDIC-insured and you can manage your accounts through online or mobile banking. Rates at online banks may be higher for savers while fees are often lower.
Traditional banks
Traditional banks can offer a variety of account options, including savings accounts, checking accounts, money market accounts, and CDs.
Brick-and-mortar banks can also offer loans, credit cards, and insurance products.
You can generally bank online or at a branch.
In terms of savings rates, they tend to be lower than what you'd find at online banks.
Credit unions
Credit unions are member-owned institutions and most have some sort of minimum requirement you need to meet to join.
The types of accounts you can find at credit unions are similar to those offered by banks.
The difference is that credit unions may pay higher rates or charge fewer fees than traditional banks.
New Mexico Savings Accounts vs. CDs
Savings accounts can help you to grow your money with interest, but you might choose CDs when saving for longer-term goals. Here's how savings accounts and CD accounts compare.
Minimum deposits
Savings accounts may have lower minimum deposit requirements to open an account and earn interest, compared to CDs.
For example, you might be able to open an online savings account with $1 but you might need $500 or $1,000 to open a CD online.
Withdrawals
Previous rules limited withdrawals from savings accounts to just six per month.
That rule was listed by the government, but banks can still cap you to six withdrawal transactions per month and charge a fee if you exceed that amount.
With CDs, there are no monthly withdrawal limits because you're expected to keep your money in the account for the entire maturity term.
Withdrawing money from a CD early can trigger a penalty.
Interest rates
Savings accounts can have tiered rates that apply across different balances or earn just one rate.
CD rates typically depend on the length of the CD term.
The longer the CD term, the higher the rate might be.
Best uses
Savings accounts can be used to save for short- or long-term goals or hold your emergency fund.
With CDs, you're better off using them to save money that you know you won't need. Otherwise, you might end up paying an early withdrawal penalty if you need to tap into your account before maturity.
Minimum balance
Savings accounts can have a minimum balance requirement to earn interest or avoid a monthly maintenance fee.
CDs don't have monthly maintenance fees but there will be a minimum balance required to open an account and earn interest.
Frequently Asked Questions (FAQs)
What is the best savings account in New Mexico?
The best savings account in New Mexico is the one that meets your needs, in terms of the interest rate you'd like to earn and the fees you're comfortable paying.
Online savings accounts can be a preferable option, as they tend to offer higher rates than traditional bank savings accounts while charging fewer fees.
Can I open a savings account online in New Mexico?
A number of banks allow you to open savings accounts online in the state of New Mexico.
When opening a savings account online, be sure to understand what information is required. Also, keep in mind that you'll need to link an external bank account in order to make your initial deposit.
Are New Mexico banks or credit unions better?
Banks and credit unions can both offer a safe, secure option for holding your savings.
Whether it makes sense to choose a New Mexico bank over a credit union, or vice versa, can depend on what you're looking for in a savings account.
Also, remember that credit unions typically have membership requirements you need to meet in order to join.