EmigrantDirect – Online Bank Accounts From A Venerable Institution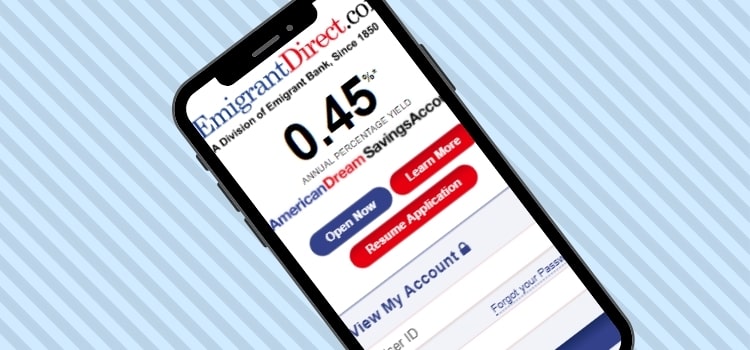 EmigrantDirect, the online division of Emigrant Bank, offers online bank accounts that feature around-the-clock access and management via the EmigrantDirect website, as well as some attractive terms.
Founded in 1850, Emigrant Bank is one of the oldest banks in the nation. It was founded by Irish emigrants as a mutual savings bank and was the largest savings bank in the nation for a period in the 1920s, according to EmigrantDirect's website.
Since January 1934, Emigrant Bank has been a member of the FDIC and features two branch/ATM locations in the Manhattan and West Chester areas of New York. Your deposits at EmigrantDirect are fully insured up to the FDIC limit of $250,000 per depositor.
EmigrantDirect online savings account
EmigrantDirect's online savings account, dubbed the American Dream Savings Account, offers a competitive yield with no minimum deposit required and no fees or service charges. Your interest is compounded daily and credited to your account on the last day of each month.
To open an American Dream account, you need a valid tax identification number, a legal U.S. address and a personal checking account at a U.S. bank. You have to be 18 years old or older to open this account. Upon opening, your account will be linked to the external checking account. While you can make your first deposit with EmigrantDirect by mailing a check, all subsequent deposits must be conducted electronically through transfers from the checking account — or checking accounts, as you are allowed to link to two — that you specified.
You can add funds to your savings account anytime via transfer from those external checking accounts through EmigrantDirect's website. In addition, you can schedule recurring transfers between your savings account and your linked checking accounts through the site, and the American Dream Savings Account also accepts direct deposits to further simplify your savings effort.
EmigrantDirect certificate of deposit
EmigrantDirect's other savings offering is its certificate of deposit account called My Way Certificate of Deposit. A minimum balance and an EmigrantDirect savings account are required to open a My Way CD. Interest is compounded daily and added to your CD at the end of each month and the CD term. Money can't be added to the CD before its maturity date, but a variety of terms are available to suit your needs.
EmigrantDirect savings accounts and CDs can only be opened online. Electronic Statements for both account types are provided each month, and depositors can check their balances and transaction history anytime through EmigrantDirect's website. If you're unable to find an answer to your account questions on the bank's website, EmigrantDirect offers telephone customer support via a toll-free number too.