Kitchen Renovation Budget – How Much Does A Kitchen Remodel Cost?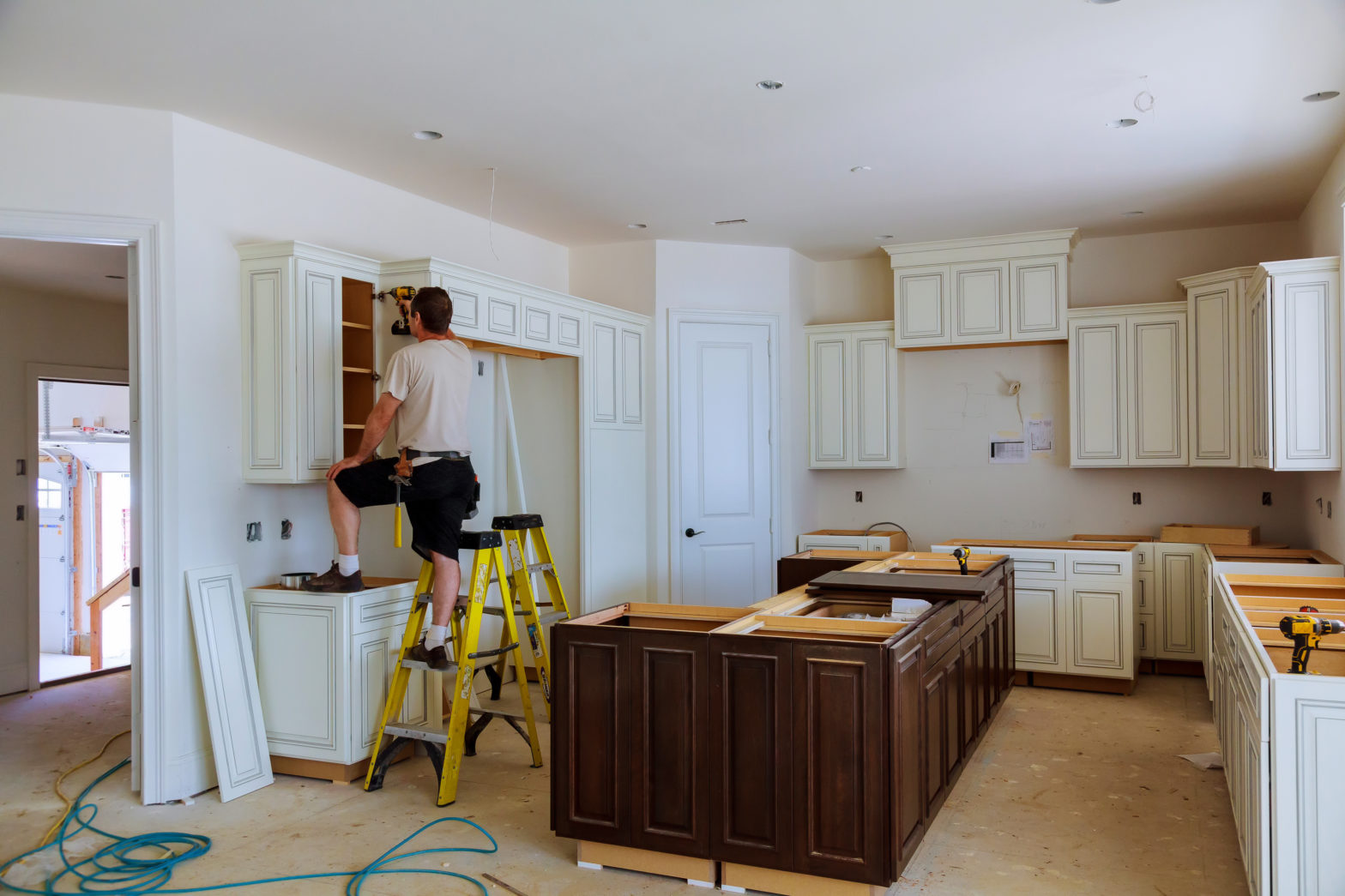 The average cost to renovate a kitchen depends on several factors:
This article breaks down the kitchen remodel cost for minor, mid-grade and major renovations. You'll learn how to use a kitchen remodel cost estimator and how to get the most bang for your kitchen-remodeling buck.
See today's personal loan interest rates
Average Kitchen Remodel Cost
Average kitchen renovation costs run between $100 and $250 per square foot according to HomeGuide.
Costs vary so much because there are many kinds of kitchen remodels. Upgrading a kitchen in a penthouse unit in San Francisco, for example, costs significantly more than the same kitchen renovation for a ranch house in Tucson. Your contractor in the Bay Area has higher labor and regulatory costs to begin with, not to mention the fact that getting materials and equipment up dozens of floors adds time and complexity to the mix.
Renovation costs can be minimized if you don't change the existing footprint of your kitchen. If you're knocking down walls and rerouting plumbing, expect costs to climb.
And finally, the grade of construction materials makes a difference. Replacing Formica and linoleum with new Formica and linoleum is much cheaper than gutting the room and installing custom stone and flooring.
Which Lenders Have the Best Personal Loan Rates?
Finding the lender with the best personal loan to meet your needs is as simple as using our search tool. Compare personal loans and find the best rates being offered today.
What Is a Minor Kitchen Remodel and How Much Does it Cost?
According to the National Kitchen and Bath Association (NKBA), a minor or small kitchen remodel costs between $12,000 and $21,000 for 200 square feet and typically includes these items:
Refacing cabinetry and drawers
Painting walls
Replacing cabinet and drawer hardware
Adding new countertops (less-expensive surfaces)
Upgrading light fixtures
Installing new laminate flooring
The footprint does not change and appliances are not replaced.
What Is a Mid-Grade Kitchen Remodel and How Much Does it Cost?
The NKBA estimates that mid-grade kitchen remodels cost $29,000 to $64,000 for a 200 square foot space. Mid-range remodeled kitchens get these improvements:
New cabinets and drawers
New cabinet and drawer hardware
Painting the walls
New countertops (higher-grade surfaces)
Building a kitchen island
New light fixtures
Adding a tile back-splash
More upscale flooring
The design of the kitchen still doesn't change, but you may find room in the budget to replace appliances.
What Is an Upscale Kitchen Remodel and How Much Does it Cost?
According to the NKBA, an upscale kitchen remodel for a 200 square foot space costs approximately $126,000. This is the complete gut job you see on so many HGTV remodeling shows. Expect:
The entire kitchen is stripped to the floor and walls
Floor plan can be redesigned to move appliances, walls, plumbing and electrical systems to suit your needs
Countertops can be very high-end with honed or polished finishes, custom concrete, quartz and beautiful, veined natural stone
Back-splashes are expanding into feature walls; the trendiest are stone slabs that reach to the ceiling
Cabinetry is not just new; it's custom, and the hardware may be as well
Appliances may be commercial grade or at least high-end for serious cooks
Islands, nooks and breakfast bars may be installed
There is virtually no limit on what you can put in a kitchen (and what it can cost you). However, just because you can do something doesn't mean you should.
How Much Should You Spend for a Kitchen Remodel?
When setting the budget for a renovation, look first at why you want to remodel your kitchen.
Are you doing it for resale value, because it's so dated that it's turning off buyers? Or are you remodeling to increase the comfort and convenience of your home?
If you're remodeling for resale value, a minor refresh may generate the best return on investment (ROI).
According to Remodeling Magazine's annual Cost vs. Value Report, a minor kitchen remodel returns about 80% of its cost in additional resale value while a major remodel returns less than 60% of its value. So if you're remodeling just for resale, small improvements are generally a better investment.
Other factors affect your budget
Note that remodeling for resale depends on a couple other factors:
If your kitchen is gross, seriously dated, or unsafe, you'll have a much harder time selling. And fixing it up will probably pay off because you'll sell faster and for more money.
You also have to consider the competition (other kitchens in nearby homes for sale). You don't want to over-improve and make your kitchen and home much more expensive than the others in your neighborhood. You're unlikely to recoup your investment if you do so. But smart cosmetic upgrades could increase your home's desirability at a minimal cost.
On the other hand, if you're improving for your own satisfaction, you're limited only by what you can afford. Set a budget and decide how you'll pay for your kitchen renovation.
The cost of financing should be counted when you budget whether you take a home equity loan, personal loan, or line of credit. Establish your budget, then compile your wish list and start contacting builders.
Kitchen Remodel Cost Estimator
One way to find out the average cost of kitchen remodel projects in your area is to use a remodeling cost estimator, like the one on HomeWyse. You can input the size of your kitchen, desired features and grade of materials. The estimator tells you how much it will probably cost to remodel your kitchen in your local market. It's a great way to see what you're likely to get on your budget.
How to Save on Your Kitchen Remodel
If you're keeping to a strict budget, you'll probably have to make some trade-offs to get most of what you want at a price you can afford. Here are a few trade-offs you can consider to save money:
Don't reconfigure your footprint
Yes, it's nice to have a pot faucet right next to the stove so you don't have to carry water from the sink. But is it really worth moving your stove or piping water in behind your back-splash?
Although many gee-whiz features sound cool, other more mundane items might actually provide better value and enjoyment – like a new oven that doesn't have those hot and cold spots or a pretty floor or countertop that you'll see every day.
Refinish or use stock cabinets
Custom cabinetry can look stunning, but it comes at a stunning price. If your boxes are in good shape and the storage is sufficient, save a ton by refinishing instead of replacing.
This is a job you can even DIY.
YouTube is your friend if you want to take a shot at saving thousands. Adding new hardware (easy to replace) on your doors and drawers can change the whole character of your kitchen.
If you do replace cabinetry, stock cabinets come at all price points, and the quality can be excellent. You can make them look custom with unusual finishes and by adding molding to the tops. And, of course, complement your cabinets with great hardware. By saving with stock cabinets, you can splurge on artistic or vintage pulls and handles.
Do your own demolition and delivery
Not all remodeling work involves skilled labor. Some of it is just plain labor. You can save by removing your old countertops, cabinetry and appliances. Prepping and painting are other tasks most of us can do too. If you (or a good friend) has a truck, you can save by picking up your materials instead of having them delivered.
Use remnant stone
If you want stone but don't love the cost, check out granite supply yards. Leftovers from other jobs may be perfect for your smaller bathroom remodel, laundry room counters or kitchens. You may even be able to combine stones for a unique look.
Mix up your tile
Ceramic tile is one of the less-expensive ways to cover a counter or back-splash, but that doesn't mean it has to look low-budget. You can mix and match colors and textures. One homeowner created an original and sophisticated look with gray, swirling granite tiles (less expensive than slab) combined with black ceramic bull-nose tiles at the edges.
Scratched and dented appliances
You can find steep discounts on slightly abused new appliances. And much of the time, the scratches and dents are on sides people won't see. Or they can be buffed out or disguised with a little paint, just like a scratch on a car door.
Consider cork flooring
Sealed cork floor is not only sustainable, attractive and affordable, it also offers a little give. That's easier on your back and feet, and may even save you a broken dish or two.
Minimize changes
How much does a kitchen remodel cost? A lot more if you make changes during the process. Make sure you are on the same page with your contractor and avoid costly changes once you've begun.
Look for energy rebates
Check the website of the Database of State Incentives for Renewables & Efficiency (dsireusa.org).Consumer Reports says its readers saved about $150 with rebates alone.
Getting Estimates and Choosing a Kitchen Contractor
How much does it cost to remodel a kitchen? One of the factors in your costs is your builder. And a bad builder can make the cost of a kitchen remodel soar out of control.
Ask for references
You'll want to contact several kitchen contractors and choose one that brings value and experience to the table – and is ethical too. Your friends, family and neighbors can point you to builders who do great jobs on kitchens and steer you away from those who don't. Ask what made working with the builder good or bad and whether he or she would use the same contractor again.
Verify licensing and look for complaints
Make sure the contractor holds all the required licenses from your state and local municipalities. Look for other certifications and memberships as well.
The National Kitchen & Bath Association (NKBA), the National Association of the Remodeling Industry (NARI) or the National Association of Homebuilders (NAHB) are trade groups with standards for their members and many offer continuing education as well.
Ask questions
Once you have a shortlist of candidates, you can interview them. There's a good list on NARI's website. Make sure that you are comfortable with the builder and can see yourselves working harmoniously together. If you're a stickler for communication and this contractor is casual about returning calls or emails, you may be in for a rough ride.
See the work
If things get serious, ask to see some of the contractor's projects and for references from former clients. Contact those people and ask about their experiences.
Finalize your agreement in writing
Before committing to your builder, read the paperwork. The documents should include:
Bid price and payment schedule
Scope of work
Site plan
Schedule of primary construction tasks
Change-order clause
Procedural list for close-out
Express limited warranty
Dispute resolution
You'll definitely want a waiver of lien to prevent subcontractors and suppliers from putting a lien on a house if your contractor fails to pay them. If everything checks out, sign up and get started.