Business Loan vs. Personal Loan: Which Is Better for You?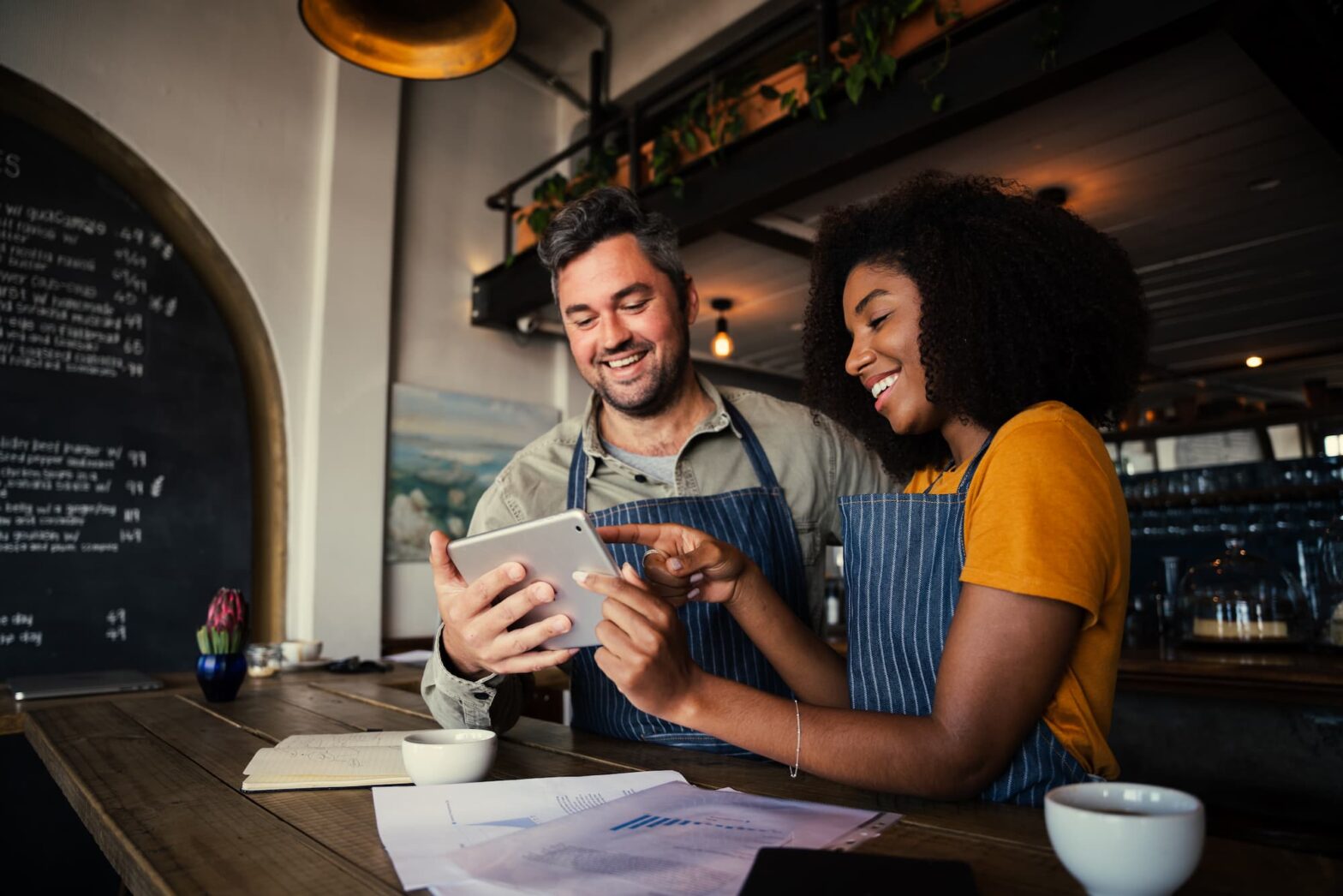 If you're starting, running or expanding a business, what kind of loan is right for you? Sometimes, the best business loan is not a business loan. This article explains the differences between business loans and personal loans, and helps you choose the best financing for your business needs.
See today's personal loan interest rates
Business Equals Borrowing
There's no getting around it: If you run a small business, you're going to need crucial capital. You'll need this money for paying your bills, growing your enterprise, renting or purchasing an office, rolling out new offerings, hiring employees, and compensating vendors.
Problem is, your revenue may not cover all or most of these costs. That's where financing can help. There's no shame in borrowing extra funds in the form of a loan so that you can achieve your entrepreneurial dreams and grow your business.
Which Lenders Have the Best Personal Loan Rates?
Finding the lender with the best personal loan to meet your needs is as simple as using our search tool. Compare personal loans and find the best rates being offered today.
Personal Loans Are Business Loans Too
There are many ways to finance a business, from credit cards to selling stock. But don't discount personal loans just because they're called "personal." For many startups, personal business loans are exactly the right financing.
A personal loan could perfectly fuel the changes and innovation you seek. But you may not be the right candidate for this kind of financing. What's the best business loan for you? This article examines personal loans as well as many common forms of business financing to help you decide for you and your business.
Business Startup Loans: How Much Do You Need?
Before shopping for loans, it's smart to take stock of how much money you'll need and the amount you might want to borrow.
For startups, experts recommend taking baby steps. Your first step is to calculate your launch costs. This can set you back a few thousand dollars – even if you're starting out in a home office, garage or basement. You'll need money to legally incorporate your business if you choose to. Necessary equipment like a new computer, dedicated business phone, desk, filing cabinet and office supplies can add up. You'll likely want to spend some money to market your business so people know you exist.
Consider Cash Flow
You'll want additional funds to avoid cash flow problems. Cash flow is money that enters and exits your business. Of course, the goal is to have more coming than going. But this can be hard to do early in the life of your business, which is why you probably need to borrow money in the first place.
Also, it's wise to consider your ongoing costs – both fixed costs like equipment rent (which is not tied to revenue), and variable costs like wholesale purchases or commissions (which increase with sales). You should also identify necessary versus optional outlays. Many businesses plan their growth in stages and plan accordingly. For instance, you might start with a food truck and only pursue a restaurant after achieving certain income milestones.
Traditional Business Loans
Funding can come from many sources. One is a standard business loan, which you can get from a traditional bank, lender, or finance company. To qualify, you'll likely need a good credit score and proof of assets and cash reserves. The lender will want to see your plan for profitability and other documents that can demonstrate that you're a low-risk borrower.
Note that it can be harder for startups to convince a lender to give them a business loan. Traditional business loans are generally guaranteed by the business. But when there is no track record, lenders are leery. If you get turned down, you can always pursue other financing options.
How to Get an SBA Loan for Your Business
Traditional small business loans aren't your only option. Check out an SBA loan, administered by the Small Business Administration (SBA) and backed partially by Uncle Sam.
The good news is that an SBA loan may charge you a lower interest rate than you'll probably be quoted for a standard business loan. The bad news is that the rules to qualify for an SBA loan can be strict. For instance, you may be required to inject equity – by making a down payment of 10% of the startup cost at minimum. You'll need at least a 620 FICO score, a written plan for how you expect to use the cash, and evidence that your company can create employment or help a community retain jobs. Yours must also be a for-profit enterprise operating in America.
The most common types of SBA loans are from the SBA 7(a) program. This program provides funds up to $5 million. You can also apply for a microloan for $50,000 or less. If you have a business model designed to directly benefit your community in the form of new jobs or services added to the area, check out the SBA's 504 fixed asset program, which lends up to $5 million.
You can apply for an SBA loan through an area lender, bank, or credit union of your choice that offers one. Or you can use the SBA's free online resource to get matched to the right lender.
Personal Business Loans for Speedy Startups
Truth is, you may not be eligible for an SBA loan or small business loan due to insufficient credit history, a lower credit score, or lack of documentation. Or perhaps you need the dollars quicker, without all that red tape involved in the application process. If so, consider a personal loan.
Personal loans are categorized as unsecured, which means no physical collateral like real estate is needed to secure the money. All that's required is your signature and promise to repay in full.
What's more, applying for a personal loan is often a quicker process. That's because you won't be asked to provide business plans or cash flow charts. Even better, you'll likely get the funds within hours or days.
But be forewarned: A personal loan often comes at a higher interest rate than other types of financing. Plus, a personal loan can have a lower borrowing cap — for example, $50,000 or less.
How to Shop for a Personal Business Loan
You can shop for a personal loan to start a business or expand a business from banks, credit unions, and online lenders.
But before you begin the process, it's wise to check your credit report (which you can do for free here) and your credit score (typically offered by your bank or credit card) and work on fixing any errors or upping your score if it's low.
Also, plan on shopping around from several different lenders and comparing personal loan offers carefully. Don't just look for the lowest interest rate; find out if any fees apply and what the terms are.
Business Loan Alternatives
Let's say you're iced out of all options above. Where can you turn for needed funding? Fortunately, other possibilities exist, if you qualify.
Home equity loans
Why not tap into your home's equity? If you have enough built up, you can do so via a fixed-rate home equity loan or a home equity line of credit (HELOC).
With the former, your home is used as collateral and closing costs apply. But the fixed interest rate may be lower than for unsecured loan, you might qualify to borrow more money, and you can typically repay flexibly – over five to 15 years.
With the latter, you get a line of credit that you can draw from when you choose to and only when needed over a set draw period (usually the initial 10 years following opening the HELOC). The rate will be variable, based on current prime rates. However, you're only charged interest on cash you withdraw, the term can range from five to 20 years, closing costs don't apply, and repayment is only required when you owe a balance.
The main drawback with home equity financing is that new businesses are notorious for failing. Do you want to chance losing your home as well as your livelihood?
401(k) loans or withdrawals
Still having trouble getting business funds? Think about drawing from IRA, 401(k), or other retirement account. But realize this strategy has drawbacks. The funds you withdraw may be taxable, and you could have less money available to retire on when you're older.
If you or your spouse is working for a company that allows 401(k) loans, that might be an option. The downside is that if you or your partner separates from the company, that loan must be repaid quickly or the balance becomes taxable income. And if the account-holder doesn't meet age-related eligibility requirements, there's an additional 10% penalty.
Credit cards
In a pinch, you can always turn to plastic. Charging business expenses on one or more credit cards is quick and easy. But you only want to do so if the card charges a lower interest rate and you can pay down the balance in full before higher rates go in effect. Apply for a card promising a low introductory interest rate.
Credit cards are great for making purchases. But they can be terrible for financing purchases because of their high interest rates. Unless you get a low introductory rate or can repay the balance quickly, credit cards should be a very small part of your business financing plan.
Sell equity
If you can't or prefer not to borrow, you could sell a portion of your business to one or more investors. This can eliminate the need to pay interest. But it does mean someone else reaps the benefit of your work and your idea in the long run. And you and your partner may not work well together. This can be a very complicated arrangement or a handshake deal. But most experts recommend putting everything in writing and having legal representation.
Friends and family
If you're still having trouble, think about asking a relative or crony for funds. Try to convince this person that you're a worthy candidate for cash by showing them your business plan, demonstrating your products or services, and explaining what you plan to do with the money.
If necessary, offer to pay a reasonable interest rate on any money you borrow, and put your agreement in writing that can be notarized for legal purposes.