How to Get a Personal Loan for a Tiny House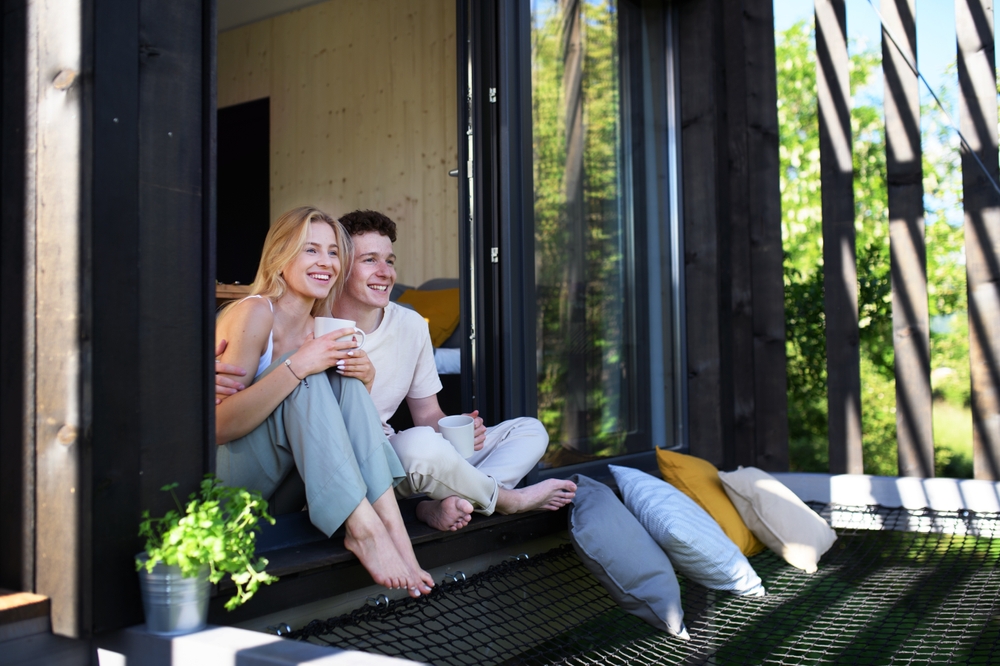 Tiny homes are increasingly popular among a small contingent of home shoppers today. They are compact and efficient. Plus, they're affordable and easy to maintain. And you don't necessarily need to take out a mortgage loan to buy one. Personal loans are often used to finance tiny houses.
But first, learn if you're the right candidate for a tiny home. And determine if a personal loan is the right funding option for your needs.
See personal loan interest rates for tiny homes
What Is a Tiny Home?
Tiny homes sizes typically range between 100 and 400 square feet, although there is no standard definition. That's a lot smaller than the average new home size of 2,435 square feet, based on U.S. Census Bureau data. But consider that more than one in two Americans would be willing to live in a home providing less than 600 square feet, per the National Association of Home Builders.
You get just enough living space with a tiny house. Expect a small bedroom, mini bathroom, and kitchenette. Some include a compact living or dining room. The layouts are simple and succinct.
Some tiny houses are built on a permanent foundation. Others have wheels for portability.
Here's the best part: If you build it yourself, the average cost for a tiny home is about $23,000; overall, the median cost for a tiny home in the U.S. is $59,884, reports The Spruce. If you were to buy a typical home for sale today, it would likely cost $243,225, according to Zillow.
How to Finance a Tiny Home
Thanks to their lower prices, two in three owners of tiny homes have no mortgage. Many of these owners either paid for their tiny houses in cash or with short-term financing – like a personal loan – that allowed them to own their homes outright relatively quickly.
If you can't afford to fully pay cash for a tiny home, don't worry. You can pursue financing options.
If your tiny home meets the definition of real estate, you may be able to get a mortgage for it. That is generally the cheapest for of financing because mortgages are secured by real estate.
If you already own real estate and have sufficient home equity, you may be able borrow against it to finance a tiny house. Investigate a home equity loan or home equity line of credit (HELOC). Chances are that, if you already own a home you plan to keep, you probably don't want to buy and live in a tiny home.
If your tiny home has wheels, you may be eligible for an RV loan.
"But your tiny house will need to be RV-certified by the Recreational Vehicle Industry Association or another organization," says Jim Wang, personal finance expert and founder of WalletHacks.com. And it may be tricky finding a lender willing to give you an RV loan.
Fortunately, personal loans provide an easier alternative. The table below shows monthly payments for a $25,000 personal loan over a five-year term at several interest rates.
Personal Loans for Tiny Homes
| Rate | Loan Amount | Payment |
| --- | --- | --- |
| 6% | $25000 | $483.32 |
| 8% | $25000 | $506.91 |
| 10% | $25000 | $531.18 |
| 12% | $25000 | $556.11 |
| 14% | $25000 | $581.71 |
| 16% | $25000 | $607.95 |
Mortgages for Tiny Homes
Very few tiny homes meet guidelines established by most mortgage lenders. But if your does, you may be eligible for mortgage financing.
Your home must be classified as real estate, on land that you own or purchase with the home
It must meet the guidelines under the mortgage program (if applicable) and/or be of similar size and construction to other homes in the neighborhood
You'll probably need a down payment – most mortgage programs require borrowers to put between 3% and 20% down
You'll pay closing costs – appraisals, title insurance, escrow charges and lender fees
FHA sets its minimum at 400 square feet. the VA has no established minimum and Fannie Mae and Freddie Mac have 600 square foot limits for manufactured homes
There are other guidelines to meet building codes and zoning requirements – windows, entrances, flooring, electrical and plumbing that meet safety and livability standards. You'll likely need a property inspection if the home is not already classified as real property with your county
Most lenders have minimum mortgage amounts, often $100,000 or more, with which you can purchase a lot and home
Mortgages for tiny homes have their place. For most people buying tiny homes, however, a mortgage is just overkill. The higher costs can dwarf what you'd save with a lower interest rate. Personal loan providers have much lower minimum loan amounts and require no appraisal or title insurance and escrow services. That can save you a lot of time and money.
How a Personal Loan Can Help
Personal loans are also called unsecured or signature loans. (You may be able to find secured personal loans as well, and they may offer lower interest rates.)
Unsecured personal loans don't require you to put up any physical collateral, like a property, to qualify for the funds. All that's needed is your signature and a pledge to repay your debt.
What's nice about a personal loan is that you usually can get the money fast — commonly within a few days.
But the risk is greater for the lender because there is no physical collateral to repossess if you default. To offset the risk, the interest rate charged will be higher. Attorney/Realtor Bruce Ailion says personal loan rates can range from about 8% to 18%.
"But this is a much lower interest rate than most credit cards would charge. Plus, you have a set repayment schedule, so you know when the debt will be paid off," notes Ailion.
How to Qualify
Several factors will determine the rate lenders offer you. Lenders want to see solid proof of income and employment history. You stand a better chance of getting a personal loan if your debt-to-income ratio is 40% or lower. And lenders prefer a FICO credit score of 640 or better to qualify.
"Probably the top 75 to 80% of credit scores will qualify for a personal loan," says Ailion. "A great credit score will get a low rate; a poor score will get a very high rate."
The most important factor in being granted a personal loan "is having a strong credit history. Also, you need to provide a compelling and defensible plan on how the loan will get repaid," explains business/real estate attorney Neal Salisian.
"Lenders are looking to minimize risk and maximize returns," Salisian adds. "So you should approach a personal loan application from their vantage point, with a goal of proving you are worth it to the lender."
Wang says that "if you believe you can pay back the cost of your tiny home within a two- to seven-year time frame, a personal loan can be a good option."
Where to Apply for a Personal Loan
Fortunately, personal loan providers are in high supply.
"Banks, credit unions, and finance companies are the typical sources," says Ailion.
Recently, "there's been an explosion of online sources offering these loans with teaser rates," Ailion adds. "For example, one lender will let you borrow $5,000 for 90 days at 5%; if you need a longer time to pay it back, the rate is 10%."
As with any financial decision, it's smart to shop around carefully. Compare apples to apples by looking closely at competing rates, terms, and rules.