Bank of America Savings Account Review 2023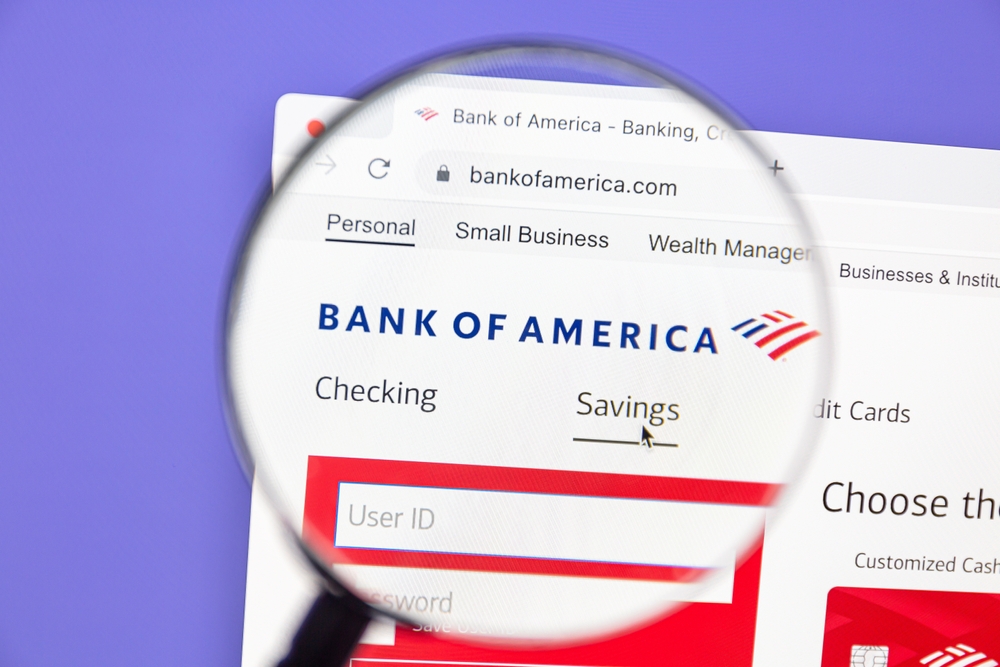 Bank of America (BofA) is one of America's largest networks of brick-and-mortar-branch banks, but it has a solid online presence as well and offers one of the widest ranges of banking products and services in America.
BofA offers savings account interest rates comparable with other brick-and-mortar banks, which are lower than rates offered by many online banks and credit unions, but it offers more options than almost any other financial institution.
Bank of America Savings Account Essentials
Here's an overview of important features Bank of America has to offer.
Which Banks Have the Best Savings Account Rates?
Use our search tool to research banks and find the best savings account to grow your money. Try it now and find your high-interest savings account.
Our Bottom Line
BofA offers two tiers for interest rates, one for savings under $2,500 and another for higher balances. However, as of this writing, there's no difference.
Compared to the national average, the rates are on the low side. On the positive side, it does keep things simple.
For better rates, consider an online bank or credit union. For convenience of branch access, Bank of America is a good choice.
Pros & Cons of Bank of America Savings
Savings accounts aren't all the same. When comparing savings accounts, consider the advantages and disadvantages to help decide if Bank of America's savings is right for you.
Compare Bank of America's Savings Accounts to Others
When shopping for savings accounts, it helps to compare to other banks.
We offer an apples-to-apples comparison of several savings accounts below so you can get a good idea of your options.
Alliant Credit Union
The competitive interest rate offered by Alliant beats Bank of America hands down, making it an excellent choice for those looking to grow their savings over time, and the user-friendly online banking platform allows for efficient account management and transactions.
The absence of physical branches might be a drawback for those who prefer in-person banking. Overall, Alliant Credit Union's savings account proves to be a strong option, offering attractive interest rates and convenient digital features.
Synchrony Bank
Customers who have opted for Synchrony Bank's savings account appreciate its standout features.
The high-yield interest rates are a significant draw, enabling account holders to maximize the growth of their savings.
Additionally, the bank's easy-to-use online platform and mobile app provide customers seamless access to their accounts and transactions.
The biggest drawback for some compared to Bank of America is that the lack of physical branches could be a disadvantage for those who value face-to-face banking interactions.
Despite this minor drawback, Synchrony Bank's savings account remains an attractive choice for its competitive interest rates and user-friendly digital experience.
Learn more by reading our Synchrony Bank savings review.
SoFi Bank
SoFi Bank's account holders appreciate the higher-than-average interest rates, often surpassing those of traditional brick-and-mortar banks like Bank of America. The easy-to-navigate online platform and mobile app provide seamless access to account management and transactions.
However, the absence of physical branches might be a downside for those who prefer in-person banking services. Despite this, SoFi Bank's savings account stands out as a strong contender, especially compared to traditional banks.
Learn more by reading our SoFi Bank savings review.
Western Alliance Bank
Customers of Western Alliance Bank's savings account have been impressed with its standout features, particularly the high savings interest rate, which is among the highest in the market. This appealing rate allows account holders to maximize the growth of their savings and enjoy better returns on their deposits. The bank's user-friendly online platform and mobile app also make managing accounts and transactions a breeze.
On the other hand, some users have noted that the lack of physical branches could be a drawback for those who prefer the traditional banking experience.
Learn more by reading our Western Alliance Bank savings review.
Bank of America Savings Account Fees
Brick-and-mortar banks usually charge a monthly maintenance fee for savings accounts. Fortunately, the fee is usually low, and most of the time, there are several ways to eliminate it.
BofA charges an $8 per month fee on their basic savings accounts, and that's enough to cancel out the interest earned on typical savings balances.
You can avoid the fee by doing one of the following:
Maintain a minimum account balance of $500.
Link your savings account to your Bank of America Advantage Relationship Banking account (the waiver applies to the first 4 savings accounts).
Become a Bank of America Preferred Rewards client (waiver applies to first 4 checking and savings accounts). Qualification for the Preferred Rewards program tiers is based on having an active Bank of America personal checking account and maintaining a three-month average combined balance across your Bank of America accounts. Gold tier status requires a minimum combined balance of $20,000, while Platinum status requires $50,000, and Platinum Honors requires $100,000.
Prove that you are a qualifying student under 24, for whom the fees are waived automatically (but only for the first six months).
Other Savings Account Fees
In addition to the monthly service fee, there are a few other fees of which to be aware.
The first is out-of-network ATM fees.
Like other major banks, BofA allows you to use other financial institutions' ATMs displaying the Visa or Mastercard symbol. That's the good news. The bad news is they will charge you an out-of-network fee of $2.50 per transaction in America $5 per transaction overseas.
In addition, should you have a debit card linked to your Bank of America savings account and use it for a purchase overseas, you will be charged 3 percent of that purchase.
And finally, there is another fee that is common to most financial institutions. The Federal Reserve's Regulation D limits you to six withdrawals and/or transfers from savings each month. Once you hit that withdrawal limit, BofA charges a fee of $10 for each transaction above that limit. Other financial institutions charge from $5 to $15 per withdrawal; some might even close your account.
Additional Bank of America Account Features & Benefits
There are a few other benefits to keep in mind if you're thinking of opening a Bank of America savings account.
The first one is something we've come to take for granted: automatic FDIC insurance for amounts up to $250,000.
Further, BofA's Keep the Change program rounds up every purchase on a linked BofA checking account and deposits the difference into your Bank of America savings account, a convenient way to add to your savings.
Next is the ability to use your BofA savings account as overdraft protection. You can link your savings account to a BofA checking account. If you have a transaction that would put your checking account in the red, BofA will transfer money from your savings to your checking automatically to cover the charge.
Each transfer to avoid an overdraft costs $12.00. Still, that's better than the standard $35 overdraft fee charged for each overdraft occurrence.
If you have other BofA or Merrill Lynch accounts, you can set up automatic transfers. One of the biggest ways to grow your net worth is by regularly and automatically setting aside money to your savings and/or investing accounts.
And finally, for high-net-worth individuals, BofA has a Private Banking service into which you can link your savings account. This service provides a personal expert banker to offer advice on investing, strategic philanthropy, grant-making, and trusts/estate planning.
Accessing your account
There are multiple ways to access your Bank of America savings account:
You can manage your account online through BofA online banking or with the Bank of America app on your smartphone or tablet.
Another benefit of using BofA's online tools is the ability to set up online notifications to stay informed about important activity on your account, such as a recent deposit or a successful transfer.
As with some of the other major banks, their mobile app allows you to deposit checks into your Bank of America savings account from your mobile device. Choose the savings account, enter the amount, photograph the check front and back, and send it.
BofA has more than 5,000 branches and 16,000 ATMs in America, making it one of the largest banks in the nation — convenient for when you want to make a physical visit.
If you plan to use their extensive ATM network, you can get an ATM card for your savings account. Or, if you have a Bank of America checking account, you can link your savings account to your debit card and skip the extra ATM card.
Are There Other Ways to Save With Bank of America?
Yes, BofA offers a wide range of options than almost any other financial institution.
It is unique among America's most prominent banks in that it owns a full-service brokerage – Merrill Lynch, one of the world's largest. More importantly, they have made it close to seamless to move money between your Bank of America savings account and different types of investment products at Merrill Lynch.
Merrill Lynch offers specialized types of savings such as 529 college savings plans, Roth or traditional IRAs, or SEP IRAs for small businesses, to mention just a few.
Bank of America itself also offers certificates of deposit (CDs). A CD is a time deposit, meaning you have to leave your money untouched to grow for a set period of time. BofA offers two types of CD: "Standard Term" or "Featured."
A standard-term CD offers between 0.03 to 0.75 percent APY, depending on the term: from 28 days to 10 years. The minimum opening amount is $1,000.
Featured CDs are offered in terms of 13, 25, and 37 months, with rates from 0.07 to 1 percent.
How to Open a Bank of America Savings Account
Unlike a Featured CD account, which requires making an appointment with a live specialist, you can open an account for your savings at Bank of America online, by phone, or at a branch.
As with any financial institution, you'll need to provide a few things to get started:
At least $100 for the minimum deposit
Your social security number
A valid driver's license or state-issued ID number (including your date of birth)
Your contact information
Your employment information
You'll also need the social security number and ID number for the other account owner if you're opening a joint savings account.
If you're already a BofA customer, you can sign in to your online banking account to open your savings account faster.
As part of the account-opening process, expect to be asked if you want to add an ATM card. You may also be given the option to set up an automatic savings transfer or open a BofA checking account at the same time (generally a good way to go). You will also be asked if you wish to link your savings account to your checking account, credit card or other BofA offerings (including Merrill Lynch investment products).
Once you've selected all your account options, enter the amount you want to open your account with and the details for the bank from which you are transferring the money.
If, after their disclosure of their terms and conditions, you have questions during the process, you can call BofA or use their customer-service-chat feature.
Is a Bank Of America Savings Account Right for You?
While Bank of America interest rates on their savings accounts don't set any records, there are several things to like:
Various automatic savings options, including Keep the Change, make it easy to save money and increase your net worth. And if you need to make a cash withdrawal for any reason, BofA has plenty of branches and ATMs.
Avoiding the monthly service fee isn't too difficult, especially when you consider the multitude of their linking options and Rewards program. But you may want to look at an online bank if you would rather pay no fees at all or if you're interested in earning a better rate on savings.
If you're comparing online banks to Bank of America, check the fees, interest rates, and minimum-balance requirements elsewhere on this site. That way, you'll have more details to make a final decision about where to save.