iGObanking High Interest Savings Account 2023 Review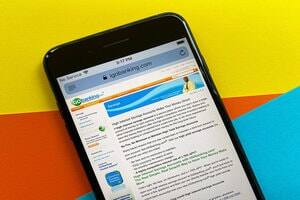 iGObanking is an online banking division of Flushing Bank offering a range of deposit accounts, including an online savings account.
If you're comparison-shopping for high-yield savings accounts, iGObanking is one option to consider when looking for the best interest rates.
iGObanking High-Interest Savings Account Essentials
The iGObanking high-interest savings account offers these features:
Competitive annual percentage yield on all balances
No minimum balance is required to open an account
No ongoing minimum-balance requirements
FDIC-insured savings, up to federal limits
No monthly maintenance fees
Add to your savings with remote deposit and direct deposit options
Online- and mobile-banking access to help manage your money
Which Banks Have the Best Savings Account Rates?
Finding the bank with the best savings account to meet your needs is as simple as using our search tool. Try it now and find your high-interest savings account.
MoneyRates Editor's Analysis: Pros & Cons
The iGObanking High-Interest Savings Account has several features you might appreciate, but it's also important to consider any potential downsides when deciding whether to open an account.
Pros:
Savings account rate is in line with what you'll find at other online financial institutions
There are no monthly maintenance fees and no minimum balance to maintain, making it a potentially good option for the beginning saver
No limit to the number of external bank accounts you can link to your iGObanking high-yield savings account
Cons:
The only way to move money in or out of your account is via ACH electronic transfer or check
iGObanking Online Savings Account Rates
iGObanking offers a highly competitive APY with its online savings accounts. The current savings account rate is nearly 20 times the national average savings rate of 0.09%.
Rather than offering tiered rates by balance, the iGObanking APY applies to all balances. So whether you're saving $100 or $100,000, you still earn the same great rate. Not all online banks offer that, which is a mark in this savings account's favor.
In terms of how the rate compares to other banks, it's important to distinguish between online bank competitors and traditional brick-and-mortar banks. Traditional banks, both big and small, tend to offer lower savings rates compared to online banks. That's largely due to their higher operating costs.
Online banks can offer more variety when it comes to getting a solid interest rate on a savings account. Discover Bank and PurePoint Financial, on the other hand, offer higher rates. And there are plenty of other online banks that offer rates that are above and below their range.
That's why it's important to consider more than just earning interest when comparing high-yield savings accounts to see if there are other features or benefits that might make one bank account more appealing than another. For example, having access to your account via a debit card or ATM card is something that might matter to you.
iGObanking Online Savings Account Monthly Fees
iGObanking charges no monthly maintenance fees or minimum-balance fees for its high-interest savings account. That's a good thing if you're hoping to save money and earn interest, without handing any of it back to the bank in fees.
In general, online banks tend to be preferable for avoiding monthly maintenance and minimum-balance fees. For example, at a brick-and-mortar bank, you might pay $5, $10 or more each month just to have a savings account as well as additional fees if your balance falls below a certain threshold.
Other Savings Account Fees
While you pay no monthly fee for a high-yield savings account from iGObanking, there are other fees to keep in mind. Those include:
Returned Item Fee: $30
Non-Sufficient Funds Fee: $30
Print Out Statement Fee: $10
Duplicate Statement Fee: $5
Account Research Fee: $20 per hour
Early Closeout of an Account (within 180 days): $10
You may be wondering whether iGObanking charges an excess withdrawal fee for savings accounts. Federal regulations limit you to making six withdrawals from a savings account per month. If you go over that limit, your bank can charge you a fee.
iGObanking's fee schedule doesn't include an excess withdrawal fee for savings accounts. There is, however, an excess withdrawal fee mentioned for its money market accounts. This fee is $15 per excess withdrawal.
More iGObanking Online Savings Account Features & Benefits
The iGObanking high-yield savings account doesn't have a lot of extra bells and whistles. But the bank does make it easier to manage your account with Flexible Deposit.
Flexible Deposit allows you to deposit checks to your savings account or another deposit account you have at iGObanking. You can snap a photo to deposit checks and have them post to your account.
That may be easier than scheduling an ACH transfer from a linked external bank account or mailing in a check. You also have the option of setting up direct deposit of your paycheck or federal benefits (such as social security payments) into your savings account.
Are There Other Ways to Save with iGObanking?
In addition to the online savings account, iGObanking also offers two other ways to save: money market accounts and certificate of deposit accounts.
iGObanking Money Market Account
The iGOmoneymarket account is a money market savings account that offers a competitive rate, along with debit card access. Like the savings account, this is an FDIC-insured account that you can link to an iGObanking checking account for easy transfer.
Having a debit card could be handy if you occasionally need to spend some of your savings. ATM withdrawals at Allpoint ATMs are surcharge-free, but you may be subject to third-party charges when using another bank's ATM. A $3 fee applies to transactions made at international ATMs.
This account has no monthly maintenance fee, but you should keep the $15 excess withdrawal fee in mind. Also, you should know that you need at least $25,000 to open an iGOmoneymarket account and earn interest.
iGObanking High-Yield CDs
CD accounts can be used to save for short- and long-term goals. iGObanking offers a variety of CD term options which earn a guaranteed competitive rate. The shortest CD term is 91 days and the longest is 10 years.
The minimum deposit to open a high-yield CDs is $1,000; but if you have more than that to save, you could set up a CD ladder. A CD ladder means opening multiple CD accounts with varying maturity dates and interest rates. You can roll CDs over into a new CD automatically when the term expires or withdraw your initial deposit, along with the interest earned.
iGObanking does charge a penalty for withdrawing money from CD accounts before the term ends. So if you're thinking about opening a CD to go along with your high-yield savings account, consider how soon you may need that money.
iGObanking Checking Accounts
iGObanking also offers an interest-bearing checking account. The APY on the account is 0.25%, which isn't as high as what you could get with a savings account. But it's an easy way to earn a little interest on checking with little effort. The minimum deposit required to open a checking account is $1.
How to Open an iGObanking Online Savings Account
You can open an iGObanking high-yield savings account online, and the process takes just a few minutes. You'll need this information to complete the application:
Your social security number
A valid form of identification, such as a driver's license, state-issued ID, military ID or passport
Previous home address (if you have lived at your current home address less than two years)
U.S. checking or savings account to fund your new account(s)
Bank account and routing number for your funding account
You have to be at least 18 years old and a U.S. citizen or U.S. resident alien to open a high-interest savings account or any deposit account with iGObanking.
If you need help with your account-opening, you can call iGObanking customer service seven days a week or submit a secure message online. There is no live chat option available at this time.
Is an iGObanking Online Savings Account Right for You?
The iGObanking online savings account could be a good choice if you don't mind banking completely online and you're looking for a good interest rate on savings. This bank offers convenience in managing your savings, along with other ways to bank in the form of money market accounts, CD accounts and checking accounts.
The interest rate you can earn with this online bank account is very similar to what you can find at other competitor banks; though again, some banks pay more while others pay less. Overall, the iGObanking high-yield savings account is one to consider if you want a simple way to save when you're just starting out or you have some savings you'd like to transfer from another bank.