Lili Banking Review 2023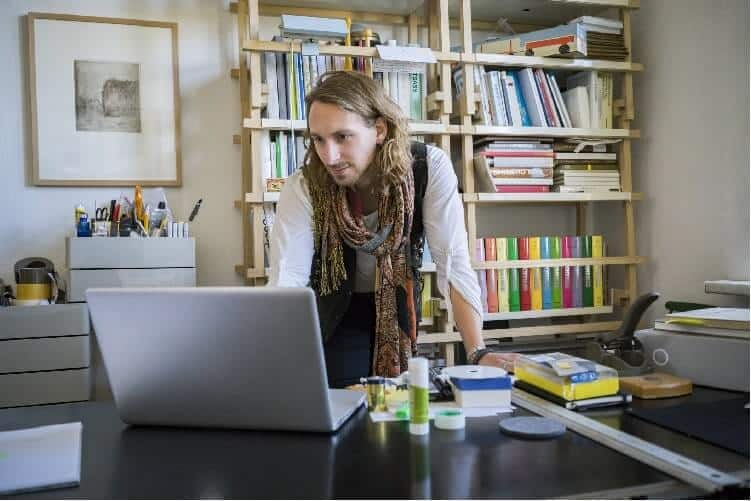 Being a freelancer comes with certain benefits, including flexibility and high earning potential. But if you're one of the estimated 57 million freelancers in the U.S., it's important to have a plan for managing the money you're making.
Enter Lili. Lili is a freelancer banking app that's designed to meet the unique financial needs of people who are self-employed, run their own businesses, have side gigs, or work as independent contractors.
Lili is a banking app that's built around the way freelancers earn, spend, and manage money. It offers multiple tools in one place to help you stay on top of your finances.
Whether you're an established freelancer or a newbie, Lili could be the banking solution you're looking for. This in-depth Lili review can help you decide if it's a good fit.
What Is Lili Banking?
Lili is a banking app for freelancers. When you open a Lili account, you get access to a Visa business debit card. This makes it easy to make purchases online or in stores, pay bills, and access cash at ATMs.
But you can also get other tools that can be useful for freelancers, including:
Expense management
Invoice management
Direct deposit
Tax bucket savings
Tax refund optimization
The tools you have access to depend on whether you choose a Standard or Pro account. We'll dive into the finer points of each one a little later in this Lili review.
It's important to note that Lili is not a bank; it's a fintech startup that officially launched in January 2020. But Lili accounts are FDIC-insured through Choice Financial Group, up to the FDIC limits. So that means your money is secure.
Compare Lili to other online checking accounts and see how it stacks up.
Compare the Best Checking Accounts Online
Find the best rates and lowest fees. Compare Lili to other top checking accounts and see how it stacks up.
Who Is Lili Banking For?
Lili was created with freelancers in mind. If you do any type of freelance work, run a business, or earn money as an independent contractor you could open an account with Lili.
Freelancers who bank with Lili include:
Writers.
Photographers.
Social influencers.
Delivery drivers.
Artists.
Food industry workers.
Bottom line, Lili is all about helping freelancers, gig workers, and self-employed business owners stay on top of their finances. Its freelance banking approach is what sets Lili apart from other mobile banking apps.
Top Features of Lili Banking
As this is a freelance banking app, the features and benefits included are tailored to the needs of freelancers.
When you open an account with Lili, here's what you can get:
Visa business debit card, which can be used to make purchases, pay bills, or withdraw cash fee-free at more than 38,000 ATM locations.
Cashback rewards on debit card purchases at participating merchants (Lili Pro).
Expense tracking and management tools.
Invoice tracking and management tools (Lili Pro).
Tax Bucket savings, so you can save money toward estimated quarterly taxes automatically.
Tax refund optimization to help you maximize deductions and credits (Lili Pro).
Direct deposit, which allows you to get paid up to two days earlier than traditional banks.
BalanceUp overdraft protection, which lets you overdraft up to $200 on your debit card with no fees (Lili Pro).
Real-time transaction alerts.
Card freeze and unfreeze security tools.
Since Lili isn't a traditional bank, this isn't the same thing as a regular business or personal checking account. But you do get the benefit of convenience, along with tools that can make freelance banking easier to manage.
How Lili Banking Works
Banking with Lili isn't complicated. Using the Lili banking app involves four steps:
Completing the application online.
Downloading the Lili app.
Pairing your device.
Getting your Lili Visa card.
Once your Lili account is open, you can use your Visa business debit card to make purchases online or at stores. When you shop with participating merchants you can earn cashback on what you spend. Cashback is credited to your Lili account automatically.
You can set up direct deposit to get paid up to two days early. You can also link your Lili account to Venmo, PayPal, and Cash app to accept payments that way.
Paying bills with Lili is as easy as scheduling an ACH payment or debit card payment. If you need cash, you can withdraw it fee-free at over 38,000 MoneyPass ATMs nationwide.
Getting set up
You can open your Lili account online through the website. To do so, you'll need to tell Lili:
Your name.
Date of birth.
Social Security number.
Address.
What type of freelance work you do.
You don't need an employer identification number to open an account with Lili. In fact, you can only use a Social Security number to apply, not an EIN.
Once you enter that basic information you'll be able to choose between Lili Standard and Lili Pro.
Lili Standard is the basic account that includes:
Visa debit card.
Expense tracking.
Tax bucket automatic savings.
Direct deposit.
38,000+ fee-free ATM locations.
No hidden fees.
No minimum balance requirements.
This account is free, with no monthly fees. If you want all of those features, along with BalanceUp overdraft protection, invoicing, expense tracking and cashback rewards on debit card purchases, you'll need to sign up for Lili Pro. Lili Pro is $4.99 a month.
Here are the daily spending limits for each account type:
And here's how Lili limits deposits for Standard and Pro accounts:
Rating the Features
So far, this Lili review has offered an overview of the banking app and its highlights. Here's more on how individual aspects of using Lili for freelancing banking works.
User experience
Opening an account with Lili is simple and fairly quick. You do need to provide some basic information but overall, the process takes just a couple of minutes to get your account opened.
The app itself is easy to use as well, though again, the features you have access to will depend on whether you have Lili Standard or Lili Pro. The website is well-organized so there's no clicking around trying to find information.
Details about Lili's features and benefits are on the homepage but if you still have questions, there's an in-depth FAQ section. Customer support is available Monday through Friday only, via email. There's no live chat or number you can call, so service-wise, it falls a little short there.
Goal setting
Some mobile banking apps emphasize saving and working toward financial goals. Lili isn't like that exactly.
While you can set up buckets for tax savings and emergency savings through the app, Lili is more about providing a comprehensive approach to money management for freelancers. If you have a Pro account, for example, you can send invoices to customers or clients, get paid, manage your taxes and pay business expenses all in one place.
The upside is that if you're saving with Lili in a tax bucket or emergency savings bucket, you can earn interest on those deposits. Freelancers can earn 1% interest when they start an automatic savings plan with Lili Pro.
Services
Lili is unique because it's a banking app that caters its services to freelancers.
You can use the app to oversee the different tasks that go along with making money as a freelancer, from getting paid to spend to keeping up with your tax obligations. And Lili makes it easier to get paid through direct deposit and compatibility with Venmo, Cash App, and PayPal.
If you're used to lumping personal and business expenses together, Lili can make it easier to separate them. You can just swipe left or right to categorize an expense as freelancing-related or personal.
Safety and Security
Lili takes security seriously. All Lili accounts are FDIC insured by its sponsor bank, Choice Financial Group. Again, you're protected up to the standard FDIC limit of $250,000 per depositor, per account ownership type, per financial institution.
Lili also uses multiple layers of security on the website and within the Lili app to keep your information private and safe. Lili encourages the use of unique passwords and device security features, such as facial or fingerprint recognition.
Education
Becoming a freelancer comes with a certain learning curve. Filing taxes can be a big change from what you're used to if you've always worked a regular job that issues a W-2. And you also have to learn how to navigate things like invoicing, saving for retirement without a 401(k), and managing insurance cover.
To help with that, Lili offers a thorough freelancer's guide that covers some of the most important aspects of managing money when you freelance. There's also a blog that offers a full library of posts on topics that are important and relevant to freelancers, including business insurance, paying off debt, and how to find work-life balance.
The advice you'll get from Lili isn't a substitute for advice from a qualified financial advisor or a tax professional. But it does offer a solid starting point for learning how to adapt your money habits to a freelance lifestyle.
Commission and fees
Lili does a good job of keeping fees to a minimum. If you have a Lili Standard account, there's no monthly fee. If you choose Lili Pro, the fee is $4.99/month. But that's not bad, considering all of the benefits you get, including overdraft protection, tax refund optimization, and invoicing.
Here's what the rest of Lili's fee schedule looks like:
Overall, Lili is more fee-friendly compared to many traditional business or personal banking options.
Pros and Cons
The Lili banking app has a lot of positives but it may not work for every freelancer. Weighing the pros and cons can help you decide whether it's the right place for your money.
Bottom Line
Lili is meant to appeal to freelancers who want a simplified solution for managing money. If you struggle with keeping track of business spending, invoicing, or what you need to save for taxes, Lili can help you get organized. Of course, you can always compare Lili to other mobile banking apps to see how the features and fees stack up.