Wealthfront Cash Account Review 2023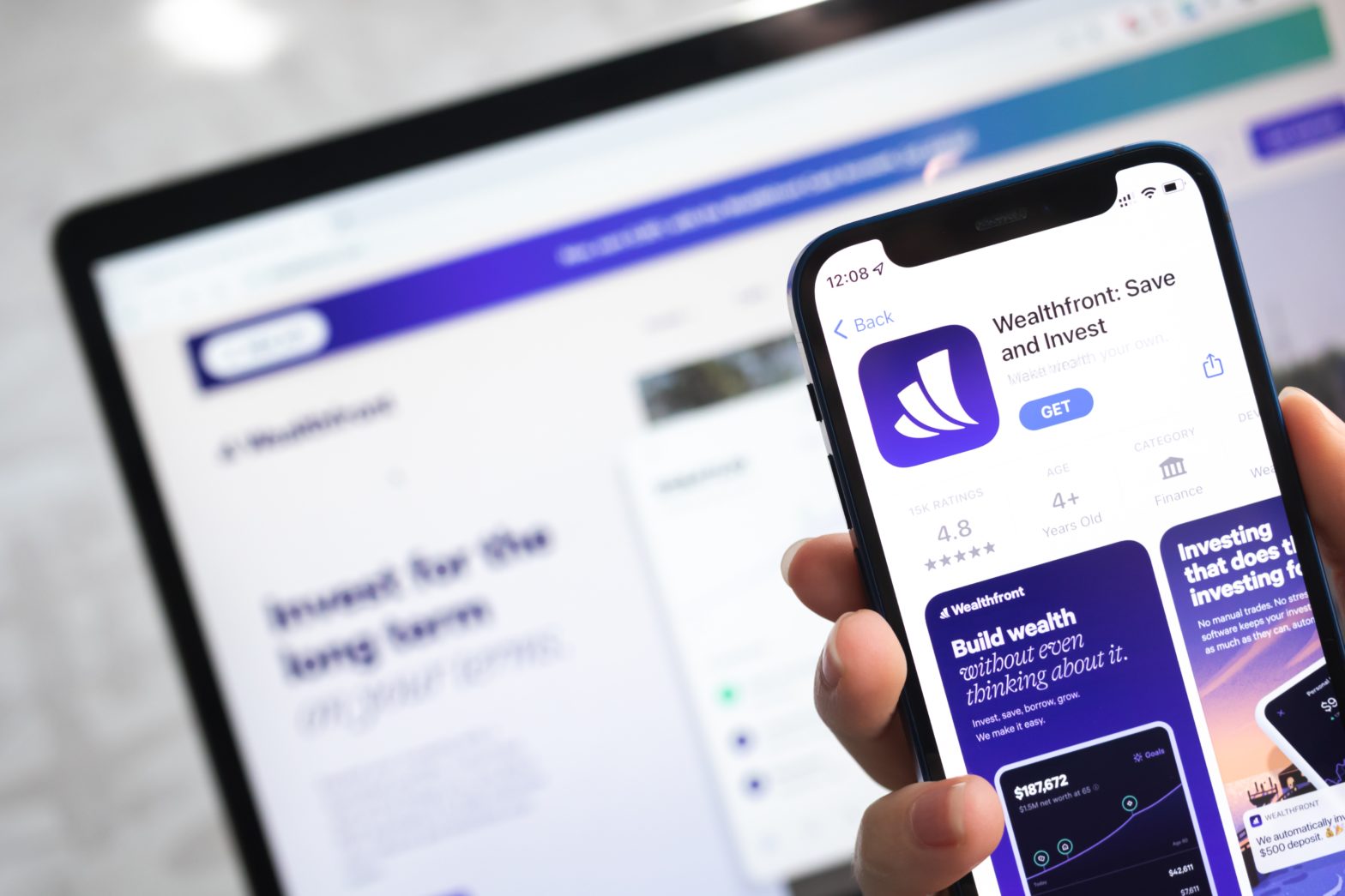 Wealthfront is a robo-advisor platform that makes it easy to build an investment portfolio with minimal fees. In addition to brokerage accounts for investing, traditional IRAs, and Wealthfront Roth IRAs, there's one more option for managing your money: the Wealthfront cash account.
What Is a Wealthfront Cash Account?
If you're not familiar with cash management accounts or how they work, they're similar to checking accounts but with some important differences. You may consider a Wealthfront cash account if you already have an investment account here, but you may be wondering:
Is Wealthfront safe?
How does a cash account work?
What are the pros and cons?
This Wealthfront cash account review offers answers to these questions and more.
Wealthfront cash account may be right for:
People who want to pay no account fees and enjoy a low initial deposit.
Individuals who already invest through the Wealthfront platform.
Savers who want to earn a competitive APY on deposits.
People who want an FDIC-insured account.
Anyone who's comfortable managing their money online.
Easily Compare the Best Checking Accounts Online
Finding the bank with the best checking account to meet your needs is as simple as using our search tool. Try it now and compare fees, ATM locations, and more.
Types of Accounts Wealthfront Offers
You may already know from reading other Wealthfront reviews that there are a variety of accounts you can open, including:
Individual brokerage accounts
Joint brokerage accounts
Wealthfront traditional IRA
Wealthfront Roth IRA
SEP IRA
Trust accounts
401(k) rollover accounts
529 college savings accounts
These accounts are offered through Wealthfront's online investing platform. You can open any of these accounts alongside a Wealthfront cash account or open a cash account by itself.
The Wealthfront cash account is an interest-earning cash account. It includes both checking account and savings account features and is offered by Wealthfront with the help of partner banks.
Since Wealthfront is technically a brokerage and not a bank, you may be wondering: Is Wealthfront safe?
The short answer is yes, as the funds held in a Wealthfront cash account have FDIC protection through partner banks. In fact, you get up to $8 million in FDIC coverage for individual accounts and $16 million for joint accounts.
Key Advantages of a Wealthfront Cash Account
There are a variety of reasons why you might choose a cash account over a traditional bank account. Here are some of the key benefits of choosing a Wealthfront cash account in lieu of traditional checking or savings accounts:
Earn interest on deposits at a competitive rate.
Enjoy FDIC consumer protections through partner banks way above the typical coverage limits.
Wealthfront cash accounts are fee-friendly.
Easily transfer funds between your Wealthfront cash account and Wealthfront investment accounts or accounts at other financial institutions.
Get a Visa debit card for making purchases or cash withdrawals at more than 19,000 ATMs.
Make purchases with Google Pay or Apple Pay.
Open an account with as little as $1.
Wealthfront Cash is fully online
If there's an obvious shortcoming to this account, it's that it's an online cash account. This means there are no physical branches you can visit the way you could with a traditional bank account.
Whether that's a plus or minus for you depends on how you prefer to manage your money. If you're comfortable managing your finances online or at an ATM and using mobile features like Google Pay or remote check deposit, then it may not be a drawback at all.
On the other hand, if you like having the option to visit a branch to deposit cash or handle other account needs, then the Wealthfront cash account may not be the best fit for you.
More FDIC Protection With Wealthfront Cash
Banks that participate in the FDIC insurance program offer $250,000 in protection per depositor, but Wealthfront offers much more than that.
Cash Account deposits are now insured for up to $8 million
Cash Account deposits are now insured up to $16 million for joint accounts
Wealthfront isn't a bank, but it partners with banks that are FDIC insured. These relationships with partner banks enable Wealthfront to offer customers far more FDIC insurance on their deposits because their money is deposited in multiple banks.
How a Wealthfront Cash Account Works
The Wealthfront cash account is an interest-bearing cash account that combines features of checking accounts and savings accounts in one place.  You can open a Wealthfront cash account whether you already have a Wealthfront investment account or not.
If you use direct deposit, Wealthfront's Self-Driving Money™ lets you safely, quickly, and automatically route your money into whatever bucket categories you specify so you always know how much you're saving, spending, and investing.
You'll need $1 to open your account. In terms of features, you can use this account the same as you would a checking or savings account. That includes:
Transferring funds between Wealthfront accounts or external accounts.
Paying bills.
Sending one-time or recurring checks.
Making purchases online or in-person with your Visa debit card.
Making purchases with Google Pay or Apple Pay.
Getting cash at 19,000 fee-free ATMs.
Depositing checks via the mobile app.
Paying friends with Cash App, Venmo, or PayPal.
In terms of fees, the Wealthfront fee schedule for the cash account is pretty lean. This account has no:
Account minimum fees.
Monthly service fees.
Withdrawal overdraft fees.
Debit card overdraft fees.
Excess activity fees.
Stop payment fees.
ATM fees at more than 19,000 ATMs.
The lack of fees for most transactions is a distinct advantage if you're tired of high banking fees. You can also earn interest on balances with the cash account. The Wealthfront interest rate is typically higher than the national average, which can help grow your money faster.
What to Look for When Shopping for a Cash Account
Cash management accounts are an alternative to traditional checking or savings accounts you might consider if you already have an online brokerage account. Not all brokerages or robo-advisors offer them, but there are some definite benefits to using them in terms of fees and features.
As you consider whether a cash account is right for you and where to open it, it helps to shop around. When looking at different cash management options, keep these points in mind:
Cost
If you're looking for a cash account as an alternative to traditional checking to escape high fees, consider what you'll pay. With the Wealthfront cash account, fees are practically nonexistent but other cash accounts may be different. So pay attention to the fee schedule and whether you'll be on the hook for things like monthly maintenance fees or account minimum fees.
Opening deposit
High minimum deposits can be a barrier to opening a checking account, savings account, or money market account. If you don't have a lot of money to open a cash account, Wealthfront could be a good fit since you only need $1 to get started. But consider what other brokerages may require to open a cash management account.
Added features and benefits
Every cash management account offers variable features and benefits. Look closely at what you'll get with a cash account, especially if there's a monthly maintenance fee involved. Features such as a debit card, mobile app access, and an extensive network of fee-free ATMs could make one cash account more attractive than another.
Customer service and support
If you have an issue or question about your cash account, you want to know that you can get in touch with customer service when you need to. As you compare cash management accounts, look at the options for contacting customer support (phone, email, live chat, etc.) and when that help is available.
Educational resources
If you're new to managing money, then you may find it helpful to have access to educational resources. Things like a personal finance blog or money-related webinars, for example, could make one cash management account more appealing if you need help learning how to budget or grow savings.
Online and mobile access
When you don't have a branch to visit, having a good mobile app and solid online access to your accounts is important. Wealthfront's mobile app and online cash account access are both user-friendly and easy to navigate, though it's worth looking at what other cash accounts offer.
Finally, consider the overall reputation of an online brokerage or robo-advisor that's offering a cash management account. Reading online reviews can help you get a sense of what other people like or don't like about a particular cash account. Reading unbiased opinions can help you decide which one might be right for you.
Bottom Line: How Wealthfront Cash Account Compares
The Wealthfront cash account is a standout when it comes to things like fees, features, and mobile banking access. Being able to open this account with just $1 is great if you're looking for a new place to keep your money and you don't have a lot of cash.
The lack of fees is also a strong point in its favor, as you can manage your money without monthly service fees or other costs eating into the interest you earn on your balance.
If you already invest with Wealthfront through an online brokerage account, IRA, or 529 college savings account, opening a cash account could be a no-brainer.
How to Take the Next Steps
If you're ready to open a Wealthfront cash account, it's easy to do online. You'll need at least $1 to open an account.
To get started, you'll need to give Wealthfront some basic information, including your name, address, date of birth, and social security number. You'll also need to provide banking details from another financial institution to make your first deposit. If you already have a Wealthfront investing account, it's even easier to open a cash account.
Head here to open your Wealthfront cash account.
Remember to take your time and weigh other options for cash accounts in the balance if you're not 100% sure Wealthfront is right for you. There may be another cash management account that could work better, depending on your needs and goals.
If you need help starting your search, here are some of the best ideas for how to invest money.