Wealthfront Review 2023 – Robo Advisor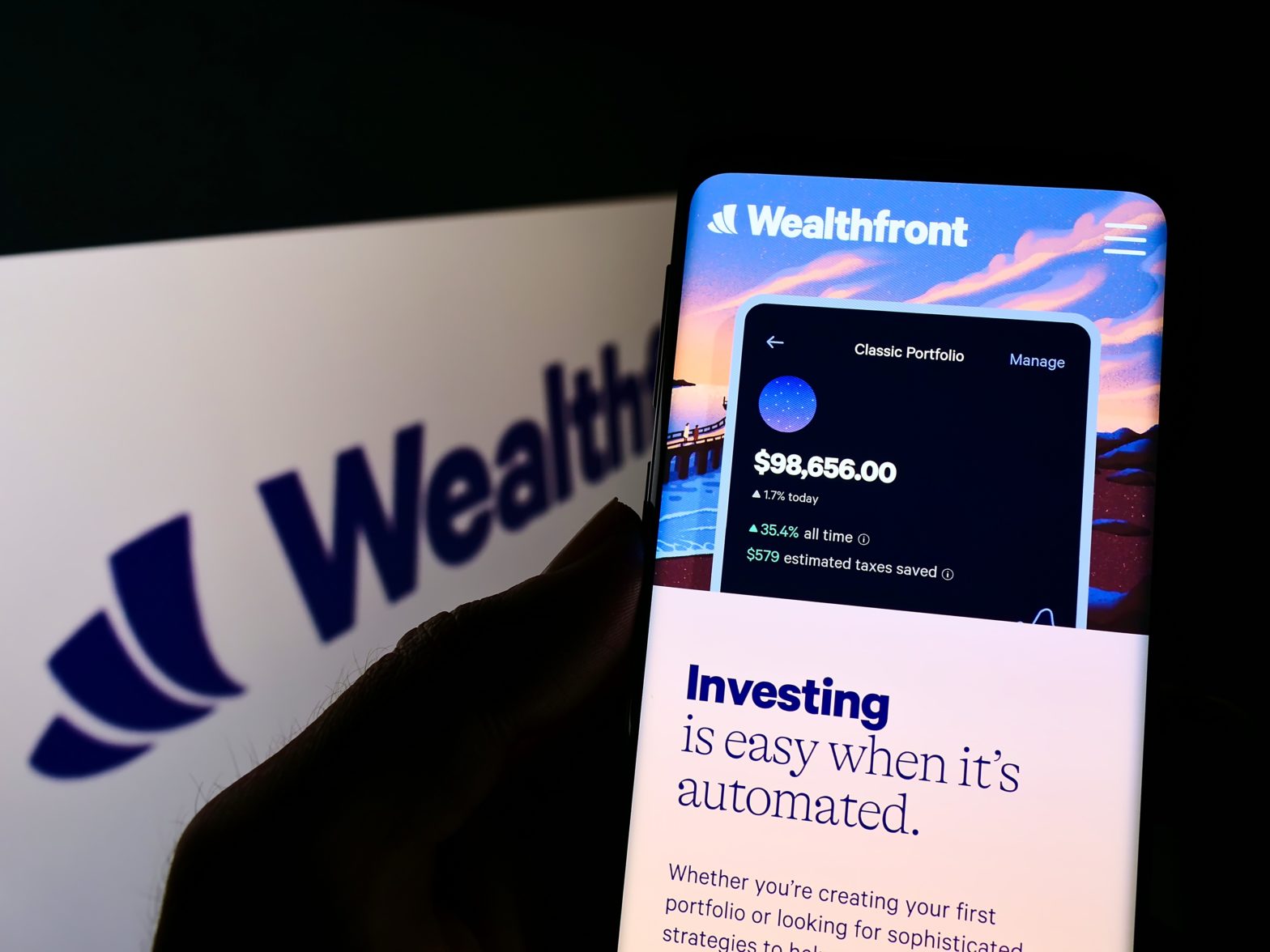 Robo-advisors can take the hassle out of investing and building a portfolio. These online platforms help you automate your investments based on your goals, risk tolerance, and time horizon for investing. In exchange, you pay a fee that's typically much less than what you'd pay to a traditional financial advisor.
Wealthfront Robo-Advisor Goal: Grow Wealth Automatically
One of the better-known robo-advisor platforms is Wealthfront. The Wealthfront robo-advisor investing platform makes it easy to construct a diversified portfolio and grow wealth on autopilot with low trading fees. This platform has built a reputation for helping people take advantage of simplified, tax-efficient investing.
Our Wealthfront robo-advisor review takes an in-depth look at this robo-advisory platform's features and benefits, as well as the pros and cons. Find answers to your most pressing questions, including: Is Wealthfront robo-advisor safe? How does it work? Is it the best choice for your money?
Wealthfront Robo-Advisor may be right for:
Beginning investors who are interested in automated trading.
Investors who want to build a portfolio while paying fewer fees.
Individuals who are in need of or want automatic rebalancing.
Investors who want to benefit from tax-efficient portfolios.
People who want access to a variety of investment account types.
Investors seeking a low minimum deposit to open an account.
Compare Online Robo-Advisors
The best robo-advisors make it possible to invest in the hottest financial products. Shop and compare robo-advisors to find the lowest fees and opening balances.
Types of Accounts Wealthfront Robo-Advisor Offers
Wealthfront offers plenty of variety when it comes to the types of accounts you can open. Here are the different account options that are available:
Traditional individual retirement accounts.
Roth IRAs.
SEP IRAs.
401(k) rollover accounts.
529 college savings accounts.
Individual brokerage accounts.
Joint brokerage accounts.
Trust accounts.
Having access to so many different account types can make it easier to invest for multiple financial goals in one place. The account minimum at Wealthfront is just $500, so it's possible to open multiple accounts at once, even if you don't have a lot of money to start investing. That's a plus compared to other robo-advisors that may require a significantly higher minimum deposit to get started.
Another benefit to some investors is the ability to move your 401(k) to your Wealthfront account, something that other robo-advisors don't always offer.
Wealthfront cash account
In addition to these account options, Wealthfront robo-advisor also offers a cash account. This account is designed to hold cash that you plan to invest through the platform or cash you receive when selling off investments.
Wealthfront cash accounts earn a competitive interest rate and have no hidden fees. You can set up direct deposit to a Wealthfront cash account to get paid up to two days early, plus you can use your account to pay bills, send money to friends and family, or get cash fee-free at more than 19,000 ATMs.
Key Advantages of Wealthfront Robo-Advisor
Wealthfront robo-advisor offers some attractive features for investors, including:
Low investment minimums.
A diverse range of account options.
Access to the Wealthfront cash account.
Low management fees and low-fee ETFs.
Automated investing, with human financial experts standing by.
Part of Wealthfront's appeal is that it makes investing accessible to just about anyone as long as you have the $500 minimum need to open an account. Compared to other robo-advisors, Wealthfront fees are budget friendly to those looking for automated financial advice versus working with a human financial advisor.
Wealthfront Invests in EFTs
One potential issue for some investors may be that Wealthfront's investment offerings are limited to exchange-traded funds, which are funds that trade on an exchange like a stock. ETFs can be great for tax efficiency and many are also low cost when it comes to what you'll pay for expense ratios, but if you're looking for more than just ETFs when building a portfolio or you want to handle your own trades, another online brokerage may suit your needs better.
On the plus side, Wealthfront offers a variety of carefully vetted EFTs and socially responsible Investing (SRI) options. You can edit your Wealthfront investment portfolio based on your values by adjusting the asset classes and adding or removing ETFs. EFTs are good for investors who aren't interested in making manual trades and would rather have someone handle the buying and selling for them.
How Wealthfront Robo-Advisor Works
If you want to invest with Wealthfront, you can choose from a brokerage account, IRA, college savings account, or any combination of the three. The minimum to invest is $500 whether you're opening a Wealthfront Roth IRA or a taxable investment account. You can open a Wealthfront cash account and link it to your other Wealthfront robo-advisor accounts.
How to get started
To get started, you first have to tell Wealthfront a little about yourself and your investment goals. Wealthfront robo-advisor uses the information you provide to build a portfolio for you, drawing from 10 global asset classes. This makes it easier to create a diversified portfolio that aligns with your goals and risk tolerance.
How are taxes managed?
You can automate new deposits into your account so you don't have to remember to invest money each month. Wealthfront takes care of tax management for you by periodically harvesting losses. Tax-loss harvesting involves selling off losing assets to offset capital gains in a portfolio. That's important to note as many robo-advisors don't offer tax-loss harvesting.
What are the fees?
There are two main Wealthfront fees to know about. The first is an advisory fee. This fee is set at a percentage of assets, and it's competitive compared to what other robo-advisors charge. The other Wealthfront fees you'll pay are the expense ratios associated with the ETFs you hold in your portfolio. According to Wealthfront, they aim to choose the lowest-cost funds possible so you get to keep more of your investment returns.
What to Look for When Shopping for a Robo-Advisor
Robo-advisors have grown in popularity over the last few years as more investors seek automated solutions for building a portfolio. With new robo-advisors joining the fray all the time, it's important to know what to look for when choosing the one that's right for you.
As you consider the Wealthfront robo-advisor platform and weigh your other robo-advisor options, here are some of the most important things to keep in mind.
Cost: Robo-advisors tend to be more fee-friendly than traditional financial advisors, as evidenced by Wealthfront advisory fees. But every robo-advisor is different when it comes to what they charge and how they determine fees, so it's important to review the fee structure beforehand.

Account types: Depending on your financial goals, you may want to open more than one account type with a robo-advisor. You may want extra options, like a cash management account, so be sure to take note of what options are on tap.

Investment selection: Many robo-advisors favor ETFs for portfolio-building, due to their lower expense ratios and tax efficiency. The key is to take time to familiarize yourself with what you'll be investing in before choosing an online investment platform.

Added features and benefits: When comparing robo-advisors or online brokerages, check for any extras that could make one platform more appealing than another. Things like tax-loss harvesting and automatic rebalancing, for instance, can make growing wealth that much easier.

Customer service and support: Good customer service is important if you have an issue with your account or need answers to questions that you can't find online. Consider how easily accessible a robo-advisor's customer service is and whether they also provide support from human financial advisors, as Wealthfront does.

Educational resources: If you're new to investing, you may be interested in expanding your knowledge about the markets and how they work in general. Checking out a robo-advisor's website or mobile app can give you an idea of what kind of tools they make available, if any, to help you brush up on the basics and improve your financial literacy.

Online and mobile access: A good robo-advisor is one that's easy to navigate online or via a mobile app. It's crucial to consider how a particular platform's online and mobile investing experience rates in terms of user-friendliness.
Finally, consider what other people are saying about a particular robo-advisor. Reading Wealthfront reviews like this one is a good place to start, but it's also helpful to get a sense of what kind of reputation a robo-advisor brand has built for itself.
Bottom Line: How Wealthfront Compares
Compared to other robo-advisors, Wealthfront is a winner when it comes to things like cost, minimum investment requirements, and ease of use. It could be ideal for putting investments on autopilot while minimizing fees.
Overall, this platform makes investing accessible for just about everyone, whether you're a first-time investor or you have years of experience with managing a portfolio.
How to Take the Next Steps
If you're ready to get started investing with Wealthfront robo-advisor, the process is fairly simple. First, you'll need to make sure you have at least $500 to meet the account minimum requirements. From there, you can sign up to open an account online.
As part of this process, you'll have to complete a questionnaire telling Wealthfront a little about yourself, including your timeline for investing, risk tolerance, and goals. Wealthfront uses that information to create your customized portfolio.
Once your account is open, you can make your minimum deposit and start investing automatically.
Click the link below to get started with Wealthfront robo-advisor now.
While there's a lot to like about Wealthfront, it isn't your only choice when it comes to finding an affordable robo-advisor platform that works with your lifestyle and investing goals.
If you're unsure whether Wealthfront is the best robo-advisor for you, then take time to shop around and see what else is available. When it comes to how and where to invest money, it pays to make sure you're choosing the right platform from the start.