The Best Savings Accounts in Michigan for 2023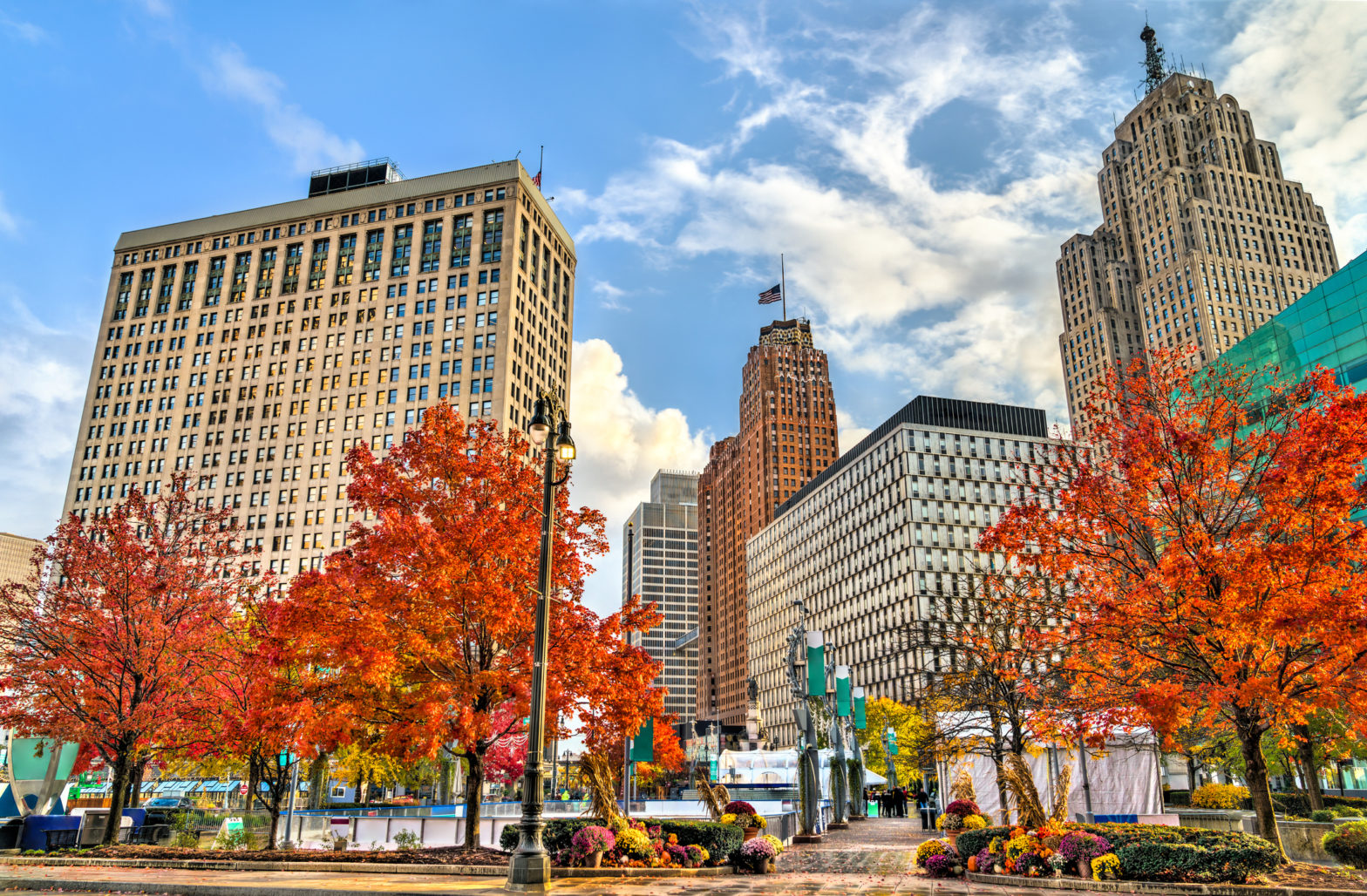 Surrounded by the Great Lakes, Michigan may be better known for its water than its banks, but both help make the state a good place to live.
According to the Federal Deposit Insurance Corporation (FDIC), There are 81 banks in Michigan, and there are dozens of credit unions as well.
Whether someone wants to bank online or at a local branch, the Great Lakes state has plenty of options. Take a look at the best savings accounts in Michigan and learn more.
The Best Savings Accounts in Michigan
Synchrony Bank
UFB Direct
SFGI Direct
Ally
Dow Chemical Employees' Credit Union
Advia Credit Union
Find Banks With the Best Savings Account Rates Fast
Explore savings accounts at online and traditional banks and find the best rate and terms for you. Compare savings accounts and find the best rates being offered today.
Online Savings Accounts Available in Michigan
As in other states, the best savings account in Michigan may be one you find at an online institution.
Digital banks are mainstream now and offer the same protections and services you'd get at a traditional brick-and-mortar bank. Plus, online banking organizations often pay the highest interest rates available since they don't have to maintain an expensive system of branches.
Synchrony Bank
With a history that stretches back 80 years, Synchrony Bank is no stranger to finance. Its online savings accounts are notable for being fee-free and having no minimum deposit requirements. Even their certificates of deposit don't have an opening minimum, a relative rarity these days.
Another perk of Synchrony's high-yield savings account is an optional ATM card that provides convenient access to funds.
Pros
No monthly fees
No minimum deposit or balance requirements
User-friendly app that includes a mobile deposit feature
Cons
Users may incur fees if they use their ATM cards at out-of-network machines
Synchrony doesn't offer checking accounts, so you can't do all your banking in one place
UFB Direct
You won't pay any maintenance fees with a high-yield savings account through UFB Direct.
As a division of Axos Bank, UFB Direct pays its customers some of the highest APYs currently offered today. There are also no minimum balance requirements, and accountholders receive a complimentary ATM card and a bevy of digital tools.
Pros
No maintenance fees or minimum deposit requirement
Complimentary ATM card
Robust digital financial tools include mobile check deposit and SMS banking
Cons
Users may incur fees if they use their ATM cards at out-of-network machines
No live chat option for customer service
SFGI Direct
A division of Summit Community Bank, SFGI Direct offers above-average interest rates on its online savings accounts. There is no monthly service fee, and interest starts accruing with just $1 deposited.
While SFGI Direct doesn't have branches, an account can be opened online in minutes, and money can be managed 24 hours a day, seven days a week, via online banking.
Pros
No monthly service fee
Interest paid on balances as low as $1
Quick and easy online account application
Cons
Minimum opening deposit of at least $500 required
Deposits and withdrawals can only be made via electronic transfers
Ally Bank
Ally Financial was one of the early pioneers in online banking. It grew out of GMAC, which helped finance automobile purchases as early as 1919.
In 2009, GMAC Bank transformed into Ally and was among one of the first online-only banking institutions. Today, its online savings account remains a top choice, featuring no monthly maintenance fees, a $0 minimum opening deposit, and innovative savings tools.
Pros
No monthly fees or minimum opening deposit requirement
Ally offers savings, checking, investing, and lending options so you can do all your banking in one place
The user-friendly app has tools that can help boost savings
Cons
While the savings APY is higher than the national average, you may be able to earn more interest elsewhere
Withdrawals are limited to six per statement cycle
A Look at Local Michigan Banks
While online banks are great for paying out high interest rates, they aren't the only places you'll find the best savings accounts in Michigan.
Many local banks and credit unions also have above-average interest rates. Here are two examples.
Dow Chemical Employees' Credit Union
Don't let its name fool you. You don't have to work at Dow Inc. to join the Dow Chemical Employees Credit Union. Membership at the institution, which will change its name to Dow Credit Union later this year, is open to anyone who belongs to one of more than 100 select employer groups or who makes a $10 donation to the credit union's scholarship fund.
Pros
Simple high-yield deposit accounts pay a competitive interest rate
Anywhere Banking includes online banking, mobile and digital wallets, and an extensive ATM network
Checking, borrowing, and investing products are also available
Cons
Only one branch location is available
Current APY is lower than that offered by many online banks
Advia Credit Union
Advia Credit Union is another Michigan institution offering above-average interest rates. While its branches are located in Southwest and Eastern Michigan — along with several locations in Wisconsin and Illinois — any Michigander who lives in the lower peninsula can join. Money can be managed via online banking or the Advia app.
Pros
Membership is open to a large portion of the state
Above-average APY offered on Ultimate Savings accounts
Digital tools include SavvyMoney, which provides access to a credit score
Cons
No ATM card provided with savings accounts
No branch locations in much of the state
How We Picked: Methodology
MoneyRates found Michigan's best savings accounts by reviewing data from savings accounts offered by online banks and local and regional banks in the state. We looked at the current interest rates and APYs offered by savings accounts at over 25 online and local Michigan banks, along with account-opening requirements, fees charged, availability of ATM networks, customer satisfaction, and availability and convenience of online and in-app banking.
Our top choices in Michigan reflect market conditions and bank offers at the time of our study. Banks are known to change their rate offerings on their savings accounts regularly, so it's a great idea to do your own research to find the best Michigan savings account for you.
How to Choose a Savings Account in Michigan
Everyone has different priorities, but the following factors can all play into your decision regarding which bank or credit union to use for a savings account.
Interest Rate
After years of lingering near zero, interest rates are finally starting to rise. As of this writing, the FDIC says the average national deposit rate is 0.10%. Still, you can do much better.
Some online banks now offer rates that are approaching 2%, so it definitely pays to compare accounts.
Fees
In addition to high interest rates, low fees are another perk of online banks.
Many don't charge monthly service fees, although there are exceptions. You can also find fee-free banks and credit unions locally, but in some cases, a bank might require a certain minimum balance to waive a fee.
Opening Deposit
If you are just starting to save, look for an account that doesn't have a minimum opening deposit requirement.
Many online banks, as well as a number of traditional institutions, will let you open your account with any amount of money. Others have opening deposit requirements that could be $100, $500, or even thousands of dollars.
Other Accounts Available
Some of the best savings accounts in Michigan are found at online banks that only offer savings products. If you want to avoid the temptation to dip into your funds, these can be a good choice.
If you'd like to do all your banking in one place, look for an institution that offers a wide range of savings, checking, lending, and investment accounts.
Access
Once you open your account, how will you access and manage your money? If there isn't a branch nearby, you'll need to make deposits and withdrawals using an electronic transfer, mobile check deposit, or ATM card. However, not all banks offer all these options. Be sure the account you choose will let you access money how you want.
Customer Service
Hopefully, you'll never have trouble with your account. But if you do, how do you want assistance? Depending on the bank, you could get help in person from a teller, chat with a representative online, or call a toll-free number.
Again, be sure the account you select offers the customer service options you prefer.
Where Can You Open a Savings Account in Michigan?
These are some of your choices when opening a savings account:
Online Banks
As their name suggests, these are banks that operate online. You won't find any Michigan branch locations, but you can still open an account and earn interest. These banks typically have lower overhead costs, which translate into higher APYs for customers.
Banks
Chase, Huntington, and Comerica are some of the big names that may come to mind when you think of banks in Michigan. However, there are also plenty of smaller community banks dotted across the state. While you'll get personalized attention at these banks' branches, you might not earn as much interest as you would with an online bank.
Credit Unions
Credit unions in Michigan come in all sizes. The smallest has a single branch, while the largest — Lake Michigan Credit Union — has nearly 70 locations. All are owned by their members, and credit unions may have higher interest rates and lower fees than traditional banks.
Michigan Savings Accounts vs. Certificates of Deposit
Certificates of deposit are another savings option for Michigan residents. They may pay more interest, but they aren't necessarily a good choice for all your money. Here's how the two accounts compare.
Minimum Deposits
Certificates of deposit generally have minimum deposit requirements, although there are a few exceptions, such as the CDs at Synchrony Bank. On the other hand, savings accounts often don't have minimum deposit requirements, although there are exceptions.
Withdrawal Restrictions
Many savings accounts will let you withdraw money whenever you want. However, some institutions may limit you to six withdrawals per month. That isn't an option with CDs, which require money to be deposited for a specific period of time. Taking money out early will result in a penalty.
Interest Rates
Interest rates for CDs are fixed. When you open the account, you know exactly how much you will earn while your money is deposited. With savings accounts, interest rates are variable and can change at any time.
Best Uses
Savings accounts are ideal for money that needs to remain liquid. For example, you never know when an emergency will occur, so you always want your emergency fund to be accessible. CDs aren't liquid, which means they are best for money that you are setting aside for future use, such as a new car or vacation.
Frequently Asked Questions (FAQs)
What is an MESP account?
A MESP account is not a regular savings account but rather a 529 college savings plan. Standing for Michigan Education Savings Program, these accounts offer a way for people to invest money to pay for school tuition costs.
Can you switch savings accounts?
Yes, you can switch accounts whenever you like, although it may be inconvenient to move your money. Some institutions, such as Advia Credit Union, used a service called ClickSwitch to make it easier for new members to change accounts.
Are my savings protected?
So long as you use a bank that is a member of the FDIC, up to $250,000 per depositor is insured and guaranteed. The National Credit Union Administration offers similar protection for credit union accounts.