The Best Savings Accounts in Oklahoma for 2023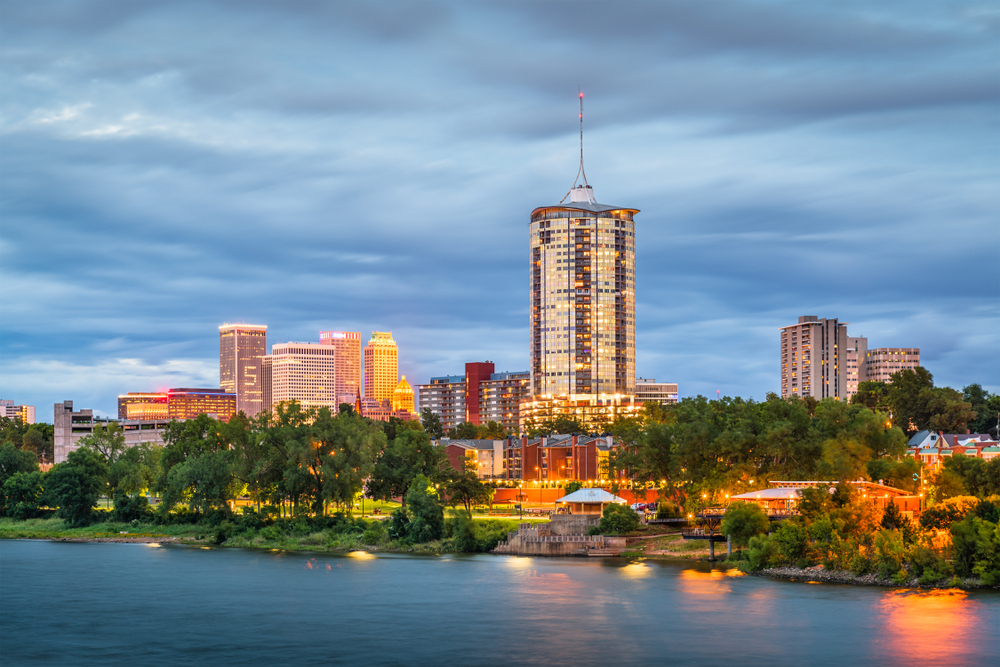 Oklahoma has a long history of banking. According to the Oklahoma Historical Society, when it was known simply as the Oklahoma Territory, local merchants performed the role of bankers.
But when the territory was opened to settlers with the famous land run of 1889, nine banks were established within a matter of days.
One of those — what would eventually become the First National Bank of Oklahoma City — moved into a building at the corner of Main and Broadway, thus creating what today is now the center of banking in the Sooner State.
Today, that banking tradition in Oklahoma continues with traditional banks, online banks, and credit unions.
They offer a wide variety of financial products, including some of the best savings accounts in Oklahoma.
Let's take a look at savings accounts in Oklahoma.
The Best Savings Accounts in Oklahoma
SFGI Direct Savings
Ally Bank
Synchrony Bank
Citi
Oklahoma State Bank
MidFirst Bank
Compare savings accounts and find the best rates being offered today.
Online Savings Accounts Available in Oklahoma
Oklahoma is home to numerous online banking options. Let's look at some of the best for high-yield accounts.
SFGI Direct Savings
There are no monthly service charges with SFGI Direct Savings, and you can expect to begin earning interest on as little as one dollar — there is no minimum requirement to begin earning.
However, you do need a minimum opening deposit of at least $500 and no more than $25,000.
There are some fees assessed for special issues, such as requesting a paper statement or having research done on a debit.
Expect good customer service six days a week during normal banking hours.
SFGI Direct Savings Pros & Cons
Ally Bank
A unique entry into the online banking world, Ally Bank requires no minimum deposit or balance and offers excellent customer service, as many other banks do.
Ally branches out with robust online calculators and savings solutions that make it easier to understand your money and use it wisely.
Customer service is available 24/7, and those with over $25,000 get the highest interest rates.
Synchrony Bank
With no fees, no minimum balance, and no minimum deposit, Synchrony Bank makes handling your money rather worry-free.
Expect tiered interest with this account. Customers who deposit higher amounts of money will get the highest interest.
No matter how much money you earn, you can always withdraw your cash easily through any ATM that is branded with the Plus or Accel logo (and that's a lot of them across the country).
Online and mobile apps make it easy to move money around.
Synchrony Bank Pros & Cons
Citi
Known for its credit cards, Citi now offers the Accelerate Savings Account, with no minimum required to open.
There is a monthly service fee that can be waived through certain actions, such as carrying a minimum $1,500 daily balance or linking your Citi checking to your savings account. The mobile and online presence is strong, and there is no limit to earnings through the savings account. ATMs are widely available.
A Look at Local Oklahoma Banks
Larger online banks might be convenient for those who want to handle everything online, but what if you want a more personal touch?
Local banks and credit unions in Oklahoma offer strong customer service as well as the financial products you've come to expect from a reputable institution.
Here are two favorites in the state.
Oklahoma State Bank
At Oklahoma State Bank, the basics of a savings account — including online bill pay, mobile access, eStatements, and mobile deposit — are always free
The savings account requires a minimum of $25 to open, has no monthly service charge, and even allows for free paper statements.
If you travel, there is no foreign transaction fee for ATMs.
The special youth savers account designed for those under the age of 18 provides the same benefits yet usually even higher interest, so it pays to get the kids involved too.
Oklahoma State Bank Pros & Cons
MidFirst Bank
With 77 locations across Oklahoma, California, Arizona, and Colorado, it's easy to find a MidFirst Bank branch or ATM if you're traveling across the southwest.
The performance savings account can start with a $100 minimum deposit and requires a $250 daily balance to avoid the $4 monthly service fee.
Interest is compounded daily and paid monthly.
Summit Savings is much the same but requires a $10,000 daily balance to avoid the $15 service fee and offers tiered interest rates.
MidFirst Bank Pros & Cons
How We Picked: Methodology
MoneyRates compiled its list of the best savings accounts in Oklahoma by analyzing savings accounts at national banks, regional banks, online banks, and local credit unions and banks in several Oklahoma cities, including Tulsa, Oklahoma City, and Norman.
We took a close look at the most updated interest rates being offered on savings accounts at over 25 banks, along with flexibility, accessibility, requirements for opening and maintaining an account, fees, ATM access, and ease of use of mobile banking apps and websites.
The best savings accounts reflect bank APYs and market conditions at the time of our analysis. Banks can and do change their savings account rates and terms on a regular basis, so you should check with Oklahoma banks directly to see what they currently offer.
How to Choose a Savings Account in Oklahoma
Every bank and credit union in Oklahoma will offer something a little different for your financial needs.
Here are the key points you should compare when choosing the best savings account in Oklahoma for you.
Opening deposit
Some banks require no opening deposit at all but give you one statement cycle to add enough money to meet your daily minimum balance requirements (if any).
Others might require a higher opening deposit.
Look for a bank that requires an amount you are comfortable with depositing.
Interest rates
Though the good interest rate on a high-yield savings account matters, keep in mind that the interest is not guaranteed; it can change very quickly, depending upon market fluctuations.
Look for a bank that offers you interest in everything you deposit, not just tiered savings rates that benefit those who deposit $25,000 or more.
Access
Does always having access to your money matter to you? In that case, look for a bank that offers an ATM card.
Some don't have ATM cards for savings accounts but allow you to move your money around freely through the online or mobile app.
Fees
Though some banks still charge fees, most of them give you an option to waive those fees.
Perhaps you must enroll in direct deposit or keep a minimum daily balance.
Look for ways to waive the monthly fee and look for additional potential fees, such as those for paper statements.
Customer service
If you are quite comfortable with handling your money on your own with no intervention from anyone else, a bank that allows you to do everything online might be your best bet.
But if you need a personal touch, go with a bank that has local branches or at least one that offers robust phone support.
Where Can You Open a Savings Account in Oklahoma?
You can find excellent savings accounts at traditional banks, online banks, and credit unions. Let's look at what each one brings to the table.
Online banks
Online banks are similar to traditional banks without actual physical buildings. However, some online banks are offshoots of traditional banks.
Some online banks focus on only a few products, while others are full service.
Online banks rarely have a community presence, so all your money issues must be handled virtually; in many cases, even customer service is chat-based.
However, the robust mobile apps and online presence make it easy to move money around. Most online banks are FDIC insured.
Traditional banks
These banks usually have a strong community presence, including a brick-and-mortar bank and various branches throughout the local area, state, or even the nation.
They often have their own branded ATM machines or partner with names like Plus and Accel to extend their ATM reach.
They offer everything from car loans and mortgages to savings accounts, checking accounts, certificates of deposit, and other investment vehicles.
They might have strong customer service, mobile apps, and an online presence. They are insured by the FDIC.
Credit unions
These institutions work just like traditional banks, but the big difference is that the account holders are members of the credit union and get special benefits, such as higher interest rates or additional dividends.
Credit unions have a wide range of products available and offer some flexibility in negotiating interest and the like.
However, they have fewer branded ATMs and often not as many branches.
Some have a strong online presence; others don't. They are insured by the NCUA.
Oklahoma Savings Accounts versus Money Market Accounts
During your research for the best savings accounts in Oklahoma, you might come across other options that appeal to you, such as money market accounts or certificates of deposit.
Money market accounts, or MMAs, are quite similar to savings accounts, but there are a few key differences.
Keep in mind that money market accounts are different than money market funds, though the name is obviously similar.
Getting your cash
Your access to an MMA depends upon the bank. Some allow full access, including writing checks.
Others have restrictions that can make it tough to access your money without a fee.
With a savings account, there is usually no limit to your access aside from the federally mandated limit of six transactions per month.
However, you can usually move money around online easily with either type of account.
Interest rates
Interest rates of MMAs are often higher than that of savings accounts because MMAs are invested in a variety of financial options, and savings accounts are not.
However, that leaves the interest rate of the MMA much more volatile than that of a savings account.
Opening and maintaining the account
The initial deposit for an MMA is often higher than the requirement for a savings account, and the daily minimum balance might be higher.
There also might be fees for an MMA that can't be waived, while you can often waive those of a savings account. However, the MMA offers higher interest which might make it worth the extra hassle.
Frequently Asked Questions (FAQs)
What is a certificate of deposit?
A CD is a financial investment that requires keeping your money in the CD for a set period of time, such as six months or a year, in order to obtain a higher interest rate on that money.
A CD is good for those who have some extra cash they want to put into an interest-bearing account but are okay with not touching that money for the agreed-upon time. There are penalties for early withdrawal.
Should I try out a money market fund?
That depends upon your tolerance of risk.
The returns on a money market fund move with the stock market, which can sometimes be quite volatile.
In addition, the investment is not insured by the NCUA or the FDIC. However, you can realize much higher returns from a money market fund than from a money market account or savings account.
How do I know my money is safe?
If you put your money into a financial product that is insured by the Federal Deposit Insurance Corporation (FDIC) or the National Credit Union Administration (NCUA), up to $250,000 of your money is insured if the bank or credit union fails.
Always look for the FDIC or NCUA logo or notice on a bank's website.