Ally Online Savings Account Review 2023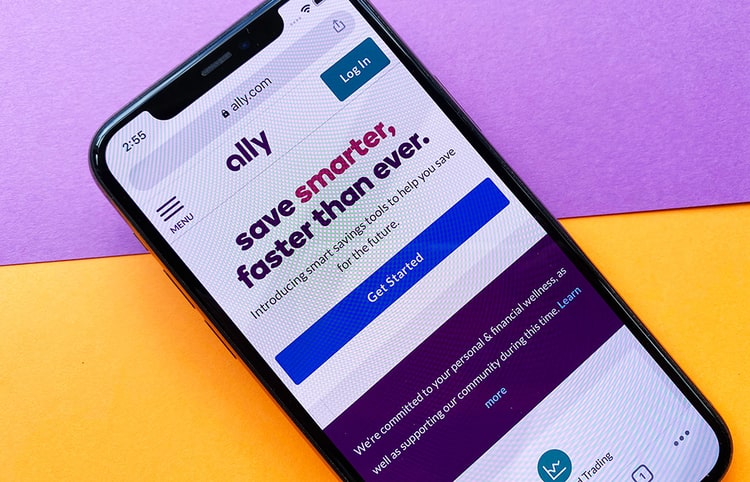 Ally is a well-known financial institution offering banking products, loans and now investment products and services.
One of its most recognizable products is the Ally online savings account, which allows savers to earn interest while paying minimal fees.
Ally Online Savings Account Essentials
The Ally Online Savings Account offers these features for savers:
Earn interest on all balance tiers, with a competitive annual percentage yield
No monthly maintenance fees or minimum balance requirements
Different buckets to help organize your savings as you plan your financial goals
Surprise savings transfers that can help grow your money faster
Save automatically with recurring transfers
Helpful online tools to manage your account
24/7 customer service support
Fund and open an account in minutes
In a nutshell, this online savings account from Ally Bank offers the features and benefits you'd expect from an established financial institution.
Where Can You Find the Best Savings Account Rates?
Finding the bank with the best savings account to meet your needs is as simple as using our search tool. Try it now and find your high-interest savings account.
MoneyRates Editor's Analysis: Pros & Cons
When comparing online savings account options, it's always helpful to look at the account's strengths and weaknesses. In terms of what this account offers, here's a quick overview of the main pros and cons of which to be aware.
Ally Online Savings Account Rates
Ally Bank offers a competitive APY with its online savings account. The current APY applies to all balances; there are no tiered rates with this savings account.
According to the Ally Bank website, their rate is 15x higher than the national average APY offered to savers. Compared to traditional brick-and-mortar banks, this savings account offers a highly competitive rate too. That's a good thing if you want to maximize your money's earning potential.
Since there are no minimum balance requirements, this account could be a good choice if you're new to saving. And with interest compounded daily, the money you do save is working as hard as possible for you.
Ally Online Savings Account Monthly Fees
Monthly maintenance fees can take a bite out of your savings interested earned. Fortunately, the Ally Online Savings Account offers you a break from monthly maintenance fees.
There is no monthly fee of any kind for this account. And since there is no fee, there's nothing special you need to do to avoid it. Again, that makes this account attractive whether you have a little to save or a lot.
Other Savings Account Fees
Ally Bank offers transparency when it comes to the fees it does and doesn't charge. For example, you'll pay no fees for any of the following:
Standard or expedited ACH transfers
Copies of online statements
Incoming domestic and international wire transfer transactions
Postage-paid deposit envelopes
Official/cashier's checks
While the fees in general are minimal, there are a few to be aware of, including:
Returned deposit item fee: $7.50
Overdraft paid or overdraft item returned fee: $25 (limit 1 fee per day)
Excessive transactions fee: $10 per transaction
Expedited delivery fee: $15
Outgoing domestic wire transfer fee: $20
Account research fee: $25 per hour
The excessive transaction fee is one to keep in mind since this is one you may trigger for withdrawing money from your online savings account too often.
Federal law allows for six withdrawals per month from a savings account. Once you go over that limit, your bank can charge a fee. In this case, Ally charges a fee of $10 per excess transaction each month, which can quickly add up if you're withdrawing money frequently.
Additional Ally Online Savings Account Features & Benefits
The Ally Online Savings Account offers a few additional features you might appreciate. Those include:
Recurring savings transfers
Surprise savings transfers
Savings buckets
Recurring savings transfers allow you to add money to your online savings account automatically. You choose the schedule you want to set for making deposits and link your Ally savings account to a checking account. When your transfer date rolls around, the amount you choose is automatically deposited from checking to savings.
Surprise savings transfers are another way to grow your money faster. Ally analyzes your linked checking accounts to look for amounts of money you could save. The bank then transfers the money to savings for you automatically, potentially allowing your money to grow five times faster.
Savings buckets allow you to organize your savings into digital envelopes. You can create up to 10 savings buckets inside your Ally Online Savings Account based on your money goals and needs. For example, you could set up buckets for home renovations, travel or to cover unexpected emergency expenses.
Are There Other Ways to Save with Ally Bank?
Ally Bank offers more than just an online savings account. On the banking side, you can also open one or all of the following:
Interest checking account
Money market account
Certificates of deposit
There are a few things you can't open, however, such as small business bank accounts and credit cards.
Interest checking account
The Ally Interest Checking Account allows you to earn interest, with a tiered APY. You can earn interest on a minimum daily balance of less than $15,000 and even more on minimum daily balances over $15,000. This account does come with a debit card for ATM access and you can use any Allpoint ATM for free, with Ally reimbursing you up to $10 per month in foreign ATM surcharges each statement cycle.
Other account features include remote check deposit and the option to transfer money person to person via Zelle. Ally Skill for Amazon Alexa offers one more way to schedule transfers between Ally bank accounts.
Money market account
Ally offers a money market account that combines features of checking and savings. This account earns the same interest rate on all balance tiers and it offers the convenience of a debit card as well as check-writing abilities.
Like the interest checking account, you can use any Allpoint ATM for free. And Ally still reimburses you up to $10 per month in foreign ATM fees per statement cycle. There are no monthly maintenance fees for this account; but like the online savings account, you are limited to six withdrawal transactions per month.
Certificate of deposit accounts
CDs can be used to save for short- or long-term financial goals. Ally Bank offers several CD options, including:
High yield CDs
Raise Your Rate CDs
No penalty CDs
High yield CDs are your standard high yield CD account, with tiered rates and terms ranging from three months to five years. The longer the CD term you choose, the higher the APY you can earn, with a five-year CD offering the highest rate.
Raise Your Rate CDs come in two- or four-year terms, both earning the same APY. But with these CDs, you have the opportunity to raise your rate once for a two-year CD or twice for a four-year CD if interest rates increase after you open your account.
No penalty CDs offer flexibility by allowing you to withdraw money from your CD before it matures with no penalty. The APY for these CDs is still competitive. Additionally, High Yield and Raise Your Rate CDs are available as IRA CDs if you're interested in saving money for retirement.
How to Open an Ally Online Savings Account
Opening an Ally Online Savings Account is fast and simple. To open your account, you need to complete the online application. That requires the following information:
Your legal name
Date of birth
Social security or other tax identification number
U.S. residential street address
Bank account number and routing number you want to link for initial account funding
Initial deposit amount
You can also apply by phone or by mail for an online savings account, but doing it through the Ally website is faster.
There are four ways to fund your account:
Online transfers made via the Ally mobile app or online banking
Ally eCheck deposit through the mobile banking app
Wire transfer
Mail a check
Note: You can't add cash directly to your account. You have to deposit cash to a linked bank account first, then transfer it to your Ally Online Savings Account.
Is an Ally Online Savings Account Right for You?
Overall, opening an Ally Online Savings Account could be a good option if you want to start saving at a competitive rate without having to worry about maintenance fees or minimum balance requirements.
As far as the bank's financial services go, it's fairly comprehensive since you can also open an interest checking account, certificates of deposit, get a car loan or home loan — and you can even invest your money instead of saving.
With any online savings account option, it pays to compare the APY you could earn and the fees to help you find the best fit.