The Best Savings Accounts in Rhode Island for 2023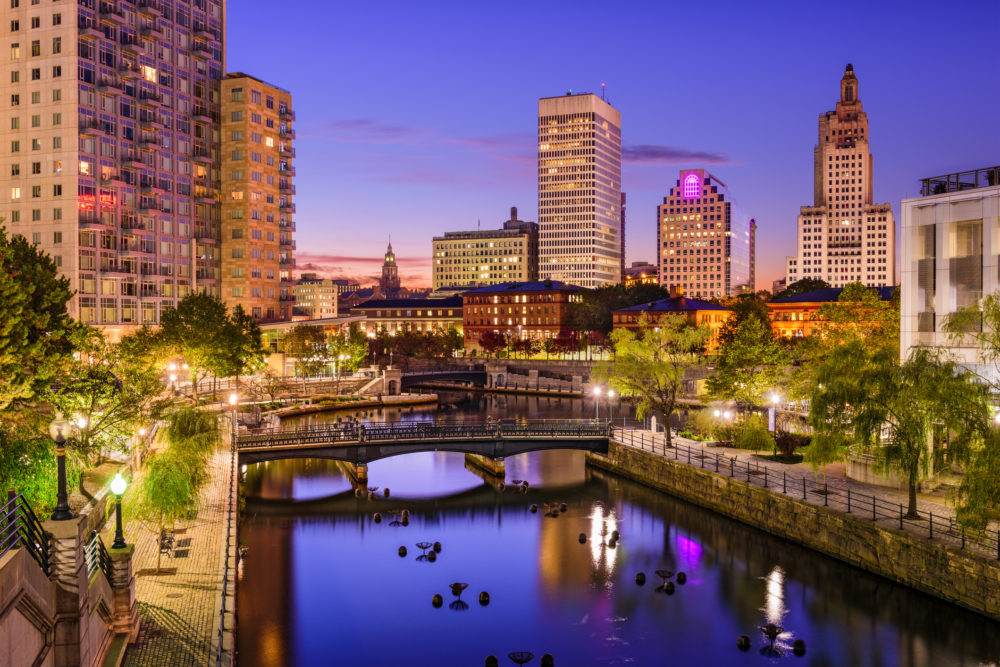 According to the American Banking Association, there are only seven banks headquartered in Rhode Island, but in total, 20 banks operate nearly 240 branches and offices here.
That's a drop in the bucket compared to what you'll find in places like California, but it adds up to a lot of choices for a state that's small enough to be driven across in an hour.
Plus, Rhode Islanders can open online accounts at dozens of institutions, and thanks to interest rate hikes by the Federal Reserve, many are now paying savers the highest APYs seen in years.
To learn more about the best savings accounts in Rhode Island and which is right for you, keep reading.
The Best Savings Accounts in Rhode Island
Synchrony Bank
BrioDirect
UFB Direct
CIT Bank
Bread Savings
HarborOne Bank
Greenwood Credit Union
Compare savings accounts and find the best rates being offered today.
Online Savings Accounts Available in Rhode Island
You'll probably want to look online if you want the savings account that pays the most interest.
Digital banks generally offer the best APYs available for savings accounts.
What's more, they often have minimal fees and take strict cybersecurity measures to keep customer accounts secure.
Here are some top choices for online savings accounts in Rhode Island.
Synchrony Bank
Synchrony Bank got its start financing purchases, and it powers many of today's most popular store credit cards.
However, it has expanded to offer consumers both savings accounts and certificates of deposit.
Synchrony Bank pays some of the best interest rates currently available, and it is also notable for having no minimum deposit requirements and providing an optional ATM card.
Its user-friendly app is another reason we rate Synchrony Bank as one of the best savings accounts in Rhode Island.
Synchrony Savings Pros & Cons
BrioDirect
As another digital bank offering great savings rates right now, BrioDirect is a part of Webster Bank.
You won't find checking accounts or credit cards currently offered here, but you can open a savings account with just $25.
In addition to high-yield savings, BrioDirect has high-yield CDs and money market accounts that are worth a closer look.
All can be opened online in minutes and easily managed using the bank's mobile app.
UFB Direct
With no fees and stellar interest rates, UFB Direct is most certainly in the running for having the best saving account in Rhode Island.
The bank is a division of Axos Bank and also offers money market accounts and mortgages.
Savers can use the bank's mobile app to deposit checks and manage their account, which also comes with a complimentary ATM card.
There is no minimum deposit requirement, and all balances earn the same great APY.
UFB Direct Savings Pros & Cons
CIT Bank
First Citizens Bank is the nation's largest family-controlled bank, and CIT is an online division of that institution.
It offers savings and checking products as well as home loans.
If you're interested in earning a high APY on your savings, then the Savings Connect account is the one you'll want to explore.
It combines savings with eChecking and has features such as the reimbursement of ATM fees.
Bread Savings™
Bread Savings™ is a relatively new name for savings accounts offered through Comenity Bank.
And just as bread rises, so too will the balance of your savings with the high APY offered on Bread Savings accounts.
You'll begin earning interest on your balance immediately, and there are no hidden fees. Instead, you can be assured of getting competitive rates and no fuss with the company's high-yield savings accounts and CDs.
Bread Savings™ Pros & Cons
A Look at Local Rhode Island Banks
While online banking has grown in popularity in recent years, some people still prefer to bank locally.
Here are two Rhode Island institutions offering above-average interest rates on savings.
HarborOne Bank
HarborOne Bank was founded in 1917 and is the largest state-chartered cooperative bank in New England.
Among its three dozen locations are nine branches in Rhode Island.
Customers can also manage their accounts online.
While the interest HarborOne Bank pays on its regular savings account is in line with what you'd receive at national banks, its Remarkable Savings account offers new customers an APY that is close to that offered by online banks.
The only catch is that you need a substantial balance to earn that interest rate.
HarborOne Bank Savings Pros & Cons
Greenwood Credit Union
As member-owned institutions, credit unions have a reputation for having lower fees and higher savings interest rates compared to traditional banks.
Greenwood Credit Union is one option in Rhode Island, and it offers an above-average APY on its deposit savings accounts.
It also has no maintenance fees, and customers can use the credit union for personal and business banking as well as wealth management.
Greenwood Credit Union Savings Pros & Cons
How We Picked: Methodology
MoneyRates found the best savings accounts in Rhode Island by analyzing savings accounts at online banks, local credit unions, national banks, regional banks, and local banks in the state. We looked at the most recent interest rates being offered on savings accounts in Rhode Island at over 25 banks along with accessibility, requirements for opening and maintaining an account, fees, ATM access, flexibility, availability, and ease of use of mobile banking.
The best savings accounts in Rhode Island reflect market conditions and bank APYs at the time of our analysis. Banks can and do change their rates and terms on a regular basis, so you should check with banks directly to see what rates and terms they are currently offering.
How to Choose a Savings Account in Rhode Island
While these are our top choices for the best saving account in Rhode Island, no one bank or credit union will be right for everyone.
To find the best account for your needs, consider the following.
Access
In-person, online, and mobile banking are the norm for many banks and credit unions.
Some also provide savings account customers with ATM cards or maintain phone or text banking capabilities.
Think about how you want to access your money and be sure the account you select supports those options.
Customer service
Customer service is often overlooked by people searching for the best saving account in Rhode Island, but it can be crucial if you ever run into trouble.
Look for a bank or credit union that can be contacted through multiple avenues, such as phone, live chat or email.
Fees
There are so many banks and credit unions offering free bank accounts nowadays, that it's hard to imagine paying a fee for your savings.
Yet, some institutions still do have monthly maintenance fees.
In some cases, these may be waived if you set up direct deposit or maintain a certain balance.
Be sure to read the fine print before you open an account.
Interest rate
You're probably not going to get rich off the interest paid on savings accounts, but every little bit helps.
And there is a significant difference between the banks with the highest APYs and those paying out the national average.
Online banks will be your best bet for a high interest rate on savings.
Opening deposit
Some banks — particularly online banks — will allow you to open a savings account with any amount of money.
Credit unions often have a low opening deposit requirement, and $5 is typical.
However, other banks may require hundreds or even thousands of dollars upfront if you want to open an account.
Other accounts available
One drawback of online banks is some have limited banking products and services.
For instance, they may have savings accounts and CDs but not checking accounts or loans.
Before opening an account, consider whether it is important that you are able to do all your banking in one place or if you don't mind having a separate savings account away from your checking.
Where Can You Open a Savings Account in Rhode Island?
You have three main choices for opening a savings account in Rhode Island:
Online banks
Even a decade ago, online banks were considered something of a novelty.
However, today, they are mainstream banking options.
Since they don't have physical branches, they are often able to pay out higher APYs on their savings accounts.
Banks
Banks can be broken down into two categories: national or regional banks and community banks.
Either way, banks may offer their customers the option to manage their money either online or in person at local branches.
Traditional banks usually have the lowest interest rates for savings accounts.
Credit unions
There are 20 credit unions with main offices in Rhode Island, according to the National Credit Union Administration.
These institutions operate similarly to banks, but they are not-for-profit and owned by their members.
Credit unions may have interest rates that are higher than traditional banks but lower than online banks.
Rhode Island Savings Accounts vs. Certificates of Deposit
As you look for the best savings accounts in Rhode Island, you're likely to see that many banks and credit unions offer substantially higher interest rates on certificates of deposit.
Also known as CDs, these accounts can be a good option for some savers, but they are not the best choice for everyone.
Here's how they compare to savings accounts.
Minimum deposits
With the exception of Synchrony Bank, which has no minimum deposit requirements, you'll likely need hundreds of dollars or more to open a CD.
On the other hand, it's much more common to be able to open a savings account with any amount of money or a low opening deposit.
Withdrawal restrictions
Once you deposit money in a CD, it must remain in the account for the duration of the term.
For instance, if you open a 24-month CD, you can't take the money out of the account for 24 months.
If you do, you could be charged a penalty.
While savings accounts don't have that restriction, some may limit you to six withdrawals a month.
Interest rates
CDs have fixed interest rates, and they are usually higher than what you'll receive with a high-yield savings account.
Knowing you are guaranteed a certain amount of interest over a CD's term is part of its appeal.
With savings accounts, interest rates can change at any time.
Best uses
While both are savings vehicles, high-yield savings accounts and CDs are good for different purposes.
Money in a high-yield account will remain liquid, so you can access it at any time.
That's one reason why people choose these accounts for their emergency funds.
However, money in CDs is locked up for a certain amount of time, and best for cash you are saving for a future expense, such as a new car.
Frequently Asked Questions (FAQs)
What savings account do I need?
It's always a good idea to have at least one general-purpose saving account to keep money for an emergency or future expenses.
However, some people prefer to have two savings accounts — one linked to their checking account and used for overdraft protection and a second at an online bank where they won't be tempted to dip into the balance.
Which banks are giving 7% on savings accounts?
You'd be hard-pressed to find any bank or credit union paying that much on savings right now.
Currently, the top rates available are at or just above 2%, and many institutions offer much lower APYs.
Will savings rates go up in 2023?
The Federal Reserve increased the federal funds rate several times during 2022, and that resulted in many banks increasing the rates they pay on savings accounts.
It remains to be seen whether further increases are coming this year.