The Best Savings Accounts in Texas for 2023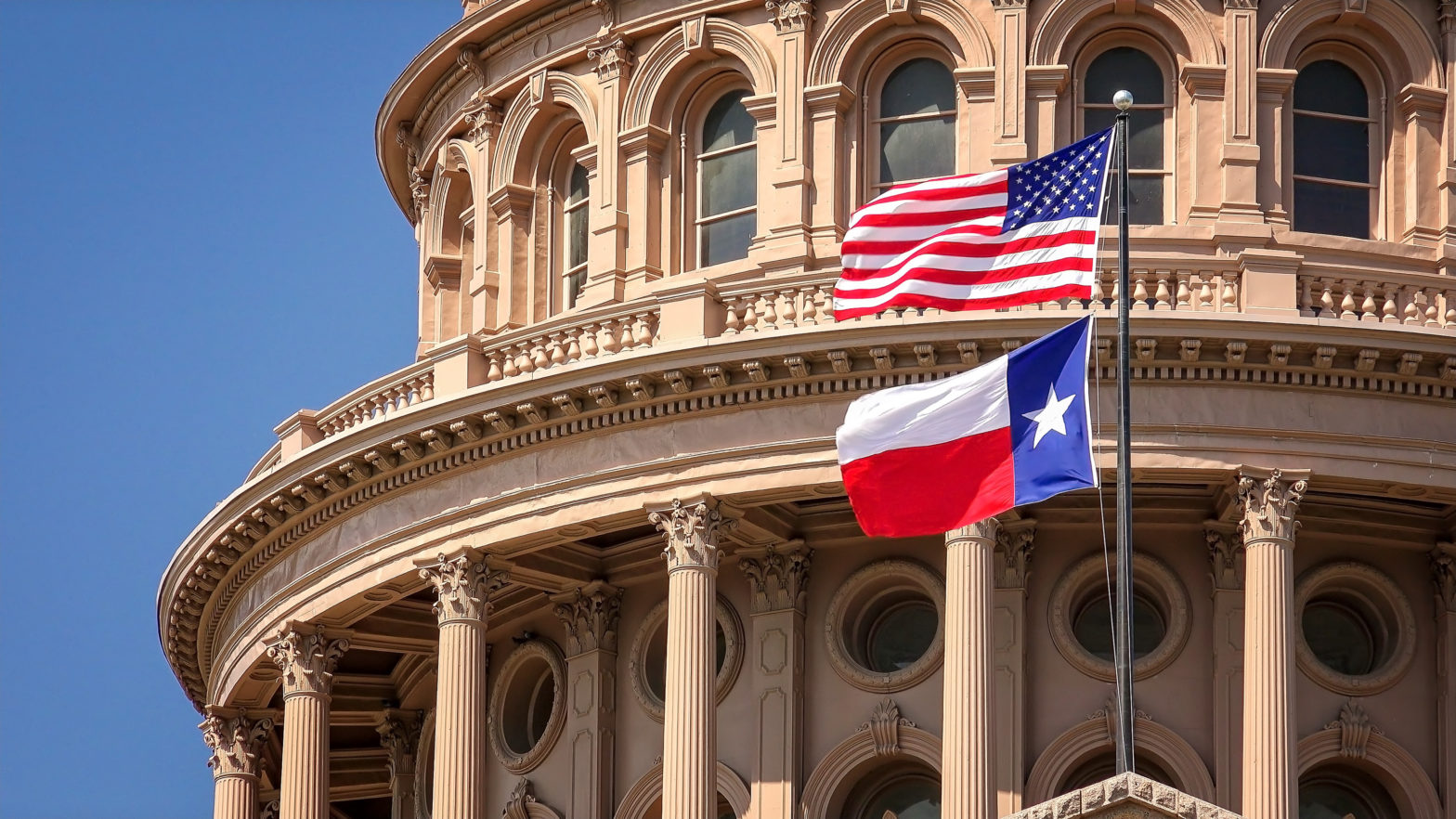 There's a lot to love about Texas, not the least of which is that it's the best state in the nation for banking, according to MoneyRates rankings. Residents have access to more than 6,400 banking locations, and the state's institutions get high marks for customer satisfaction.
If you're searching for a savings account in Texas, you have no shortage of options. Many banks offer high-yield savings accounts with minimal fees or balance requirements. Keep reading to learn more about which savings accounts in Texas stand out and which may be right for you.
Best Texas Savings Accounts
SoFi
Bread Savings™
Barclays
CommonCents Credit Union
The MINT National Bank
United Texas Banks
Which Banks Have the Best Savings Account Rates?
See the most up-to-date interest rates for the best savings accounts and see how they stack up.
Online Savings Accounts in Texas
Texas consumers have access to many online savings accounts offering some of the best savings interest rates you'll find. Your money is safe in online banks that are FDIC insured, and they are as easy to use as your local bank because they team up with other banks and credit unions to offer easy and convenient access to ATMs. Online banks offer great APYs, often better than the rates you'll find at your local bank.
SoFi
SoFi has been around since 2011 and offers a number of innovative banking, lending, and investing options. It also currently has some of the highest interest rates in the country for savings.
Unlike other banks, SoFi doesn't have stand-alone savings accounts. Instead, customers open a checking and savings account that pays interest on the balances in both checking and savings. There are no account fees or minimum balance requirements with SoFi. The bank also offers automatic savings features, which can make it easy to set aside money for specific goals.
As an online bank, SoFi doesn't maintain any physical branches. However, money can be managed through the bank's website and app, and there are no ATM fees when you use one of more than 55,000 ATMs that are within the global Allpoint network.
Pros
Competitive interest rate much higher than average
Nationwide network of free ATMs
Cons
No brick-and-mortar locations
Fee for cash deposits
Bread Savings™
For those who are comfortable managing their money online, Bread™ is another bank to consider. As an online institution, it doesn't have to maintain expensive branches and can afford to pass on those savings to account holders in the form of higher interest.
Bread™ got its start in commercial accounts, such as credit cards. Today, it offers personal accounts, including Bread™ Savings. These high-yield accounts can be opened with a minimum deposit of $100 and are limited to a maximum of $1 million. There are no monthly fees, and accounts come with free unlimited ACH and mobile deposits.
Bread™ Savings accounts are covered by the FDIC, which insures up to $250,000 per depositor.
Pros
High-yield savings
Robust mobile app available
No monthly service fees
Cons
ATM cards not available
No checking or money market account
Barclays
Barclays savings accounts come with several great features, including direct deposit, no minimum deposit to open an account, and a robust mobile app that comes loaded with handy tools to manage your Barclays accounts.
Barclays is a well-known global financial institution with headquarters in London. Now, U.S. customers can have access to Barclays savings accounts, CDs, and credit cards. Opening a Barclays savings account is fairly straightforward and can be done online.
Pros
Interest rate consistently well above average
No account minimums
No transfer or withdrawal limits
Cons
No U.S. branch locations
No checking accounts or debit cards
Savings Accounts at Texas Banks
Regardless of where you live in Texas, you can find a bank or credit union that pays above-average interest rates on savings. Here are a few examples of the types of accounts available to people who bank locally.
CommonCents Credit Union
As member-owned institutions, credit unions often pay out higher interest rates on savings than the big banks. In Texas, CommonCents Credit Union offers an account with one of the highest rates currently available.
Its Ultimate Savings account doesn't charge a monthly service fee, and there is no minimum balance to maintain. It also comes with free online and mobile banking as well as access to fee-free ATMs. There is, however, a $5 minimum opening deposit to open a regular share account and establish membership at the credit union.
As with other credit unions, membership in CommonCents is limited. Only those who live, work, study, or worship in Jefferson or Chambers County can join and access these great rates.
Pros
No monthly service fee
No minimum balance
ATM access
Cons
Strict membership policy
Customer service hours limited
The MINT National Bank
If you aren't eligible to join a credit union, you can still get a good savings rate at a local bank. The MINT National Bank is one example of an institution that provides personal deposit accounts and pays above-average interest.
Its MonuMINT Savings account comes with free online banking, free checks, and a free ATM/debit card. However, there is a fee of $10 per debit after you reach six withdrawals for a month. There is also no service charge so long as your balance stays above $1,000. Otherwise, the account costs $10 per month.
The MINT National Bank maintains offices in six Texas locations, including Kingwood, The Woodlands, Sugar Land, and Houston.
Pros
Free checks and ATM card
Above-average interest
Cons
Only 6 locations
$10 monthly service charge unless your balance is $1,000 or more
United Texas Bank
Formed as a boutique commercial bank in 1986, United Texas Bank now offers both business and personal accounts. The interest on its personal savings account doesn't quite match that of online banks, but it is significantly higher than what is currently paid at many national banks.
Personal savings accounts at United Texas Bank don't have any minimum balance requirements in order to earn interest. However, you will need to keep a minimum daily balance of $500 or more to avoid a monthly service charge. Accounts can be managed online or using the bank's mobile app.
For those who prefer to do their banking in person, United Texas Bank operates two branches in Dallas.
Pros
Mobile app available
No minimum balance to earn interest
Cons
Minimum balance of $500 is required to avoid a monthly service charge
Only 2 branches available
How We Picked: Methodology
MoneyRates found the best savings accounts in Texas by analyzing savings accounts at online banks, credit unions, big banks, and regional and local banks in the state. We looked at current APYs being offered on savings accounts at over 30 banks, along with account requirements, fees, ATM availability, customer service availability, flexibility, and ease of use of online and in-app banking.
The best savings accounts reflect market conditions and bank offers at the time of our analysis. Banks can and do change their rates and terms at any time, so you should check with banks directly to see what they currently offer.
How to Choose a Savings Account in Texas
While the above are some examples of good Texas savings accounts, they are far from your only choices. To make sure you are selecting the right account, take the following into consideration.
Interest Rate
As of this writing, the average savings account in the U.S. pays a paltry 0.06% APY. However, some of the top accounts are paying well above that. Before you sign up for the account with the highest interest rate, though, be sure to check whether there are any catches, such as minimum balance requirements.
Fees
Ideally, you'll find a bank or credit union that offers a fee-free account. If you do need to pay a monthly fee for a savings account, be sure the benefits outweigh the costs. For instance, think twice if you'll be paying $10 a month in fees and only earn $5 a month in interest.
Opening Deposit
Some banks, such as Ally, don't have minimum deposit requirements, and you can open an account with any amount. Others may require you to have $100 or more to open an account.
Access
While savings are often meant to be untouched for a period of time, at some point, you'll probably want to access your funds. To do so, can you walk into a branch? Or is it an online institution where you can only get money from an ACH transfer or an ATM? Make sure you know the answers to these questions before opening an account.
Where Can You Open a Savings Account in Texas?
In Texas, you have three main options for savings accounts:
Banks
When we think of savings accounts, banks might be the first institution to come to mind. Almost everyone is familiar with national brands like Wells Fargo, Bank of America, and Chase. While these big banks can be convenient with their many locations, they typically pay low interest rates.
Credit Unions
You're likely to get a higher interest rate at a credit union. Since these institutions are member-owned, they often keep fees low and pay higher APYs. The downside is that smaller credit unions may not offer the same convenience as big banks; they may have few branches and less robust digital tools.
Online Banks
Online banks are often where you will find the best savings rates in Texas. Since these banks don't have branches to maintain, they are able to pay significantly higher interest rates. The caveat here is that you need to be comfortable with online and mobile banking to use them.
Texas Savings Accounts vs. Money Market Accounts
As you compare savings accounts, you may notice some banks and credit unions have money market accounts with similar interest rates. Here's a look at how these two accounts differ and how they are similar.
Minimum Deposits
Many high-yield savings accounts in Texas can be opened with any amount of money, and those that have minimum deposit requirements often set them at a relatively low amount, such as $100 or less. However, minimum deposits for money market accounts can be significantly higher – as much as $25,000 at some institutions.
Withdrawal Restrictions
For years, government rules limited withdrawals from both savings and money market accounts to six per month. In the midst of the COVID-19 pandemic, those rules were changed, but some institutions may continue to impose their own limit of six withdrawals, debits, or checks per month.
Check-Writing Privilege
Except on rare occasions, savings accounts do not come with debit cards or checks. However, they are standard with money market accounts. That makes money market accounts a better option for those who want convenience and flexibility when it comes to making withdrawals.
FDIC Insurance
Both savings accounts and money market accounts are protected for up to $250,000 per depositor at FDIC-insured banks. Credit union accounts receive similar coverage through the NCUA.
However, be sure not to confuse money market accounts with money market funds. Money market funds are investments and are not eligible for FDIC insurance.
How Is Interest on Savings Accounts Earned in Texas?
In Texas, like other states, credit unions and banks offer interest on savings accounts. This interest is compounded on either a daily, monthly, or quarterly basis. Most commonly, interest is compounded daily and applied to your account monthly.
Interest can be accrued in one of two ways: simple interest or compound interest. Simple interest is compounded only on the amount of money that has been deposited into the savings account, whereas compound interest is compounded on the account balance and any previously accrued interest.
Financial institutions in Texas offer interest on savings accounts to entice consumers to save their money with that bank.
Determining Your Interest Earnings
There are a few different ways in which you can find out exactly how much money your savings account has made in interest: you can calculate the number yourself, you can use a compound interest calculator, or you can use tax documents.
The IRS provides savings account owners with a 1099-INT form. This form illustrates how much non-wage income a taxpayer makes. Because savings account interest is considered a form of income, this number will be expressed on a 1099-INT form.
How Much Tax Do You Pay on Interest Earned in Texas?
Because the state of Texas does not have state income tax, residents with savings accounts that accrue interest do not have to pay state income tax on that amount. However, Texas residents are subject to federal income tax.
Frequently Asked Questions (FAQs)
What bank has the best savings account in Texas?
No one bank will be right for everyone. If you're primarily concerned with earning interest, SoFi offers one of the highest interest rates to Texas residents right now, although you will need to set up direct deposit to get the top rate. If you are looking for a bank with branches, consider a local bank or see if you are eligible to join a credit union with a high-yield savings account.
Does savings get taxed?
If you earn more than $10 interest on your savings account, you will receive a 1099-DIV tax form. The income on this form must be reported on your federal income tax return and is subject to regular income tax rates.
How do I open a savings account in Texas?
It's quick and easy to open an account at most Texas banks and credit unions. You'll need to provide your contact information, date of birth, and Social Security number. Banks and credit unions will also need to see a government-issued form of identification, such as a driver's license or passport. Finally, you may be required to make a minimum initial deposit. For online banks, this can be done by linking your new savings account to another existing bank account.