Is It Time to Change Banks? Signs and Steps for a Smooth Transition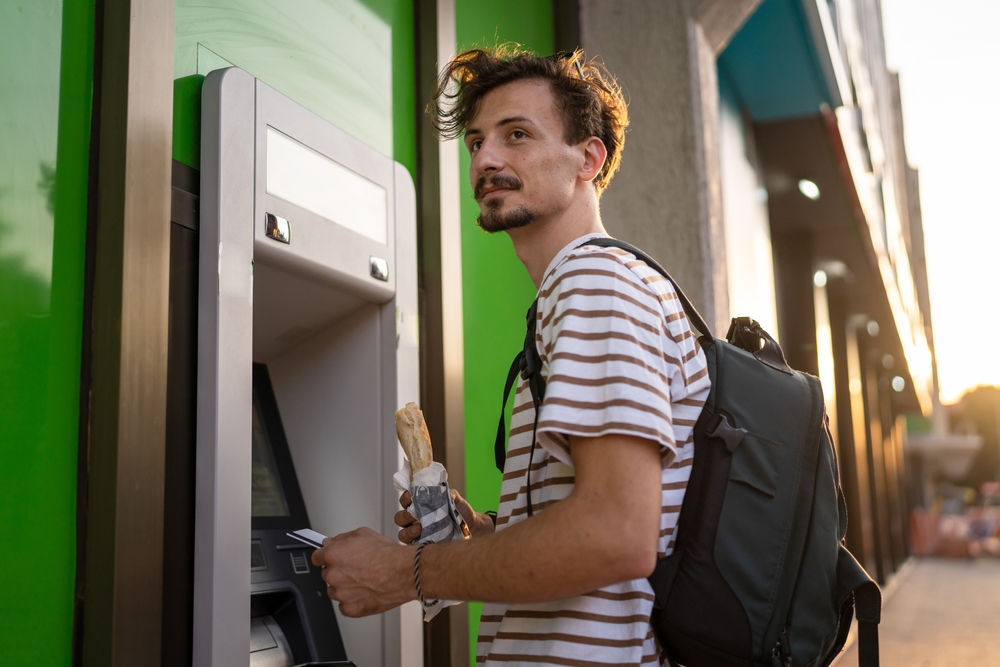 There's an adage that marriage is like a bank account: What you put in is what you get out, and you could lose interest over time.
Flipping that script, your relationship with your bank is also a bit like a marriage. Your bank should be a trusted partner concerned about your financial well-being. If this isn't the case, perhaps it's time you switched banks.
There are some common signs to look for that signal it may be time to break up with your existing bank and find a financial institution that better meets your needs. Since no dating apps let you swipe right to find a new bank, MoneyRates created this comprehensive guide on how to switch banks and start a new banking relationship.
Find and Compare the Best Checking Accounts Online
Compare rates, fees, accessibility, customer service, and more. Find the best checking account for your needs.
6 Signs That It Might be Time to Switch Banks, and Why It Matters
Aside from moving to a new state that doesn't have your bank, there are many other reasons why you should consider switching banks.
Tom Traficanti, president of Heritage Bank of Nevada, said the main reason to consider leaving your old bank is when you can't get personalized banking services.
"The biggest sign that it's time to switch is when your banker is not available to meet with you, or your bank is non-responsive to your questions," Traficanti said. "You should have a bank where you can access someone who will listen and is able to offer solutions.
"For example, if you feel the fees on your checking account are too high, your banker may be able to offer an account with no fees or offer ways to earn interest on your funds with a product like a CD special. If there are business loan questions, you should be able to meet in person with a commercial loan officer to discuss qualifying for a business loan or line of credit."
Poor customer service is often a deal breaker in any industry. Here are some additional reasons why a banking breakup may be imminent:
You're Paying Too Much in Fees
Does anyone really want to pay monthly maintenance, account minimum, overdraft, and ATM fees? Some banks will even charge you for conducting your banking business with a human teller inside the branch. If you are paying too many fees, you should move on. Plenty of reputable financial institutions won't levy these and other fees.
You've Moved and Need Better Access to Branch Locations and ATMs
Moving to a new state can complicate your banking relationship if you are a regional credit union or bank member. Although you may find colocation banking partnerships, switching to a new regional financial institution may be more straightforward.
Your Savings Account Interest Rate Is Low
Large financial institutions typically offer minuscule interest rates on standard savings accounts. According to the Financial Deposit Insurance Corporation, the national average interest rate on savings accounts is less than .50%. At some online banks, interest rates are much higher than the national average. However, your interest rate on standard savings accounts at large banks is usually a meager .01%. If you had a $100,000 savings account at .50%, you would earn $500 in interest in one year. At .01%, your $100,000 in savings would net just $10.
Other Banks Are Offering Incentives for Leaving
Banks often offer perks and financial bonuses for opening a new account. These perks often are in the form of a few hundred dollars in cash and $50 to $100 for referrals who also open a new account. Other institutions may offer you a small interest rate (1% or similar) on your checking account balance for a limited time. Typically, though, you'll have to meet some requirements to receive the bonus, such as having a qualified amount in direct deposits in three to six months and meeting account balance minimums.
More Banking Products and Better Services
This is a super important feature of your banking relationship. Standard banking features should include online and mobile banking, online bill pay and check deposits, financial reporting tools, no transaction limits, paper checks, money transfers between accounts, other banks, and individuals, and similar features that greatly enhance and simplify the banking experience. If your bank doesn't offer a robust suite of services and products, cut the cord for a better bank that does.
Incentives for Linking Checking, Savings, Loans, and Other Accounts
Often, banks will waive monthly maintenance fees if you have linked accounts. Linking your savings account to your checking account provides overdraft protection, and you may earn a slight deduction on loan interest rates if you have automatic withdrawals from your checking account. Discuss these services with a banker.
These are a handful of reasons you might want to switch banks. Community representation can be another essential consideration. Big banks whose shares are publicly traded work to benefit their shareholders. Meanwhile, regional banks and credit unions work to benefit their members and the businesses within their communities. It's an important distinction — your dollars can make a difference in your community.
Benefits of Switching Banks
If you've made up your mind and decided it's time to sever ties with your current financial institution, you could realize some essential benefits that likely have gone overlooked for far too long.
Traficanti of Heritage Bank of Nevada said you could potentially reap multiple benefits by switching banks.
"One benefit may simply be lower fees or a better interest rate," Traficanti said. "Another benefit is establishing a relationship with a person who will understand your banking needs and recommend solutions. Supporting community banks that make loans to small businesses and affordable housing is also a good reason to switch banks."
In addition to receiving more favorable interest rates and lower fee structures, other benefits come with switching banks. These may include:
High-Yield Savings Accounts
You can find high-interest savings products at most financial institutions, but regional and online banks may offer slightly higher interest rates.
Better Online and Mobile Banking Products
Here's one where larger banks may outshine smaller financial institutions. Mobile banking apps and online platforms from smaller institutions are serviceable, but these products tend to be slightly more robust and cutting-edge than larger financial institutions. This could be especially important if you do most of your online or smartphone banking.
Better, More Convenient Service
There was a time when some big banks offered customers a crisp $5 bill if they had to wait in line for longer than 5 minutes. Banking needs can take time, but excessive wait times can ruin the banking experience. If you bank at the biggest bank in town, you likely will be standing in line. You might enjoy speedier service and greater satisfaction if you switch to a less busy bank.
Personal Banking Relationships
Building a personal relationship with your banking team can go a long way to fulfilling your current and future banking needs — bankers can't help you if they don't know or understand what you need out of the relationship. Forming a closer relationship with banking staff, who should be happy to meet with you to review your needs, helps your bankers suggest products, features, and services that could benefit your financial situation and goals.
How to Make the Switch
There's no denying it can be a hassle to switch banks, especially if you pay most of your bills online and have a lot of automatic deductions linked to your checking account.
Heritage Bank of Nevada's Traficanti said banks should gladly assist you with the transition.
"Most banks will help with the process by providing forms and guidance on transferring automatic deposits and payments," he said. "Many banks also will provide an initial order of checks for free to replace your current check stock. If you have lending needs, you can discuss your loan needs and get approved before you move your accounts."
Follow these five steps to get up and running at your new bank:
1. Compile a list of all automatic deposits, debits, recurring payments, and monthly transfers
You'll need to establish and update all current account credits and deductions with your new account. You'll also have to establish a new form of payment if you have a debit card saved in a mobile wallet on your smartphone.
2. Gather pertinent identification and information
Your new bank will likely require a government-issued ID, your address, and your phone number.
3. Open and fund the account
Once your account is open, you'll immediately want to download your new bank's mobile app and sign up for online banking.
4. Update all your information
Using all the information you pulled together in Step 1, transfer all deposits, payments, and transfers to your new bank. This step could take time, but you can ask your bank's customer service representative for assistance if necessary. Ensure you don't forget to resume significant automatic payments, such as your mortgage, cell phone, city trash service, and other services tied to your old account.
5. Close your old account
Now that you've made the switch, it's time to break up with your old bank.
Switching banks can be demanding if you have a dozen automatic payments linked to your old account. Choosing the right bank when you switch means you shouldn't have to go through a second banking divorce.
Bottom Line
In summary, here are the key takeaways from this guide on when and how to switch banks:
Recognize signs it might be time to switch, such as poor customer service and high fees.
Benefits of switching include lower fees, better interest rates, and personalized service.
Consider high-yield savings accounts and improved online/mobile banking.
Building personal relationships with your banking team can enhance your financial experience.
Follow the provided steps to make the transition smoother and less daunting, prioritizing your financial well-being.