What Are ATM Networks and How Do They Work?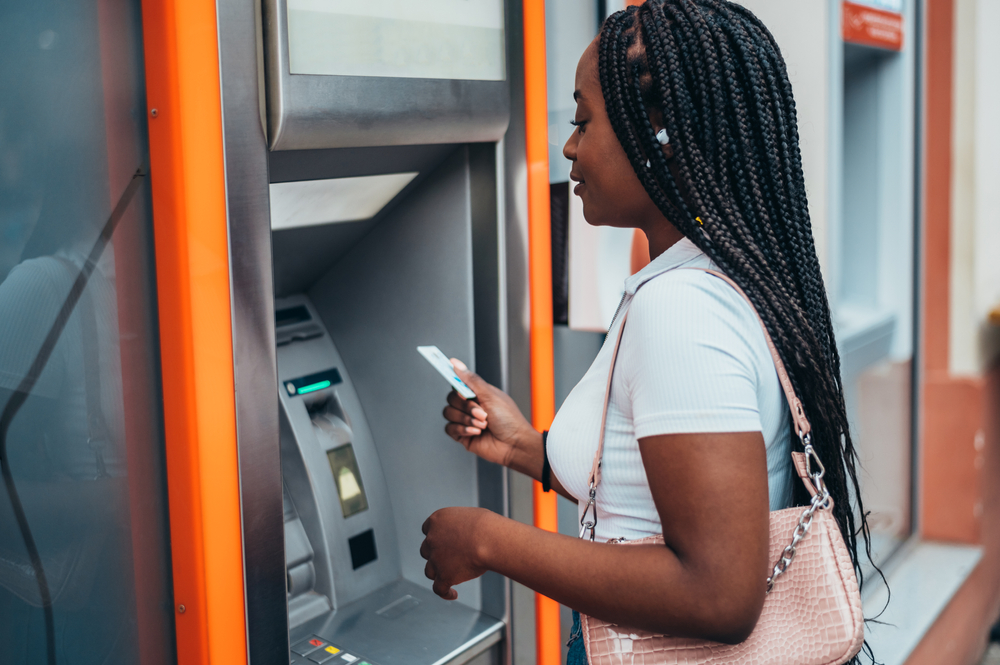 Have you noticed that some banks tout the size of their ATM network?
Financial institutions use this as a way to let customers know it will be easy for them to manage their checking accounts and access cash. Some banks will also enable customers to use ATMs for savings account access as well. But what exactly is an ATM network?
While banks and credit unions generally manage their own ATMs, they may also belong to a network that allows customers to make free transactions at terminals owned by a third party. This is, for example, how the financial technology company Chime, which offers debit cards but has no physical branches, can provide its customers access to more than 60,000 fee-free ATMs.
Keep reading to learn more about ATM networks, who offers them, and what to do if your bank doesn't participate.
What Is an ATM Network?
ATM networks can refer to machines operated by a specific bank or credit union. For instance, Bank of America has a network of approximately 16,000 ATMs.
However, ATMs can also be part of systems known as interbank networks that are managed by third-party companies.
Machines in these networks are often found in non-banking locations, such as gas stations and grocery stores.
Banks and credit unions may belong to one of these networks to provide their customers with more options for accessing their money.
Either way, using an in-network ATM is crucial if you want to avoid costly ATM fees.
Find checking accounts and compare ATM networks, fees, and more.
How Does an ATM Network Work?
When you use an ATM, it automatically checks to see whether your card comes from a bank that participates in its network. If not, you will likely receive a message notifying you that a fee will be assessed for your transaction.
During your transaction, the ATM communicates securely with your financial institution to correctly route deposits or receive permission to dispense cash from an account.
Some machines are only configured to handle certain transactions, such as withdrawals, while others may be able to handle a variety of functions.
Even if your bank doesn't participate in a specific terminal's ATM network, you can generally make withdrawals from the machine. However, to avoid fees and complete transactions such as deposits, you may need to use an in-network ATM.
The easiest way to find in-network terminals is to use the ATM locator function on your bank or credit union's website or app. Virtually all institutions offer a way to locate participating ATMs online.
Another way to find your institution's ATM network is to look on the back of your debit card. If your bank or credit union participates in a network, its logo should be shown there.
Alternatively, you could contact your bank to ask if they participate in a network such as Allpoint or Pulse. Once you know that information, you can search the ATM network's website for locations.
What ATM Networks Are There?
Outside your bank's own ATMs, here are some of the major networks currently available:
Allpoint
The Allpoint network includes more than 55,000 ATMs worldwide.
There is no surcharge for transactions completed by members of participating institutions. Those include Capital One and PNC Bank. Allpoint is also a popular network for credit unions.
PULSE
Owned by Discover, the PULSE ATM network includes 400,000 ATMs in the U.S. and 1.8 million globally. For surcharge-free transactions, it partners with another network: MoneyPass.
MoneyPass
With about 37,000 ATMs nationwide, MoneyPass is a surcharge-free ATM network that is used by national institutions such as Discover Bank as well as smaller local and regional banks.
Plus Alliance Network
Operated by Visa, the Plus Alliance Network has more than 2 million ATMs worldwide, and in the U.S., its machines are placed in businesses such as Costco and Target. Chime is one of the participants in this network.
Co-op ATM Network
Nearly 2,000 credit unions participate in the Co-op ATM Network. Together, they provide members with access to more than 30,000 surcharge-free ATMs in all 50 states and 10 countries.
What If My Bank Isn't In a Network?
It's possible that your bank doesn't participate in one of the ATM networks above.
In that case, you have a couple of different options to avoid ATM fees:
Don't Use Out-of-Network ATMs
Only conduct transactions at your bank or credit union's ATM terminals.
Get Fees Reimbursed
See if your bank will reimburse ATM fees.
For instance, Ally Bank will reimburse up to $10 per statement cycle for ATM fees from transactions made at out-of-network machines.
Meanwhile, Alliant Credit Union will rebate up to $20 a month in ATM fees.
Change Banks
Open an account with an institution that is part of a large ATM network or that will refund ATM fees.
If you don't want to change banks completely, you could open a secondary account with an online bank that has a better ATM network.
Then, link that to your primary bank account. Money can be electronically transferred between accounts and accessed at an ATM using a debit card from the secondary account at the bank with the larger network.
Skip the ATM Completely
Use direct deposit or mobile check deposit rather than ATMs to fund accounts and request cash back when making debit purchases at retailers where that option is offered.
Keep More Cash on Hand
If you can't avoid using an out-of-network ATM, take out a larger amount of cash to limit the number of withdrawals you need to make each month.
ATM Network FAQs
How do ATM networks run?
An ATM network is a group of ATMs that are either owned by the same company or are linked to a common system. Large, national banks have their own networks of ATMs, but many financial institutions – particularly those with fewer physical branches – belong to networks operated by companies such as Allpoint or MoneyPass.
What is the benefit of an ATM network?
One of the main benefits of an ATM network is that it can save consumers money. When a financial institution joins an ATM network, its customers can generally complete transactions at network terminals without paying a fee. For online banks and local banks with few branches, a large ATM network can be an important selling point. It helps reassure customers that they will be able to easily access their money.
Which bank has the most ATMs?
Chase and Bank of America say they each have more than 16,000 ATMs so that may make theirs the largest bank-owned ATM networks. However, if you are looking for the network with the most surcharge-free ATMs, the answer could be Allpoint. It has more than 55,000 surcharge-free terminals worldwide.