Checking Account Fees 2023 Survey Shows Higher Fees Can Be Avoided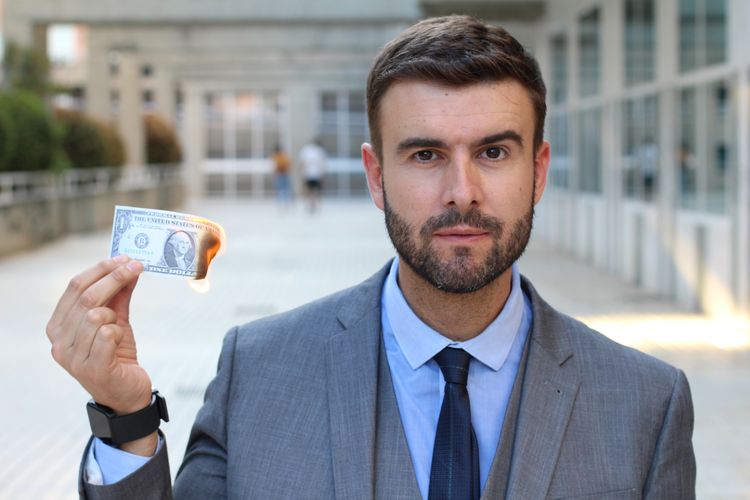 The latest MoneyRates Checking Account Fee Survey found that monthly maintenance fees and ATM fees rose to new heights in the last six months while overdraft protection fees fell slightly. The only good news is that these fees have gotten a little easier to avoid — if you know where to look.
Insights from the survey could save consumers hundreds of dollars a year in bank fees; but, in fact, most people are drastically overpaying for the privilege of having a checking account.
The MoneyRates Checking Account Fee Survey looks at three categories of fees:
Monthly maintenance fees
Overdraft fees
ATM fees
Data on each type of fee is collected from banks in the MoneyRates Index, a cross-section of the retail banking industry that comprises 50 percent large banks, 25 percent medium-sized banks, and 25 percent small banks. Fee trends are examined based on the overall index and also grouped according to bank size and type. Results in hand, we examine how the latest bank fee trends affect consumers and look for ways to reduce their impact.
Monthly maintenance fees at record highs
Monthly maintenance fees are probably the most important type of checking account fee to consider because they are assessed month after month, regardless of how you use the account.
The MoneyRates Checking Account Fee Survey revealed that the average monthly maintenance fee is now $13.51, up from $13.24 in the last survey taken six months ago.
A $13.51 monthly fee would amount to a total of $162.12 over the course of a year. That's based on the average fee of checking accounts offered by banks in the MoneyRates Index. Several of those accounts have maintenance fees that are $300 a year or more.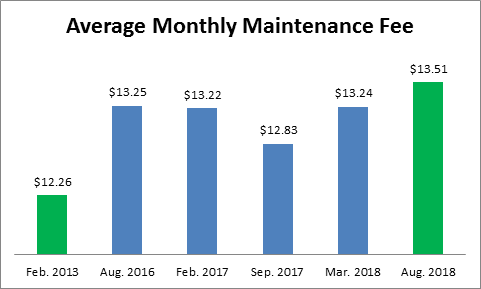 | | | | | | | |
| --- | --- | --- | --- | --- | --- | --- |
| SURVEY YEAR | Feb 2013 | Aug 2016 | Feb 2017 | Sep 2017 | Mar 2018 | Aug 2018 |
| Average Monthly Maintenance Fee | $12.26 | $13.25 | $13.22 | $12.83 | $13.24 | $13.51 |
How to avoid monthly maintenance fees
Three hundred dollars is a meaningful sum of money, but what's even more important to know is that monthly maintenance fees can be avoided altogether. The survey found that 31.78 percent of all checking accounts charge no monthly maintenance fees. While this means free checking accounts are in the minority, that 31.78 percent figure is up from 27.88 percent in the previous survey.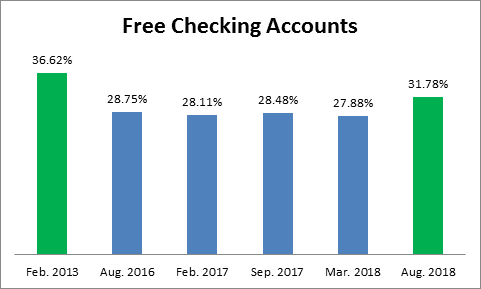 | | | | | | | |
| --- | --- | --- | --- | --- | --- | --- |
| SURVEY YEAR | Feb 2013 | Aug 2016 | Feb 2017 | Sep 2017 | Mar 2018 | Aug 2018 |
| Free Checking Accounts | 36.62% | 28.75% | 28.11% | 28.48% | 27.88% | 31.78% |
Free checking accounts were once viewed as being close to an endangered species, but a key reason they have survived has been the growing availability of online checking accounts. Among such accounts, free checking is the norm rather than the exception. Knowing this can help you avoid monthly maintenance fees.
Consider an online checking account
The survey found that 78.13 percent of online checking accounts have no monthly maintenance fees, compared with 27.01 percent of traditional, branch-based checking accounts. So if you want to know how to avoid monthly maintenance fees, the most important tip is to consider an online account.
Consider a smaller bank
It may also help to look at smaller banks. Among the largest banks in the survey, just 25.14 percent of checking accounts had no monthly maintenance fees. That figure climbs to 35.92 percent among medium-sized banks (those with between $5 billion and $15 billion in deposits) and rises further to 43.08 percent among small banks (those with up to $5 billion in deposits).
The difference in the availability of free checking depending on the size of the bank exacerbates the problem of consumers paying for something they could be getting for free. Since large banks are the ones with the most customers and yet are also more likely to charge monthly maintenance fees on their checking accounts, it means that a disproportionate amount of American bank customers are paying these fees unnecessarily.
Overdraft protection fees drop
Overdraft fees are another reason why many are paying too much for their checking accounts. The average overdraft fee is now $32.75 per occurrence. While this is down slightly from $32.84 in the previous survey, it is still a large dollar figure which is made worse by the fact that overdraft charges tend to come in bunches.
Often, consumers don't know immediately when they have overdrafted their accounts and, as a result, may create multiple transactions while the account is overdrafted. That means the charge to the client is a multiple of the $32.84 average fee. For example, if you initiated five transactions while your account was overdrafted, it would result in an average total of $164.20 in fees.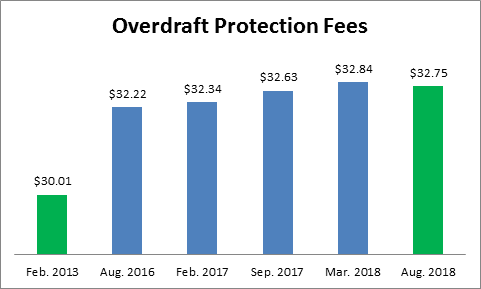 | | | | | | | |
| --- | --- | --- | --- | --- | --- | --- |
| SURVEY YEAR | Feb 2013 | Aug 2016 | Feb 2017 | Sep 2017 | Mar 2018 | Aug 2018 |
| Overdraft Protection Fees | $ 30.01 | $ 32.22 | $ 32.34 | $ 32.63 | $ 32.84 | $ 32.75 |
How to minimize overdraft fees
As is the case with monthly maintenance fees, online banks can be a key to minimizing overdraft fees. The average overdraft fee among online accounts in the MoneyRates Checking Account Fee Survey is $26.32, compared with $33.40 for traditional, branch-based banks. Using the example of a customer with five overdraft transactions, this difference would result in a fee savings of $35.40 for the average online checking account customer. Even at $26.32, online overdraft fees represent a large cost that should be avoided whenever possible. Here's how to minimize overdraft fees:
Review your account daily
Online banking can help to some extent by giving customers more immediate access to information about their account status. Even so, online customers should be aware that online bank records may not reflect transactions that have been initiated but not yet processed, and that fees and automated transactions could cause drains on a checking account balance that are not directly initiated by the customer. Reviewing your account balance every day can help you prevent overdrafts from the start.
Maintain a balance cushion and opt out
Given all this, it helps to keep a balance cushion in your checking account so you don't overdraft the account too easily. Also, customers have the right to opt out of overdraft protection and, while this may result in some transactions being denied, that inconvenience is cheaper in the long run than regularly incurring overdraft charges.
ATM fees at record highs
If you use an ATM that isn't one of your bank's machines or part of a network to which your bank belongs, you may pay twice for that transaction. The owner of the ATM may charge you, as might your bank, for using an out-of-network machine. Combined, these charges now total an average of $4.64.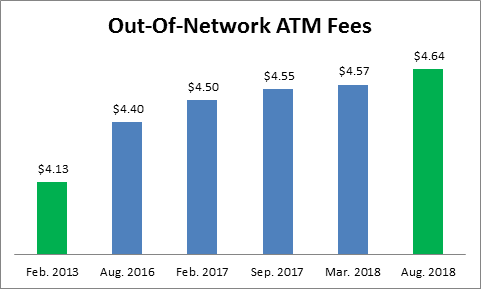 | | | | | | | |
| --- | --- | --- | --- | --- | --- | --- |
| SURVEY YEAR | Feb 2013 | Aug 2016 | Feb 2017 | Sep 2017 | Mar 2018 | Aug 2018 |
| Out-Of-Network ATM Fees | $ 4.13 | $ 4.40 | $ 4.50 | $ 4.55 | $ 4.57 | $ 4.64 |
How to minimize ATM fees
Given the frequency with which many customers use ATMs, these charges can add up quickly. An important step toward minimizing ATM fees is to make location an important consideration in choosing a bank. Even if you choose an online bank with few physical locations, if it participates in an ATM network with machines in the places you regularly travel, you should be able to cut down on these out-of-network ATM fees.
Checking accounts are important financial tools, but that doesn't mean you should pay too much for them. Making smart choices about your checking account can mean that less of your account balance will go toward paying bank fees and more will be available for the things you want and need.