Bank Fees Survey Eoy 2014 – Banking Costs Soar to New Highs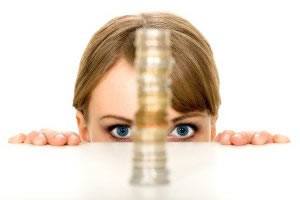 The cost of banking has risen once again for consumers, according to the latest MoneyRates.com Bank Fees Survey. But the survey also reveals that there are still some options for customers who want to avoid the sting of rising checking-account and ATM fees.
The semiannual report finds that U.S. banks on average raised fees and account minimums during the latter half of 2014, pushing nearly every category of costs in the survey to new highs. Free checking, once a staple of the banking industry, fell to its lowest level of availability since MoneyRates.com began collecting these statistics in 2009.
Still, the survey reveals that there are less costly choices for bank customers. Curiously though, the numbers also indicate that most consumers continue to choose some of the most expensive banks.
Banks hike most categories of fees
The MoneyRates.com Bank Fees Survey is based on the MoneyRates Index, a sampling that includes the 50 biggest retail banks by deposits, plus an equal number of smaller financial institutions. The checking account fee survey looks at monthly maintenance fees, overdraft fees and ATM fees, and also tracks the account minimums necessary to open an account and avoid a monthly maintenance charge.
Based on this survey, here are some of the ways that checking accounts grew more expensive in the last six months of 2014:
Monthly maintenance fees are up by 18 cents, to an average of $12.87. Though just a 1.4 percent increase, this rise is just the latest in a steady pattern of increases that have pushed these fees to new highs. The average checking account now costs $154.44 a year to maintain, even before any usage fees you might incur. The monthly maintenance fee is probably the most significant type of checking-account charge, because it is assessed every month regardless of how you use the account.
Those monthly maintenance fees are getting harder to avoid. Just 26 percent of the checking accounts surveyed were free of those fees, down from 28 percent six months ago.
Monthly fees are also harder to avoid because the minimum balance required to qualify for a fee waiver has risen. The average such requirement increased by $268.76 over the past six months to $5,708.76.
ATM fees have also climbed. The average fee charged to customers who use an out-of-network machine increased by 9 cents, to $1.61. The average surcharge for non-customers using a bank's ATMs increased by 14 cents, to $2.65.
The one exception to this rising fee trend is that the average overdraft fee declined slightly over the past six months. However, this decrease was by just 1 cent, and at an average of $32.47 per occurrence, overdraft fees are still far from a bargain.
By any measure, online banking is cheaper
If you are interested in a less expensive banking alternative, online-based checking accounts are a good place to look. They are cheaper than traditional, branch-based checking accounts by a variety of measures:
Monthly maintenance fees for online checking accounts average $8.49, compared to $12.99 for traditional accounts. That difference would save you $54 a year.
Better yet, most online checking accounts don't even charge a monthly maintenance fee. Sixty-three percent of online checking accounts have no monthly fees, compared with just 24 percent of traditional accounts.
Account minimums are also lower for online checking accounts, making banking more accessible to lower-income customers. Online checking accounts require an average of just $90.21 to open, compared to $361.08 for traditional accounts. Among online checking accounts that charge a monthly maintenance fee, the average account balance required in order to qualify for a fee waiver is $4,366.13, compared to $5,847.50 for traditional accounts.
Overdraft fees are also generally a little cheaper for online checking accounts, at an average of $30.18 compared to $32.73 for traditional accounts.
Finally, ATM fees fit the pattern of being less expensive for online checking accounts. On average, online checking accounts charge 22 cents for customers who use an out-of-network ATM, compared to $1.75 for traditional accounts. Online banks also have lower charges for non-customers using their ATMs, at an average of $2.00 compared to $2.67 for traditional banks.
While many customers still prefer to do their banking in person, with many traditional banks cutting back on staff and branches, those customers may be finding that there is less and less reason to pay extra for a traditional checking account.
Consumers need a wake-up call
Online banks are not the only ones that offer free checking accounts, but too often consumers do not avail themselves of the most cost-effective choices. This is seen in the fact that in general, the banks that have attracted the most deposits have the most expensive checking accounts. Large banks are much less likely to offer free checking than small and medium-sized banks, and among those that do charge monthly maintenance fees, these fees are significantly more expensive at large banks.
Those high fees are hard to escape at large banks, because in general large banks require very high account balances in order for a customer to qualify for a waiver of these fees — an average of $9,780.95, compared with $5,708.76 for the banking sample as a whole. ATM fees are also higher at large banks, though overdraft fees are slightly lower.
The point is that consumers are paying a steep price for flocking to large, name-brand banks. A little bit of comparison shopping, with an emphasis on smaller or online banks, could yield a much better deal for a large number of consumers.
More from MoneyRates.com:
The best checking accounts: Why finding one is critical
A guide to CD, savings and money market accounts