Best States for College Students 2023
Our articles, research studies, tools, and reviews maintain strict
editorial integrity;
however, we may be compensated when you click on or are approved for offers from our partners.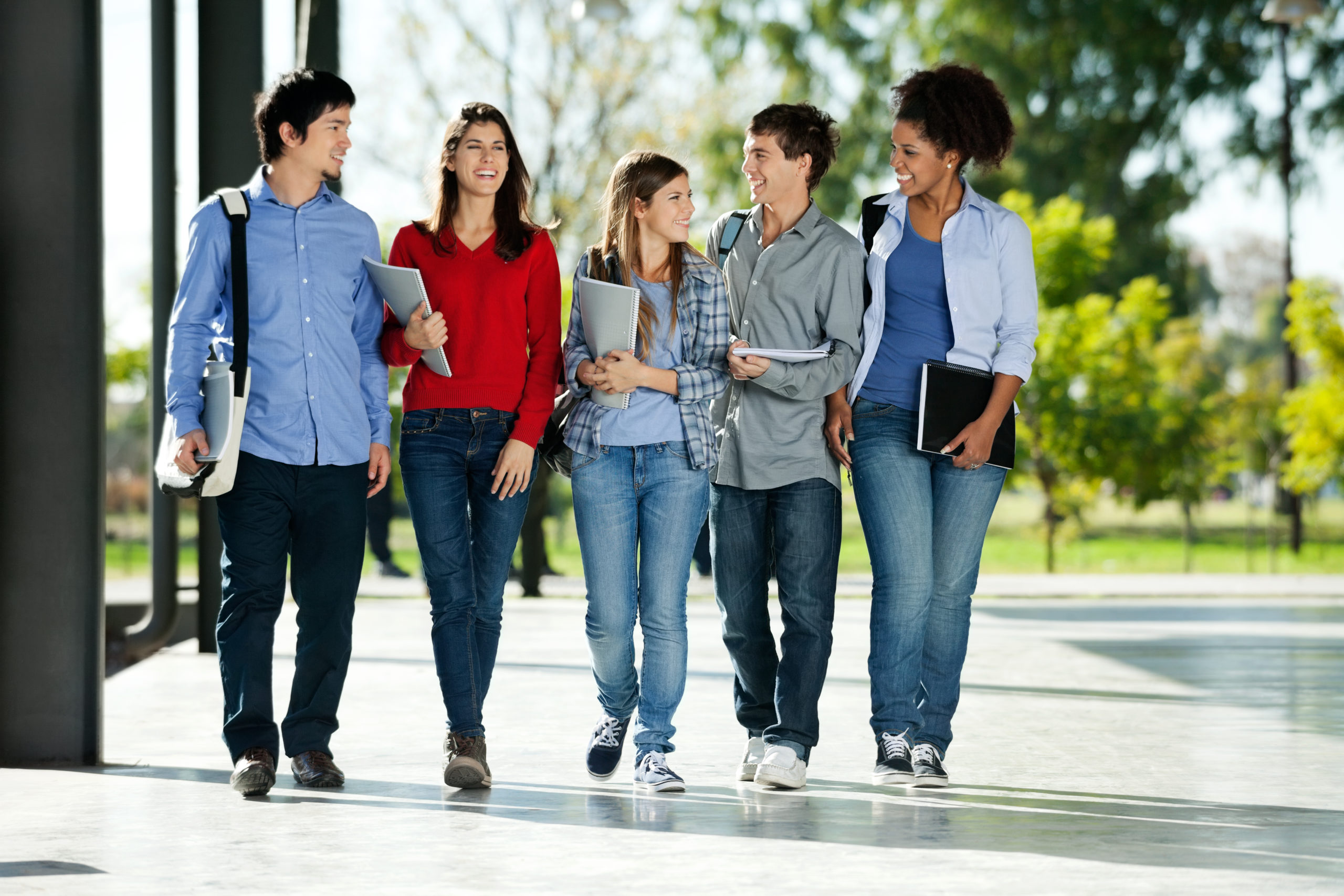 Are you hoping to get through college without racking up a crushing amount of student loan debt? In some cases, it may pay to look beyond your local area.
The 2021 MoneyRates.com study of Best States for College Students found that your chances of getting your money's worth out of a college education varies according to which state you go to school in.
This is a function not just of the cost of college in different states, but of the quality of the education you get and your chances of completing your degree within a reasonable time.
These are factors worth looking at before you choose a college, because the performance of schools in different states varies greatly:
The average annual cost toward a four-year degree is three times as high in Rhode Island as it is in Wyoming.
On the other hand, students in Rhode Island seem to feel they're getting good value: the student retention rate of Rhode Island's colleges is 17% higher than the retention rate in Oklahoma colleges.
Rhode Island colleges also boast a graduation rate that is more than two-and-a-half times the graduation rate of colleges in Nevada.
Students in Alaska or Vermont are the most likely to get personal attention, as colleges in those states have the best student-teacher ratios; in comparison, the student-teacher ratios are nearly twice as high in Arizona colleges.
California offers the widest range of choices, with 259 4-year colleges in the state, in contrast to Wyoming which has just 1.
The factors that went into this study don't just identify where you might have the best shot at getting a good educational value. They are also reminders of some things you should consider before choosing a college.
Ranking the Best States for College Students
To help illustrate some factors would-be college students and their parents should consider, MoneyRates.com ranked each of the 50 states based on five factors relevant to the affordability and effectiveness of college programs:
Average cost.

Since the idea is for students to be open-minded about where they look for the right college, the study looked at total costs for both in-state and out-of-state students living on campus.

Retention rate.

It's a bad sign if a lot of students are dropping out or transferring. Average retention rates show how good a job schools in different states do at holding onto their students.

Student-to-faculty ratio.

Do you hope to have individual interactions with your college teachers, or are you content to be one of dozens of students sitting in a large lecture hall? The student-to-faculty ratio can give you a sense of which type of college experience you'd have in store.

6-year graduation rate.

Many students need more than the traditional four years to get a bachelor's degree, but if the process drags on too long the costs start mounting up and the chances of completing the degree fade. The higher the 6-year graduation rate, the more students in that state are having a successful college experience.

Breadth of choice.

Even though some states may have generally better college conditions than others, the decision still comes down to choosing a particular school. Students have a range of very different interests, career goals and visions of what kind of college experience they want. The more choices a state offers, the better chance a student has of finding the right fit.
MoneyRates.com ranked the four-year colleges of all 50 states in each of these five categories based on data from the National Center for Education Statistics. Those individual category rankings were then averaged to determine the overall rankings.
As a result, MoneyRates.com found that from the East Coast to the West Coast, and throughout the Midwest in between, students across the country have good choices in a wide variety of locations.
Best States for College Students 2021
Based on the factors described above, the following are the 10 best states to go to college in:
1. Missouri.
While Missouri isn't one of the 10 most populous US states, it ranks in the top 10 for total number of colleges in the state. A wide range of choices gives you more chances of finding the right fit. Also, colleges in Missouri tend to offer plenty of opportunity for hands-on instruction, as colleges in the state have an average student-to-faculty ratio of 12-to-1, the third lowest in the nation.
2. Massachusetts.
Another state with a great student-to-faculty ratio is Massachusetts, whose colleges match Missouri's with an average ratio of 12-to-1. Massachusetts also ranked in the top ten for student retention, graduation rate and number of choices. The only thing that kept it from beating Missouri for the top spot in this study was costs. The average cost of college in Massachusetts is the second highest in the nation.
3. Pennsylvania.
You can think of Pennsylvania as offering both quality and quantity. With 156 4-year colleges in the state, Pennsylvania ranks third for number of choices, and it also ranks third for graduation rate. Just be advised that the average cost of colleges in Pennsylvania is among the ten highest of any state.
4. (tie) Alaska.
This tie for fourth place represents a couple of extremes. Alaska may seem like a remote place to go to college, but here's what the state has going for it: the best average student-teacher ratio of any state at 11-to-1, the second best graduation rate and the fifth lowest average cost.
4. (tie) New York.
Geographically and culturally, New York is a long way from Alaska, so not surprisingly it earned a tie for fourth place based on different strengths. With 231 4-year colleges in the state, New York offers the second-widest range of choices, and its colleges also rank in the top ten for retention rate.
6. Iowa.
With an average student-teacher ratio of 12-to-1, Iowa is tied for third in that category, and its colleges also scored a top-ten ranking for average graduation rate. Iowa didn't have any glaring weaknesses, ranking around the middle of the pack in the other three categories.
7. Wisconsin.
Individual attention from teachers can help students make it through the challenges of college. Thus, it might be no coincidence that Wisconsin's colleges ranked in the top ten for both student-teacher ratio and graduation rate.
8. (tie) Michigan.
In college and in life, sometimes consistency is the key to success. That's how Michigan made the top ten overall on this list. Though it didn't rank in the top ten for any individual category, Michigan did well by being better than the median state in all five categories.
8. (tie) Washington.
Apparently, students who go to college in Washington State like it there. Washington's colleges ranked second in retention with an average retention rate of 76%.
10. Nebraska.
Rounding out the top ten, Nebraska's strongest category was student-teacher ratio. The average student-teacher ratio of Nebraska's colleges was 13-to-1, which tied them for seventh in that category.
How to Afford College: Meeting the Challenge
As you can see by the cost figures mentioned above, even in the less expensive states paying for college is a big challenge. Here are some tips for meeting that challenge.
1. Get an early start on a 529 college savings plan
Obviously, it's easier to save if you can spread the saving out over more years by starting early. In addition, starting early helps because the primary tax advantage of a 529 college saving plan is that it allows you to grow your college savings tax-free.
The earlier you start, the more years of tax-free growth potential your savings will have. Talk to a bank or financial advisor about how to set up and invest a 529 college savings plan.
2. Learn which degrees employers value
Since college is expensive, it's important not to waste any time pursuing the wrong degree program.
Colleges may advertise programs that sound relevant to a given field, but those degrees are not necessarily the qualifications employers demand. Check out the job market for the career you want before you start college, so you can spend your time and money pursuing the right degree.
3. Compare choices
Costs can vary greatly, so try to identify more than one college that offers the kind of education you want. Being able to compare multiple choices gives you more of a chance at finding a cost-effective solution.
4. Research financial aid
The so called "sticker price" charged by colleges tells only part of the story. Financial aid can go a long way towards making college affordable. Talk to the financial aid office of any college you are considering to see what kind of help they are able to offer.
5. Focus on graduation rates
The investment in college is largely wasted if you don't get a degree. Be wary of college programs with low graduation rates.
Where you decide to attend college makes a big difference. Which state you go to college in and the particular school you choose matter a great deal. So does asking the right questions to put yourself on course to earning a worthwhile degree.