Best and Worst States for Banking 2014 – Full 50-State List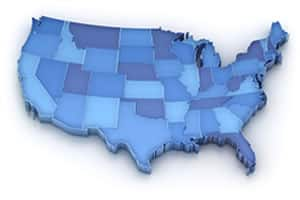 Didn't see your state on the lists of Best States for Banking or Worst States for Banking? Here are all 50 U.S. states as ranked by their banking conditions.
These rankings were based upon an analysis of the following factors in each state's banking industry:
Breadth of choice. These scores were based on the number of active banking institutions based in each state, according to the FDIC.
Stability. This was determined by the percentage of each state's banks that failed in 2013.
Quality of service. This ranking was based on the average "Power Circle Ratings" of banks available in each state, according to the 2014 J.D. Power U.S. Retail Banking Satisfaction Study.
Competitive rates. Every quarter, MoneyRates conducts the America's Best Rates survey to find the best savings account rates and money market rates in the country, and states were ranked according to the availability of top 10 banks from this survey.
Here are the full state rankings, starting with the best — Missouri.
| | |
| --- | --- |
| 1. | Missouri |
| 2. | Kansas |
| 3. | Nebraska |
| 3. | Massachusetts |
| 5. | California |
| 5. | Oklahoma |
| 5. | Pennsylvania |
| 8. | Iowa |
| 9. | New York |
| 9. | Arkansas |
| 9. | Maryland |
| 12. | Mississippi |
| 13. | West Virginia |
| 14. | Ohio |
| 15. | Virginia |
| 16. | Alabama |
| 17. | Louisiana |
| 18. | New Jersey |
| 19. | South Carolina |
| 20. | Maine |
| 21. | Colorado |
| 22. | Indiana |
| 23. | Vermont |
| 24. | Georgia |
| 25. | Texas |
| 25. | Oregon |
| 27. | Tennessee |
| 28. | Montana |
| 29. | Michigan |
| 30. | Illinois |
| 31. | North Dakota |
| 32. | Hawaii |
| 33. | Kentucky |
| 33. | Utah |
| 33. | New Hampshire |
| 36. | Delaware |
| 37. | South Dakota |
| 38. | North Carolina |
| 38. | Wyoming |
| 40. | New Mexico |
| 41. | Wisconsin |
| 41. | Florida |
| 41. | Idaho |
| 44. | Minnesota |
| 44. | Rhode Island |
| 46. | Alaska |
| 47. | Washington |
| 48. | Connecticut |
| 49. | Arizona |
| 50. | Nevada |