ableBanking Money Market Account Review 2023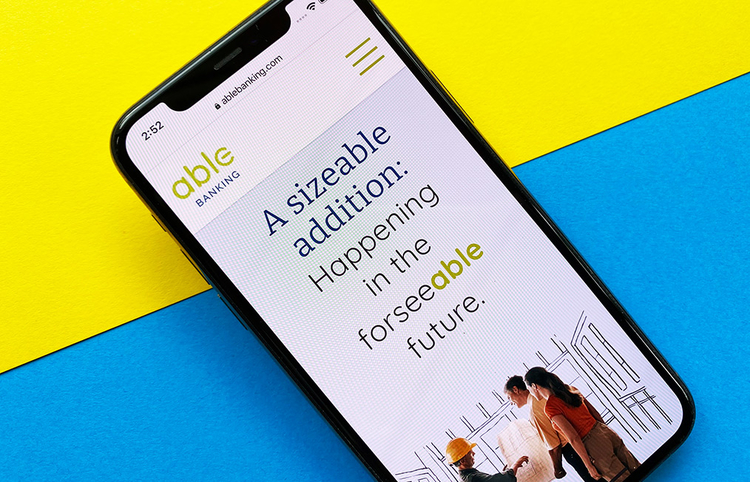 Founded in 1872, ableBanking is a division of Northeast Bank, a community bank based in Maine. It is frequently listed among the top banks in the America's Best Rates Survey.
The bank offers online deposit accounts, including a money market account as well as certificates of deposit.
Read this ableBanking review to learn more about its money market accounts, how they work and the benefits they offer.
ableBanking Money Market Account Essentials
Money market accounts can be useful for growing your savings when you have big financial goals (or small ones) in sight.
If you're not familiar with ableBanking or its money market account products, here are some key highlights to note:
Earn interest rates that are well above the national average for other money market accounts
Open an account with $250 or more
Earn interest at the stated APY with a balance as low as $0.01
Make up to six withdrawals per month from your money market savings account
Pay no monthly maintenance fee or services fees to keep your account open
Easily open an account online in minutes
Take advantage of opportunities to donate money to the charity of your choice
Overall, those are some good reasons to consider opening an ableBanking account. For the next part of this ableBanking review, we'll dig into the pros and cons of the bank's money market accounts.
Where to Find the Best Money Market Accounts
Finding the bank with the best money market account to meet your goals is as easy as using our money market explore tool. Give it a try and find the best money market account for you.
MoneyRates Editor's Analysis: Pros & Cons
Online banks tend to offer certain advantages compared to brick-and-mortar banks and even credit unions. So opening a money market account with an online bank could yield benefits you might not get elsewhere.
Pros:
ableBanking money market accounts feature a great rate that can be hard to come by when other banks are lowering APYs
No monthly maintenance fees or service fees mean you get to keep more of the interest you earn with your money market account
There are no account tiers to worry about so you earn the same great rate whether you're saving a little money or a lot in your money market account
Cons:
You need at least $250 to open an account, which is a higher minimum opening deposit than some banks require
ableBanking Money Market Account Rates
Interest rates are always important when comparing money market accounts or any other type of deposit account that earns interest. After all, the higher the account's APY and interest rate, the faster your money can grow. When looking for the best money market accounts, ableBanking is a standout for the APY you can earn.
In fact, ableBanking's money market account ranked third in the latest America's Best Rates Survey. The survey includes the best rates for savings accounts, money market accounts and CD accounts from top banks across the country.
Overall, ableBanking can offer a great rate for money market savings compared to its online bank competitors. And it easily outdoes traditional banks and credit unions for interest-earning potential. The national average interest rate for money market accounts is currently .08%, according to the FDIC.
ableBanking Money Market Account Monthly Fees
The ableBanking Money Market Account has no monthly maintenance fee or monthly service fee. There's also no minimum balance requirement you need to meet, other than the $250 minimum required to open an account.
No monthly fee is a good thing since fees can nibble away at the interest you earn.
It's common for many online banks to charge no monthly fees for money market accounts, savings accounts and even checking accounts. On the other hand, you're more likely to pay a monthly maintenance fee with a money market account at traditional bank or credit union.
Whether it makes sense to pay a fee to save depends on the interest rate the bank offers and whether you have any ways to get around paying the fee.

For example, some banks that charge a monthly maintenance fee for money market accounts will waive it if you schedule a recurring direct deposit or maintain a minimum average daily balance.

Fortunately, you don't have to worry about those things with ableBanking's money market accounts.
Other Savings Account Fees
Though you won't pay a monthly maintenance fee for an ableBanking Money Market Account, there are some other fees about which to know.
The most important fees to note include a:
$30 overdraft fee
$30 returned item fee
$27 stop payment fee
$20 fee for outgoing wire transfers (incoming wire transfers are free)
$20 collection item fee
$25 minimum research fee
$100 legal processing fee
These fees are uncommon and you may never pay any of them if you keep your account in good standing and don't require legal processing or account research.
One other fee to know, however, is the excess withdrawal fee that may apply. Money market accounts aren't the same as checking accounts, so there are limits on how often you can make withdrawals from them each month.
ableBanking caps the number of withdrawal transactions for its money market accounts at six per month. If you go over six withdrawal transactions, the bank can apply an excess withdrawal fee. This fee is $10 per transaction.
Some banks limit the number of excess withdrawal fees you can be charged in a given month. ableBanking's fee schedule doesn't specify how many of these fees you can incur, so it's best to err on the side of caution and avoid triggering the fee altogether.
Additional ableBanking Money Market Account Features & Benefits
The best feature of the ableBanking Money Market Account is its great rate. Other than that, this account doesn't come with a lot of bells and whistles.
You don't get an ATM card or debit card, for example. And you can't write checks from this account either.
But you can manage your account online or using the ableBanking mobile app, which is helpful. And something else you may appreciate is the opportunity to contribute money to the charity of your choice through ableBanking.
Even though ableBanking offers these opportunities from time to time, you aren't obligated to take advantage of them.
Are There Other Ways to Save with ableBanking?
ableBanking offers both money market accounts and certificates of deposit if you're looking for ways to save money.
There are five options for CDs:
6 month CDs
1 year CDs
2 year CDs
3 year CDs
4 year CDs
Compared to other banks offering CDs, ableBanking CD rates are competitive. For example, they're better than what you might earn at a brick-and-mortar bank.
There a couple of things to know about these CDs, however.
First, you need at least $1,000 to open an ableBanking CD account. That might be out of reach for savers who are just getting started.
Second, you may pay a penalty for withdrawing money from your CD account before it reaches maturity. For that reason, it may be better to keep money you won't need in a CD account and reserve your checking or savings account for short-term funds.
CD ladder
Setting up a CD ladder is another option if you have the money to do so. For example, you could open one of each of ableBanking's CD accounts. You can earn interest on your money and, as your CDs mature, you can roll the money over or withdraw your original deposit, along with the interest earned.
No jumbo CDs
Also, note that ableBanking doesn't offer jumbo CDs at this time. Jumbo CDs can offer excellent rates; but they typically require a higher minimum deposit of $50,000, $100,000 or more to open.
How to Open an ableBanking Money Market Savings Account
Though ableBanking doesn't have branches, you can open an account online by visiting the bank's money market page.
Once there, you can begin the application to open your account. You need to tell ableBanking your:
Name
Address
Email address
Phone number
You can open a joint or individual account. For joint accounts, you need to share the same personal information for your account co-owner as well.
You also need to provide ableBanking with the details of the linked account you plan to use to make your initial deposit. Specifically, that means your account number and routing number.
Once you have this linked account set up and your money market account is open, you can easily transfer funds between the two via online or mobile banking.
If you need help with your account, customer service is available via email at info@ablebanking.com or by phone at 1-888-I-AM-ABLE (888-426-2253).
Is an ableBanking Money Market Account Right for You?
Opening a money market account with ableBanking could be a good fit if you have at least $250 to start saving and you want to earn a great rate on your money. With no monthly maintenance fee, you could use this account to grow savings toward a new-to-you car, a down payment on a home or a dream vacation.
One potential drawback to consider is that you can't open a checking account with ableBanking and you don't get an ATM or debit card. That means you'll need to manage deposits and withdrawals through a linked account at another bank. That may be a downside if you're looking for an online bank that can handle all of your banking and money management needs in one place.