TD Bank Personal Loan Review 2023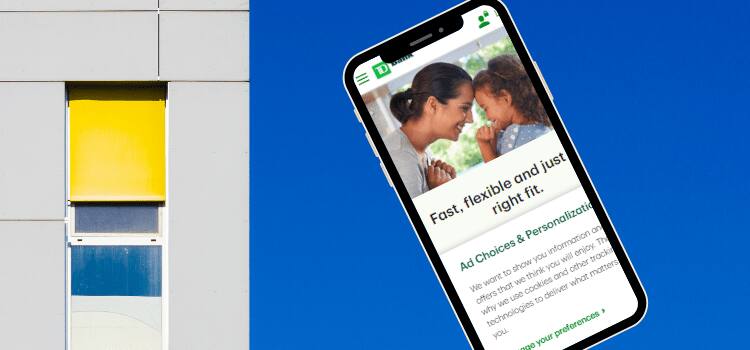 If you want a personal loan from a large bank, TD Bank may be right for you. (Keep in mind that three of the country's largest lenders – Bank of America, Chase and Capital One – don't offer personal loans.) This TD Bank personal loan review contains the fast facts, pros and cons, and in-depth evaluation so you can confidently choose the best personal loan for your needs.
What Kind of Loans Does TD Bank Offer?
Time to go through the key characteristics of a TD Bank personal loan:
Minimum $2,000 loan amount rising to a $50,000 maximum
Interest rates – APRs range from 6.99%-18.99% as of this writing (you get a 0.25% discount for being an existing customer)
Repay over 12, 24, 36, 48 or 60 months
Minimum credit score of 660 required – but some say that applies only to existing customers and you may need a higher score if you're not one of those
Maximum DTI* — This isn't published. But the bank says, "Interest rate determined by credit score and ability to repay the loan." So it probably doesn't want you to be overburdened with other debts
No prepayment fee — So you can pay down your loan early without penalty
You can have a co-signer. The bank itself doesn't make this clear but third-party sources say joint applications are fine
You cannot pre-qualify for financing — You can only make an application, which involves a "hard" credit check
Fixed rates only
Lender fees — TD Bank is great for these, charging almost no fees. The exception is for late payments but those are lower than most: 5% of the minimum payment due or $10.00, whichever is the lesser
*DTI stands for debt-to-income ratio. It's the percentage of your monthly gross (before tax) income you spend for housing (rent or mortgage) and accounts like credit card minimums and auto loans. Regular living expenses like food and utilities don't count.
Which Lenders Have the Best Personal Loan Rates?
Finding the lender with the best personal loan to meet your needs is as simple as using our search tool. Compare personal loans and find the best rates being offered today.
Why Should I Apply With TD Bank?
You need to decide whether to bother even considering TD Bank. So let's quickly run through some pros and cons so you know whether to read on:
Loans are only available in 15 east-coast states –

Connecticut, Delaware, Florida, Massachusetts, Maryland, Maine, North Carolina, New Hampshire, New Jersey, New York, Pennsylvania, Rhode Island, South Carolina, Virginia and Vermont

No origination or application fees
Annual percentage rates (APRs) that are competitive with similar lenders
Consider an Express loan – get your money in as little as 48 hours if you need $25,000 or less
Standard personal loan lets you borrow $2,000-$50,000
You need a credit score of 660 or higher for your application to be considered
No prequalifying – you can't request an initial quote, which involves a soft credit check. You can only apply, which requires a hard credit check that will give your credit score a small hit
That's not a bad offering overall. But that last point means you shouldn't apply with TD Bank until you've checked the sorts of rates you could get from lenders that allow you to prequalify.
How Does TD Bank Work?
TD Bank is one of America's top 10 banks. It has 1,250 branches, 27,000 staff members and a 150-year history.
So it's very different from peer-to-peer (P2P) lenders, which also offer personal loans. Those are more like the financial equivalents of online dating sites. They mostly introduce individual, consumer borrowers (like you) to individual, consumer investors. So P2P lenders aren't lending their own money while banks like TD Bank are.
The biggest difference from your point of view is that most P2P lenders charge an origination fee for setting up the loan, while nearly all banks (including TD Bank) don't. But P2P lenders may get you a lower rate. And they tend to let you prequalify.
How Do I Apply With TD Bank?
Only those in the 15 east-coast states listed above need to know how to apply. But, if you live in one of those, you can apply online, over the phone or in one of TD Bank's 1,250 branches. However, even if you opt for an online or telephone experience, you have to visit a branch to finalize your application.
TD Bank says you'll need to provide personal information when you apply, including your social security number. It also requires you to document your "employment history and income, including bonuses, overtime and income from other sources," as well as your monthly expenses. Once it has those, it promises that one of its lending specialists will contact you within one business day.
The bank gives no clue about how long it typically takes to process standard personal loan applications. So, if you need money in a hurry, you might want to go for its Express loan option, which can be funded within a couple of days.
How Soon Can I Get My Money With TD Bank?
How long does it take to get your money? The bank doesn't make that clear, except for its Express Loan offering. So you should probably allow at least a week.
You can minimize the time it takes by having the supporting documentation the bank's likely to require to hand when you apply. And by taking care to be accurate when completing your application. Inconsistencies between what you say and reality are likely to cause delays. If you've bounced a check or allowed an account to slip into delinquency recently, you may benefit by getting your excuses straight before you apply.
Finally, pretty much all lenders take longer to process and fund loans during times of peak demand, such as the holiday season. So try to time your application when the bank is less busy. The trouble with this advice is that your need for cash may be as seasonal as everyone else's.
TD Bank BBB Rating
TD Bank has been an accredited business with the Better Business Bureau since 2002. And its current BBB rating is A+, which is as good as those grades get.
You may think that all big banks have perfect BBB ratings. And maybe they should. But the reality is very different. Many have much lower ratings and some truly dismal ones.
Consumer Financial Protection Bureau and TD Bank
During 2019, only 13 TD Bank customers filed complaints with federal regulator the Consumer Financial Protection Bureau concerning the bank's personal installment loans. That seems a very low number for such a big lender.
Related: What Is an Annual Percentage Rate (APR) for a Personal Loan?
MoneyRates Editorial TD Bank Rating
Star rating — 4.25 stars
Very few big banks score so highly in our personal loan reviews. So how come we're being so kind this time?
Well, it's not down to TD Bank's interest rates. Those are just so-so.
No, it's down to its lender fees, which are very low, it's great performance with the BBB and CFPB and its general corporate ethos, which seems a million miles away from those of some other big banks.
Compare personal loan programs
What Are the Alternatives to TD Bank?
Even if you think TD Bank might be your ideal lender, you need to check that it's giving you a great deal. So you should compare personal loans by getting quotes from multiple lenders. Don't forget that you're not just looking at interest rates. You have to take lender fees into account, too.
TD Bank doesn't let you prequalify. That means you can't get an initial quote from it: You have to apply properly, something that does hurt your credit score. All the following lenders (except LightStream) do let you prequalify. So you can request quotes freely from them without worrying about your score. Follow up with the ones that offer what you need – and that you think will want to work with a borrower like you. Here are some ideas:
LendingClub
Some borrowers get approved with credit scores as low as 600. And if even that's an issue, you can leverage a co-signer's score to get your loan. LendingClub even offers to settle up with your creditors directly (just an option) when you're consolidating debts.
Payoff
Payoff focuses on consolidating credit card debts. But you'll need fair credit to qualify. Still, there are no late fees. And this lender has online resources that could help you meet your debt reduction or elimination goals.
Best Egg
Best Egg has a reputation for quickly turning around loan applications. So you could get your money fast. And its interest rates are sometimes lower than those of some of its competitors. Expect to need fair credit.
Upgrade
You'll need fair credit for Upgrade – unless you can find a co-signer to boost your application's appeal. Like LendingClub, you can ask it to pay your creditors directly. And this lender has a hardship program in case you get into financial trouble later in your loan term.
Prosper
Prosper's a big lender with a wide range of borrowers. But it's likely to want you to have a credit score of 660. And, as with all the others, you're only going to get a great deal if you have solid finances and a great score.
SoFi
SoFi's in a different category from the preceding lenders. If you have great credit and strong finances, you could get a huge loan (up to $100,000), super-low rates and zero fees. It even offers unemployment protection. For the few, not the many.
LightStream
LightStream's more like SoFi than the others. Expect similar extraordinarily low rates, zero fees and loans of up to $100,000. But you'll need great credit and solid financial foundations, though you can have a co-signer help you over the line. Just be aware that LightStream doesn't let you prequalify.
How to Find Your Best Personal Loan
Here are the three golden rules when getting a personal loan:
Shop around – Different lenders specialize in borrowers with different financial profiles. So get quotes from ones that seem comfortable dealing with people like you. Unlike with dating, the hottest lenders never fall for unattractive borrowers. So be realistic about your appeal and stick to your league
Work on your appeal – If you've time, you can make yourself more attractive and move to a higher league. Work on your credit score and pay down some existing debts
Borrow smart – Match the term (length) of your borrowing to the length of time you're going to enjoy its fruits. You wouldn't normally take a five-year loan for a routine annual vacation. But long-term personal loans are fine for long-term assets or for debt consolidation if it can save you money.
Once you know the right loan and term for you, compare offers from lenders and choose the least-expensive loan that meets your needs.