U.S. Bank Personal Loan Review 2023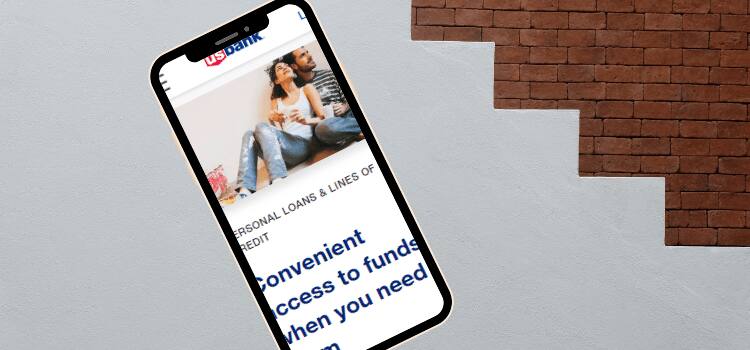 If you want a personal loan from a large bank, U.S. Bank may be right for you. This U.S. Bank personal loan review contains the fast facts, pros and cons, and in-depth evaluation so you can confidently choose the best personal loan for your needs.
What Kind of Loans Does U.S. Bank Offer?
Here are the FAQs you need to know to decide whether to apply for a U.S. Bank personal loan. Remember, you have to be an existing customer:
Borrow from $1,000 up to $25,000
Annual percentage rates (APRs) range from 6.49% to 17.99%
You can borrow over 12, 24, 36, 48 or 60 months
Minimum credit score is not published
Maximum DTI is not published – the bank says it's looking for a "good credit history and stable, sufficient income"
Very unusually, U.S. Bank does charge a prepayment fee, though only during the first year. It's 1% of the original loan amount with a minimum of $50 and a maximum of $100
You can have a co-signer
There's no prequalification – so you can't get a quote upfront without adversely affecting your credit score
Fixed rates only
Lender fees – There's no origination fee. But fees are charged for late payments (reportedly $29, though you get a five-day grace period) and unsuccessful payments ($25). Those are higher than most other lenders' equivalents
Which Lenders Have the Best Personal Loan Rates?
Finding the lender with the best personal loan to meet your needs is as simple as using our search tool. Compare personal loans and find the best rates being offered today.
How Does U.S. Bank Work?
U.S. Bank is America's fifth-biggest bank, with 70,000 employees and assets of $495 billion as of December 31, 2019. So it's a traditional, mainstream lender. And, when it lends, it's putting up its own money.
That makes it different from many of those that provide personal loans. They're peer-to-peer (P2P) lenders, which act as an introductory service, mostly between consumer borrowers and consumer lenders. So, if you borrow through a P2P website, it will be individual investors' money you receive.
To you, the main differences between the two models are that banks can make lending decisions faster (though they don't always) and P2P lenders often charge an origination fee (though they don't always).
Why Should I Apply With U.S. Bank?
Is U.S. Bank worthy of a place on your personal loans short list? Here are some pros and cons to help you decide:
Personal loans are available only to existing U.S. Bank customers with accounts open for at least four months
No origination fee – Many lenders charge these for setting up the loan
However, US Bank charges higher fees than most for late payments
Very unusually, it also charges a prepayment fee – That's a penalty if you want to pay off your loan early
Joint applications are allowed – So you can bring a co-signer on board
Annual percentage rates (APRs) are so-so – 6.49% to 17.99%
US Bank has low average customer satisfaction – According to the J.D. Power 2019 Personal Loan Satisfaction Study and others
Only if you're an existing customer might you wish to give this lender a try. But be aware there's no prequalification available. So your credit score is going to take a small hit when you apply – before you know the rate you're going to be offered.
How Do I Apply With U.S. Bank?
You want to know how to apply? The process is fairly old-fashioned.
You won't find all information about applicable fees, terms and conditions online. However, you can get a copy of the Consumer Pricing Information brochure by calling a number or visiting a branch. You can apply online. But you may have to call into a branch to complete the process. Some might find such 20th-century practices endearing and nostalgic. Others may not.
U.S. Bank's website says it's going to want your social security number (SSN) or individual taxpayer identification number (ITIN) to get started, plus your home address and employment information. It will pull your credit immediately with a "hard" inquiry that drops your FICO score temporarily a few points.
How Soon Can I Get My Money With U.S. Bank?
How long does it take to get your money? Once your application is approved, you should get funded quickly. U.S. Bank promises the proceeds "within one business day of loan closing." Given that you have to be an existing customer and the money is moving within the same organization, you might expect that.
You can speed up the approval process by assembling the supporting documents the bank's likely to request. And you should take care when completing your application. It won't be the bank's fault if it has to raise time-consuming queries because you made an error.
As with all lenders, it's probably a good idea to avoid applying during periods of peak demand. Of course, that's when you're most likely to need money. But expect things to take longer during busy times, such as the holiday season.
Finally, be ready to answer questions if you've bounced a check or allowed an account to slip into delinquency recently. These things matter to lenders. So get your story straight before you're asked.
U.S. Bank BBB Rating
U.S. Bank is an accredited business with the Better Business Bureau (BBB) and gets a creditable A rating, just one notch down from the BBB's best, A+. For a big bank, that's very good indeed.
However, the bank's customer reviews on the BBB website are less kind. From 206 reviews when this was written, the average rating was one star out of five.
Consumer Financial Protection Bureau and U.S. Bank
In 2019, federal regulator the Consumer Financial Protection Bureau (CFPB) logged 1,874 complaints from U.S. Bank customers relating to installment loans, which include personal loans. This is significantly higher than the numbers for many of its competitors.
The Top-5 issues customers complained about that year were:
Charged fees or interest you didn't expect
Problem when making payments
Struggling to pay your loan
Getting the loan
Problem with the payoff process at the end of the loan
The number of complaints in those categories ranged from 191 up to 477.
MoneyRates Editorial U.S. Bank Rating
Some big banks give the impression they don't really like personal loans and would prefer not to have to offer them. And U.S. Bank is one of those.
Assuming you're already one of its customers, there's nothing particularly bad about its personal loans. But its interest rates and general terms are average rather than attractive. So you may do better elsewhere.
And you're bound to have concerns about its customer service. True, many surveys don't rate it disastrously low, but it does come in below average. And the numerous complaints on the BBB and CFPB websites are worrying. And, at the time of writing, 74% of online reviews compiled from several sites (for all products and services, not just personal loans) rate it "bad," which is the lowest category available. Only 15% rate it excellent or good.
Compare personal loan programs
What Are the Alternatives to U.S. Bank?
Given the small hit to your credit score that applying to U.S. Bank is pretty much bound to bring, you're may want to apply only once you've exhausted other opportunities. Here are some that allow "prequalification," meaning asking for an initial quote shouldn't affect your score. LightStream is the only exception to that. It works in the same way as U.S. Bank, although its best deals (only for top borrowers) are much better.
LendingClub
Similar lowest APR to U.S. Bank, although its rates go much higher for less creditworthy borrowers. And LendingClub welcomes those with a minimum score of just 600. Co-signers are allowed, but expect to pay an origination fee, as is the case with most of the following lenders. Good for those wanting to consolidate debts.
Payoff
Another lender that often helps with debt consolidations, though Payoff specializes in credit card balances. It wants you to have at least fair credit. But its interest rates are often lower than those of similar lenders and it doesn't charge late fees. You can access online educational resources to help get you free of debt and keep you that way.
Best Egg
There's a good chance you could get your money quickly with Best Egg because it's known for its fast turnarounds. Expect to need a credit score of 640 or higher.
Upgrade
Upgrade wants you to have fair credit or better. But it allows you to bring on board a co-signer to help get you there. And it has a hardship program in case you find yourself in financial trouble later in your loan term.
Prosper
Prosper is a big, solid P2P lender. And it accepts joint applications, allowing a co-signer to improve the chances of your getting a loan and perhaps being offered a better deal.
SoFi
SoFi's great for those with good or excellent credit – or with a co-signer who takes your application into the super-prime zone. Your stellar score could see you paying a low rate and zero fees. And you could borrow up to $100,000. Unemployment protection is thrown in.
LightStream
LightStream is similar to SoFi in many respects: loans of up to $100,000 with uber-low rates and zero fees. But you'll need fantastic credit or an amazing co-signer to get the best deals. And it's owned by a bank (Truist, formerly SunTrust) so your score's going to take a small hit when you apply.
How to Find Your Best Personal Loan
Which of those is going to be best for you? You won't know until you shop around and compare personal loans. You can do that freely with most lenders because simply requesting a quote from those won't affect your credit score.
But watch out for those we've flagged as not letting you prequalify, because every time you apply, your credit score will take a small hit. That doesn't mean you shouldn't apply to them at all, because some offer the very best deals out there. But just wait until you've checked some others.
Which? Well, ones that cater to borrowers like you. If you have a great score and apply to a lender that specializes in applicants with fair credit, you're unlikely to get as low a rate as you would with a super-prime specialist. Equally, you're going to get knocked back a lot if you have fair credit and keep applying to lenders that demand high scores.
One last thing: Try to get the length of your loan to correspond to the period over which you're going to enjoy the benefit that it delivers. So you don't want to still be paying for your kid's high school graduation party a year after she's graduated college. But it's fine to borrow for five years or more for something that will bring you long-term joy or satisfaction. Or prove to be a good investment like home improvements, education or business investments.