The Best Savings Accounts in New York for 2023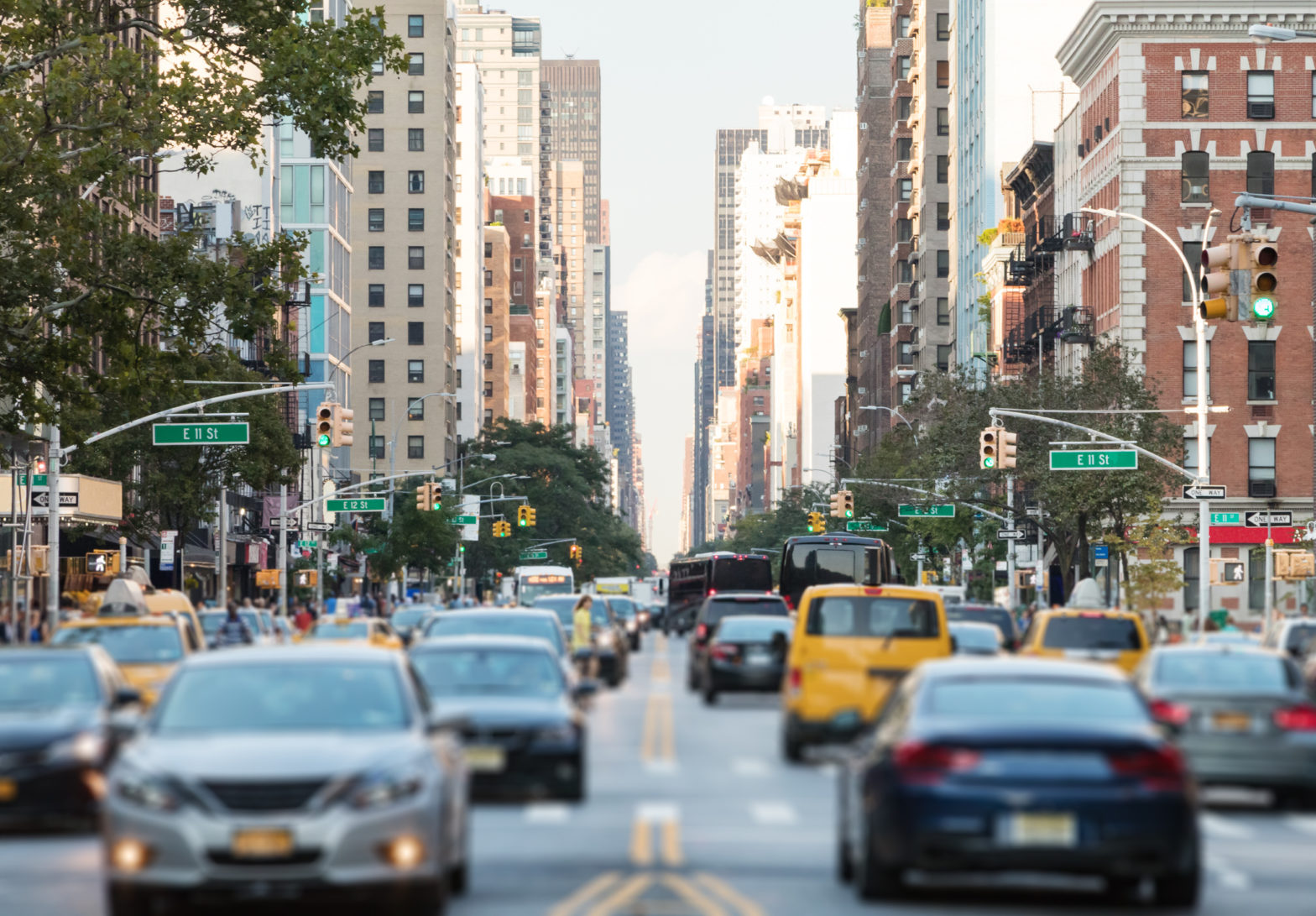 There are dozens of online banks and over 200 banks and credit unions operating in the New York City metro area alone, and most of those have dozens of branches across the state. Some of those banks are massive. The money in deposit accounts in those bank branches is greater than that of Chicago, Washington D.C., and San Francisco combined.
Whether you're looking for a trusted online bank or a local New York bank for your savings, We'll help you narrow down your options by offering a look at the best savings accounts in New York, what you can expect from each, and how to choose which one is right for you.
Best Savings Accounts in New York
Marcus by Goldman Sachs
Quontic Bank
SoFi Bank
My Banking Direct
Empire State Bank
USAlliance Financial
Which Banks Have the Best Savings Account Rates?
Savings rates are higher than they've been in several years, but if you're using a traditional, big-name bank, you could be missing out on these rates.
Here are our top picks for those who want to earn the highest interest on their savings.
Online Savings Accounts Available in New York
Whether you want to go with an online or traditional bank, an understanding of how online banks work and what they offer is an important step in choosing the best savings account in New York. Here are some online banks that offer all the convenience of a local bank plus higher APYs than most of them.
Quontic Bank
Founded in 2006, Quontic Bank is headquartered in Manhattan with major branches in other areas of New York, as well as Florida and Indiana.
The bank also has a very strong online presence. High-yield savings accounts are a staple of this bank, with interest credited on a monthly basis, no monthly service fees, and a minimum beginning balance of $100.
There is a limit of six withdrawals per statement cycle. The bank also includes a host of other options, including high-interest checking and bitcoin or cash reward options.
SoFi Bank
Though SoFi Bank is known mostly for its personal loan products, they offer a checking and savings option as well.
There are no account fees, no overdraft fees, and the opportunity to earn a bonus when signing up with direct deposit.
Currently, a savings and checking account are combined, with no option to choose just one or the other; however, solid interest rates are paid on each.
Direct deposit is required. While there is no minimum for the accounts, there is a $1,000 minimum direct deposit required to get the overdraft coverage.
Over 55,000 Allpoint ATMs across the world are always free to use.
Marcus by Goldman Sachs
Marcus by Goldman Sachs is an online bank offering a full range of banking products and services. Its high-yield savings account offers one of the best interest rates you'll find in a savings account and is well above the national average for savings interest rates.
The Marcus savings account doesn't require a minimum balance, doesn't charge a monthly maintenance fee, and doesn't charge you to transfer money to or from your Marcus account to your accounts at other banks.
A service of New York Community Bank, My Banking Direct offers a high-yield savings account that pays out for balances over one dollar. The account requires $500 to open and comes with no monthly or maintenance fees.
Current interest tiers are the same whether you have only a few dollars or over $50,000.
The account can be easily managed online or through the mobile app.
Though My Banking Direct is online, the larger New York Community Bank is considered one of the nation's largest banks and has well over 200 locations at the time of this writing.
A Look at New York Banks
There are many banks in New York vying for your business. With an option on what feels like every corner of every city in New York state, choosing the right savings account for you can be a quite daunting task. Here are some brick-and-mortar banks to consider in New York.
Empire State Bank
Locations: Newburgh, Staten Island, Brooklyn, and Astoria, New York
In June 2004, Empire State Bank launched as a full-service community bank with a full line of deposit, checking, and loan products. Personal and business accounts have no fees and offer the advantage of free ATM use (up to $18 in reimbursement) for any ATM in the area.
There are three types of personal savings accounts offered by Empire State Bank: Empire Builder Savings requires a $5,000 daily minimum to avoid a monthly fee, Statement Savings requires $500, and Minor Statement Savings requires $10 to open and no minimum. All have tiered interest rates.
USALLIANCE Financial
Locations: Port Chester and Bronx, New York; Wayne, New Jersey; and West Haven, Connecticut
With a $500 minimum starting balance to earn interest, the high-yield savings account at USALLIANCE Financial offers no monthly maintenance fees and daily compounding interest.
The MyLife Savings Account offers a higher interest rate on the first $500, with a lower, but still competitive, interest on deposits over $5,000. Online and mobile banking are available for those who can't get to the branches.
A robust financial education section of the website provides customers with advice on managing their finances.
Methodology: How We Chose the Best Savings Accounts in New York
MoneyRates found New York's best savings accounts by reviewing data from savings accounts offered by online banks and local and regional banks in New York. We looked at the current interest rates and APYs offered by savings accounts at over 25 online and local New York banks, along with account-opening requirements, fees charged, availability of ATM networks, customer satisfaction, and availability and convenience of online and in-app banking.
Our top choices in New York reflect market conditions and bank offers at the time of our study. Banks are known to change their rate offerings on their savings accounts regularly, so it's a great idea to do your own research to find the best New York savings account for you.
How to Choose a Savings Account in New York
There are many options when choosing the right savings account, but it boils down to these key points.
Interest Rate
A high-yield savings account should have an impressive interest rate, but be aware that some banks allow that interest rate only for a certain amount of money; for instance, they might offer a 2% APY on the first $5,000 but only 0.5% or less on anything over.
They might also have a tiered system where only those who invest the most – usually over $50,000 or more – get the highest possible interest rate.
Fees
There are so many banks out there charging no fees that it makes little sense to go with one that does.
Be on the lookout for overdraft feeds, a monthly fee if your account balance drops below a certain minimum, or fees for using mobile check deposits, among others. Keep in mind that many banks that do charge fees will waive them if you use direct deposit.
Opening Deposit
Many banks require a minimum opening deposit to be able to take advantage of the better interest rates. This might be as low as $100 or as high as $1,000 or more.
However, the opening deposit doesn't always reflect the minimum monthly balance to keep getting the interest and avoid fees. For example, a bank might require only $100 to sign up and get started but requires a $500 monthly balance; that means that during your first statement period, you'll have to add another $400 to the account to take advantage of the generous offers.
Access
Being able to access your money is a key point to consider.
Some banks allow only a certain number of transactions per month. Look for a bank that provides an ATM card; as an added bonus, some will offer thousands of free ATM options or provide reimbursement for ATM fees up to a certain amount every month.
Where Can You Open a Savings Account in New York?
When you want to open a savings account in New York, you have three good options: banks, credit unions, or online banks. But what are the differences?
Online Banks
Online banks are often an offshoot of brick-and-mortar banks. The same financial possibilities are there, but the traditional banking system isn't. Instead, it's all handled online or via a mobile app.
Online banks, if affiliated with established traditional banks, can carry FDIC insurance. Check to make sure yours does. Online banks are straightforward, with little discretionary power for flexible decisions on finances by management. ATMs are often free throughout the world.
Banks
When you choose to go with a bank, you will often have an easier time finding fee-free ATMs across the world, as well as branches in major cities across the nation.
Banks will typically have a robust online and mobile presence, as well as numerous opportunities for investment, such as retirement funds. However, there is less flexibility or dedicated customer service.
The FDIC insures banks and most of their financial instruments to ensure that your money is safe.
Credit Unions
Credit unions function just like banks do, but often with fewer options for your financial future.
They might be part of a co-op that allows you to use certain branded ATMs for free across the world. They almost always have a strong community presence but might not have a robust online presence.
They can offer more flexibility in decision-making and customer service, as well as potentially higher interest rates.
Credit unions are insured by the National Credit Union Administration, which protects deposits.
New York Savings Accounts vs. CDs
When you begin researching financial options that give you the most interest bang for your buck, you will likely stumble across CDs. Certificates of deposit are investment vehicles that allow you to earn a higher interest rate in exchange for letting the money sit in the account for a set period of time. Would this be better than a savings account through a New York bank or credit union? Let's look at the options.
Withdrawing Money
If you believe you might need to withdraw your money soon, perhaps for a large purchase, go with a savings account. If you know you can let your money sit for a while, a CD might be a better option.
Interest Rates
In most cases, CDs offer higher interest rates than savings accounts do. However, when you choose a CD, you lock in your rate. That works great if the rates go down, but what if they go up? To hedge against that possibility, some people will choose a CD for a shorter term rather than a longer one.
Fees and Penalties
Keep in mind that you might have to pay fees over the course of your relationship with that account. For instance, savings accounts might charge a fee if you drop below a certain balance or if you make too many withdrawals. With a CD, there are no fees, but early withdrawal can trigger a penalty that can take a significant chunk of interest earnings.
Paying Income Tax on Savings Account Interest Earned in New York
Interest on a New York savings account is compounded daily, monthly, or quarterly. Your interest earnings are based on the amount of money that you deposit into your savings account.
Most commonly, interest is compounded daily and added to your account balance monthly. The amount you earn is called your APY.
How Much Interest Can You Earn on a New York Savings Account?
You can determine the dollar amount of interest that your savings account has made by calculating the number yourself or via tax documents.
To calculate your interest earnings, you can use a formula and do the math. It is easier for most people to use a compound interest calculator.
Annually, your bank will provide a 1099-INT form. This form will show you how much non-wage income you have made, including the interest on savings accounts.
How Much Tax Do You Pay in New York on Your Interest?
New York is a state with income tax. The state has nine tax brackets, ranging from 4% to 10.9%. Based on your annual income from all sources, you are categorized into one of the nine tax brackets. You are then charged the corresponding percentage of your annual income for your tax bracket.
In addition to state income tax, New York residents are subject to federal income tax. New York City, Yonkers, and other residents may be subject to local income taxes as well.
Frequently Asked Questions (FAQs)
What is a bank rating?
A bank rating is assigned by the FDIC and a handful of other financial institutions. The rating helps determine how safe and sound that bank is. Always look for an "A" or "1" rating as you search for banks.
How can I find out if a bank is insured by the FDIC?
Banks should tout this proudly on their website, but if they do not, use the FDIC BankFind to determine the status.
What does "high yield interest" really mean?
"High yield" used to refer to an account that earns 20 to 25 times the amount of interest over the national average, but now it seems to refer to any account that earns more than average.